The weather is just right for al fresco dining, so I hosted a casual patio lunch with friends. I served a simple (but delicious!) menu, created an airy centerpiece, and used dishware and linens from my existing collection at home. It all came together beautifully, and just goes to show that entertaining doesn't have to be extravagant or expensive.
Read on to find out how I pulled it off, and try this one yourself this season. Trust me: the preparation's a breeze!
The decor
One of my favorite brands for outdoor melamine dinnerware is QSquared. They have such an incredible variety of patterns and colors — just check out my post on Happy Hour Power here featuring another great collection by QSquared. Dishwasher safe, these unbreakable dishes have lasted many outdoor seasons and look elegant enough to serve as regular dinnerware.
White bistro chairs from Ballard Designs are great for a patio dining set. They fold easily and are compact, perfect for small yards and patio spaces. The Navy and Blue Quatrefoil Rug is from Target; I love how it looks with white furniture.
Seersucker is synonymous with summer, so these napkins fit the bill for this outdoor setting. Gray and white striped napkins are very versatile and can be used with red, navy, green, pink — virtually any color you can think of!
Keeping the white theme going, floral arrangements were aligned down the middle of the table on a white linen runner. The flowers were from Trader Joe's. Note how I didn't combine flowers; rather, I gathered bundles of the same types of flowers into the vases, making arrangement a breeze.
Pro Tip: Cut the stems the same length, remove leaves from the lower stems, and pop them in your vessel of choice. I think odd numbers of arrangements work best so you can have one central focal point vase, and then others on either side.
The food
Are you ready to see how easy this lunch was? I did very little cooking here and assembly was simple. The only thing I prepared from scratch was the orzo salad, but you could even buy that too!
Grilled salmon on orzo with feta, olives and peppers
Here's a good step-by-step recipe for grilled salmon, but if you don't want to make it, check Whole Foods or your local grocery store for pre-cooked salmon.
I've been making this orzo salad for years and it's always a hit with crowds. However, I did find something very similar at Whole Foods, so that could be another shortcut if you wanted to buy vs. make at home.
Bibb lettuce with pink grapefruit and avocado in Champagne vinaigrette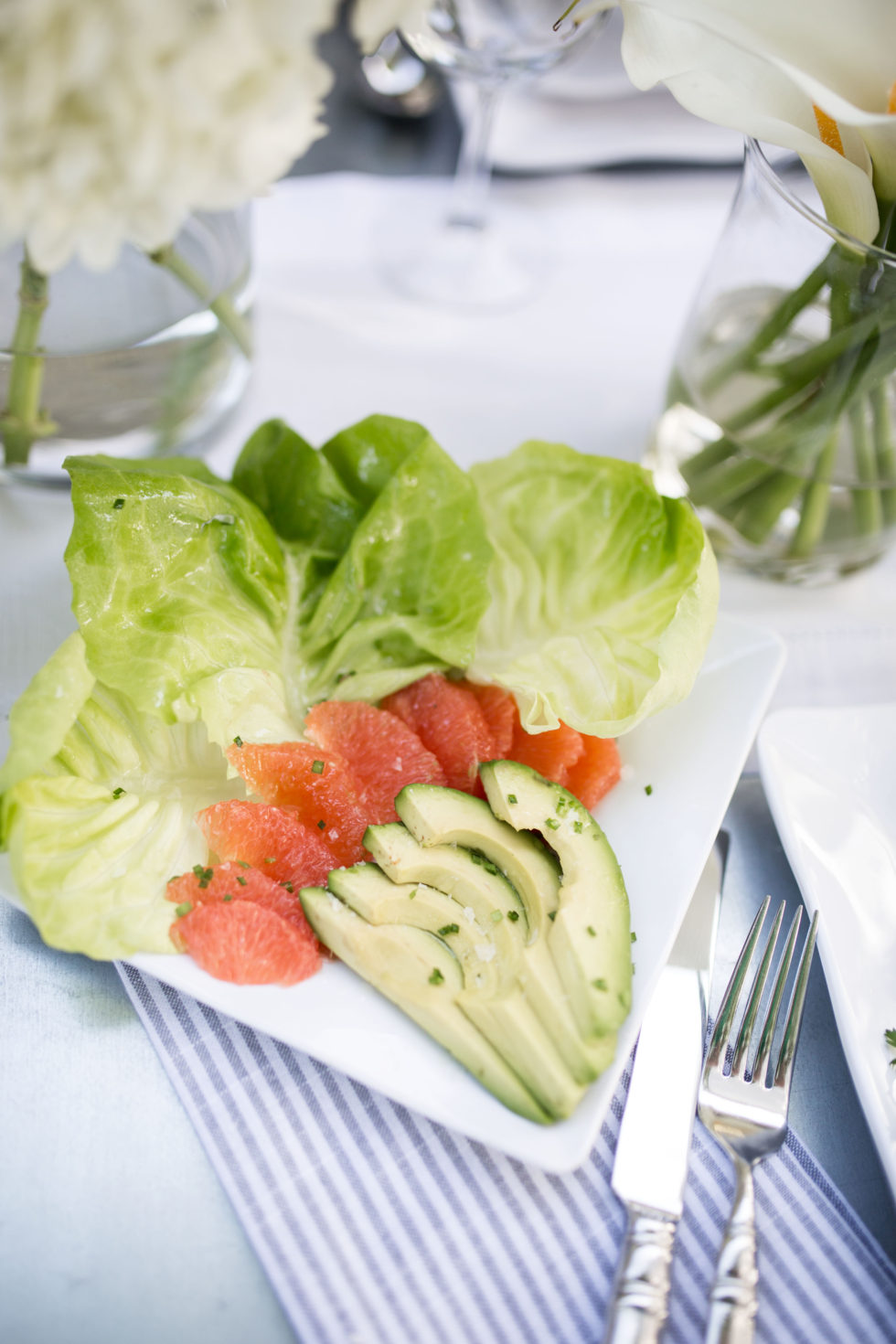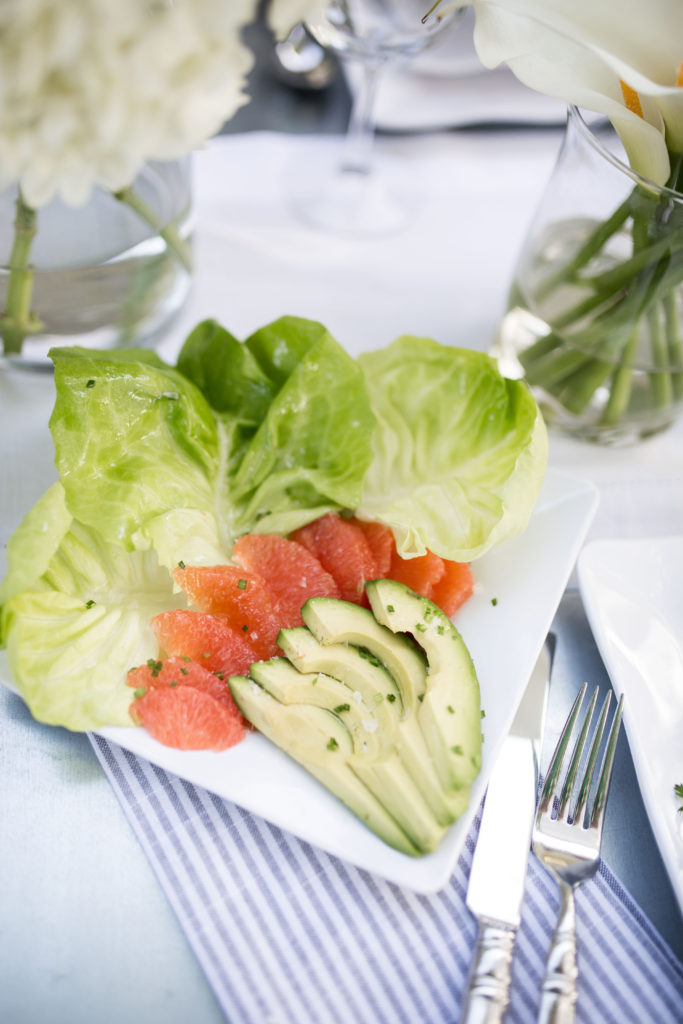 Doesn't this look amazing? With its crisp, colorful presentation, this super light offering is ideal for a girls' lunch. Now, I will admit that segmenting the grapefruit takes some time, but you really need to do it this way or the white pith will ruin it. I watched this video on how to do it and it helped. Bonus: this chef's Scottish accent is mesmerizing.
Here's the recipe for my favorite Champagne dijon vinaigrette. Spread out some bibb lettuce leaves, taking care to place all leaves right side up. Layer the grapefruit, then the avocado slices, then lightly drizzle on the dressing. For the finishing touch, sprinkle some finely chopped chives on top, then a dash of some good sea salt flakes (I like Maldon).
Pound cake with fresh berries and lavender whipped cream
Sooooooo, you may be thinking, "Did you bake this, 'cause you're always saying you can't bake." Nope, I didn't bake this. It's Sara Lee's All-Butter Pound Cake that comes frozen. It's full of sugar and fat, but it's really, really good. The idea came to me when I was whimpering about making dessert to some friends and they suggested this. I simply let it thaw for a few minutes, then used a cookie cutter to make the shapes. Here's a pictorial for tulip-shaped pound cake so you actually see how easy it was!
The whipped cream IS homemade. And just like everything else at this casual patio lunch, it's easy (just 3 ingredients!). Homemade whipped cream elevates any dessert to a massively high status. Here's my lavender whipped cream recipe and step-by-step tutorial.
SaveSave
SaveSave
SaveSave
SaveSave
SaveSave
SaveSave
SaveSave
SaveSave
SaveSave
SaveSave
SaveSave
SaveSave
SaveSave
SaveSave
SaveSave
SaveSave
SaveSave
SaveSave
SaveSave
SaveSave