Since we live in Arizona, we get to enjoy great weather eight months out of the year. During this time, we have drinks on the front porch and call it Happy Hour Power. With the exception of June through September, I can almost count on seeing my neighbors sitting out on their front patio each night. (Depending on your neighbors, that might not always be a good thing.) Either way, hosting a happy hour is a great way to enjoy the nice weather, catch up with friends, and make new ones.
Here's some of my best advice on hosting a successful happy hour. All you need are a couple of tasty appetizers, a great cocktail recipe, decor to create just the right ambiance, and a few good friends!
Serving plates
If you've never bought melamine plates or glassware, you should. This is NOT your grandma's plastic plate collection. They're made so well now and the patterns and colors available are endless. They're perfect for happy hour on the front patio or a pool party, and they won't shatter if they're dropped! Look to buy these towards the end of summer for a big discount. Q Squared has pretty patterns, but you can find them just about anywhere including Macy's, Pottery Barn, World Market. Here's where you can find my Melamine Plates.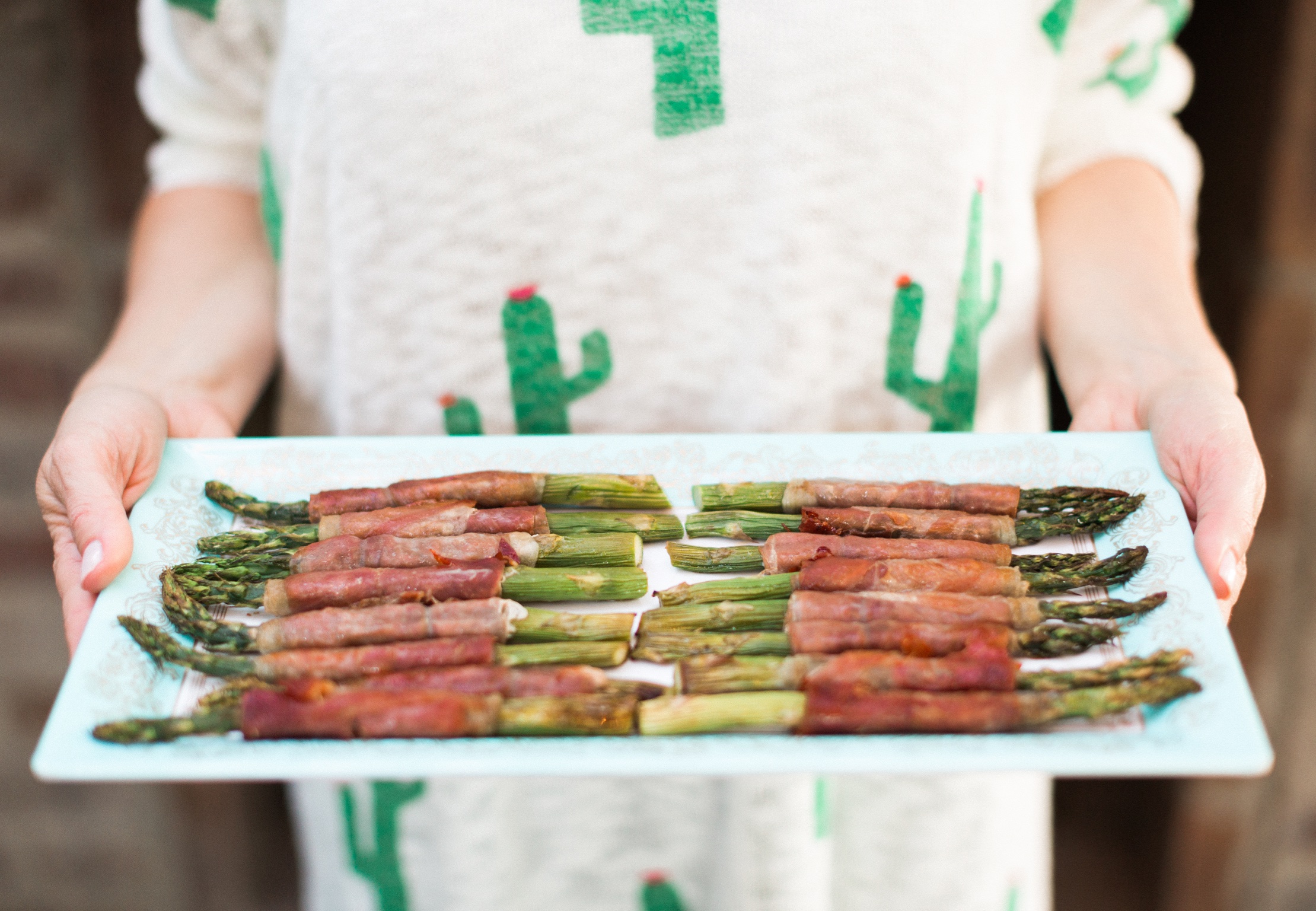 These prosciutto-wrapped asparagus take less than 30 minutes from start to finish and are the perfect appetizer for happy hour power.
Prosciutto-Wrapped Asparagus
A great two-ingredient app that everyone loves.
Ingredients
1

bunch

asparagus, washed and ends trimmed to about 6" long

1

lb

thinly sliced prosciutto
Instructions
Preheat oven to 400 degrees

Wrap each asparagus spear with a 3" wide slice of asparagus so that it goes around twice

Place on greased baking sheet and bake for 10 mins, or just until asparagus starts to slightly brown and crisp up on edges
___________________________________________________________________________________
Blue cheese stuffed dates hugged with bacon are always a crowd-pleaser. Seriously so good and so easy to make!
Blue Cheese-Stuffed Dates Hugged with Bacon
Super decadent and rich, these little nuggets pack a lot of flavor in a small bite. Sweet, salty and creamy.
Ingredients
1

package

Medjool dates

1/2

c

crumbled blue cheese

1

lb

applewood smoked bacon, strips cut in half

toothpicks
Instructions
Preheat oven to 400 degrees

Make a slit in the top of each date, just large enough to remove the pit

Stuff blue cheese in the opening until full

Wrap each date with 1/2 slice of bacon and secure with toothpick

Place on greased baking sheet and bake for 10 minutes, then flip dates to other side, bake 10 more minutes
___________________________________________________________________________________
Keep your happy hour menu simple, and make it ahead of time so you can enjoy your time with friends. These recipes can all be pre-made, and can sit out without the risk of salmonella.
Have a fun cocktail pitcher ready so you're not stuck mixing drinks all night. Here's a fun and easy cocktail recipe I love:
Arizona Sunset Cocktail
A refreshing tart cocktail for warm nights . . .
Ingredients
4

c

Blood Orange Italian Soda

2

c

vodka

4

limes, juiced

thin slices of lime

1

bunch

basil leaves
Instructions
Mix all ingredients together in a large pitcher. Chill for at least one hour to allow flavors to blend. Enjoy over ice, use additional lime slices and basil leaves as garnish.
___________________________________________________________________________________
String some lights up from Costco, and use flameless candles in lanterns for a warm ambiance. Restoration Hardware's flameless remote control candles are $18 to $36.
Add some fun neighbors, some upbeat music, and you're good to go. Cheers!
SaveSave
SaveSave
SaveSave
SaveSave
SaveSaveSaveSave
SaveSave
SaveSave
SaveSave
SaveSave