When I discussed options with my mom about her upcoming 75th birthday, she wanted to celebrate with her good friends and do something original. That's when we came up with the idea of a ladies-only wine tasting party!
I planned a wine-themed al fresco affair, complete with small bites to compliment each course, and set out to coordinate the decor.
Meanwhile, Mom put together a list of 24 of her closest, and long-time (70 years!) friends to help ring in 75 with a bang.
The invitations & tasting cards
For the task of invitations, I enlisted my paper wizard friend, Natalie Mezaros of Pretty Paper Club, for these custom-designed beauties. Together, we chose rich wine hues that really set the tone for our unique affair.
We also created these tasting cards to allow each guest to take notes on the wines as they were presented.
My hubby, a certified sommelier, led the tasting and went through the elements (sight, smell, taste) to help deduct the process of how wines are characterized.
The flowers
I consulted with my friend, Jennifer Grant of Petals, to create some especially beautiful flowers for this party. She delivered big time! She used wooden wine crates filled with a gorgeous display of hydrangeas, roses, peonies, greenery, grapes, cabbage, and kale. I was absolutely blown away when she brought these in to my house!
I rented a 16 foot-long table, so lots of flowers were needed to fill the space. The wine boxes created length down the center, and were show-stoppers that fit the theme perfectly.
Real grapes and cabbage adorned the floral boxes, adding some incredible interest and texture to the arrangements.
The table linens
I've been waiting for the perfect occasion to use linens from the famous La Tavola luxury linen company. And this was it! I knew their velvet tablecloths would be exquisite for my tablescape. I visited their showroom in Scottsdale, and their consultants helped me choose (once I stopped drooling) this sumptuous king's drape in a shade called… wait for it… Pinot. Pretty perfect!
The place setting
Clipboards purchased in bulk, spray-painted in a matte violet, and tied with a simple grosgrain ribbon made a great surface for the tasting cards. My neighbor's daughter (who is in eighth grade by the way) put her talent to work and personalized each clipboard in a modern calligraphy font for each guest. And because names appeared on each board, they doubled as place cards.
It was a challenge to fit five glasses (4 wine, plus 1 water) around each place setting, so thank goodness I decided to rent the extra wide 48-inch tables. Believe it or not, it was more economical to buy all of the wine glasses rather than rent, so I found these all-purpose glasses in boxes for 12, making storage easy. Natural mango driftwood charger plates  provided a nice contrast to the deep-toned tablecloth, and I'm now the proud owner of 24. Let me know if you ever need to borrow two dozen light wood chargers or 125 wine glasses!
The food & wine
I brought in a fantastic caterer, Jennifer's Catering, for the four-course tasting menu, and worked closely with them to pair the food with our wines selections.
Here's what we served:
1st Course: Caviar Toast Points with Champagne
2nd Course: Lemon Herb Chicken Skewers with White Burgundy
3rd Course: Pancetta-wrapped Beef Filets with Red Bordeaux
4th Course: Pear Tartlettes with Semillon
The birthday girl & her guests
The celebration was a hit, the decor came together beautifully, and my mom and her friends all enjoyed the wine tasting party!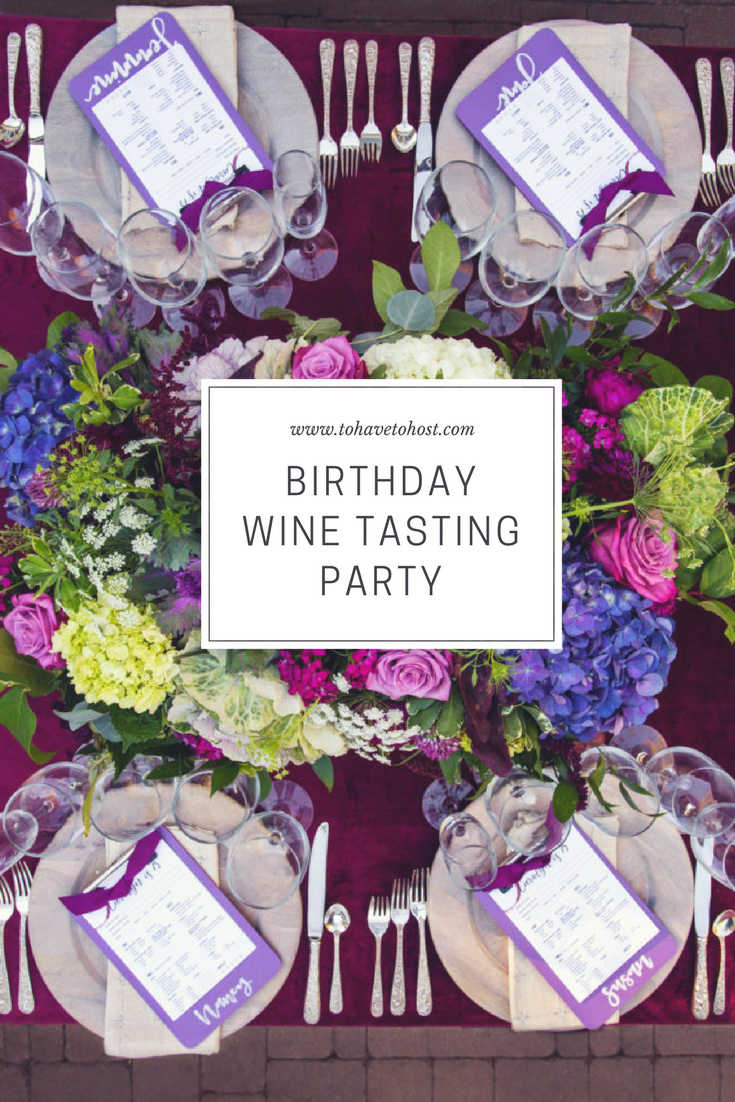 SaveSave
SaveSave
SaveSave
SaveSave
SaveSave
SaveSave
SaveSave
SaveSave
SaveSave
SaveSave
SaveSave
SaveSave
SaveSave
SaveSave
SaveSave
SaveSave
SaveSave
SaveSave
SaveSave