I recently set up a fun little challenge for myself. I had a dinner party for six coming up, so I set out to see if I could create the entire tablescape from IKEA, all for under $100. Spoiler alert: I did it!
I'll preface this by saying that I have a love-hate relationship with IKEA. I love the reasonable prices and think they have some really cool and practical offerings. However, I loathe the bulky carts, the overwhelming product selection, and the fact that it takes FOREVER to get through the store.
For those of you who have said that you don't want to spend a lot of money on entertaining items, you don't have to — and this challenge is proof!
The linens
For this party, I went with a black and white tablescape theme, which I often do, because it's so versatile.
I have to admit, I was very pleasantly surprised by the quality of IKEA's table linens. This $6 table runner was super thick and the pattern was geometrically interesting. Napkins proved to be more of a challenge — the store's selection was very limited, so instead, I ventured into the dish towel section and found these black and white checkered dish towels, 2 for $6.
Pro Tip: Don't overlook dish towels as napkins. They're usually bigger and are often less expensive.
I really didn't need the striped blanket, but the price was too reasonable to pass up. I know I'll use it sometime soon!
Votives, candles, & tea lights
Pro Tip: IKEA is a great place to stock up on tea lights; they're sold in bulk, and the price is a steal. They also have an excellent votive candle holder selection.
Check out these white metal candle holders, just $2.50 each!
Chargers & plates
Here's where it got interesting. Plate chargers were non-existent at the store, so I had to get creative. I went into the candle section and found what IKEA calls a "candle dish" for $5 each. The pattern was the same darling white metal cut-out as the votive I found earlier, so I quickly snatched up six of them and knew they'd be perfect as chargers. I love the trim detail on these!
Pro Tip: Plate chargers won't always be in the dishware section of a store. Check in other departments, in both home decor and seasonal, for similar-sized items that might work.
Plates are sold separately at IKEA, making it simple to get the exact number you need. You all know how much I love dark plates, and these charcoal plates, $3, were no exception. The small leaf plates served as the salad plates — aren't they cute? They're just enough design to be noticed, but not distracting from the rest of the tablescape. Here's a similar patterned side plate, $2.
The plants
Artificial potted plants, $5 each, worked well here since I knew they could be re-purposed. (You'd be surprised to see how real these look, even up close!) The simple black matte pots complement the black and white scheme and the pretty greenery adds just enough hint of color.
My total for whole IKEA tablescape came to $109, but with my $10 off coupon, I left the store with everything for $99. Challenge completed!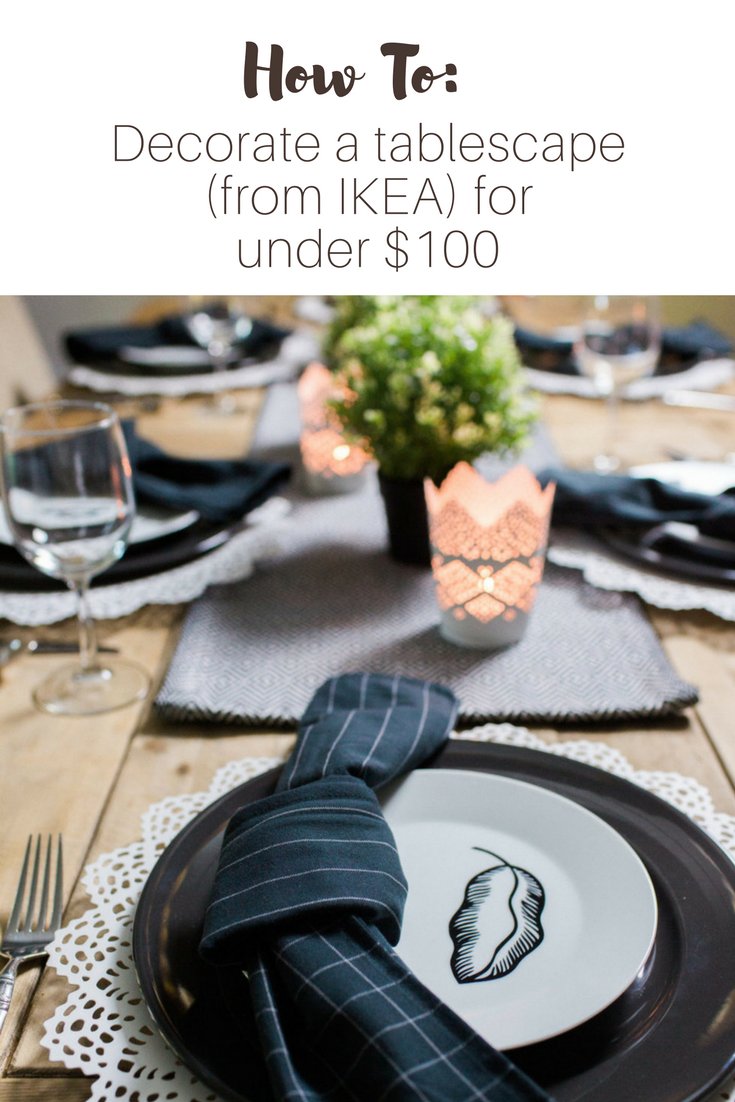 I take back everything I wrote earlier… I really do love you, IKEA. Can we be friends again?
SaveSave
SaveSave
SaveSave
SaveSave
SaveSave
SaveSave
SaveSave
SaveSave
SaveSave
SaveSave
SaveSave
SaveSave
SaveSave
SaveSave
SaveSave
SaveSave
SaveSave
SaveSave
SaveSave
SaveSave
SaveSave
SaveSave
SaveSave
SaveSave
SaveSave
SaveSave
SaveSave