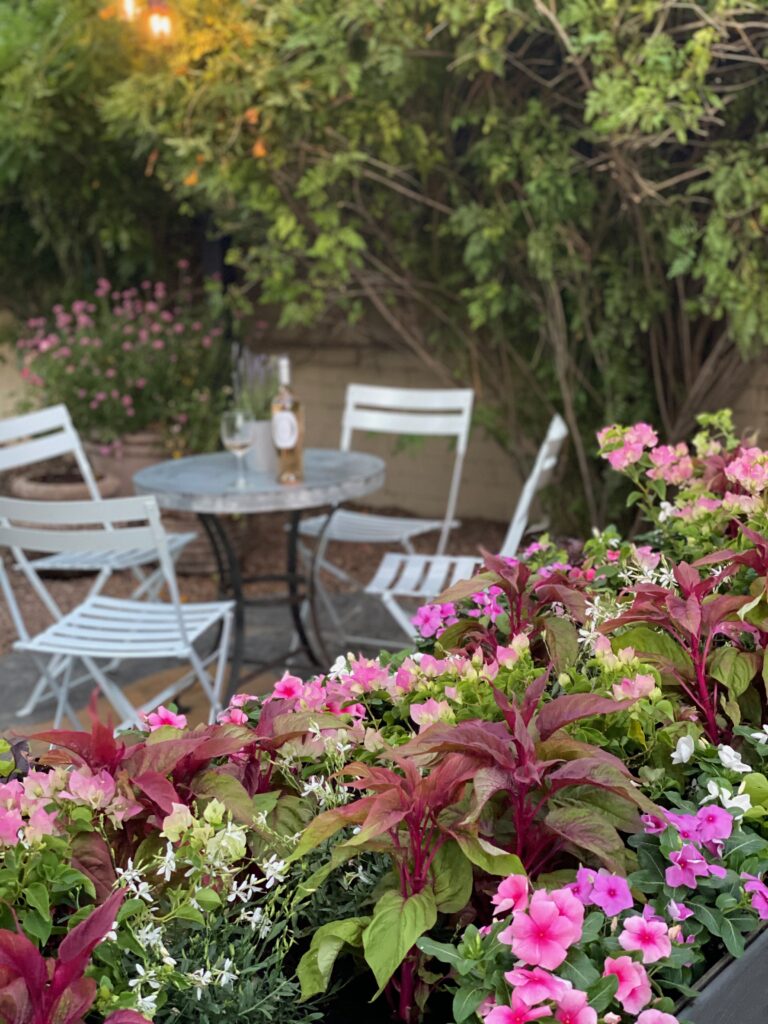 To be honest, I had never heard of a cutting garden until a few months ago when I started to do some research on growing a garden for the purpose of not only enjoyment, but for creating your own bouquets! It's such fun to harvest flowers from your own backyard with the thought of using them for your next table centerpiece, powder room arrangement or simply a bouquet for your kitchen island.
Different from a vegetable garden, a cutting garden doesn't require a lot of thought. It is there simply for you to be able to cut the flowers when needed without having large gaps in between the harvested flowers. I'm going to show you how we designed ours (yes, it's possible to do this in a desert climate like Phoenix!).
Location, Location, Location
It goes without saying that you need a sunny spot for a cutting garden. This can be a little tricky in Arizona, where we don't have a shortage of sun, rather a lack of shade. You don't need a lot of space, either. Just make sure it's not an area that will burn the flowers because it's too hot (i.e. – next to an asphalt driveway).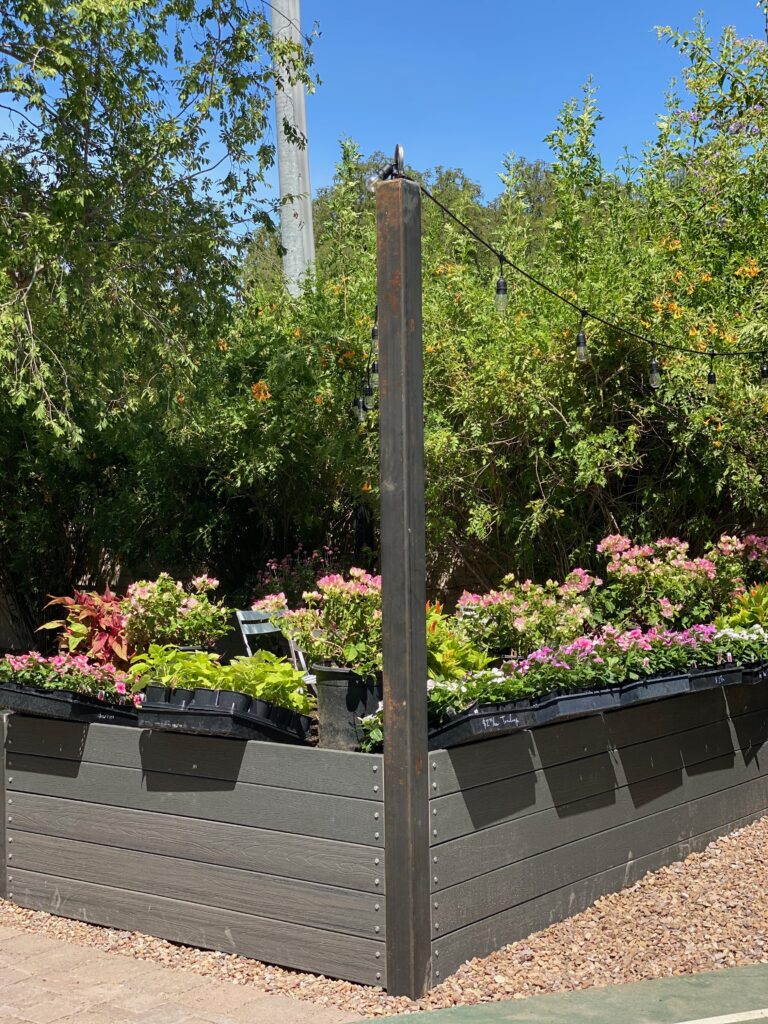 Cutting Garden Layout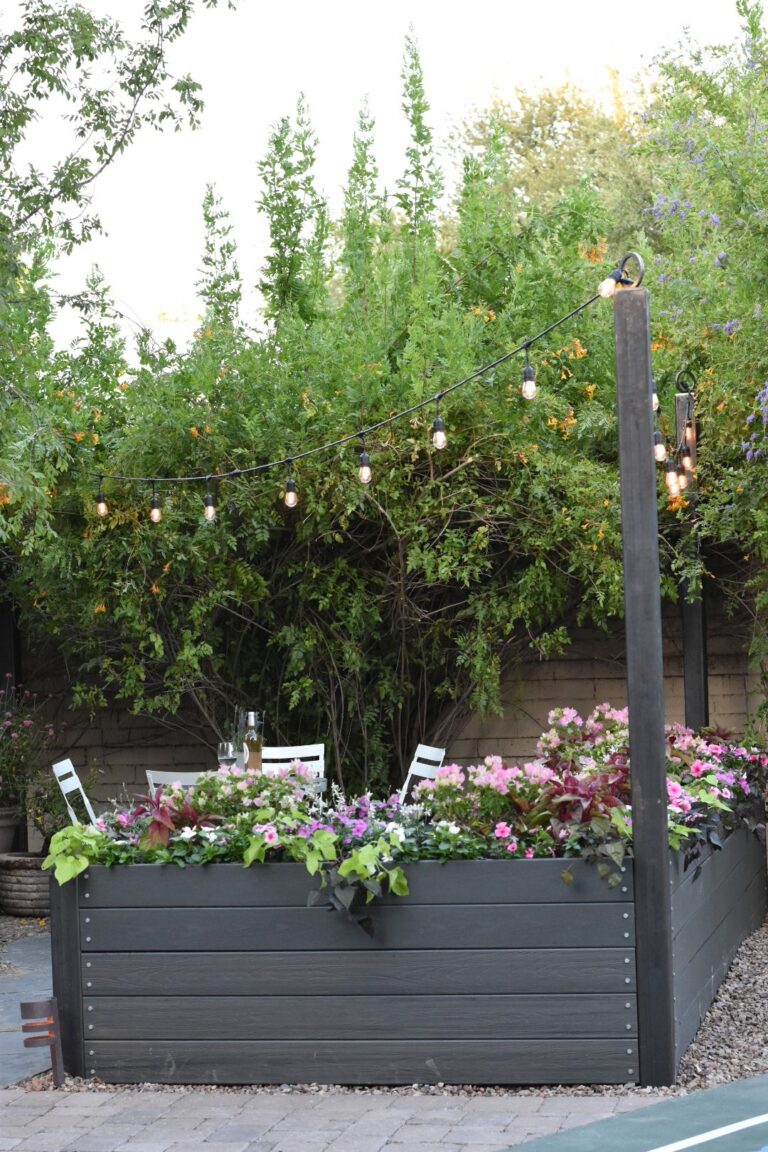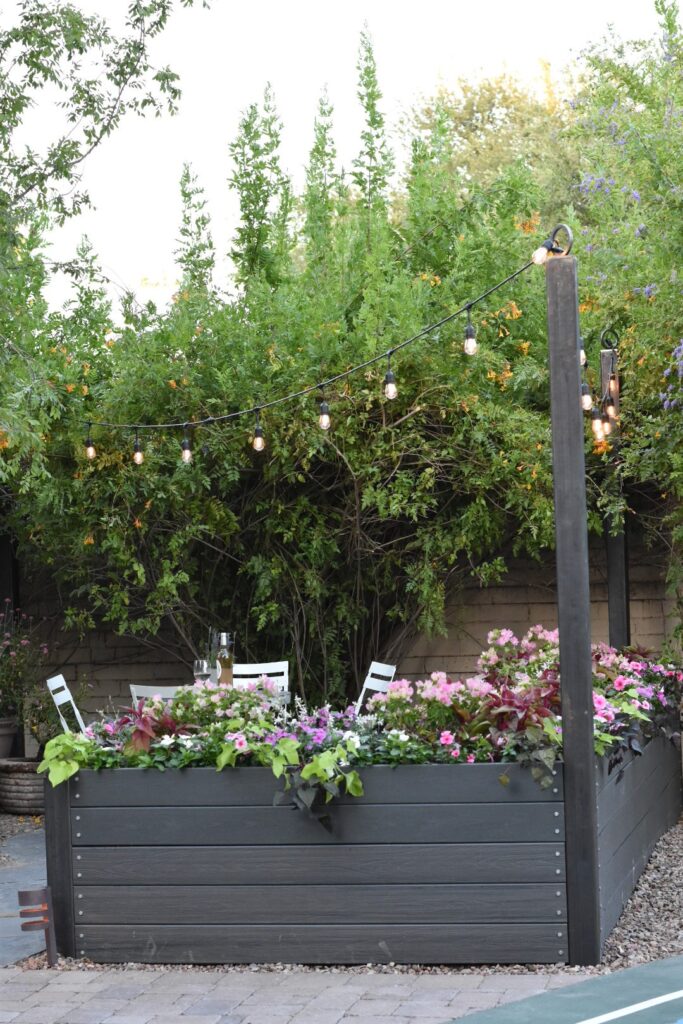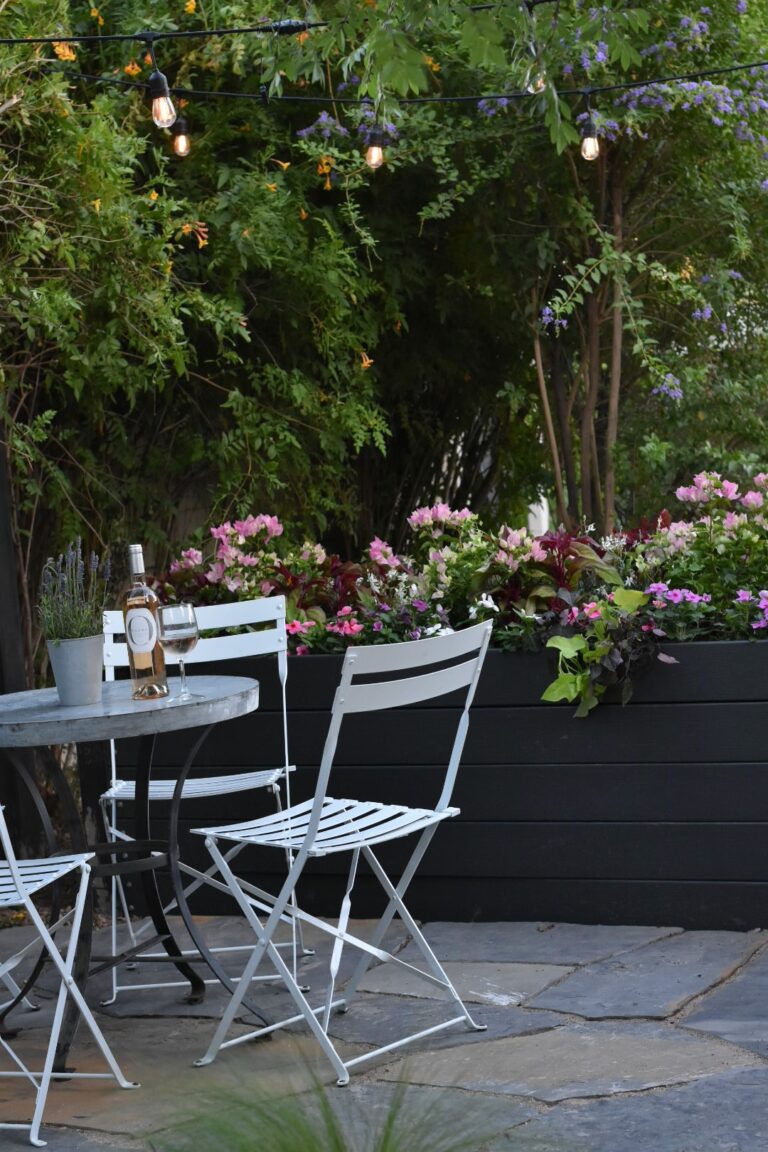 Think about how much space you will need to leave in between your flowers so you have adequate access to them. You may want to plant them in rows wide enough to walk in between. We chose to construct a raised planter bed in an "L" shape. This not only prevented us from having to stoop over to plant and maintain our cutting garden, but created a nook in the "L" where we were able to put a bistro table and chairs next to the our cutting garden. Also, make sure your watering system is sufficient to supply your garden – you don't want to have to water this by hand.
Shop outdoor furniture here:



Decor Details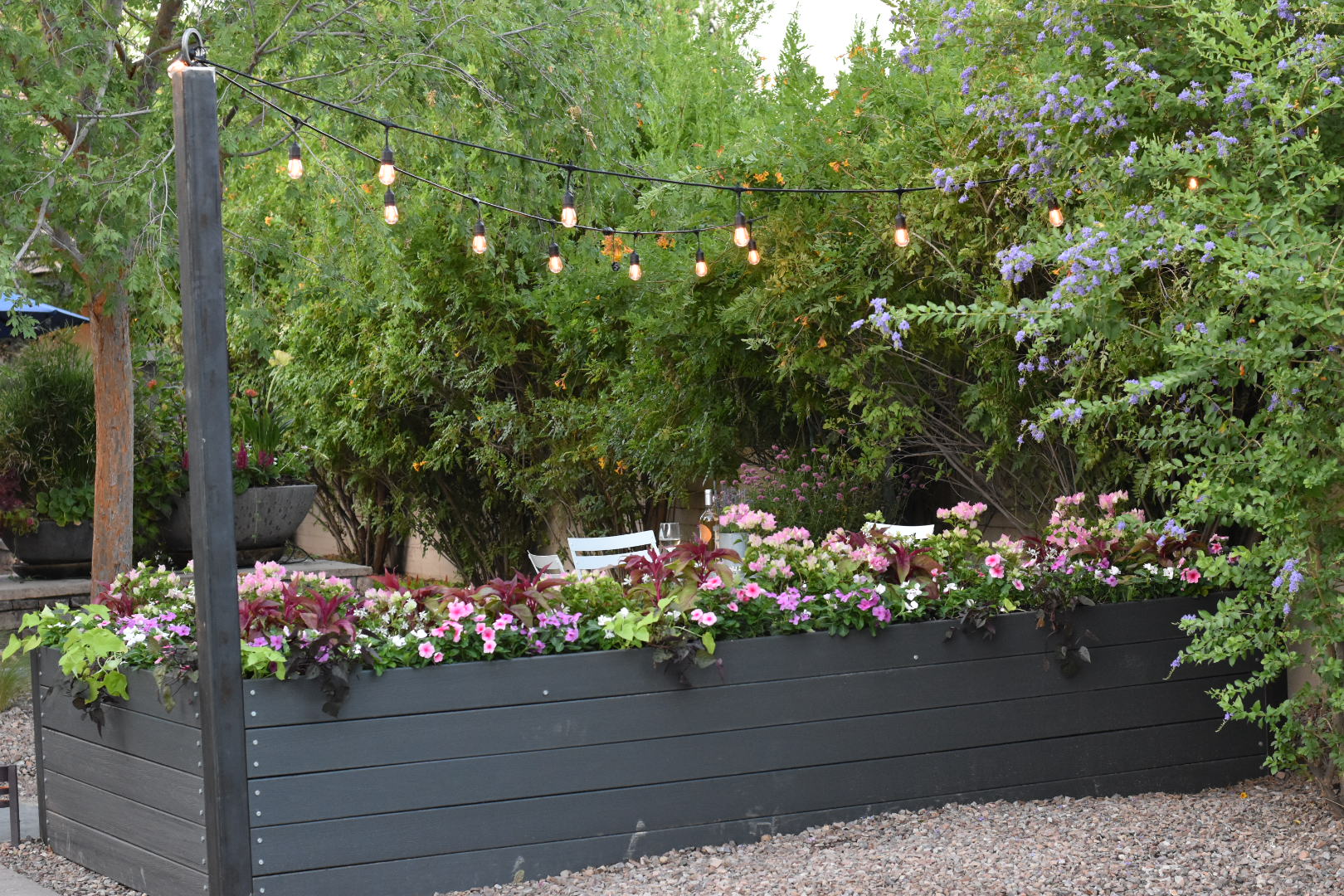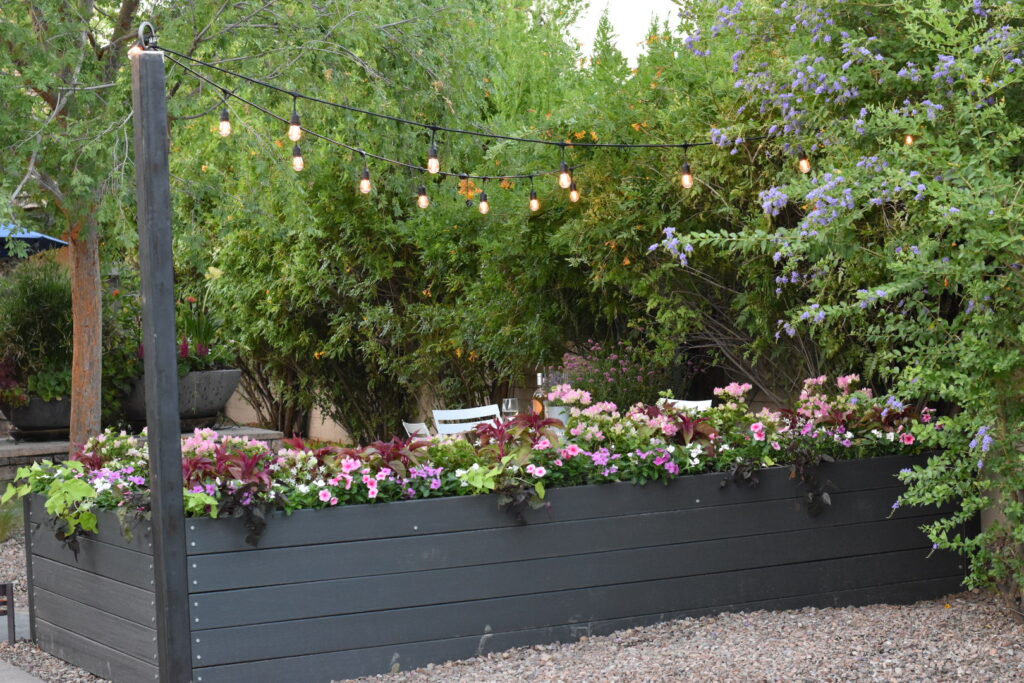 I wanted to have a little extra space for a small table and a few chairs, so we had a flagstone put down for ground covering. A round zinc-topped table and white metal folding chairs were a great choice for this outdoor entertaining area. We also had metal posts installed around the cutting garden borders where we could hang string lights for added ambiance.
Shop outdoor string lighting here: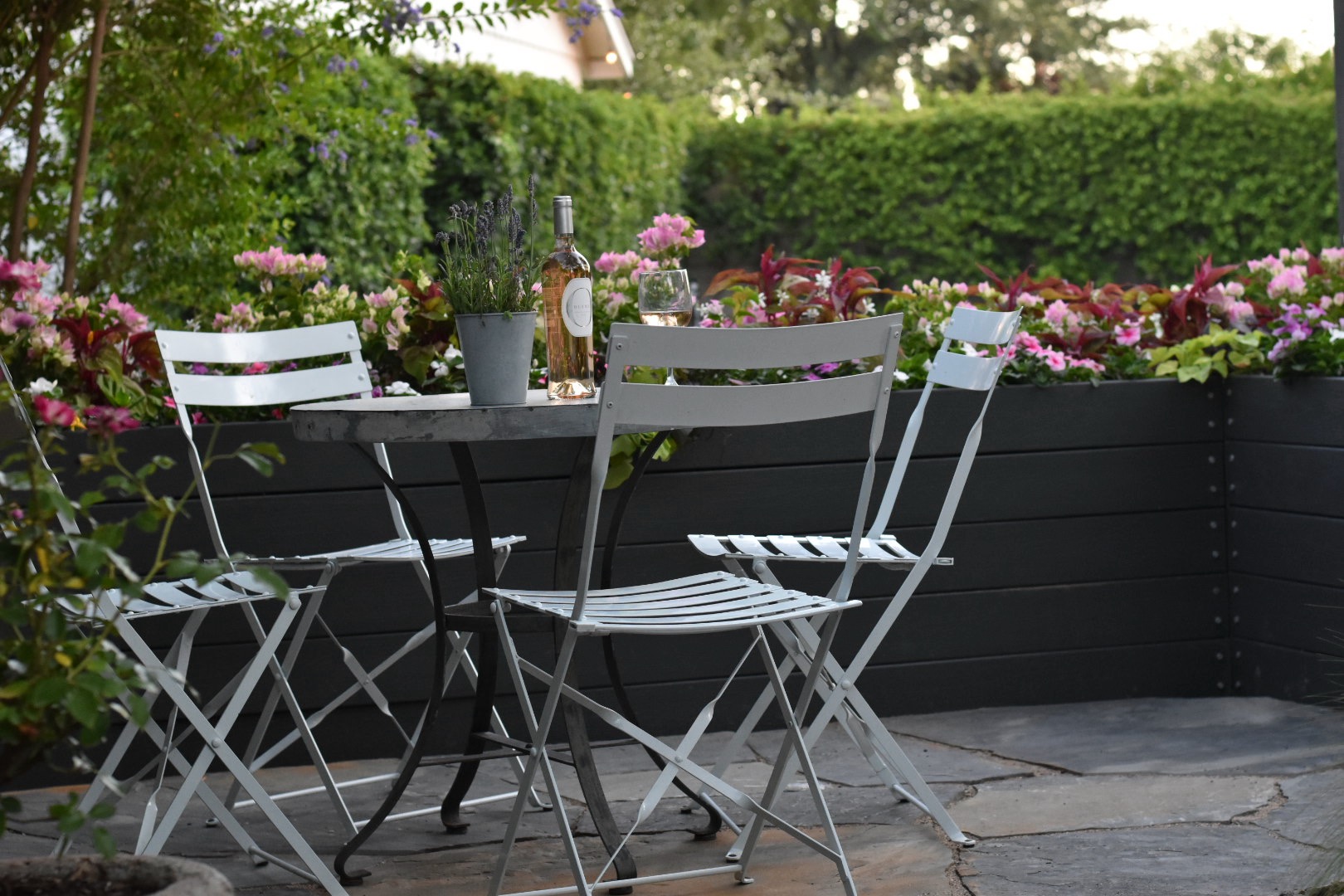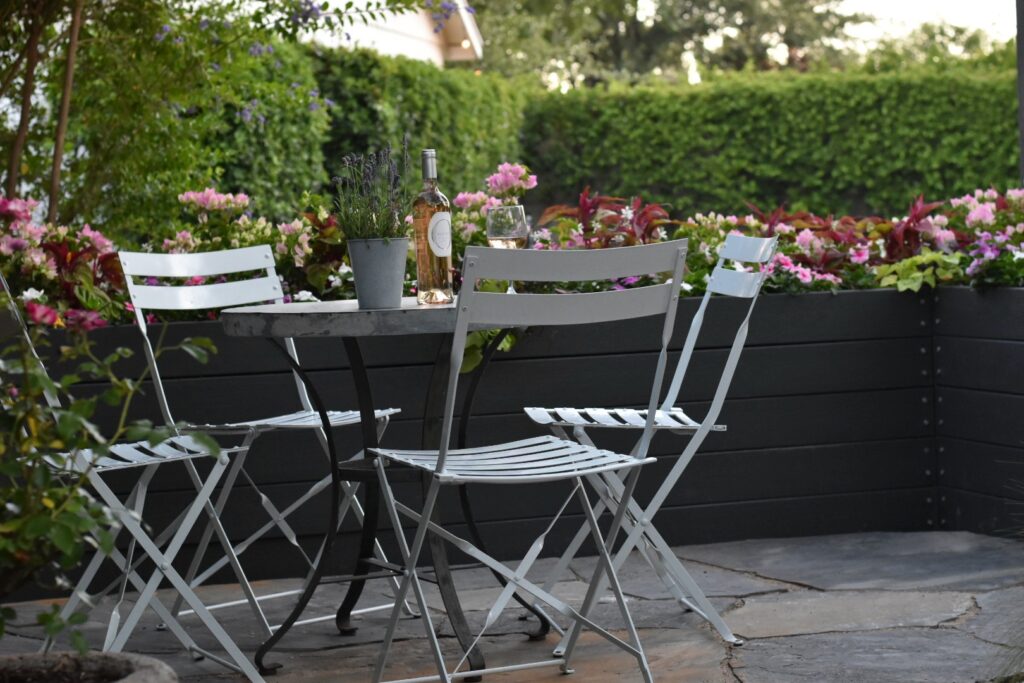 Soil Preparation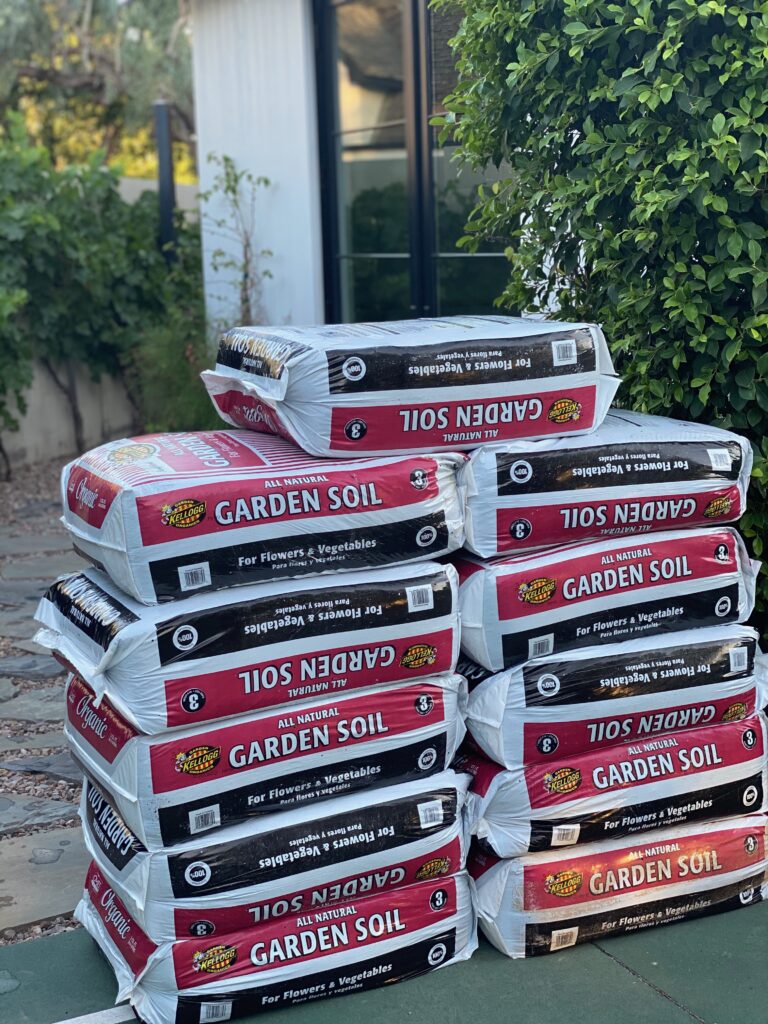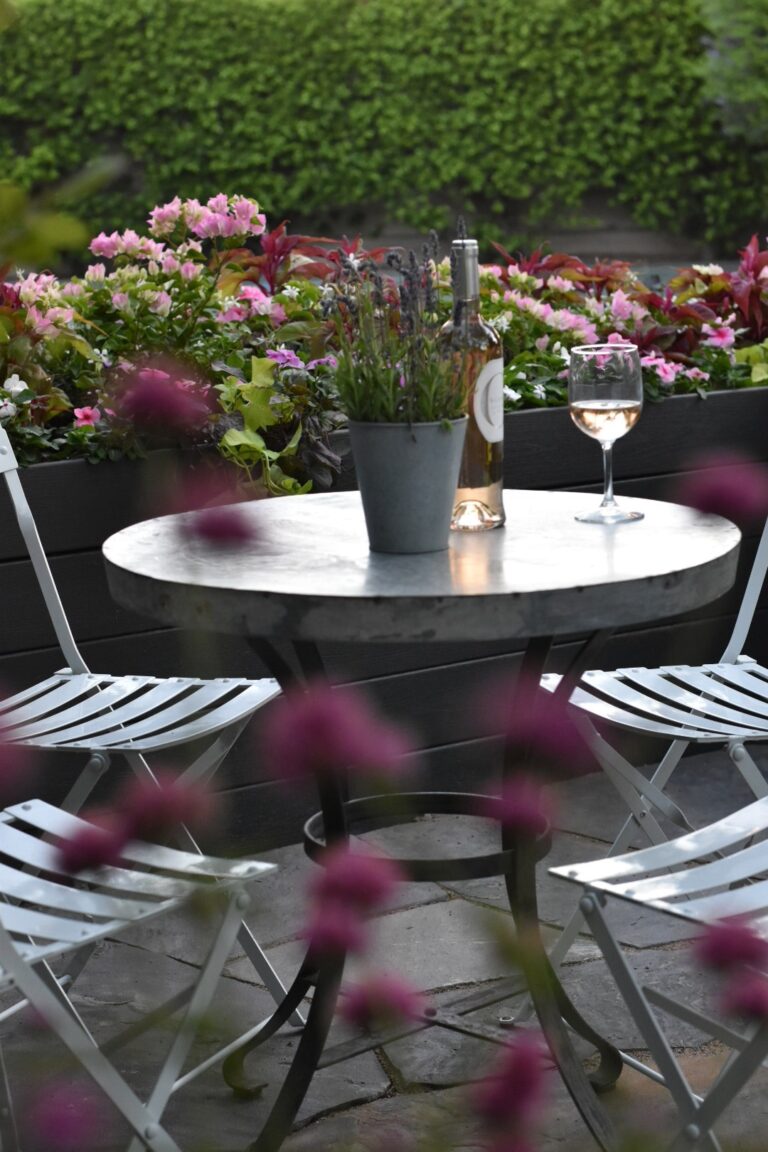 Don't cheap out on the soil for your cutting garden – buy high quality soil and mulch, just like you would for a vegetable garden. We filled our beds with foot of dirt at the bottom to take up some space, but the top 3/4 is organic soil and the very top layer is mulch.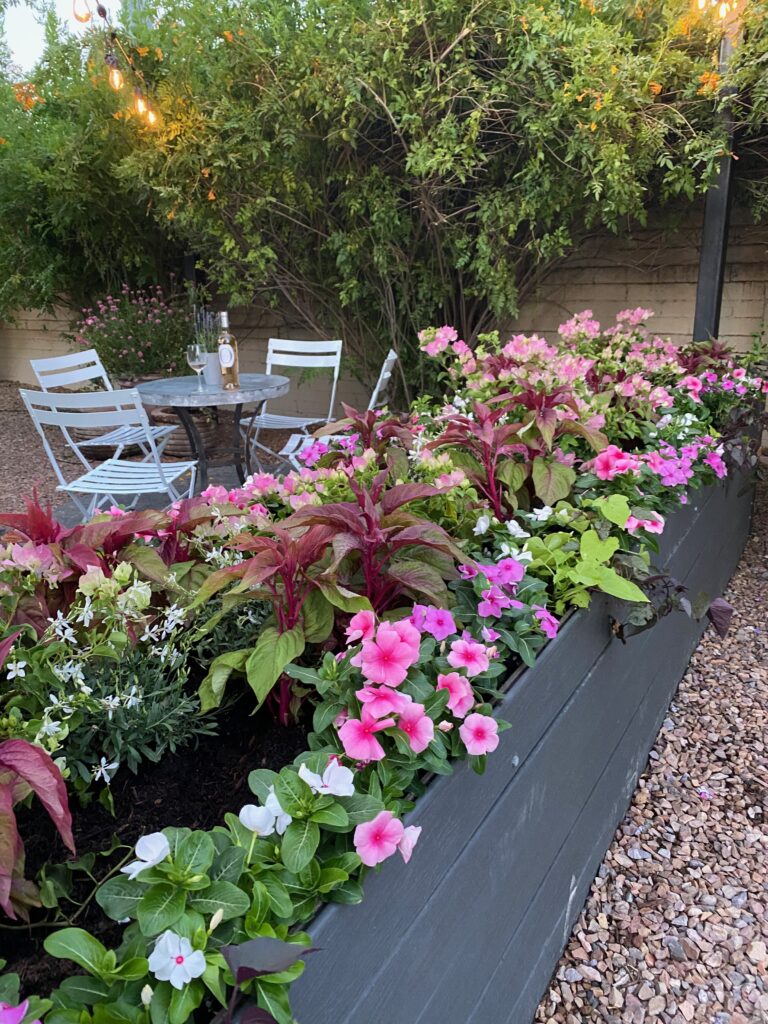 Flower Bouquet Choice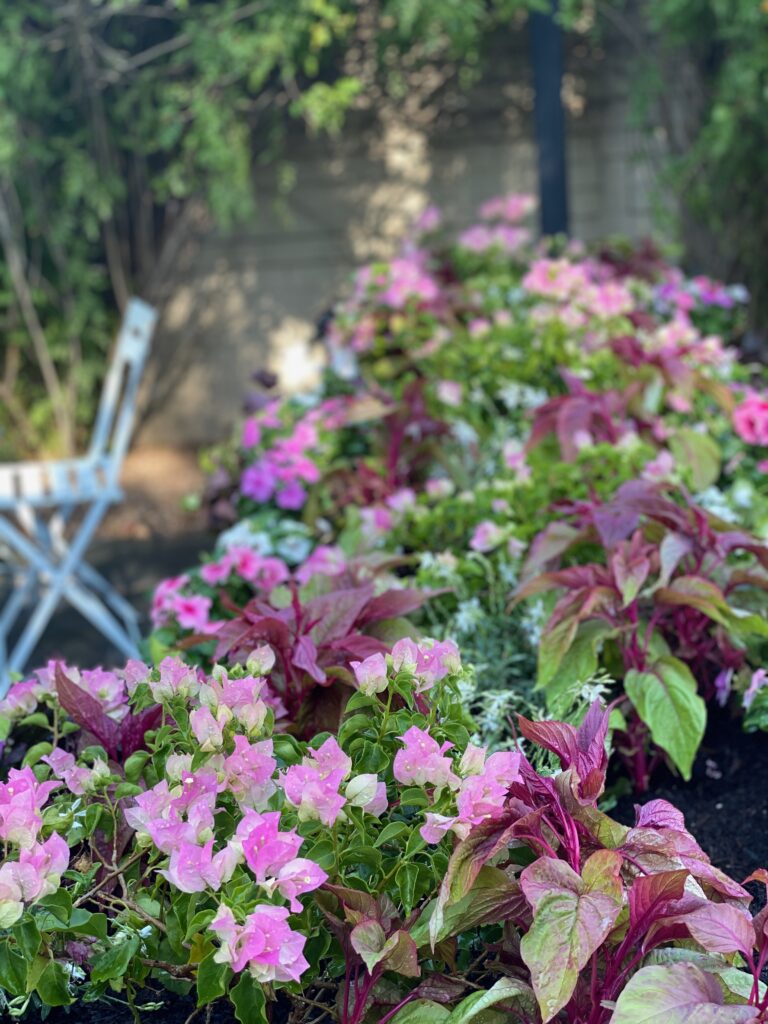 This is the fun part! Depending on your zone, it may make sense to plant annuals so that they grow quickly and will continue to bloom. Here is a great guide to planting flowers in a cutting garden. Florals with long stems will give you more flexibility with cutting so that you can chose your length when arranging them. If fragrance is important to you, be sure to chose some scented florals. Above all, chose flowers that you really want to be able to use in a bouquet!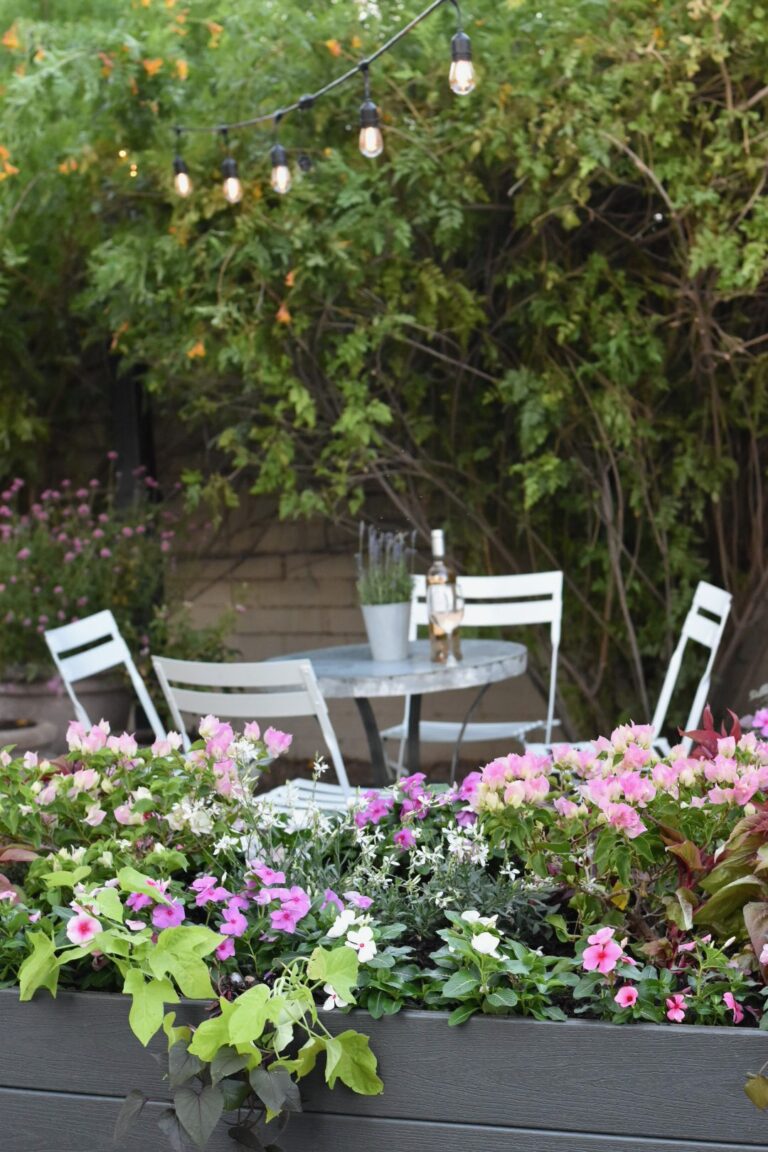 I hope you've enjoyed seeing how we took an unused part of our backyard and created a cutting garden with some extra space for a place to sit and enjoy our new flowers.
For more photos of our backyard, click here to see a post of our vegetable garden and here for a tour of our poolhouse.