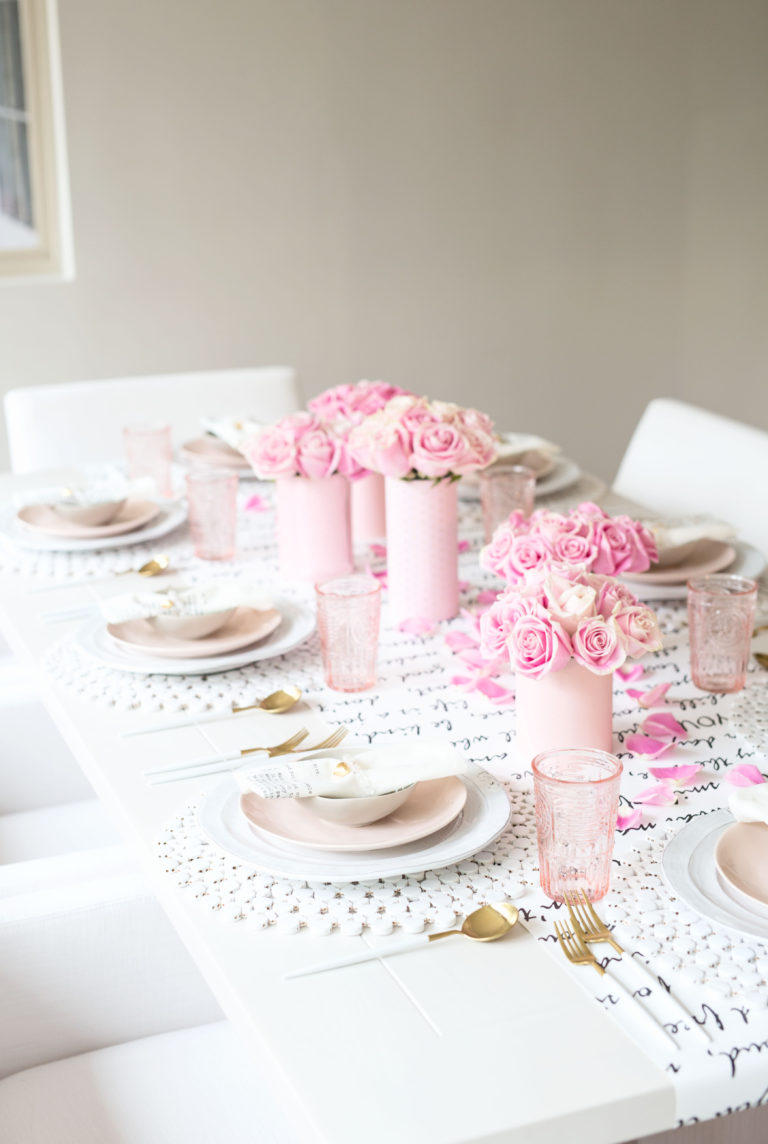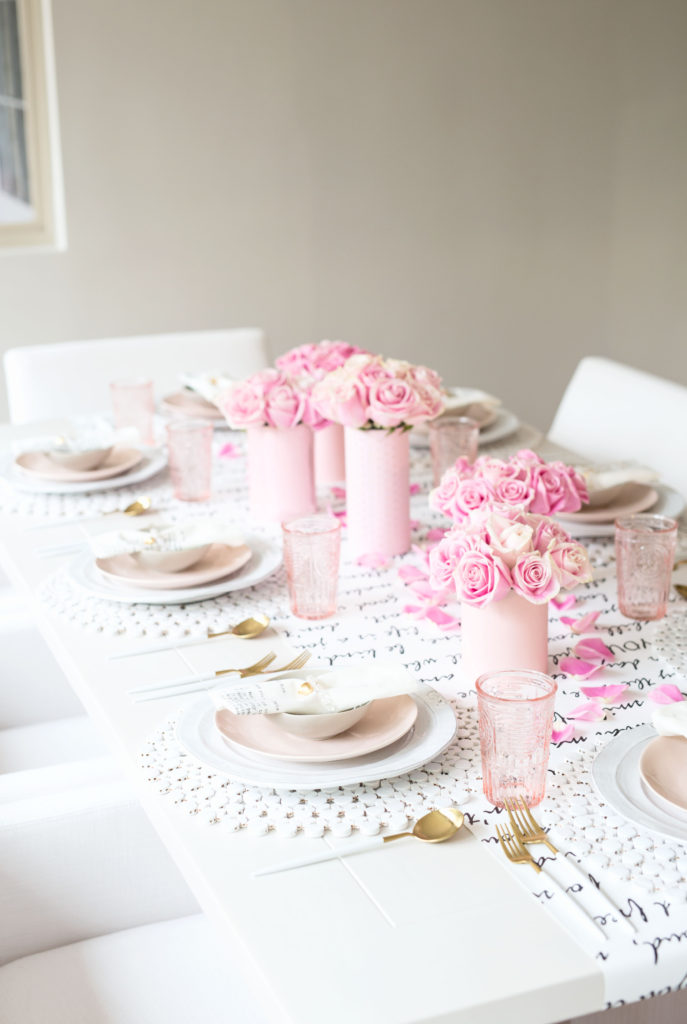 What could be more charming than honoring your best gal friends with a fun lunch and a special surprise gift for Valentine's Day? It really is the perfect time to show your girlfriends some love and celebrate these vital relationships that mean so much to our well-being. See how I collaborated with my friend, Julia Winter, a well-known jewelry maker in Phoenix to throw a sweet galentine's lunch with thoughtful details, a bespoke bracelet, comfort food and some great DIY aspects.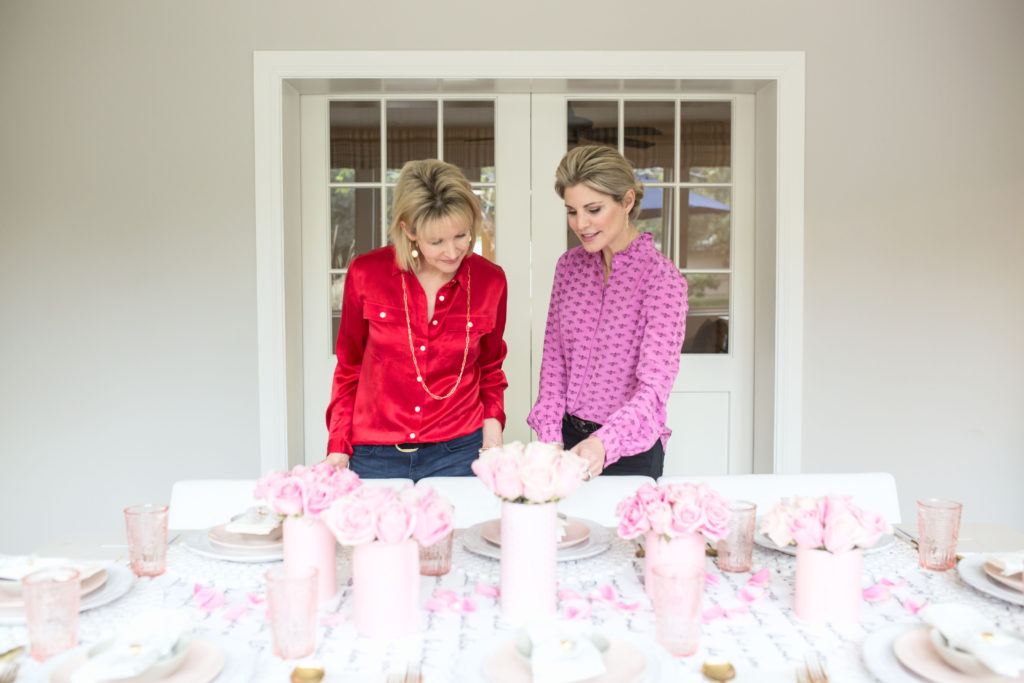 The Table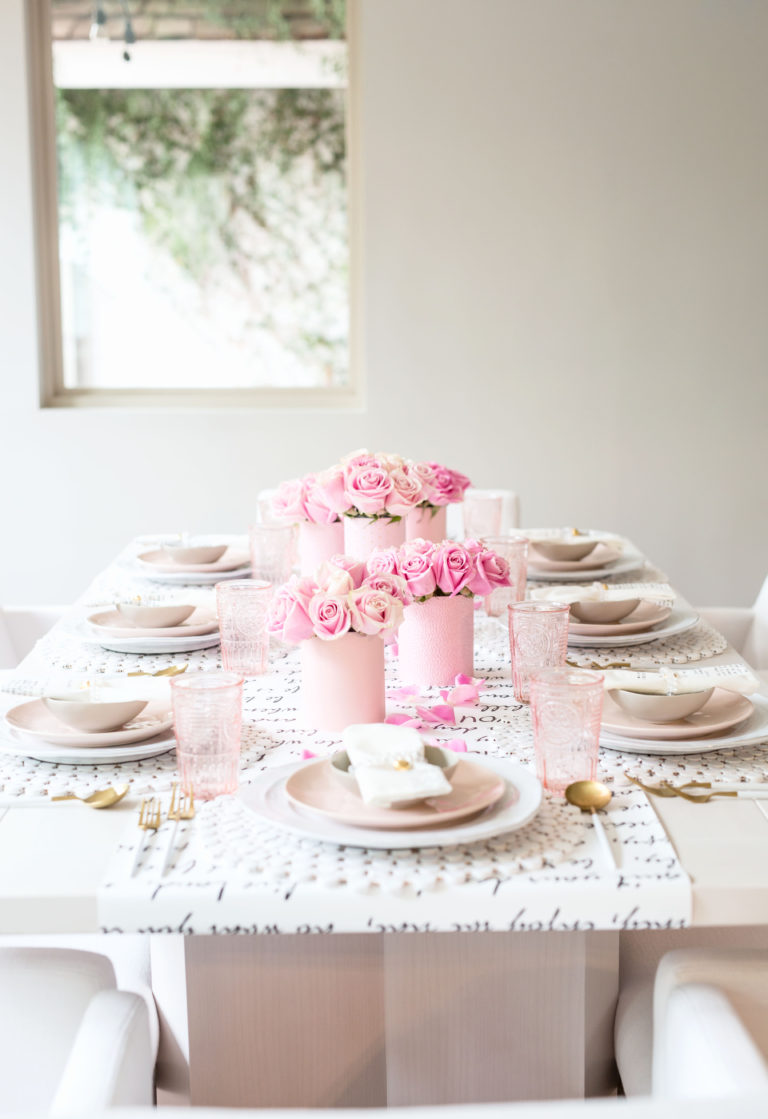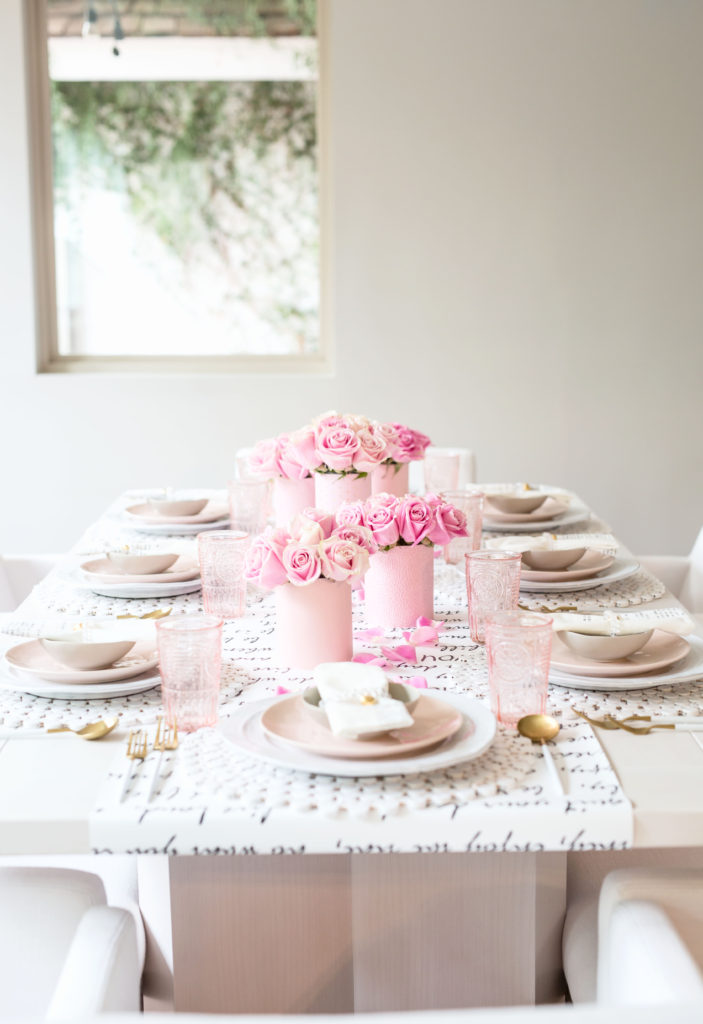 Instead of using a fabric table runner, I wanted to do something creative that reflected the endearing sentiments usually associated with Valentine's Day. I found this wallpaper with hopeful, supportive and promising words and simply ordered it by the roll – it couldn't have been easier or more perfect.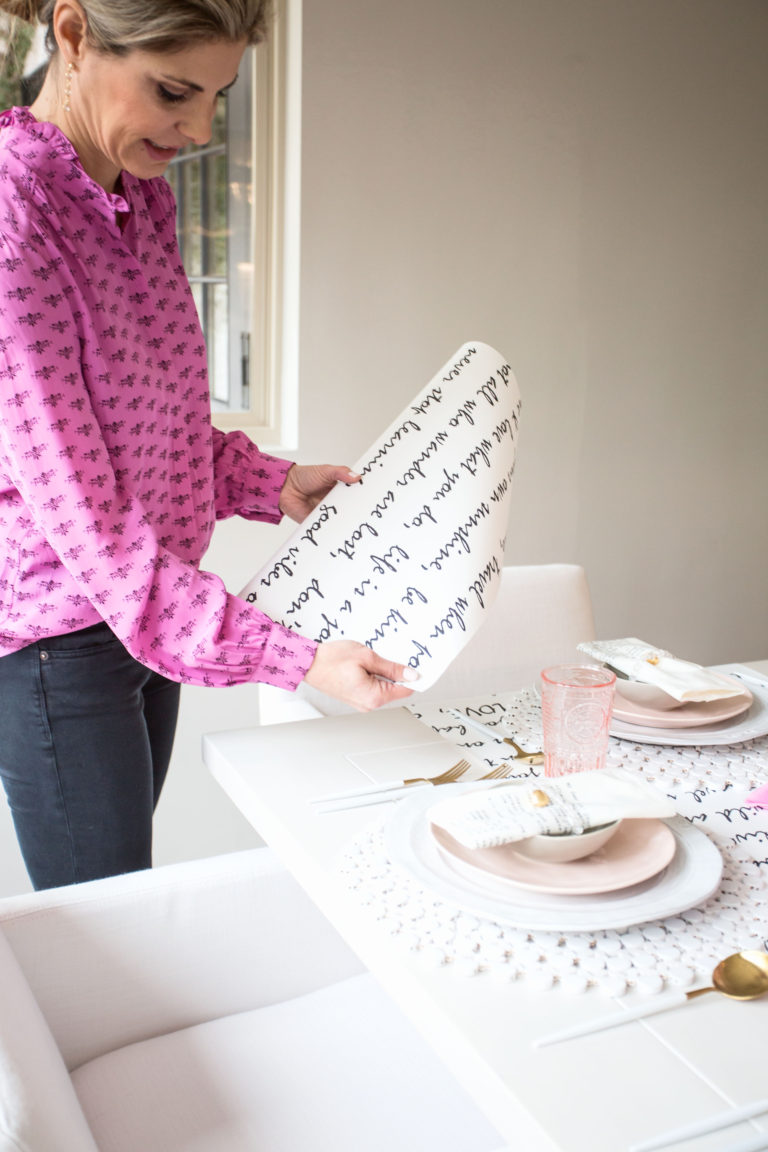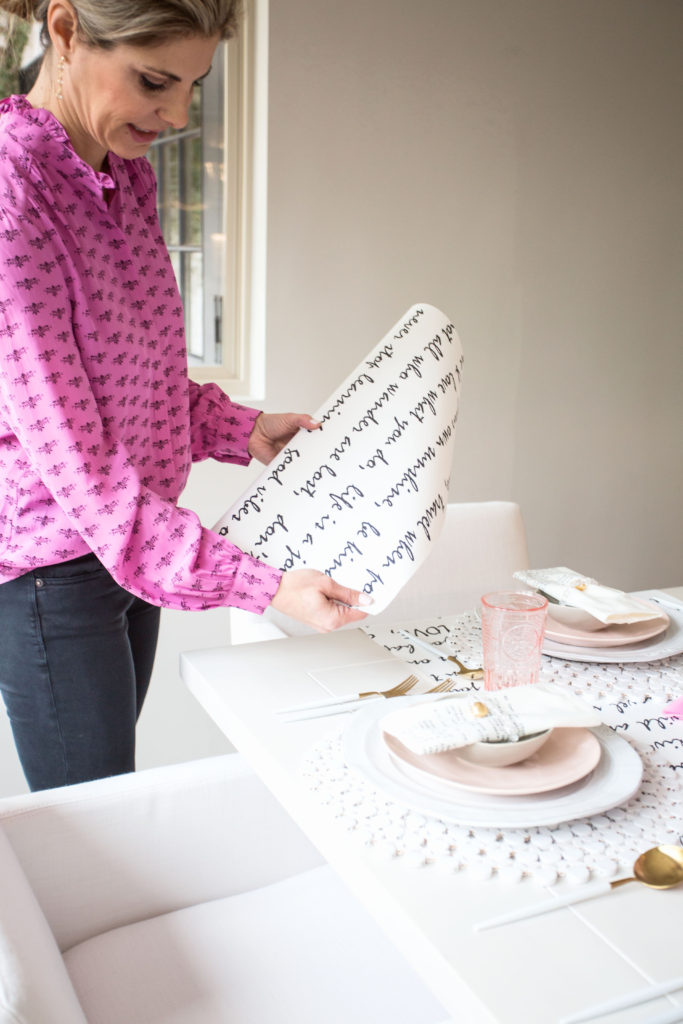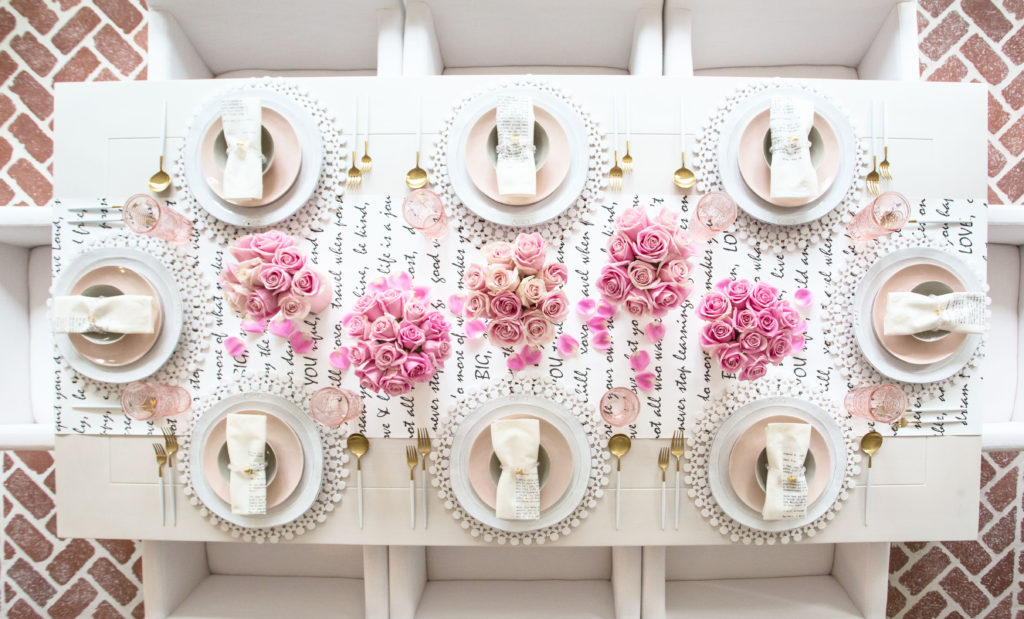 Place Setting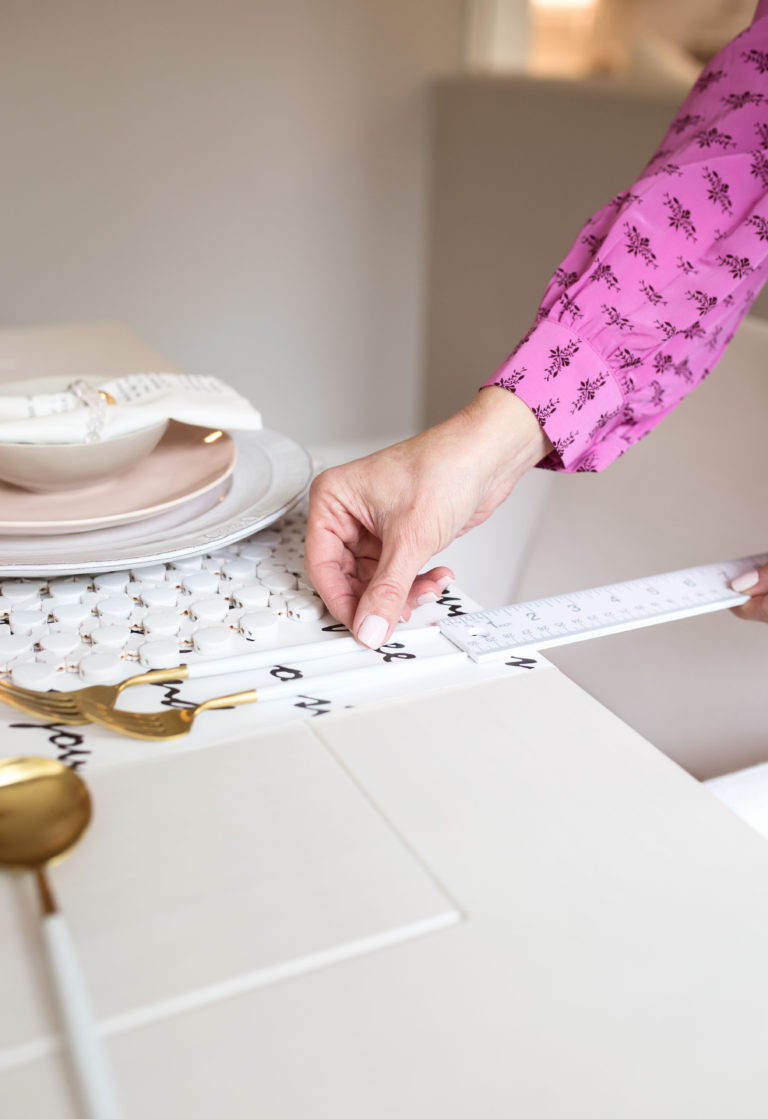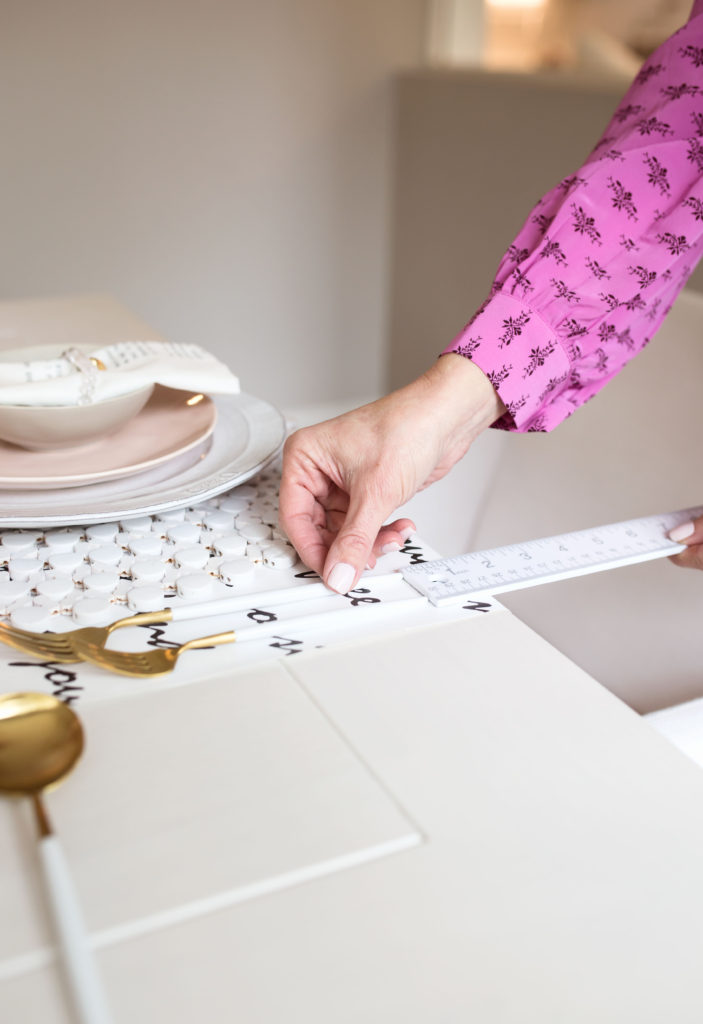 Using my bamboo placemats as a base, I layered the place setting with my rustic stoneware plates from Anthropologie, then a pink plate, and finally a light gray bowl. Every piece is distinct, but still blends in together.
Shop the place setting here: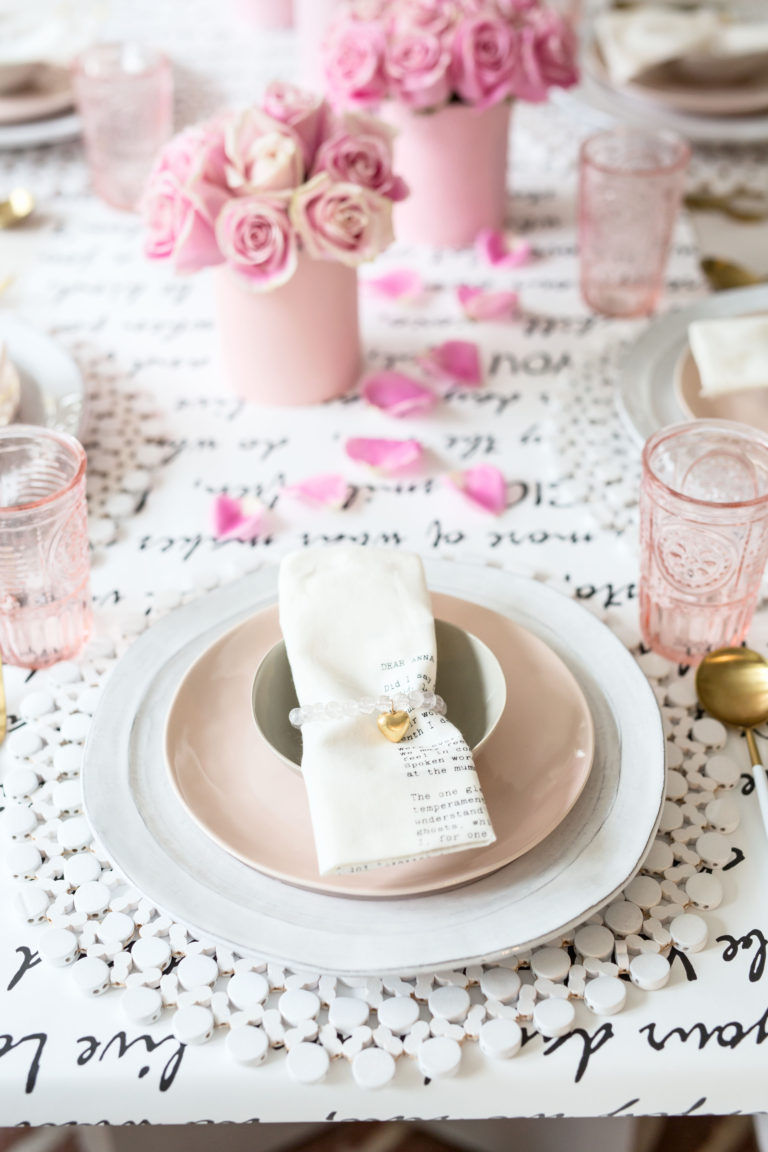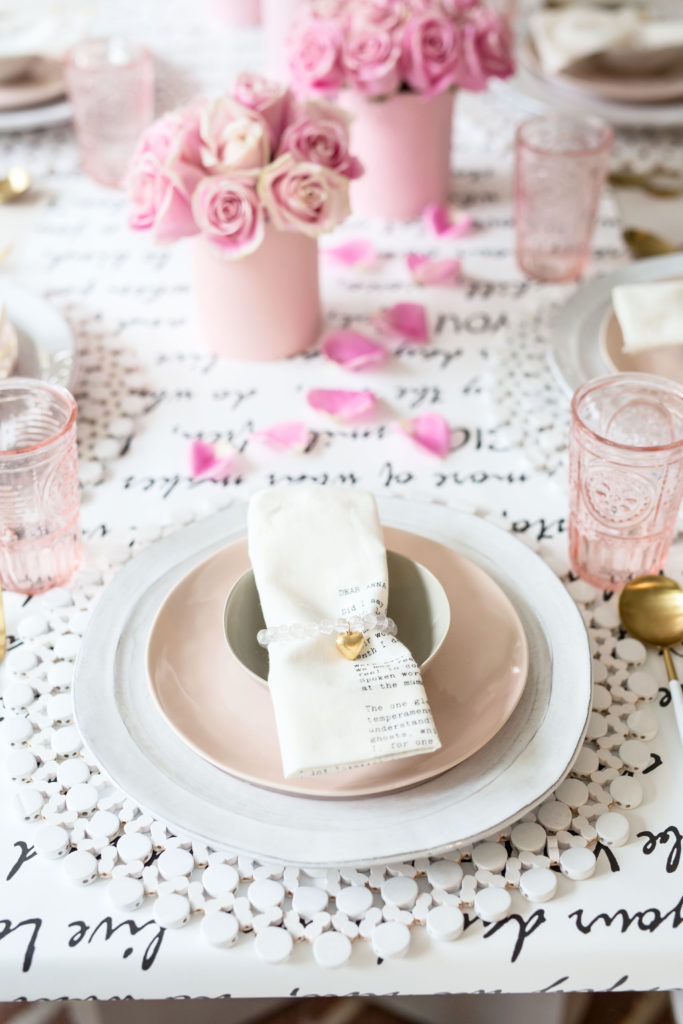 The second I saw these napkins, I knew they'd be perfect for this table. Vintage love letters were re-printed on tissue-thin white linen napkins. From authors such as Rudyard Kipling, Thomas Jefferson and Mark Twain, they take you back to life over a century ago.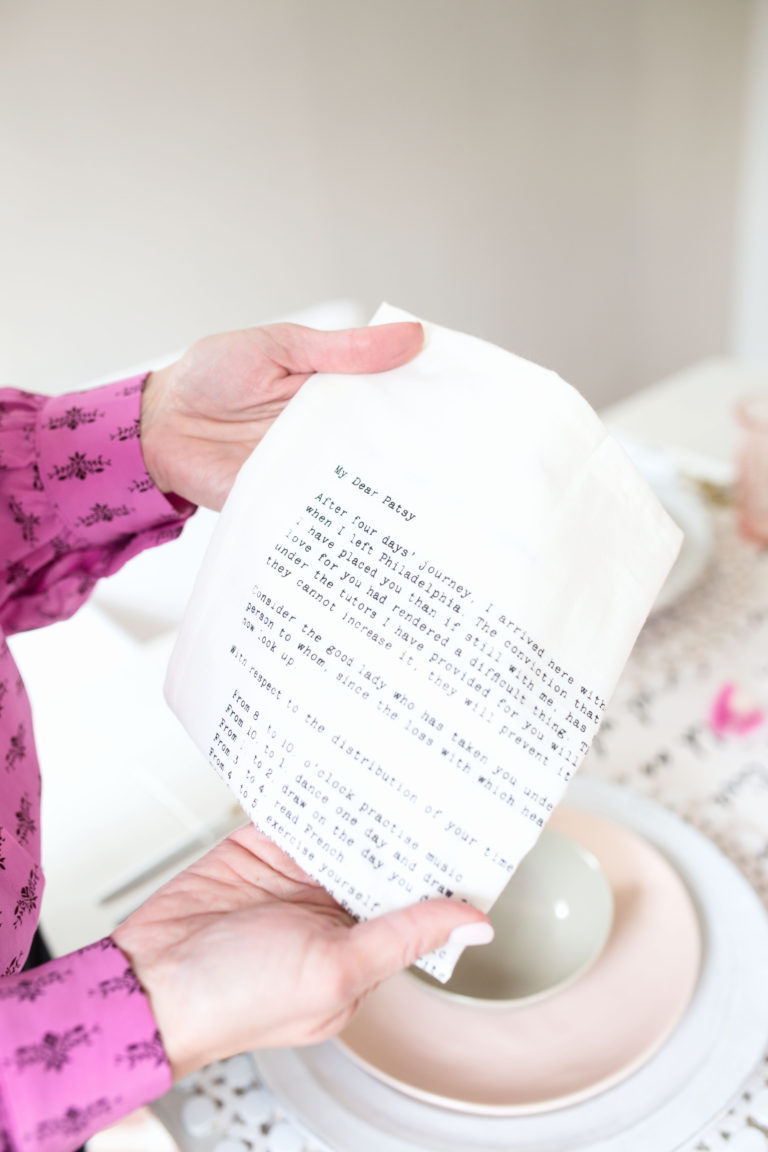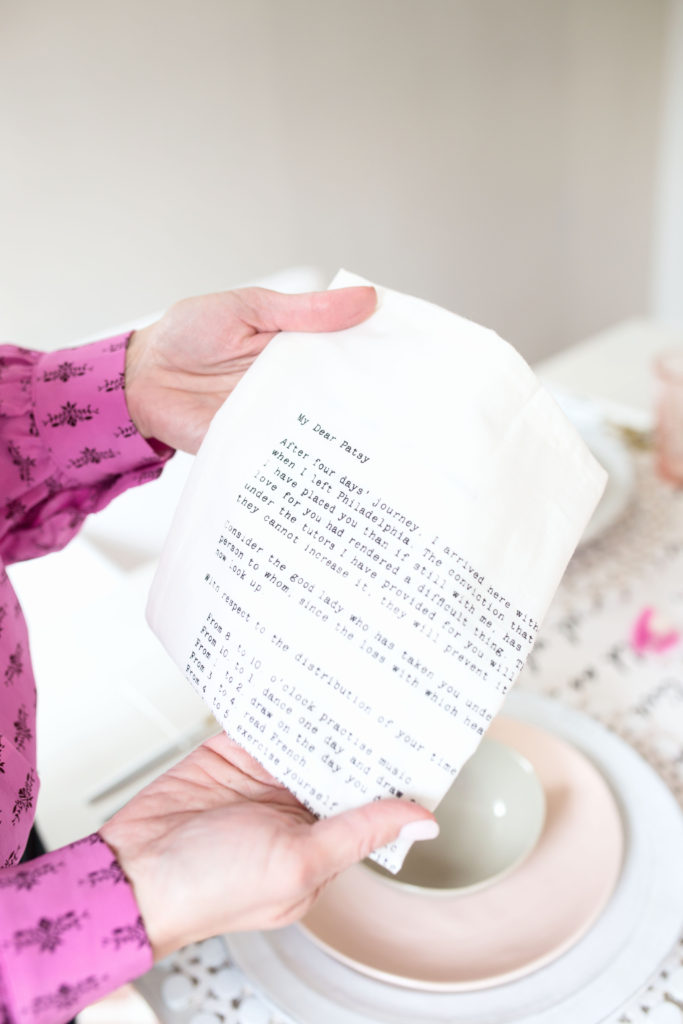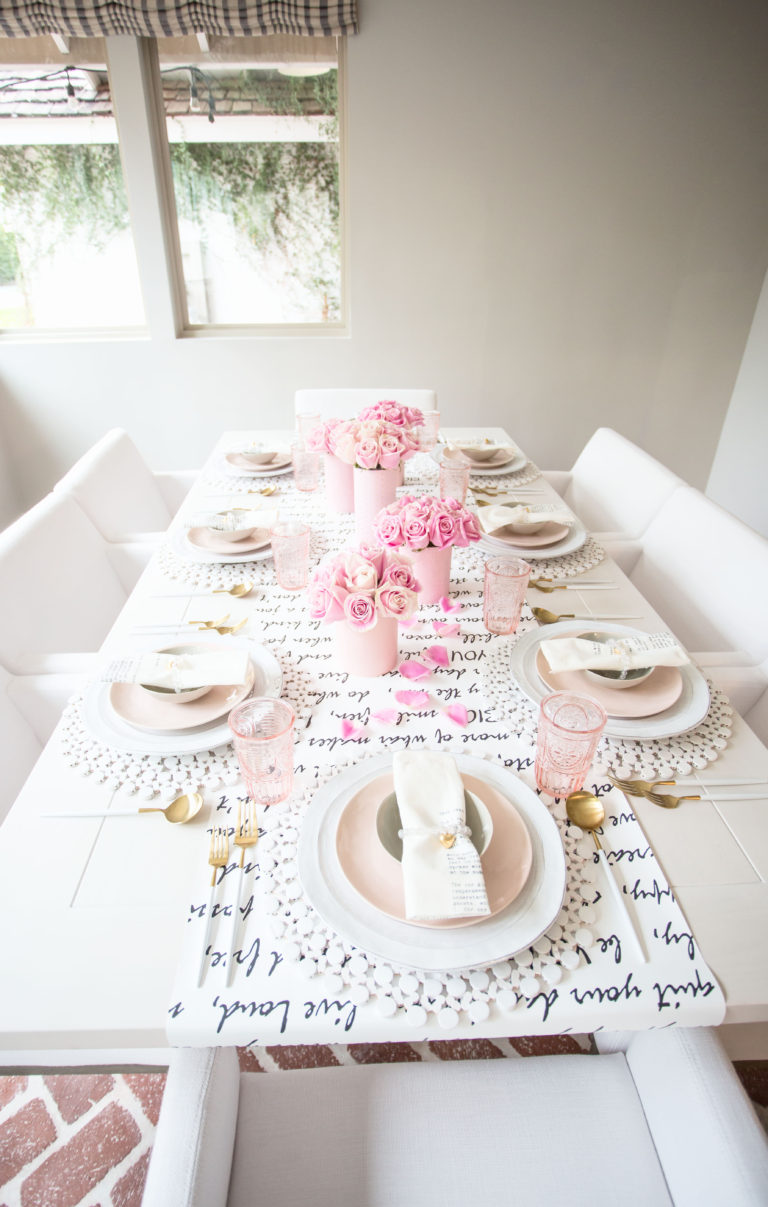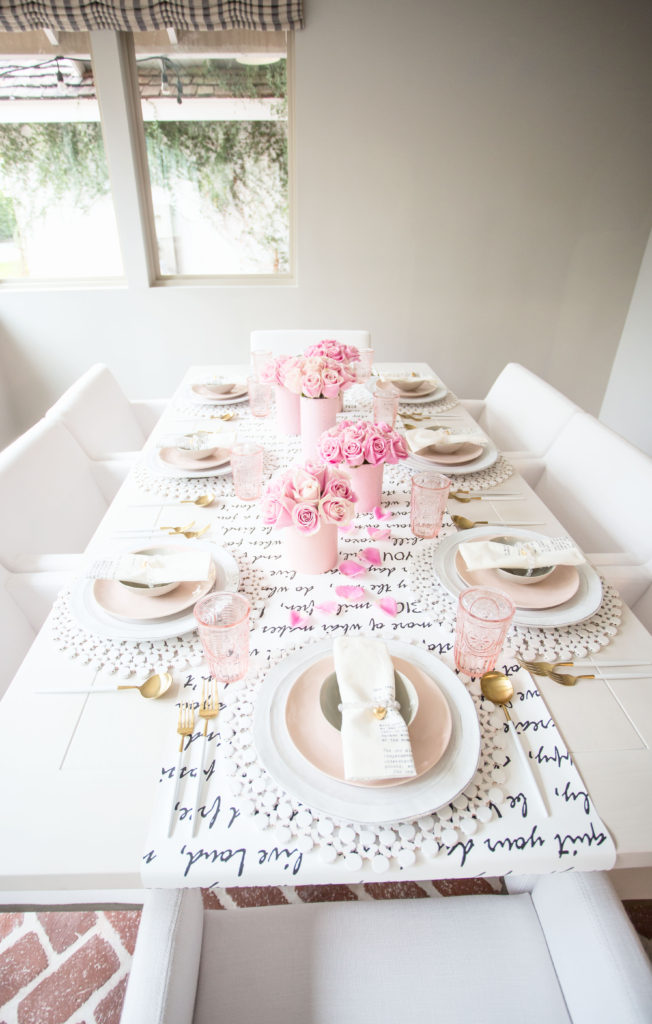 The Bracelet Gift
When my friend Julia contacted me about doing a project together, I jumped at the chance and knew that a Galentine's lunch would be perfect opportunity to showcase both of our creative sides.
Julia Winter left the corporate world over a decade ago to begin Jewel Ya https://www.jewelya.com where she was inspired to create original, timeless and versatile jewelry designs. Each distinctive piece in her collection is made by hand using superior quality natural metals, fine quality semi-precious and precious gemstones and are specifically designed to be transitional for multiple looks. Check out her How To Wear Videos if you are looking for ideas.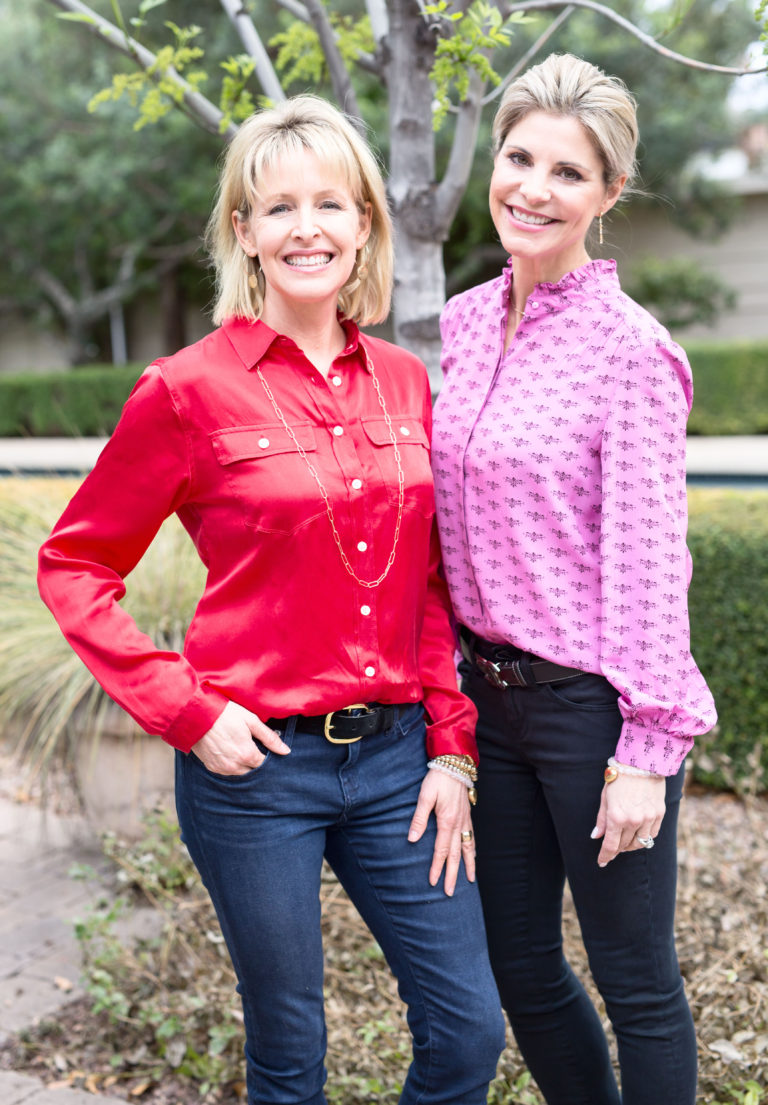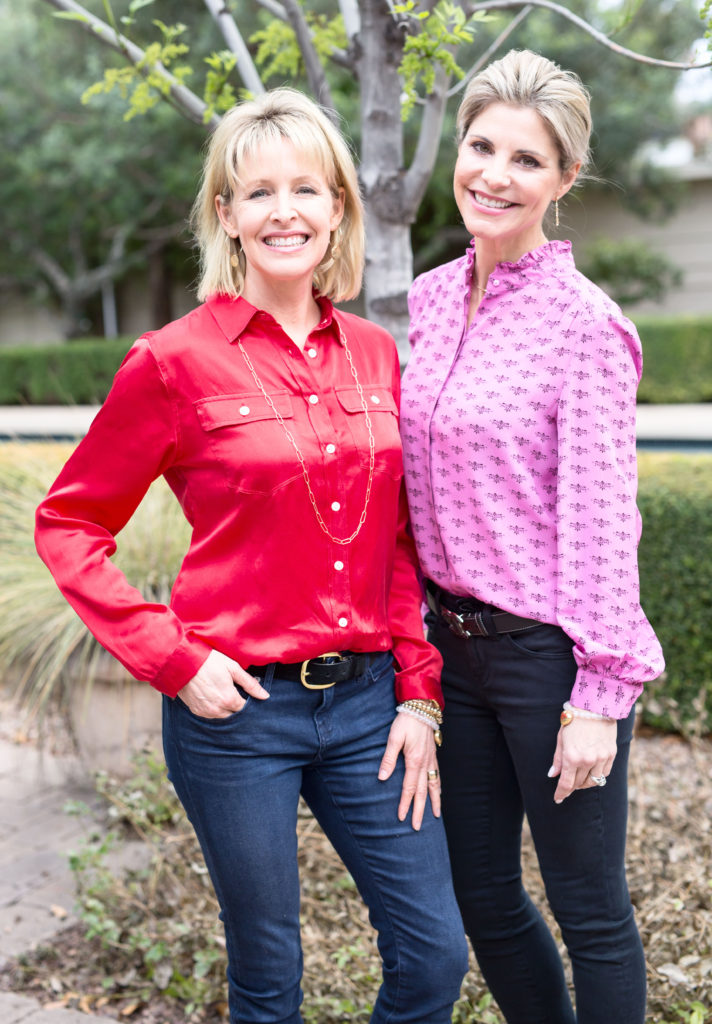 To purchase this bespoke bracelet click here: https://www.jewelya.com/bracelets/crystal-quartz-heart-bracelet/b-395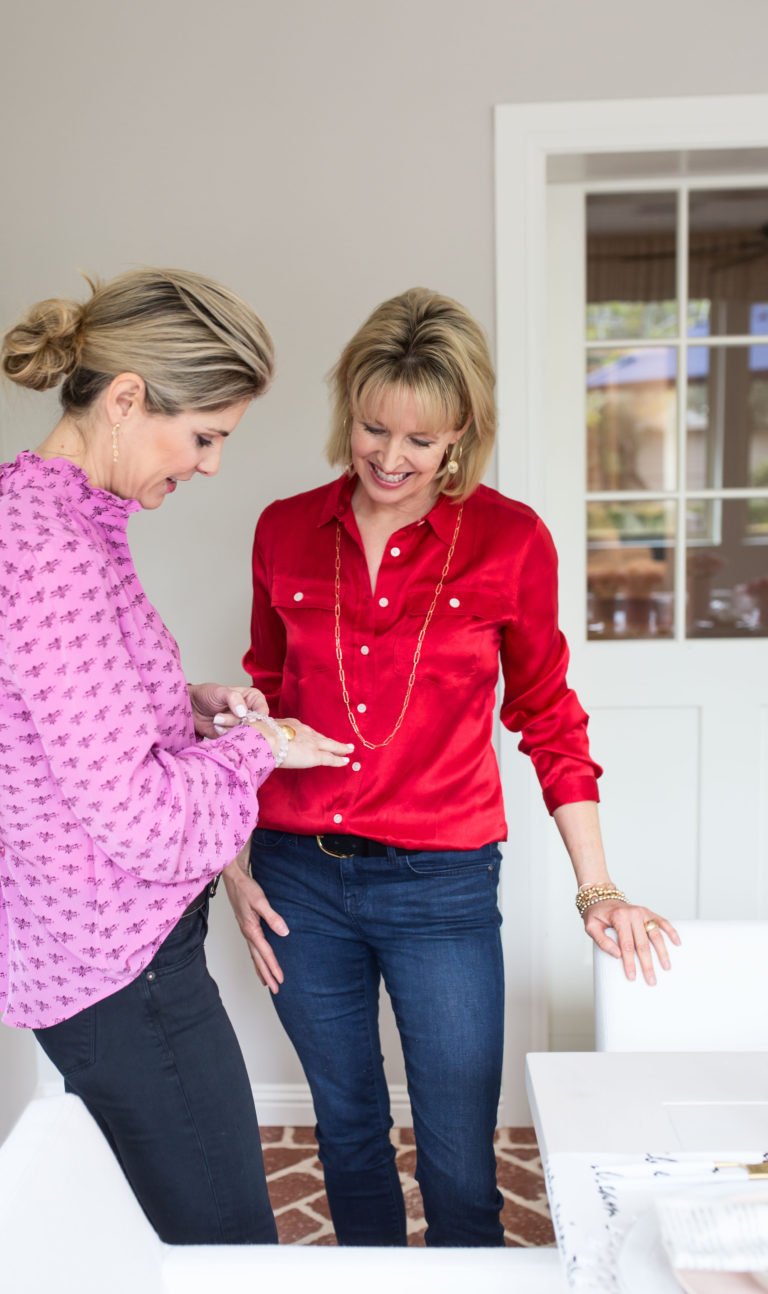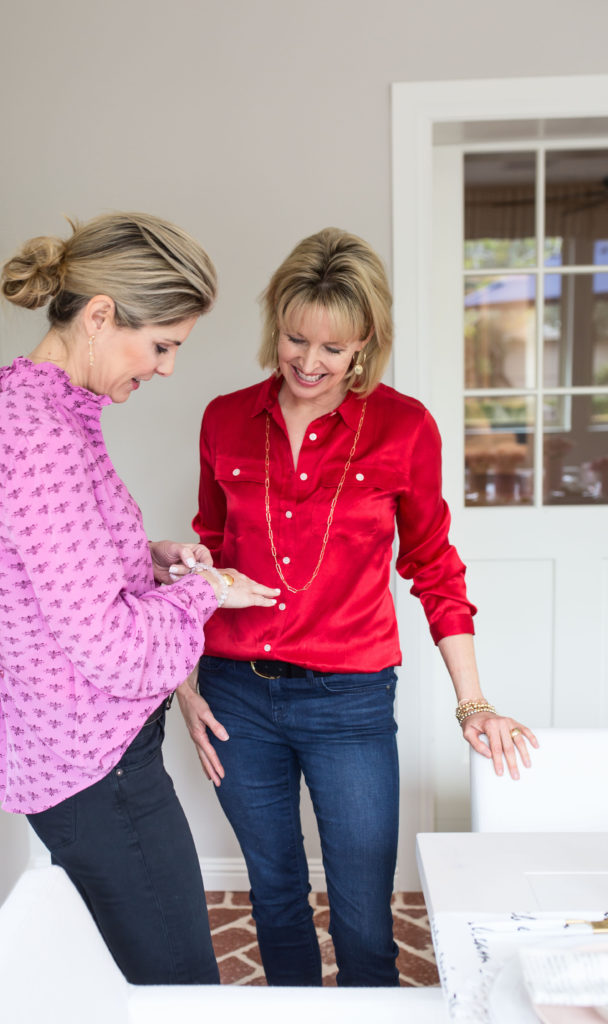 Thrilled that Julia allowed me to be a part of the design process, we met several times to come up with a piece that would be versatile for everyone. We selected crystal beads and added a brushed gold heart charm for a bracelet – our special gift to our gal friends! To integrate the bracelet into the table decor, we used the bracelet as a napkin ring!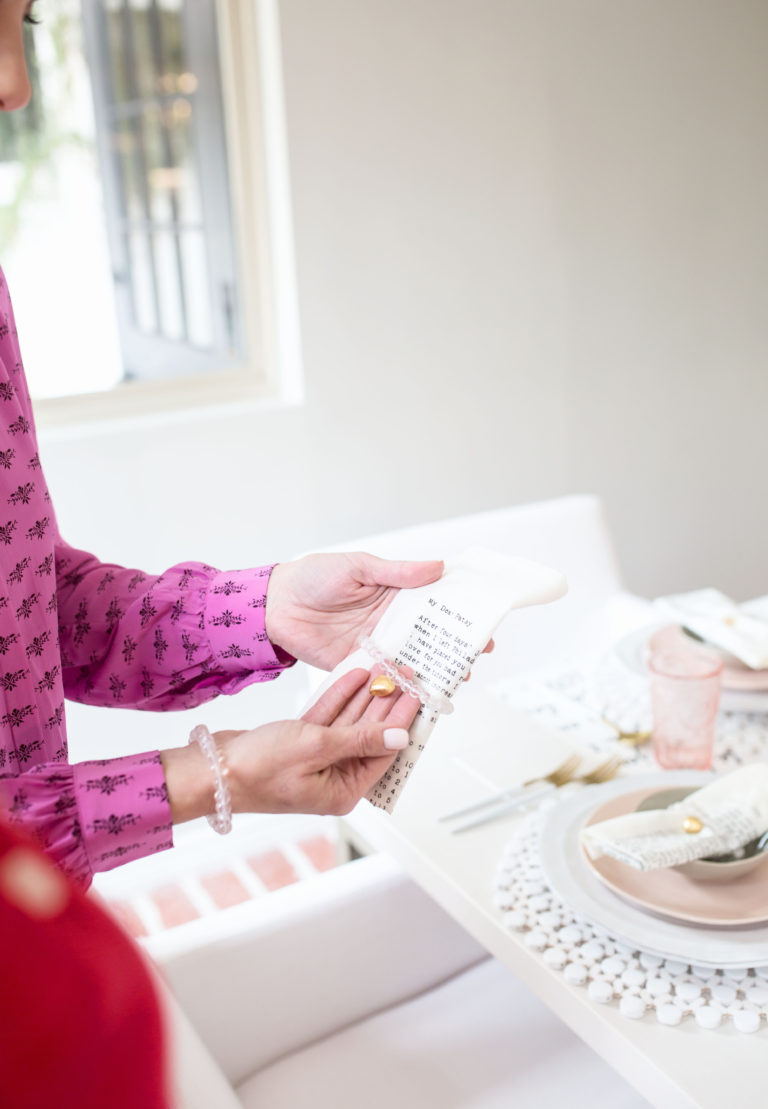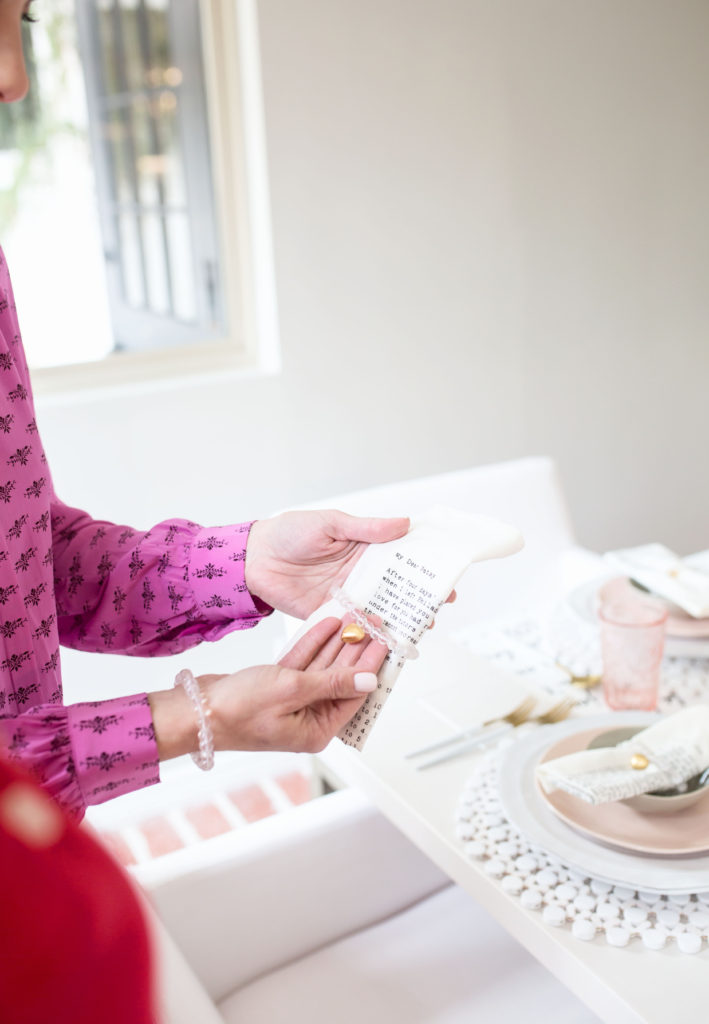 Florals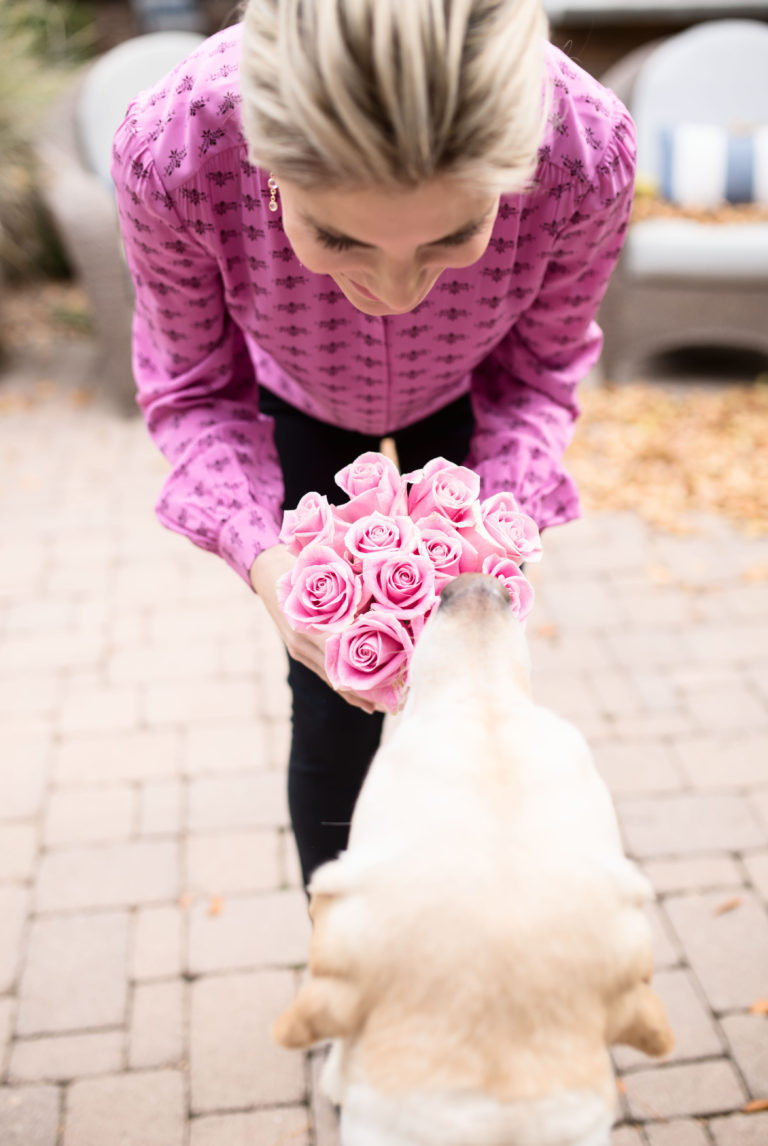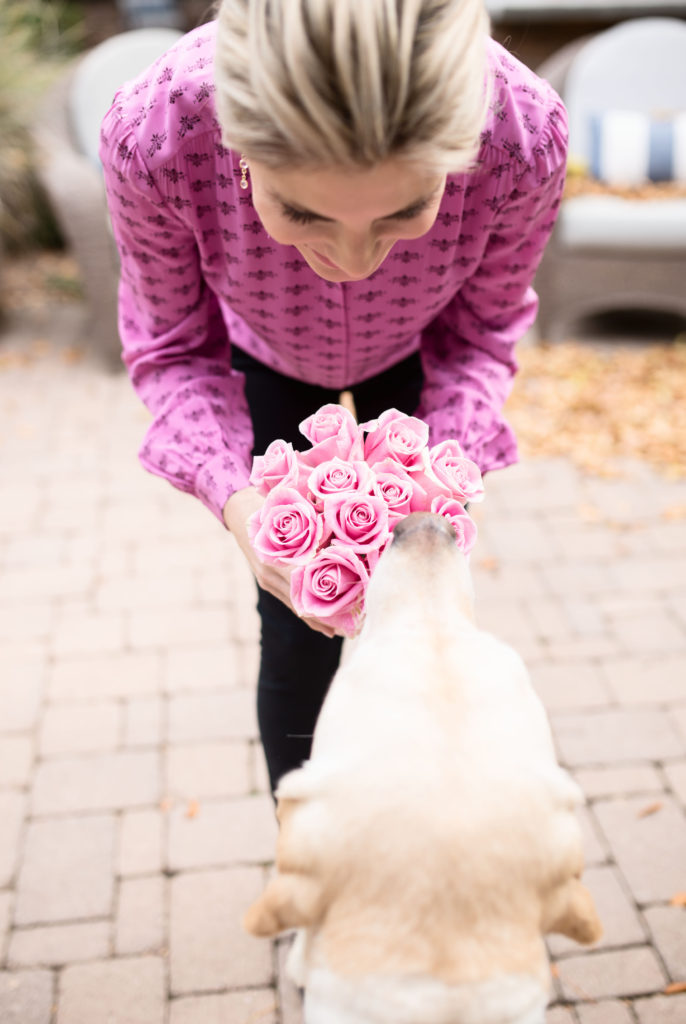 One flower variety type is always easiest to work with, rather than several kinds, so naturally, I chose pale pink roses for the table.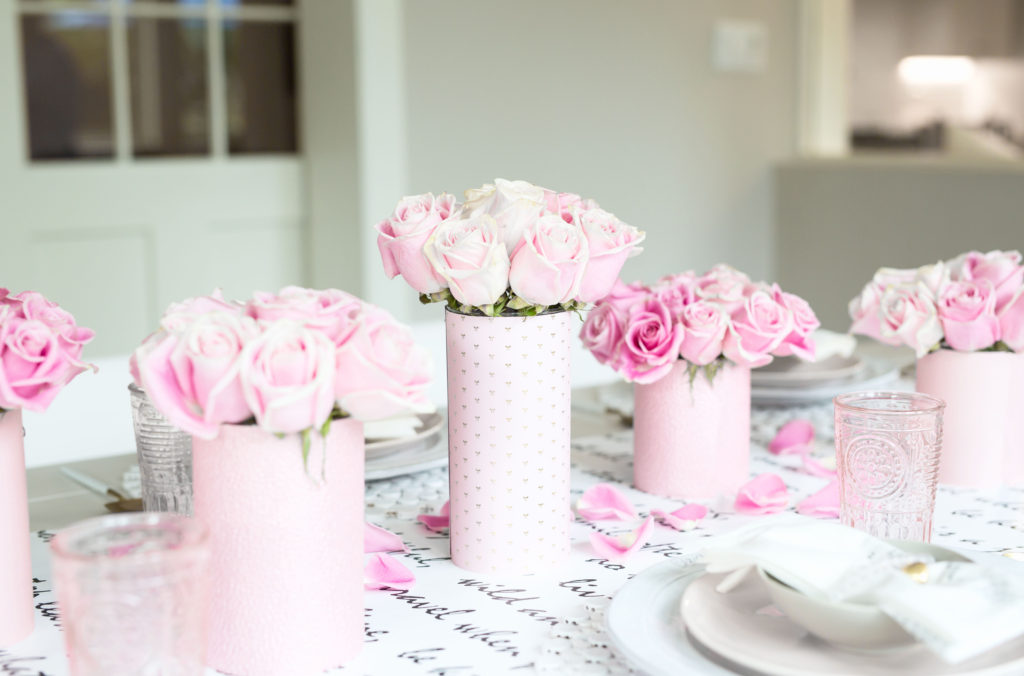 Menu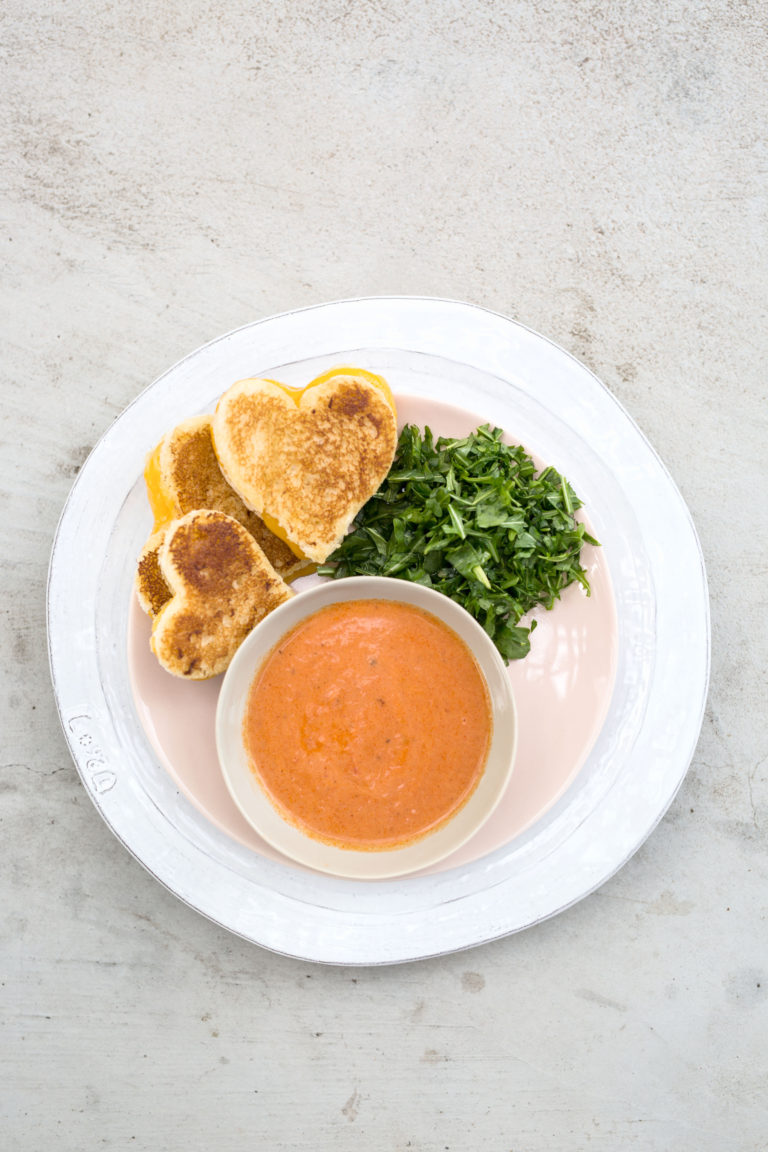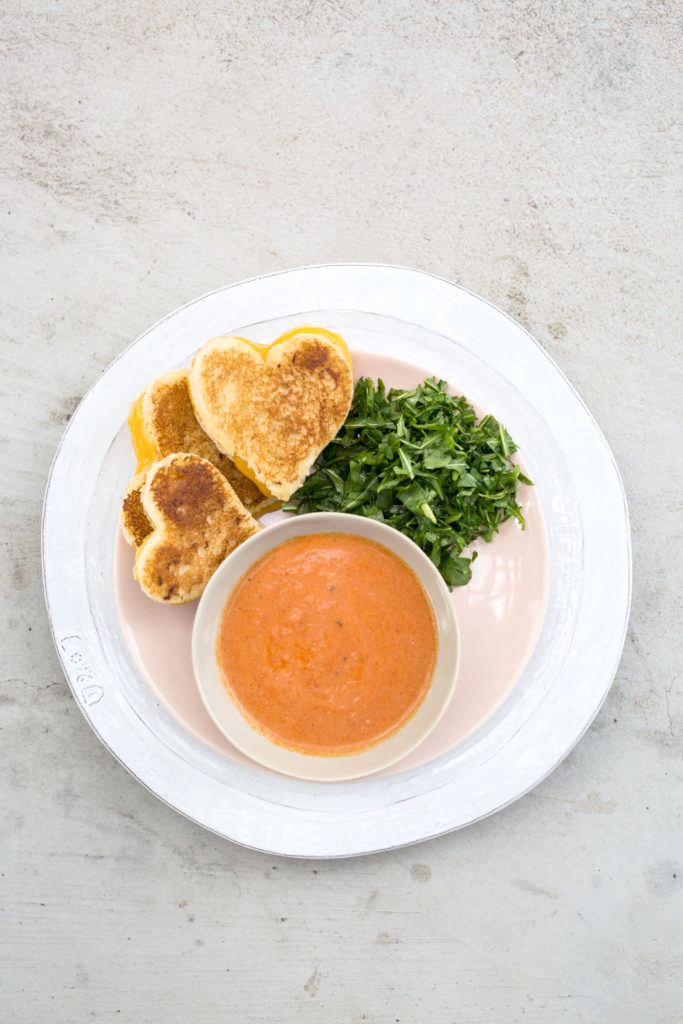 Because it's winter, I didn't want to serve my guest a cold meal, so I warmed their soul with some comfort food – Nordstrom's Tomato Basil Soup. If you live near a Nordstorm, you can buy this delicious and decadent soup by the jar, but for those who don't, I've included their original recipe here: https://blogs.nordstrom.com/fashion/nordstrom-tomato-basil-soup-recipe-with-parmesan-garlic-crostini-whats-cooking/. I've also adapted it for the Instant Pot, which cuts the cooking time by 75%! Here's the link to my Instant Pot Nordstrom Tomato Soup recipe: https://tohavetohost.com/instant-pot-nordstrom-tomato-soup/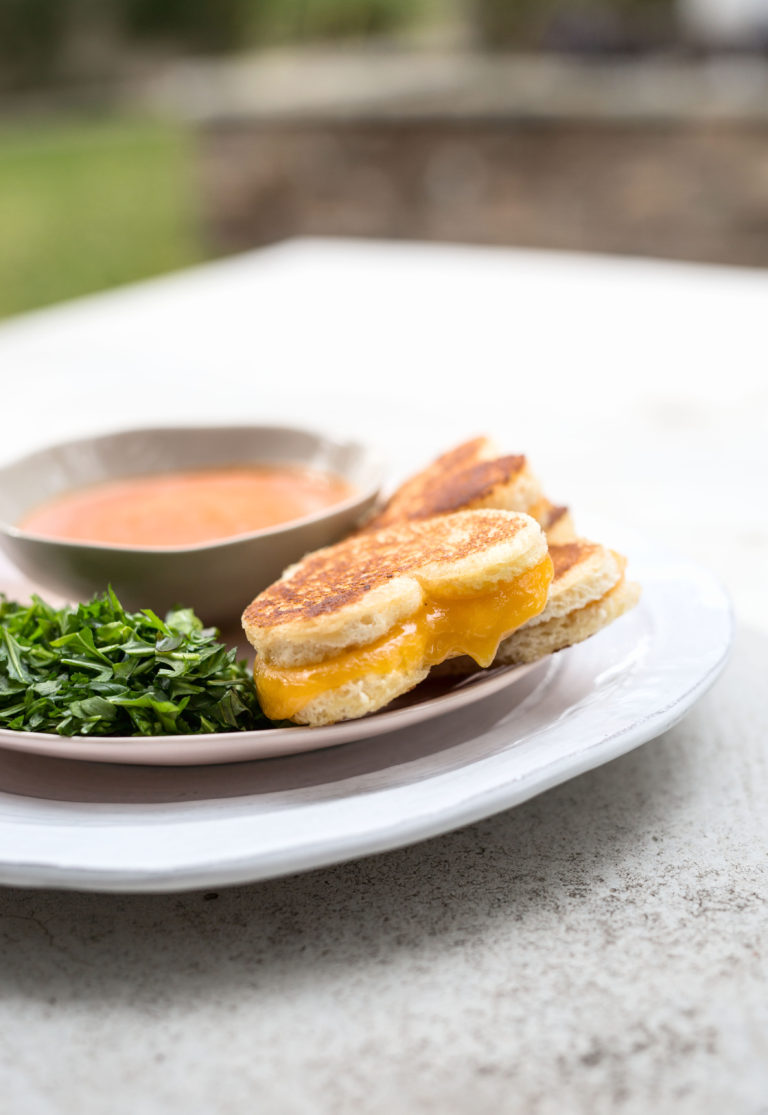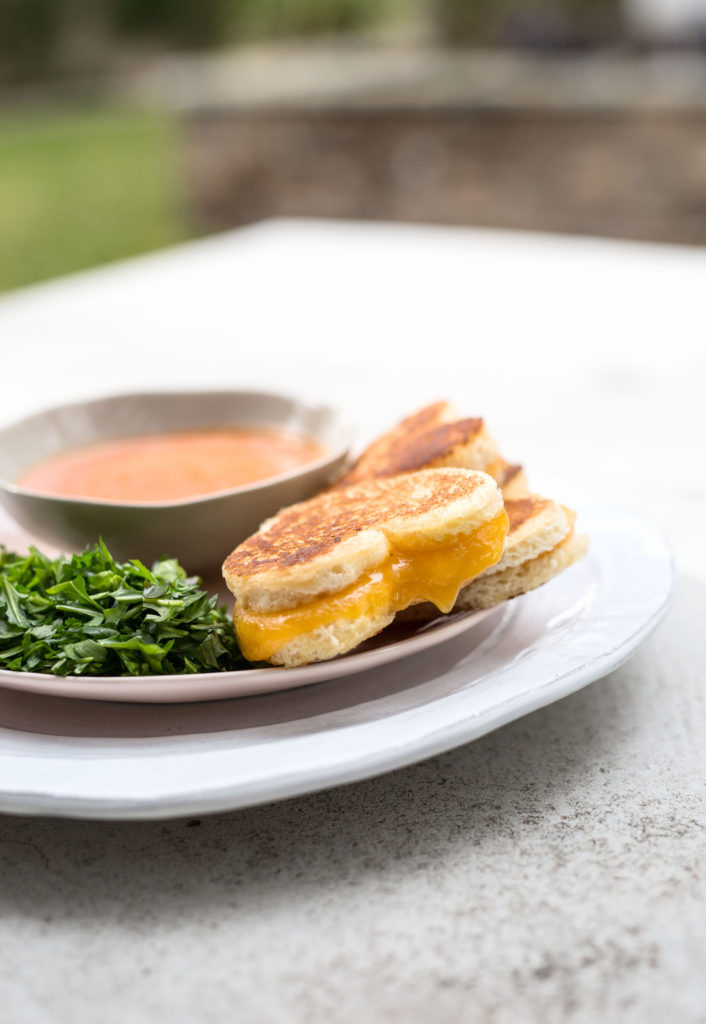 I tried several different recipes to make the perfect grilled cheese. Here's my favorite:
https://www.bonappetit.com/recipe/best-ever-grilled-cheese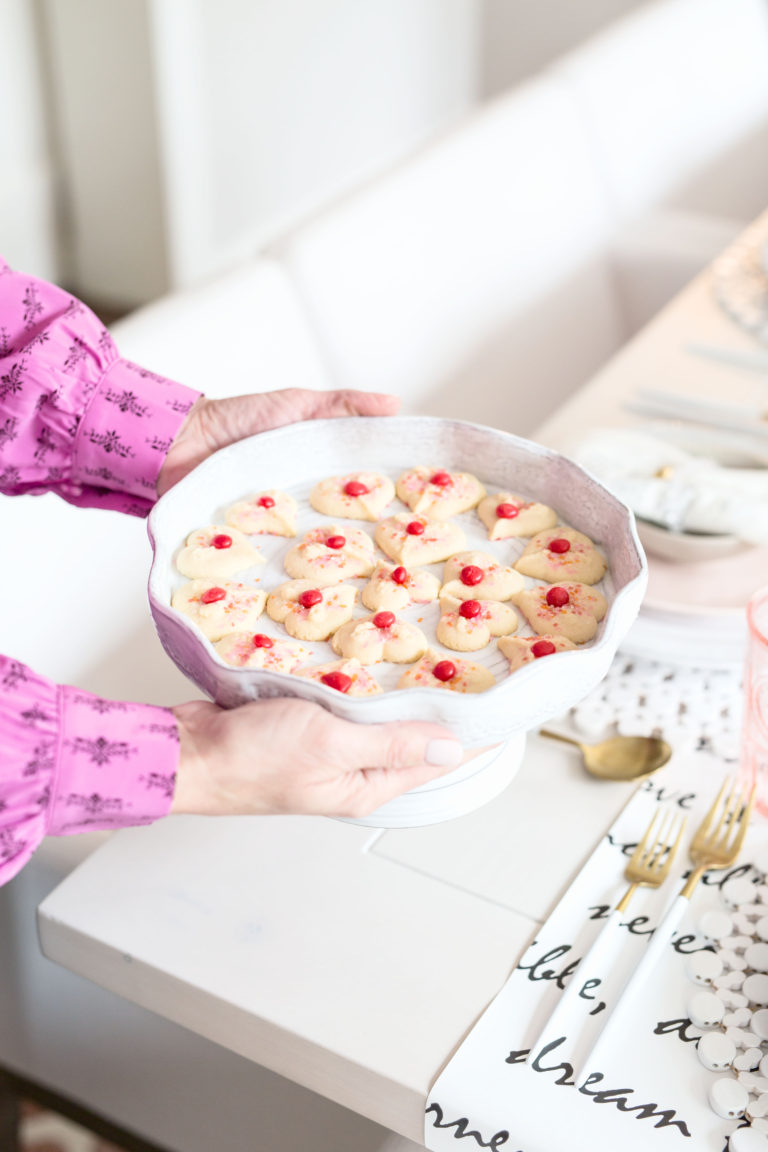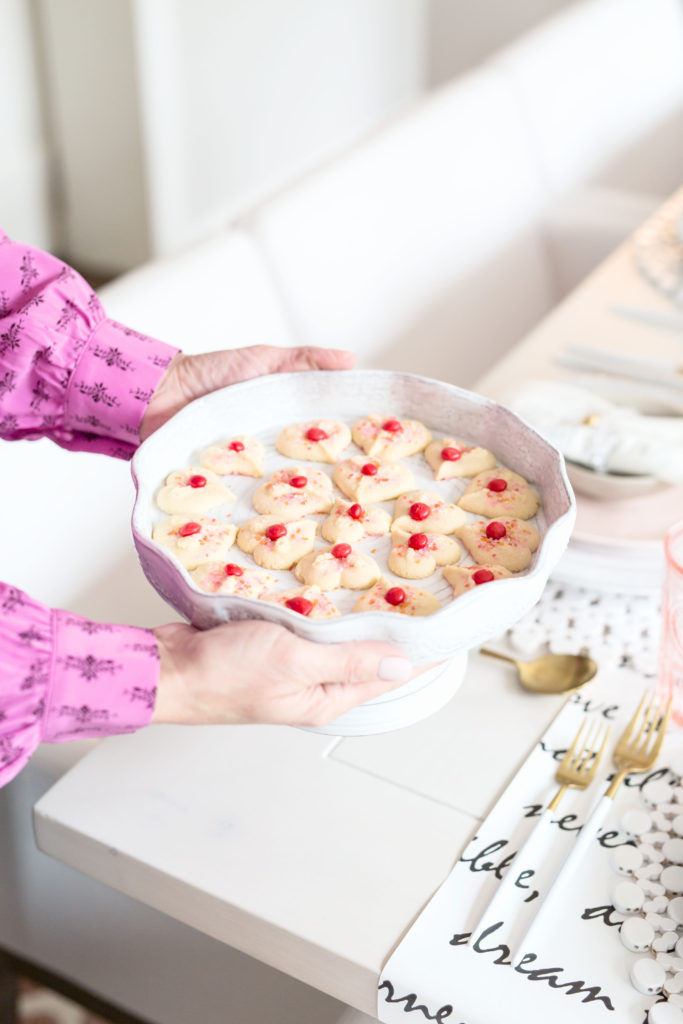 Enlisiting the help of my amazing baker friend, Katie, she dug through her recipes and found this one for dessert, handed down by her mother. Dainty and light, these biscuits provided just the right sweet spot for the lunch. Here's the beloved recipe for Buttery Spritz Cookies: https://tohavetohost.com/buttery-spritz-cookies
DIY Details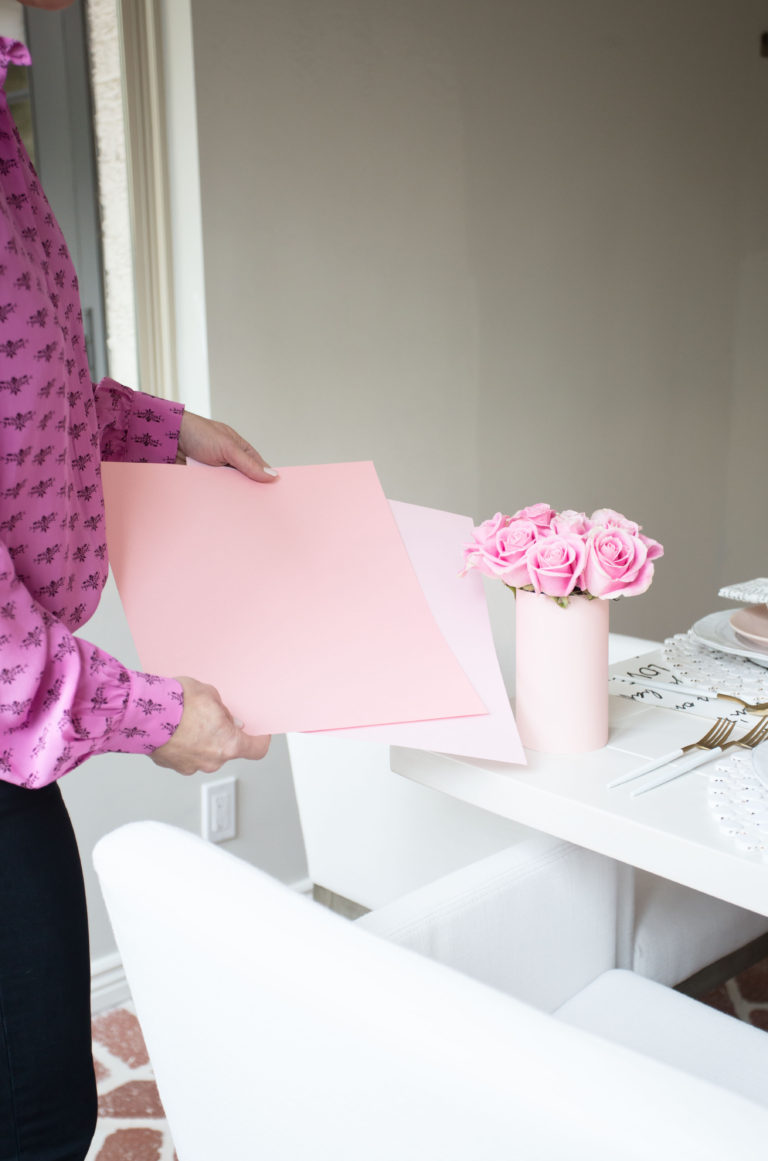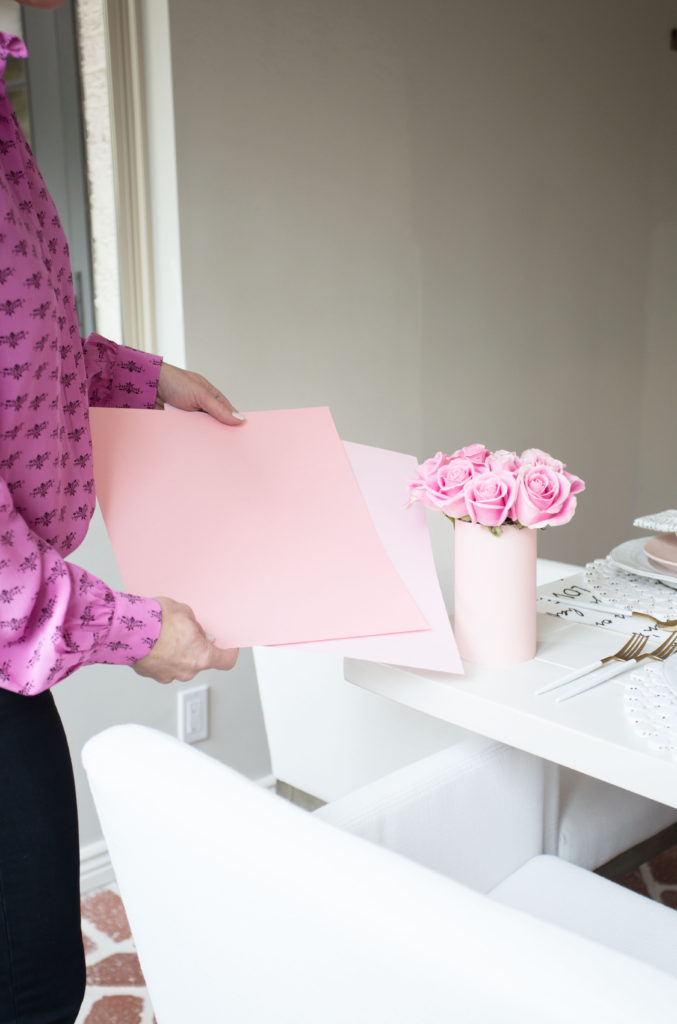 My arsenal of glass vases is huge, but I didn't have any pink ones for my table. Enter Michael's. Their selection of scrapbook paper is massive, so I simply purchased a few sheets of fun, printed and textured pink paper and wrapped the vases with double stick tape. They easily peeled off after I was done with them and was much more economical than buying new vases.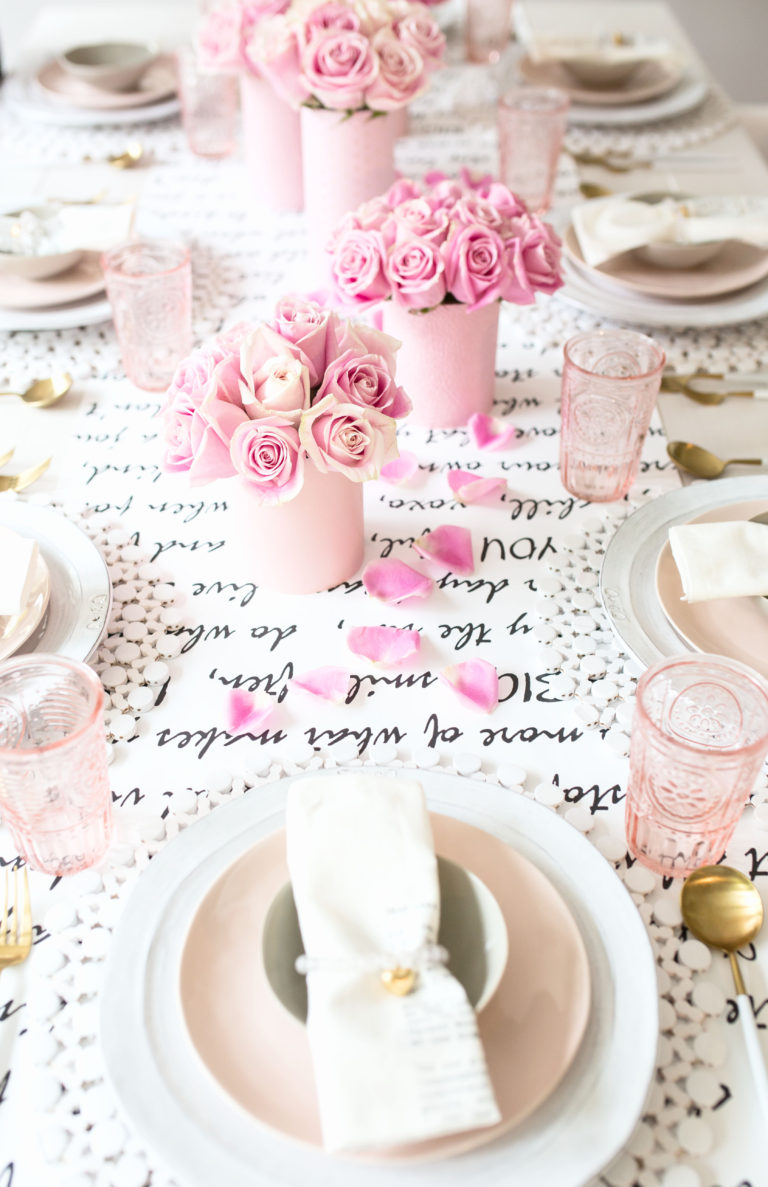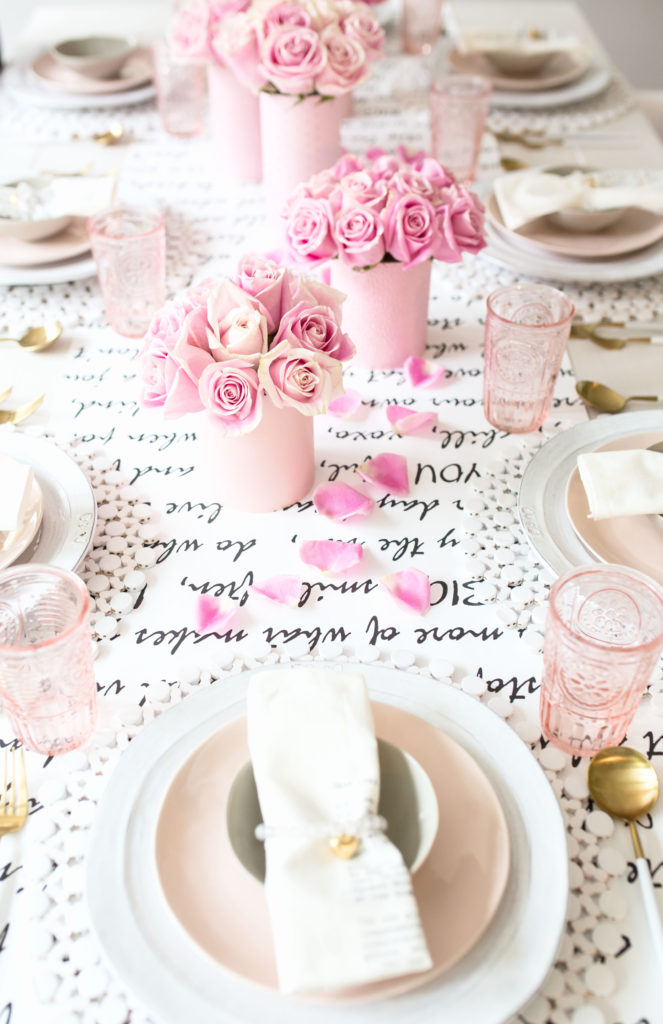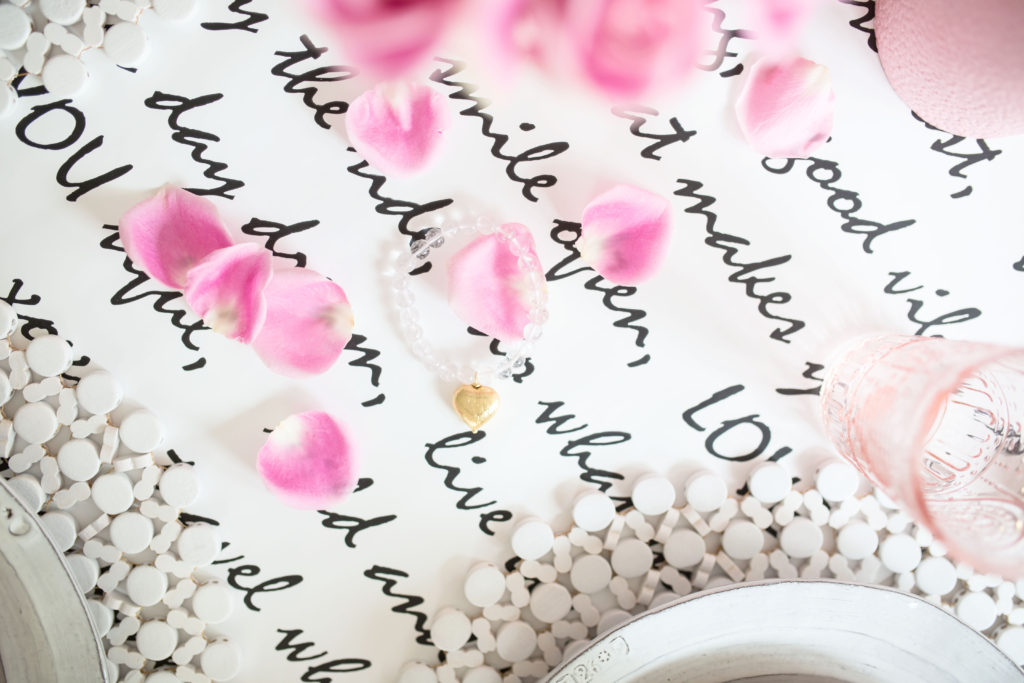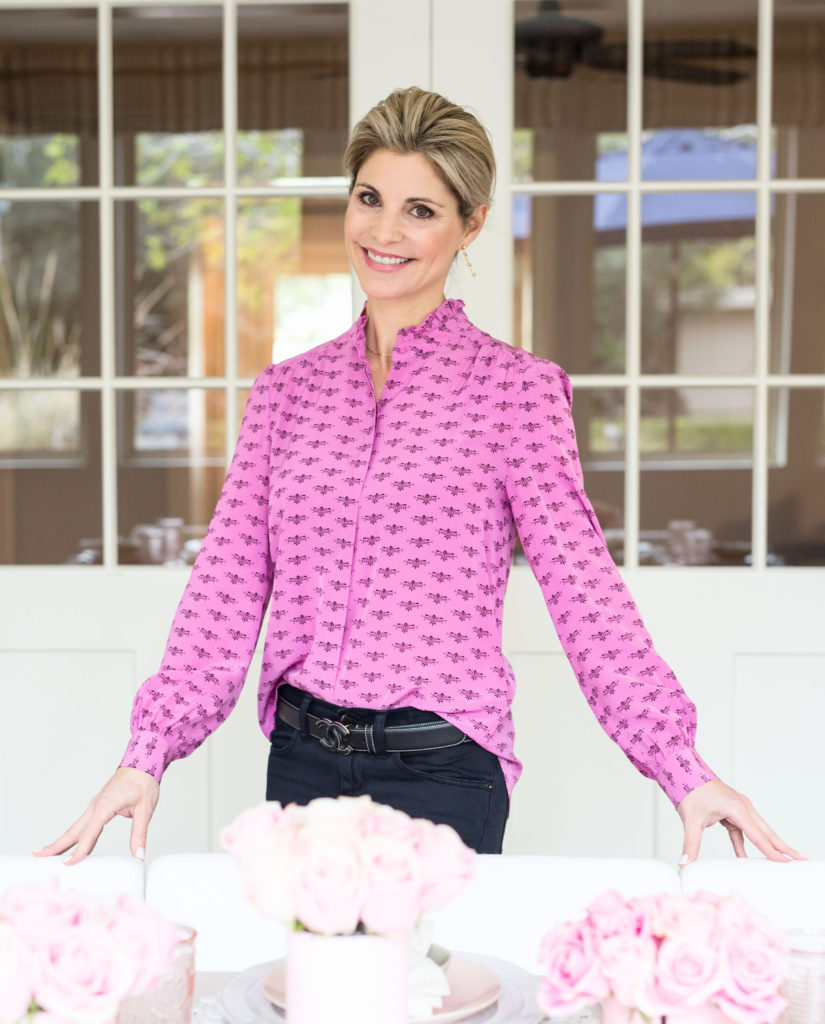 Happy Valentine's Day – here's hoping you can carve out a little time to let your girlfriends know how much they mean to you!