Last year, Food & Wine magazine featured a really cool kitchen hack where they showed how to spiralize hot dogs. This technique creates more surface area so the dogs get a nice crispy char on the edges, and also allows for the yummy toppings to fall into the grooves for maximum flavor. Creating a spiralized hot dog BBQ is a fun and simple "twist" on this classic summer food staple.
Here, I'll show you how to plan the entire BBQ!
How to spiralize the hot dogs:
Take a long skewer (we used a wooden one) and slide it though the middle of the hot dog.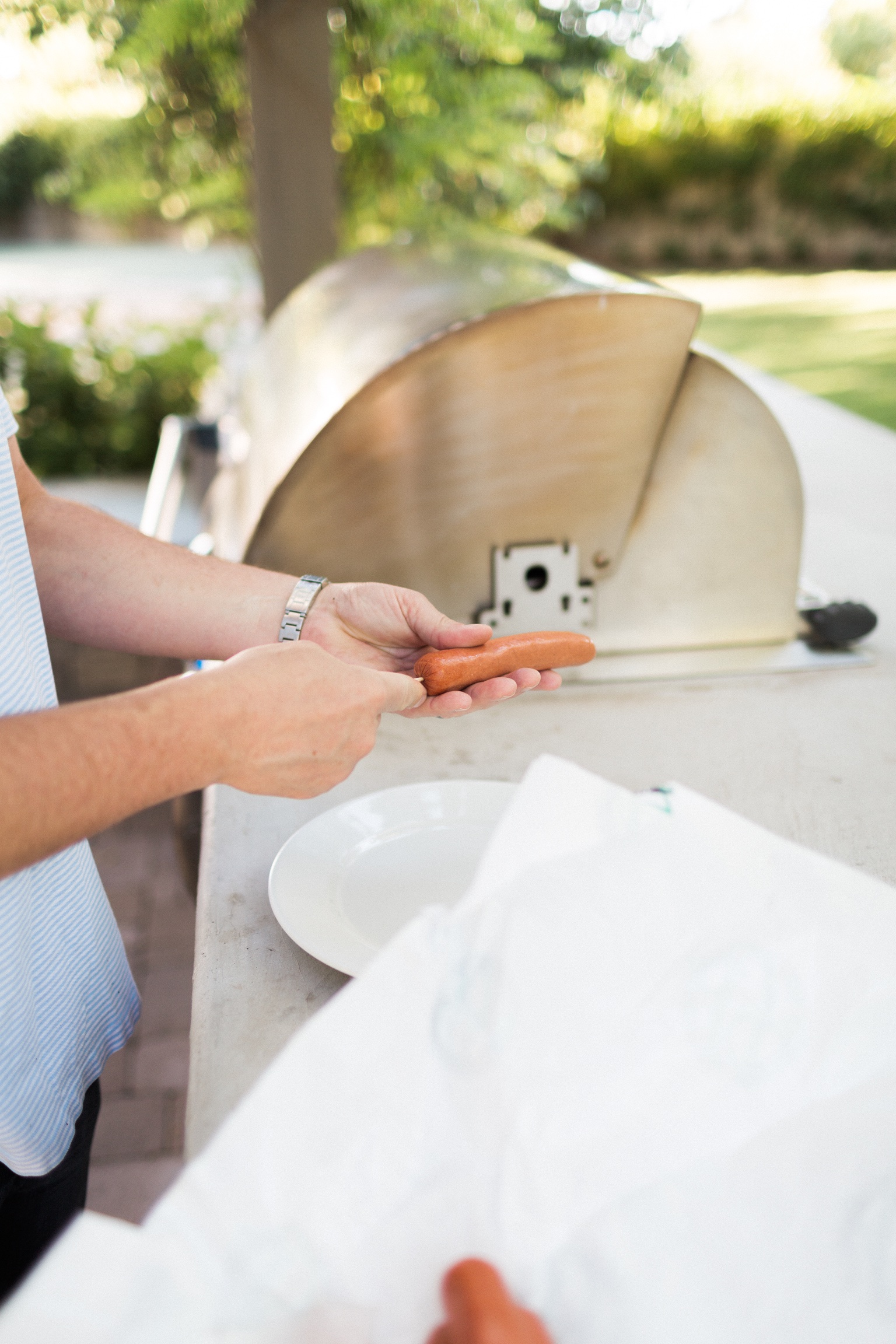 Then, starting at one end, take a knife and run it diagonally towards the other end as you twist the hot dog.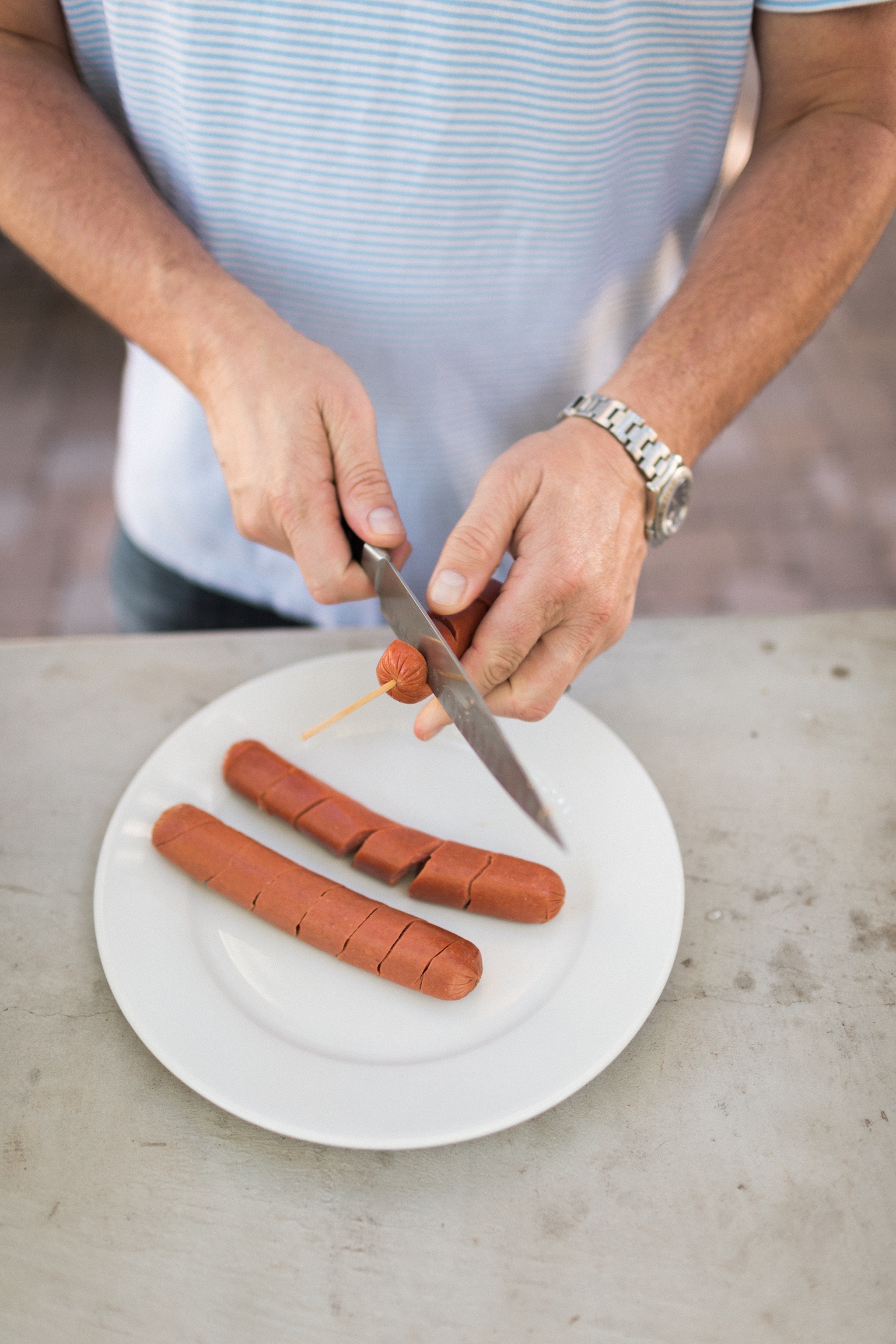 Pull out the skewer, and they're ready for the grill.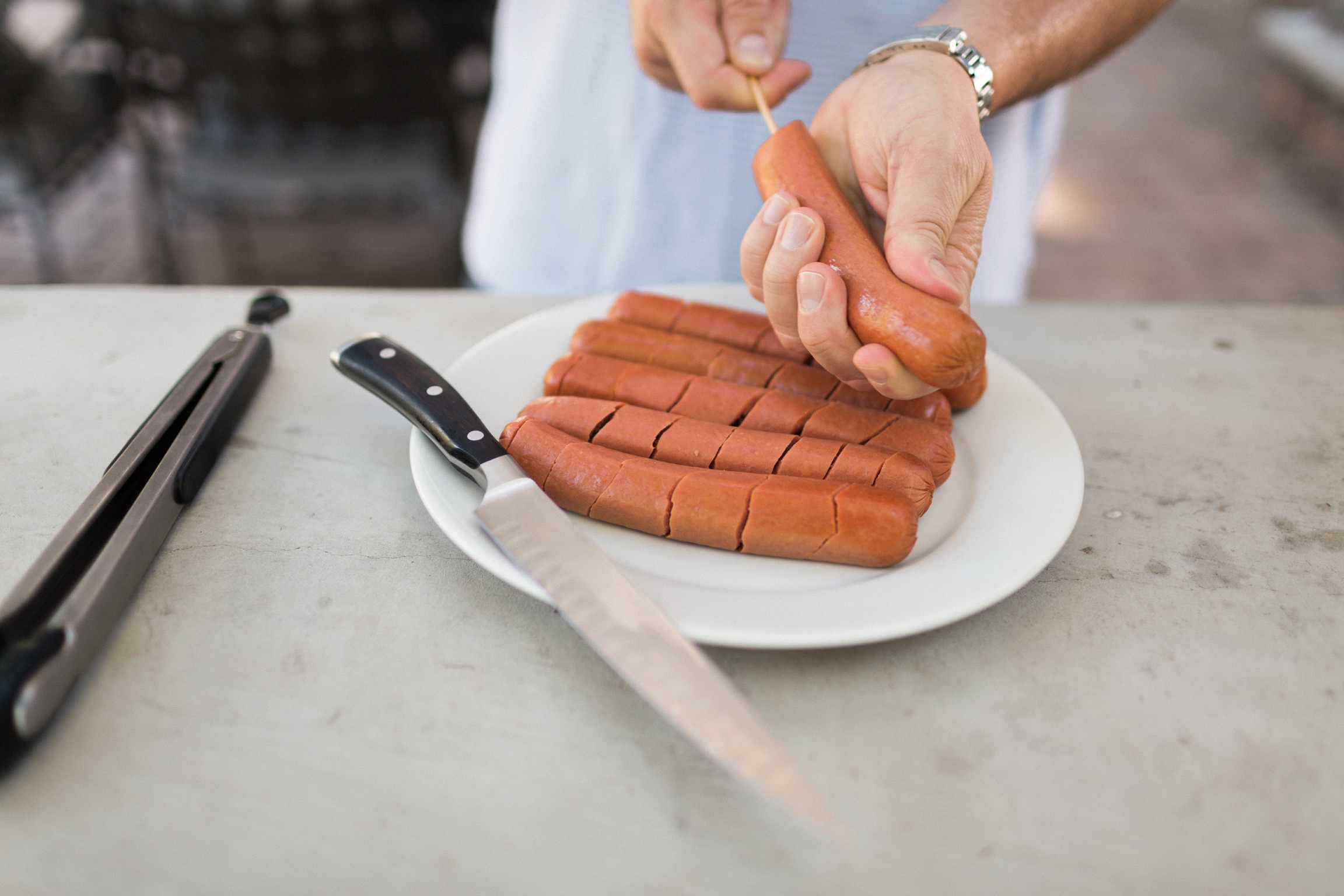 Grill 'em up!

Look at the crispy edges….yum!

Ideas for toppings
Chicago-style salsa is a great topping idea for these because of the way the spiral cuts allow the fresh ingredients to permeate the dog.  Fruit-based salsas like mango or pineapple play up the whole sweet & savory combination. You could also have an array of flavored ketchups available. In addition to regular flavor, I've seen Jalapeño, Caramelized Onions, Balsamic, and Sweet & Spicy.
This simple Chicago-style salsa is definitely a crowd-pleaser.
---
What to serve on the side
These sides are easy and most can be made ahead of time. I like using individual cookware – it's a personal touch AND you don't have to share!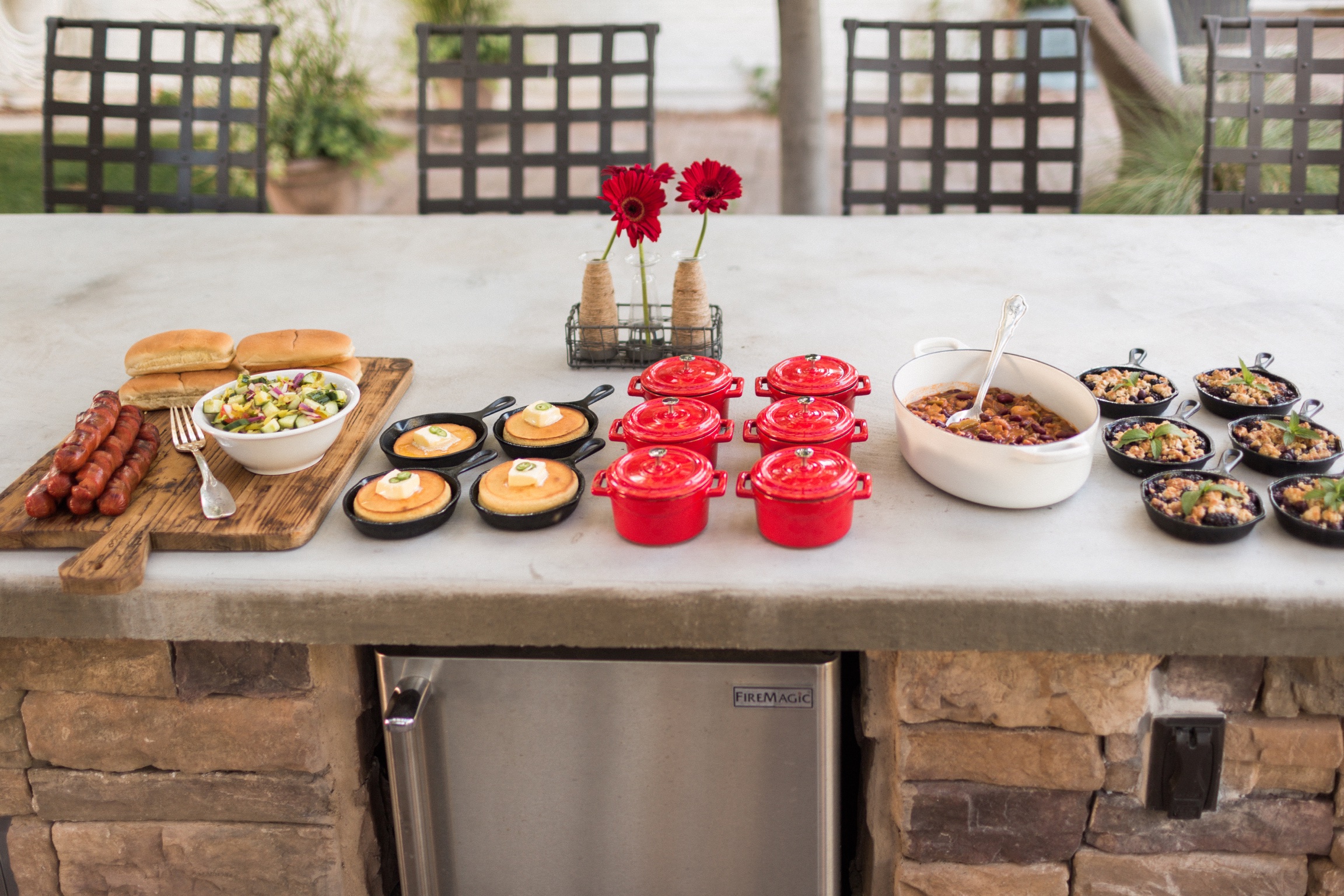 The mac & cheese is from Trader Joe's frozen section – microwave, then top with bread crumbs and put under the broiler to get them brown and toasty.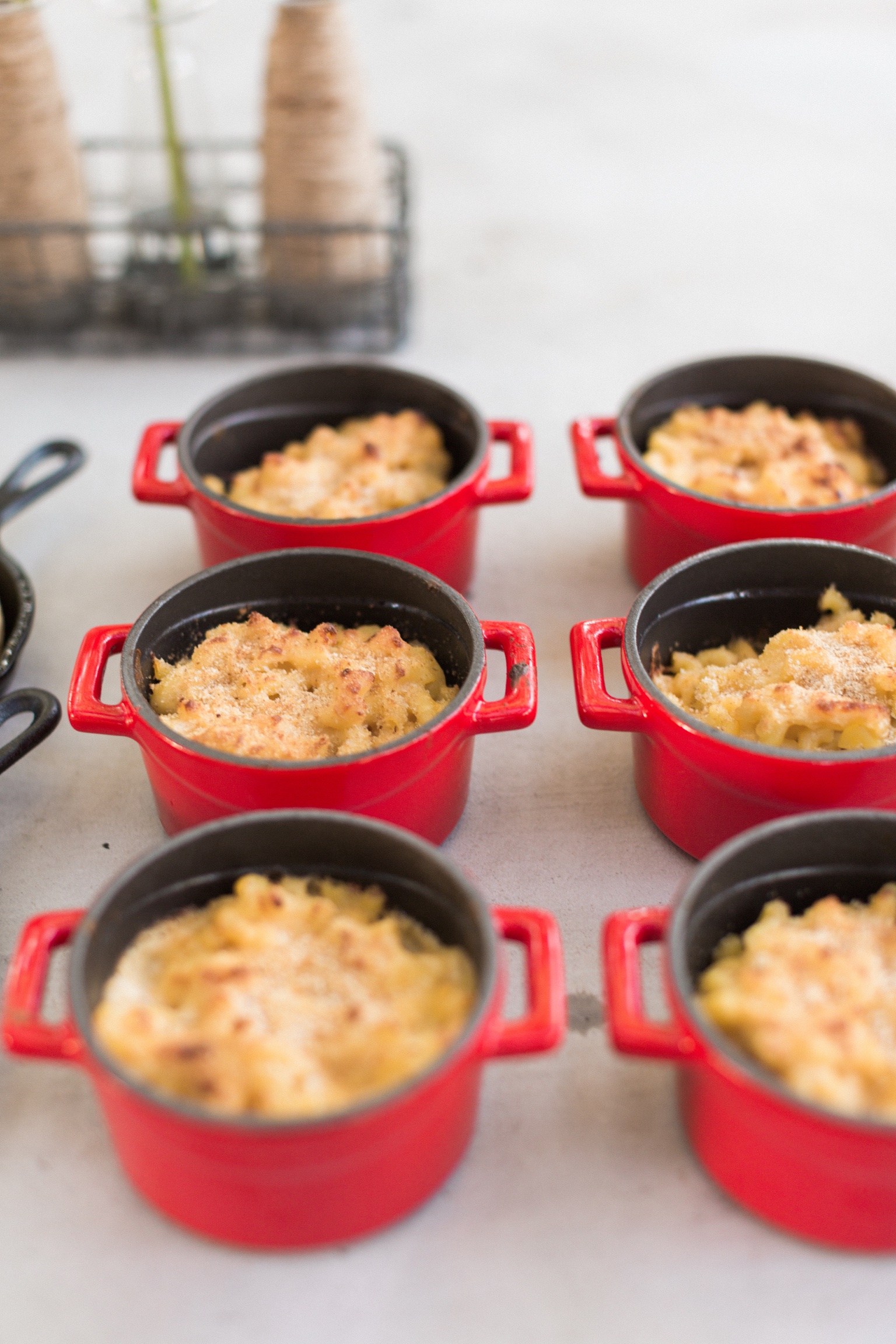 I'm pretty sure my mom found the recipe for this hot bean salad in a old church cookbook, so it's been a family favorite for years, and perfect for a BBQ. This can be made the day before, then reheated.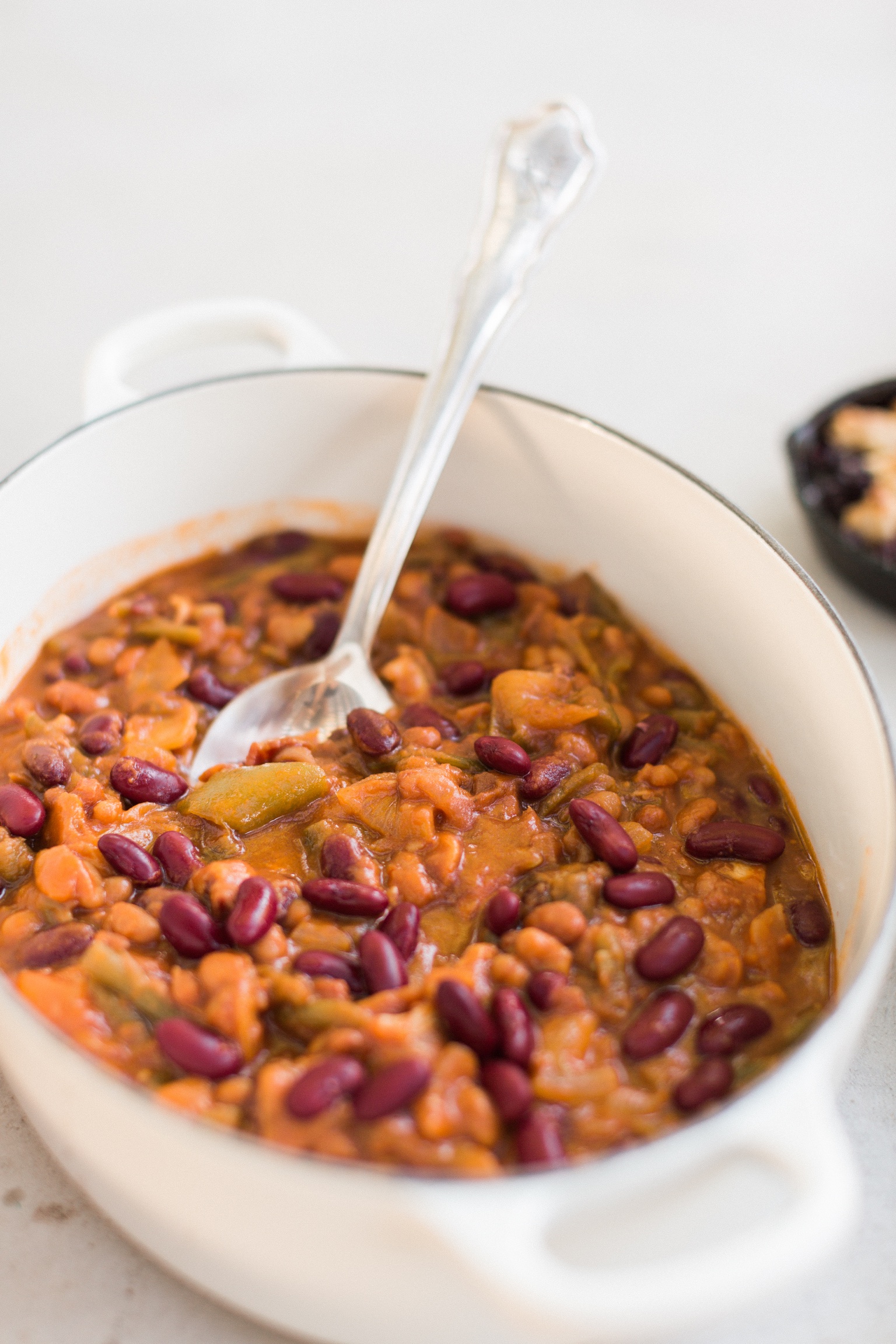 ---
Drinks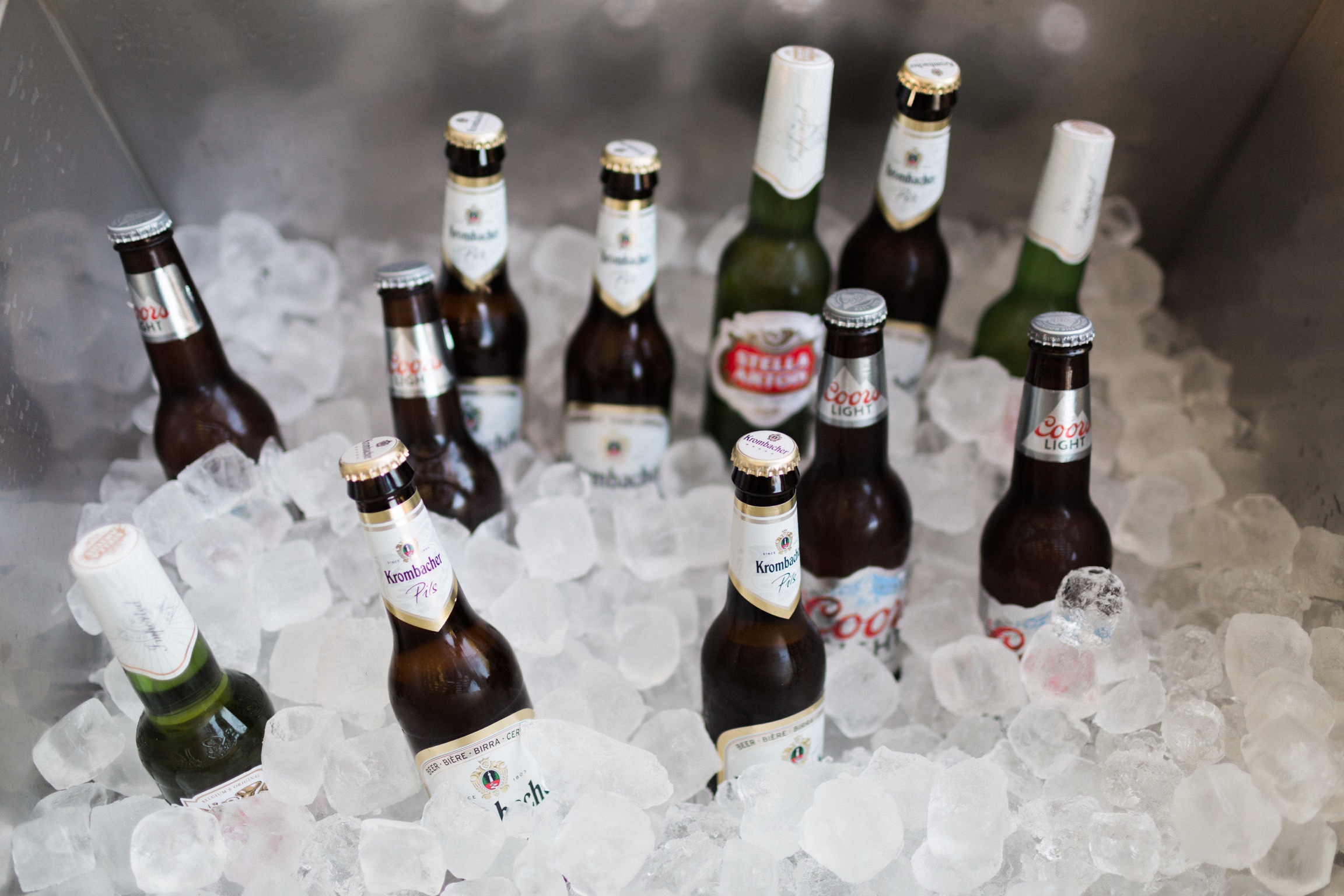 When we remodeled the backyard, I promised my husband he could have a man-cave-ish outdoor kitchen/BBQ/TV/fireplace area. I hated it at first and called it the worst eyesore I'd ever seen, but I secretly love it now. One thing he really wanted was a drop-in ice chest built into the BBQ island. It's genius, because we fill it with ice and just drop in beer, wine, water, etc., close the lid, and it stays cold for days. There's a French drain connected to the bottom of the chest, so the melted ice flows into the yard and is re-purposed as irrigation. Located at the far end of the island, it allows for easy access where guests can serve themselves.
Personal Touches
Use a chalkboard and handwrite the menu. This adds a nice personal touch to your gathering and tells your guests what you are serving.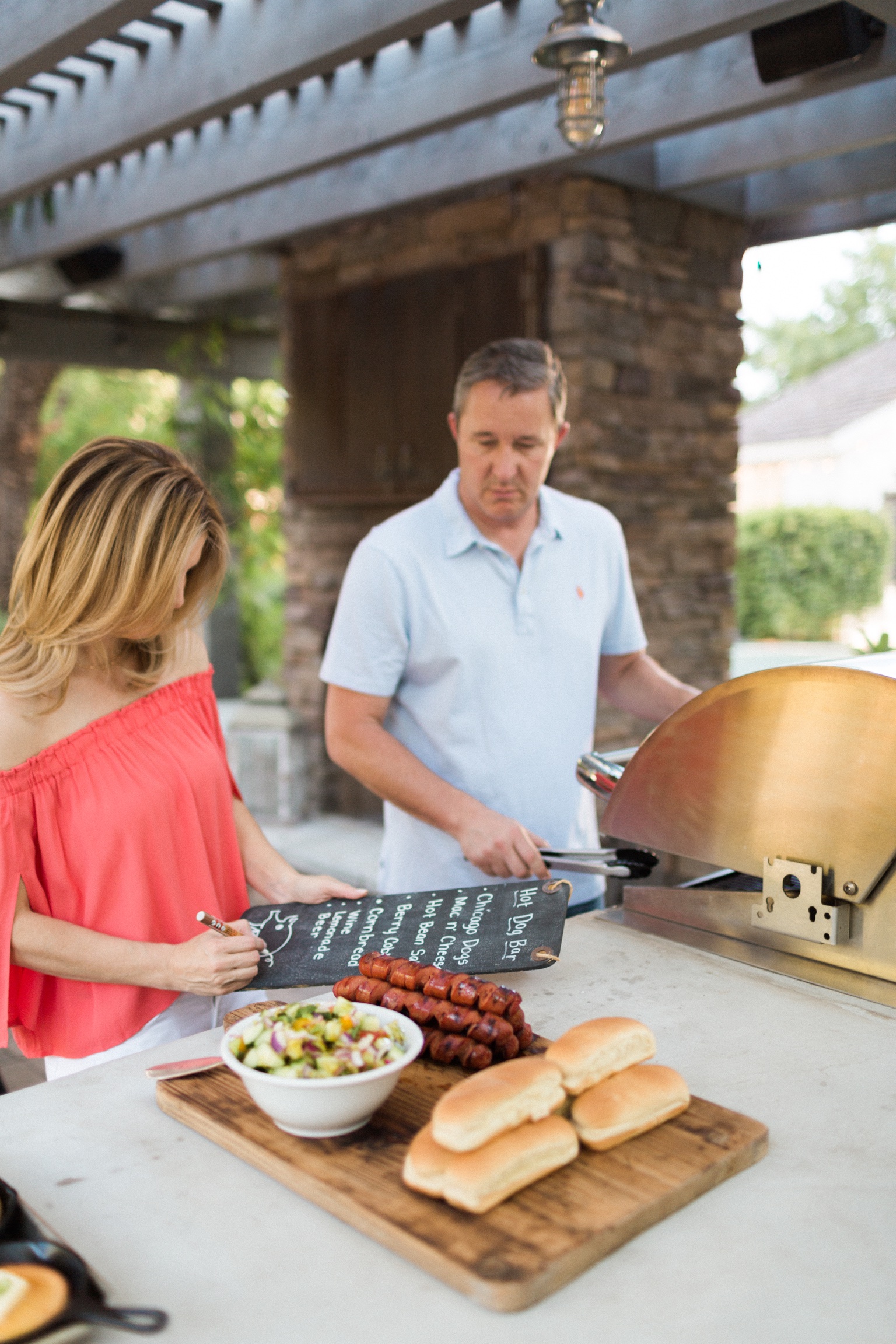 The menu…look at the piggy tail!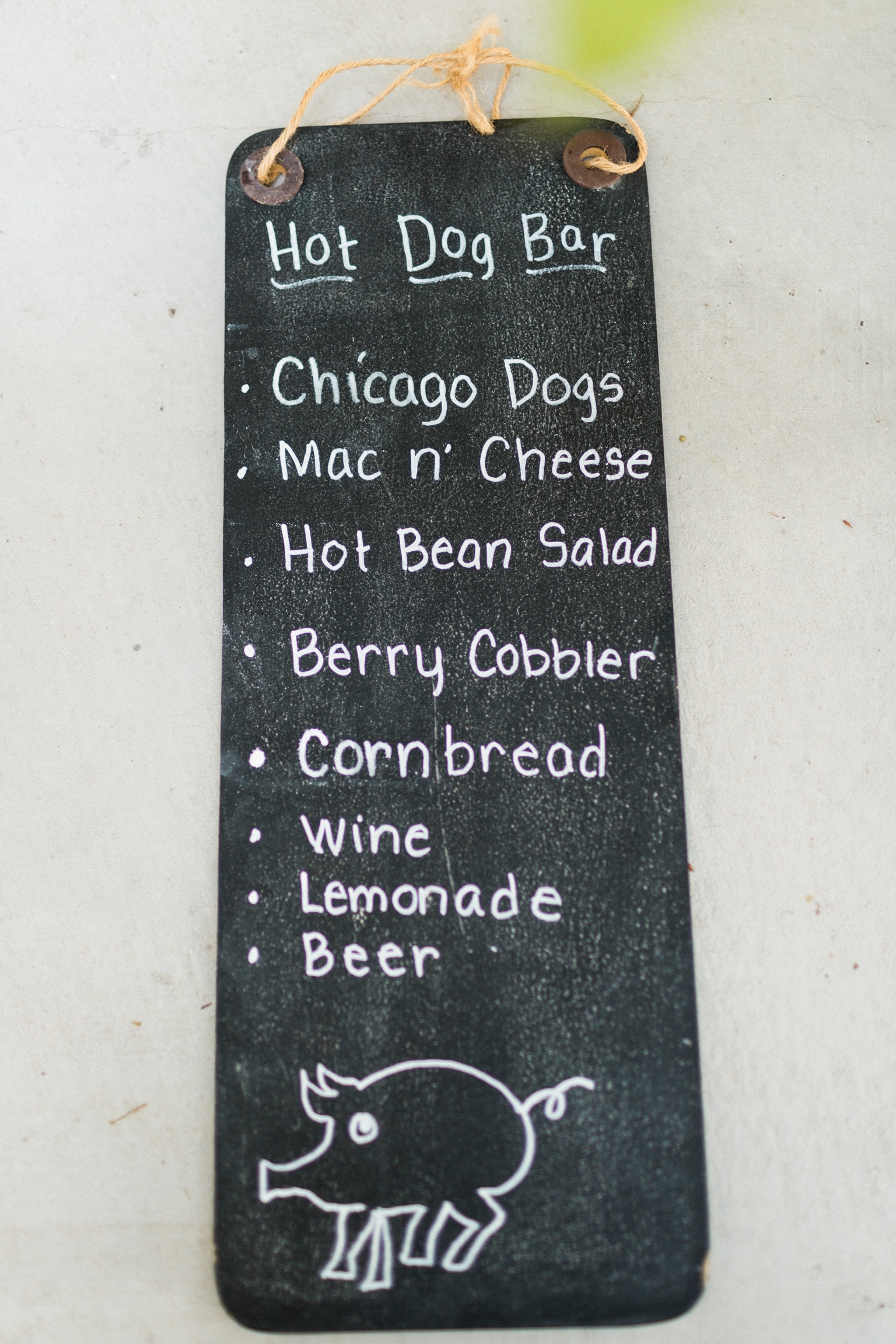 Carry the theme into your tablescape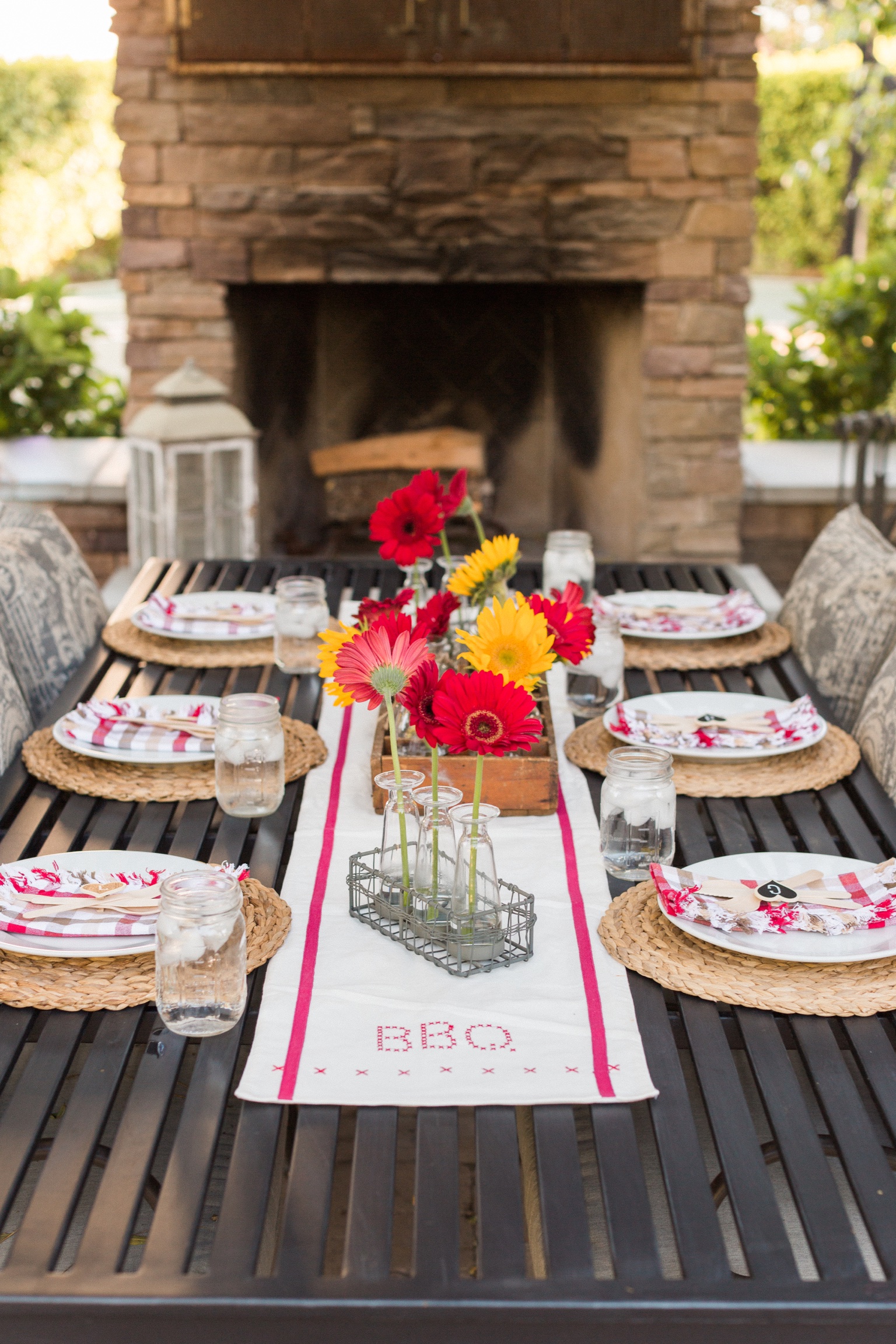 These wood utensils are a little more environmentally-friendly than plastic because they're 100% biodegradable, and I love how they look for outdoor gatherings. I found them on Amazon here
. They come in packs of 300 (100 each of spoons, forks and knives) for a pretty good price, around $23. The name tags are from World Market, and Target had the jute seagrass chargers. The BBQ table runner and fringed check napkins are from Sur la Table.
Simple gerber daisies in a vintage glass vase add a nice homey touch.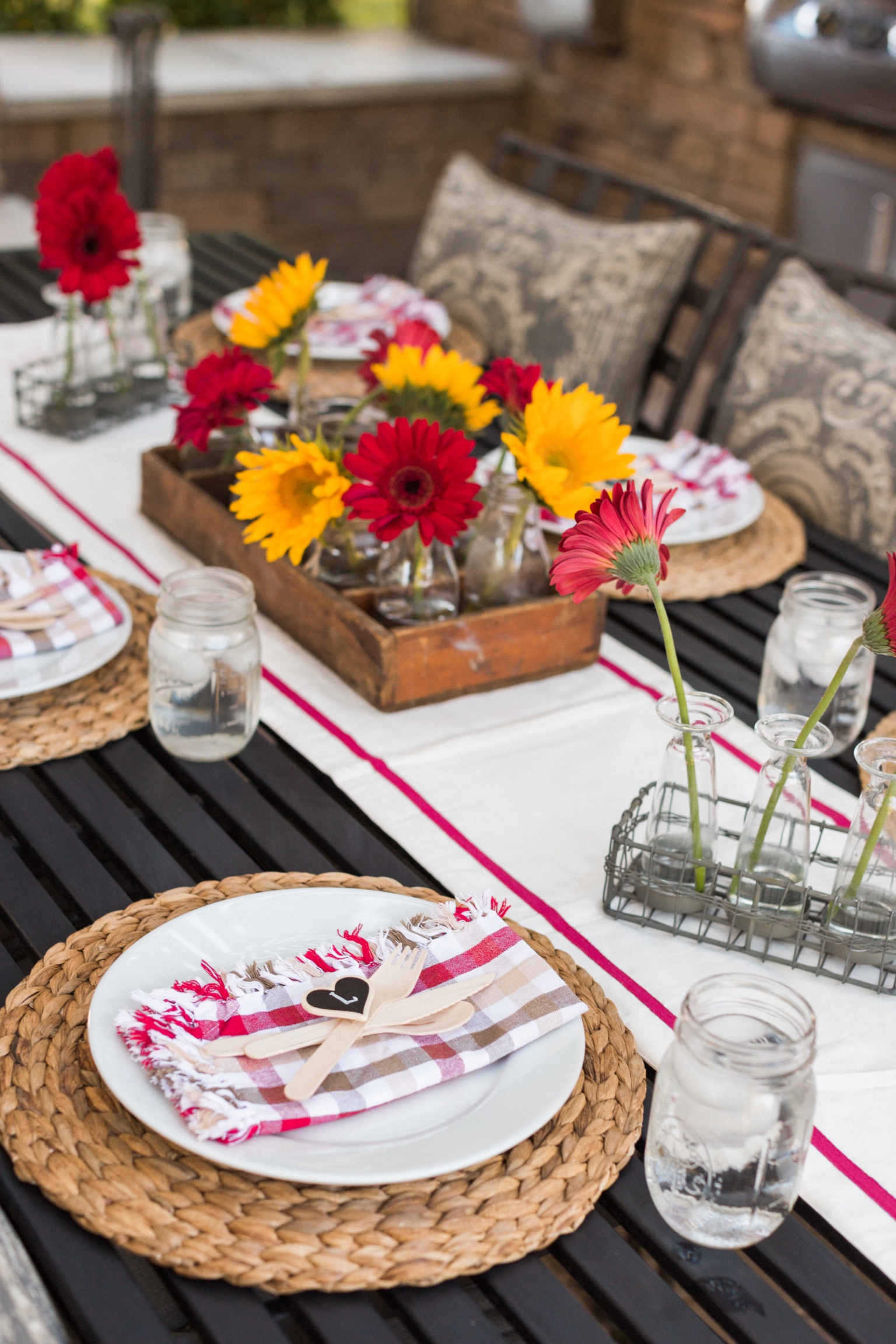 Disposable wooden utensils make cleanup a breeze and the chalkboard clip-on place card ties into the hand-written menu.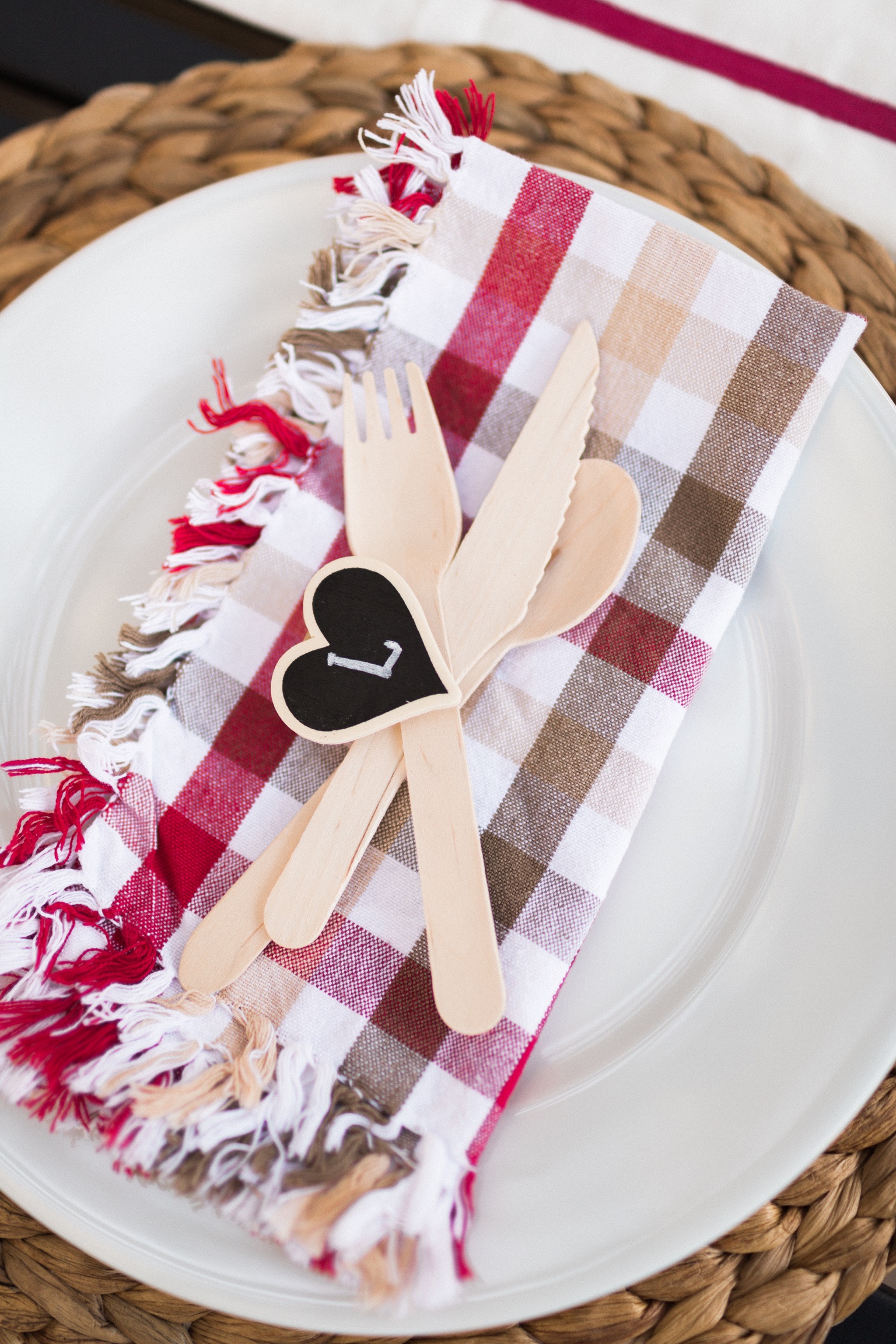 Serving buffet-style on the island keeps the line moving, and still allows space on the opposite side for guests to sit at the bar.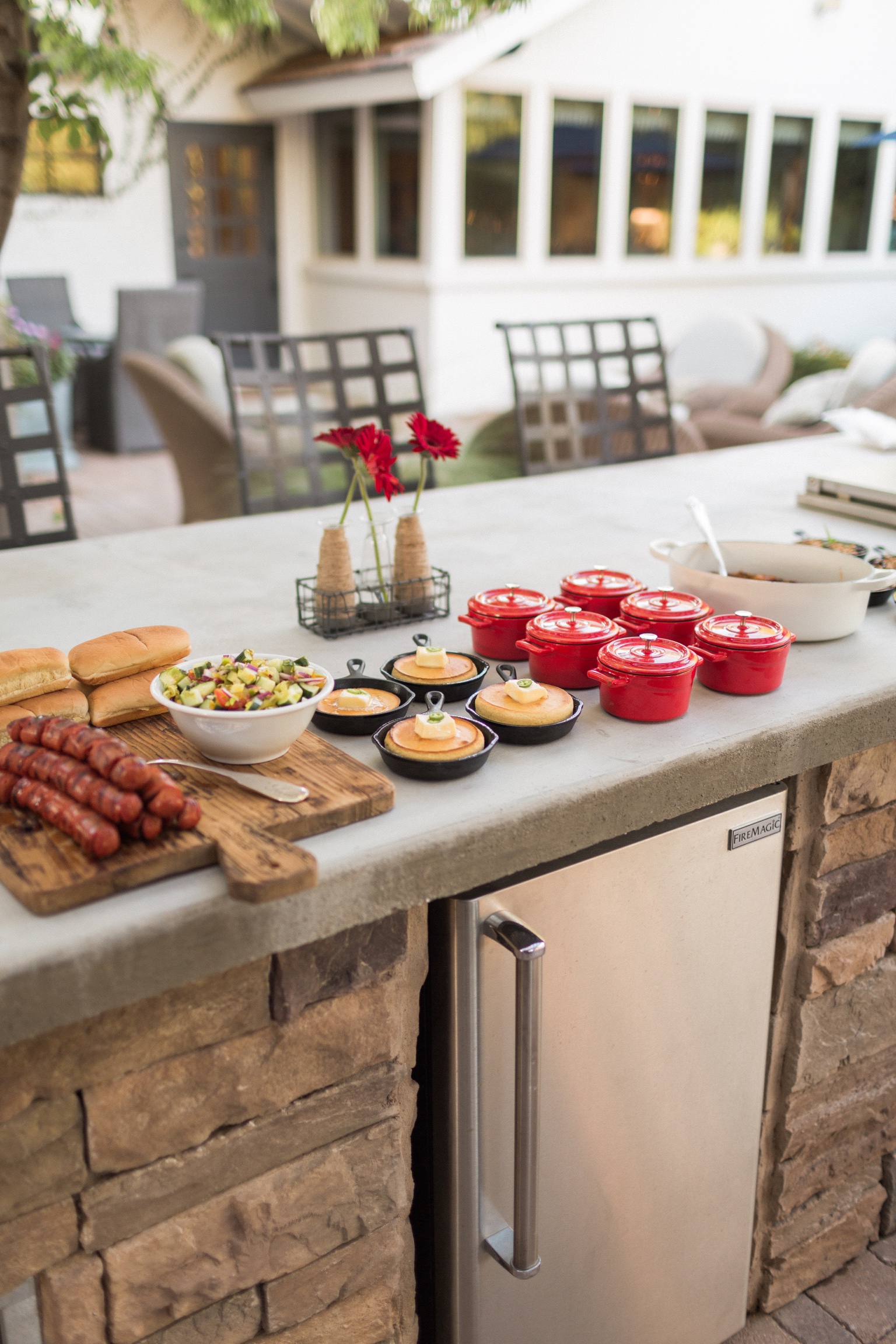 Dessert
Yes, I know I've said I don't like to bake because I'm not very good at it, but here's an exception. These were really easy and I was able to assemble the crumb topping ahead of time. Aren't these mini cast iron skillets adorable? These are about 5″ in diameter, but Target has slightly smaller ones for about $5 each.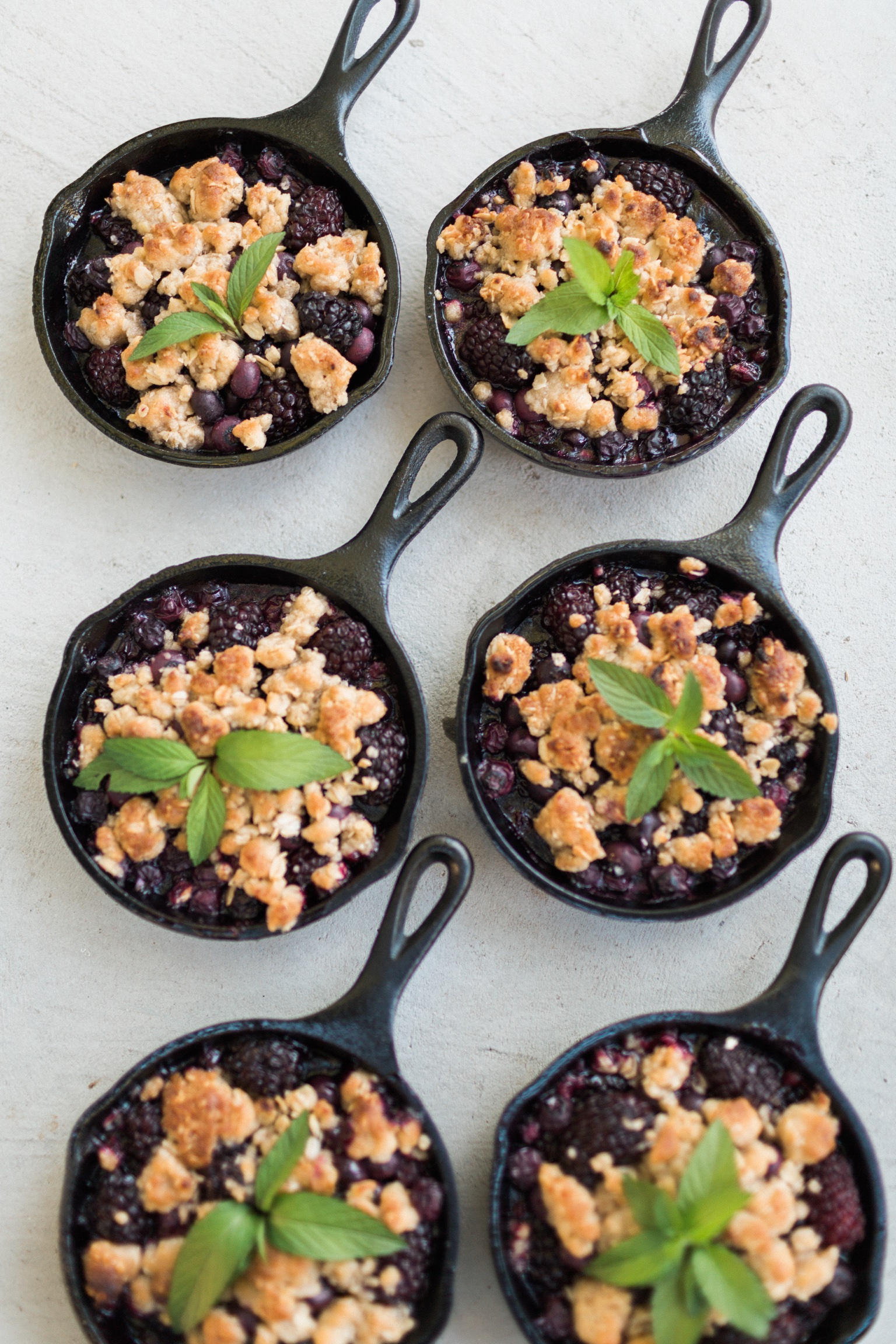 ---
Happy BBQing!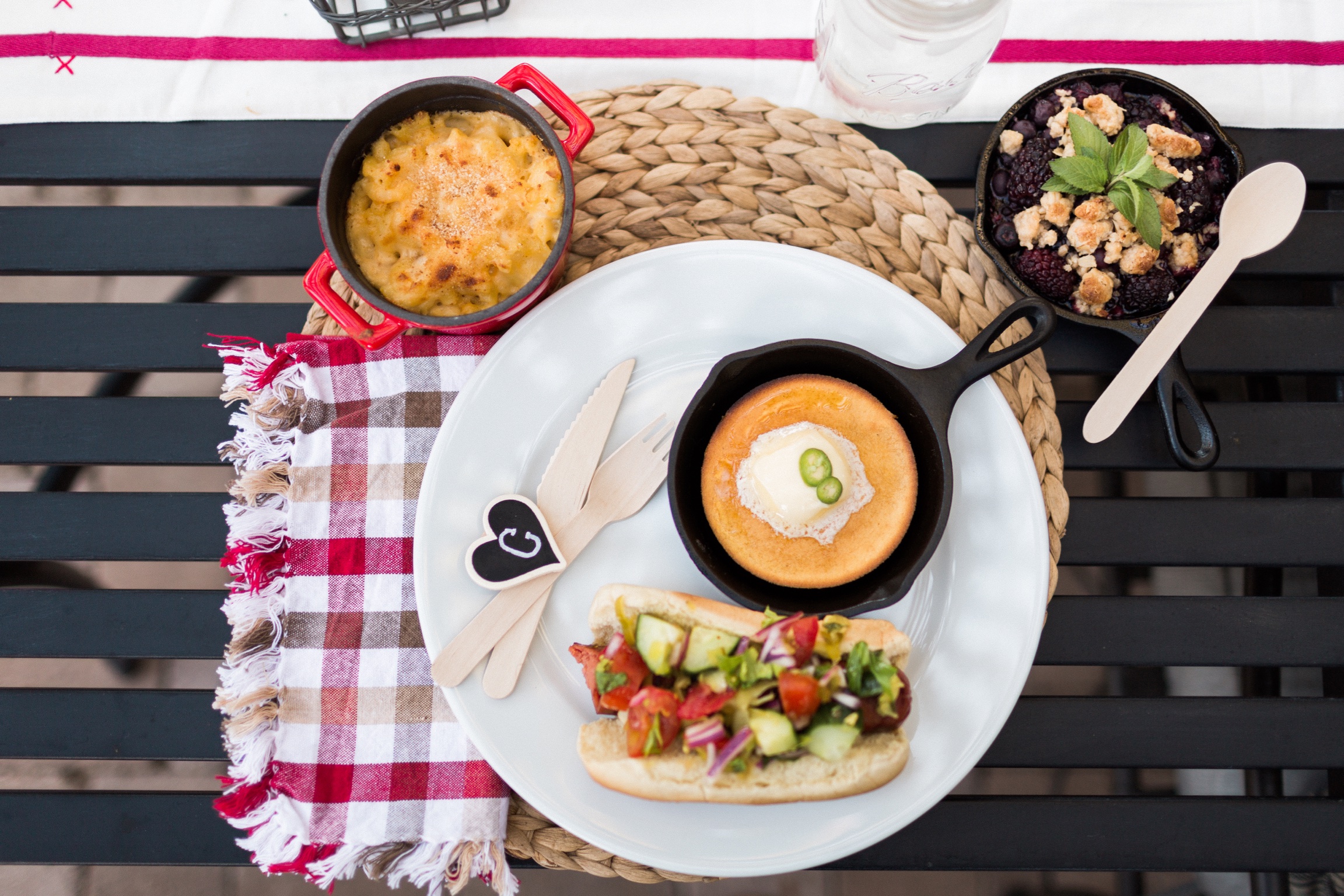 SaveSave
SaveSave