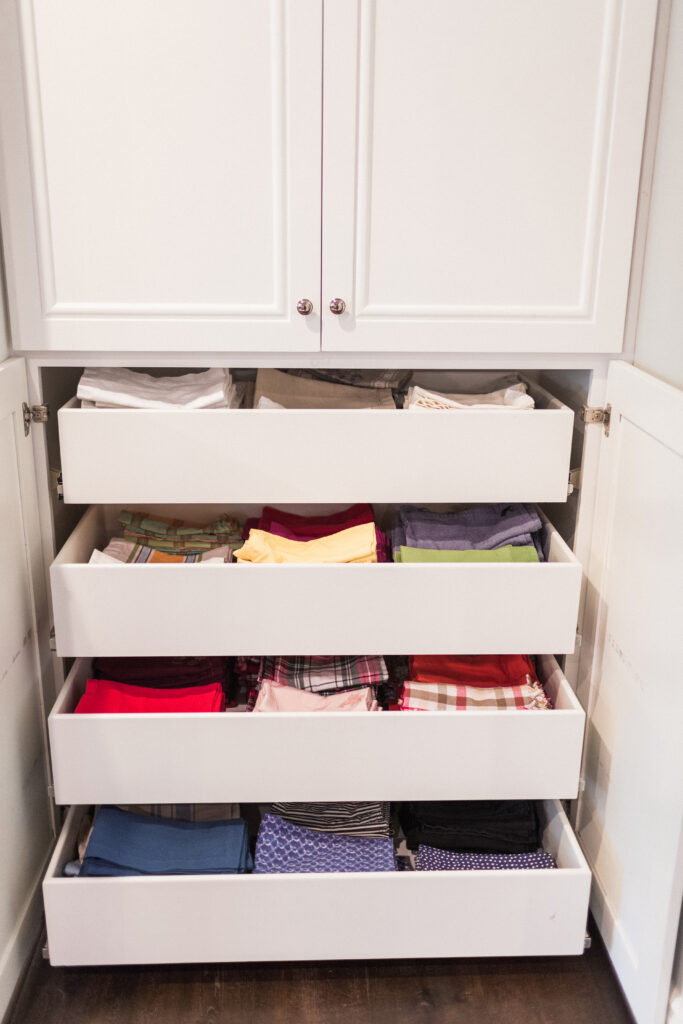 As someone who has been collecting tabletop decor for many years, you can believe I have come up with quite an arsenal of linens, dinnerware, and decor for any setting, theme or color combination. With this arsenal, however, comes the problem of where to store everything. Fortunately, my house is equipped to handle just about any hoarding situation, mine included. It has taken me quite a while, but I have come up with great ways to optimize my table decor organization. I'm going to take you inside my home and show you where I keep everything and how I store my beloved collection of table top items.
tablecloths and table runners
Now, this project probably took me the longest in my quest for my table decor organization. I had so many table cloths and table runners that were previously folded in different drawers around my house. It made it nearly impossible to see what I had. We are fortunate enough to have a lot of storage in my home so by removing some items from a seldom used upstairs closet, I was able to make space for my table linens.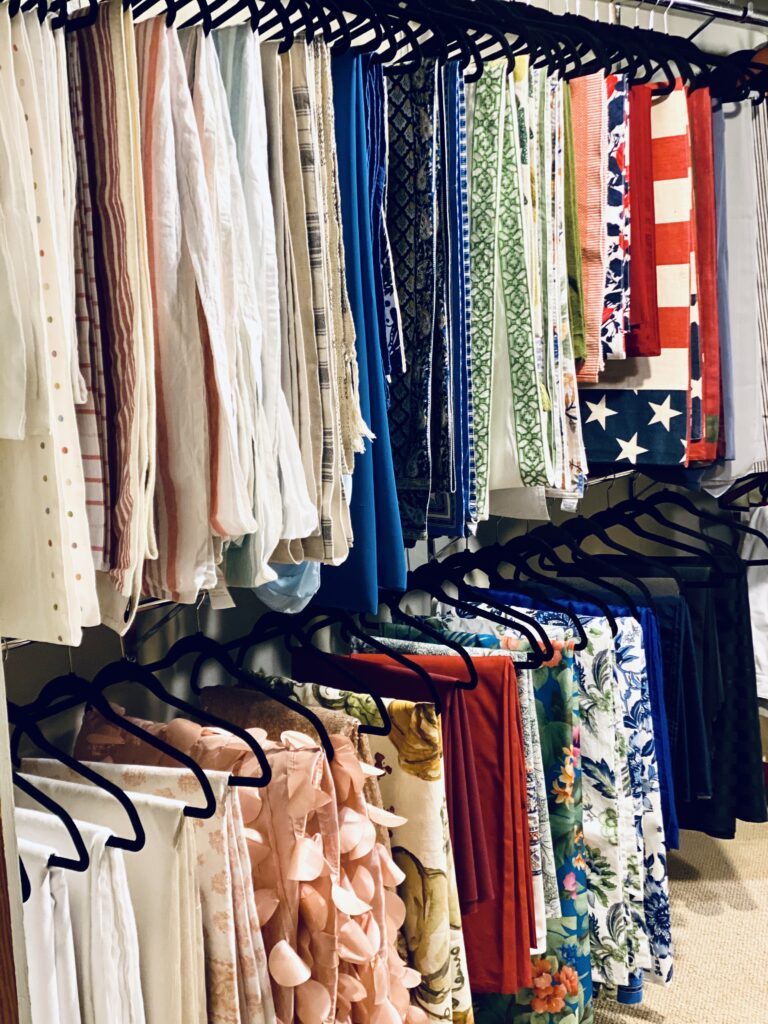 Shop my favorite organizational products here:





Napkins
First up is my cloth napkin collection. There are many ways to store napkins, but for me, I have found that stacking them in sets is the best way for me to visualize what I have at a glance. I had these cabinets with pull-out drawers on either side of our media cabinet made specifically for my napkins.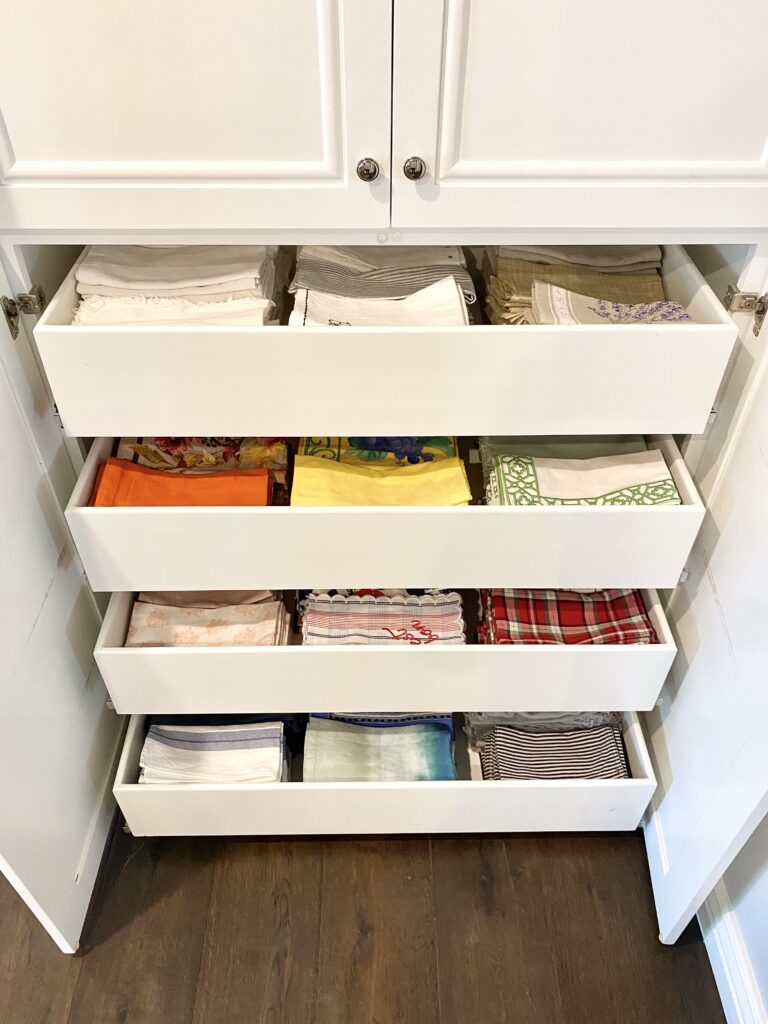 napkin rings
It goes without saying that if you have a lot of napkins, you need a lot of napkin rings to be able to put them on! I consider napkin rings the jewelry of the table. They just provide that extra special finishing detail that gives a decorator's touch (without being a professional decorator!) to any table.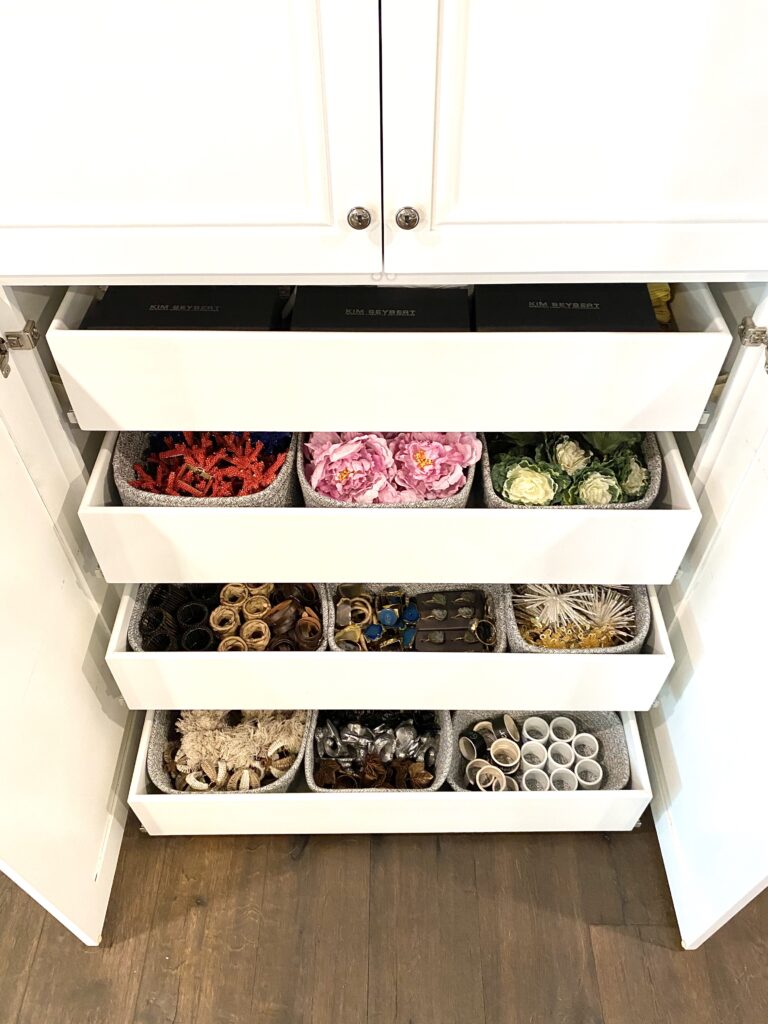 everyday glassware
If you would've seen what my glassware cabinet looked like before this, you know why I had to make a change! My glasses were mismatched, had several incomplete sets, and were old, cracked, and just needed to be refreshed.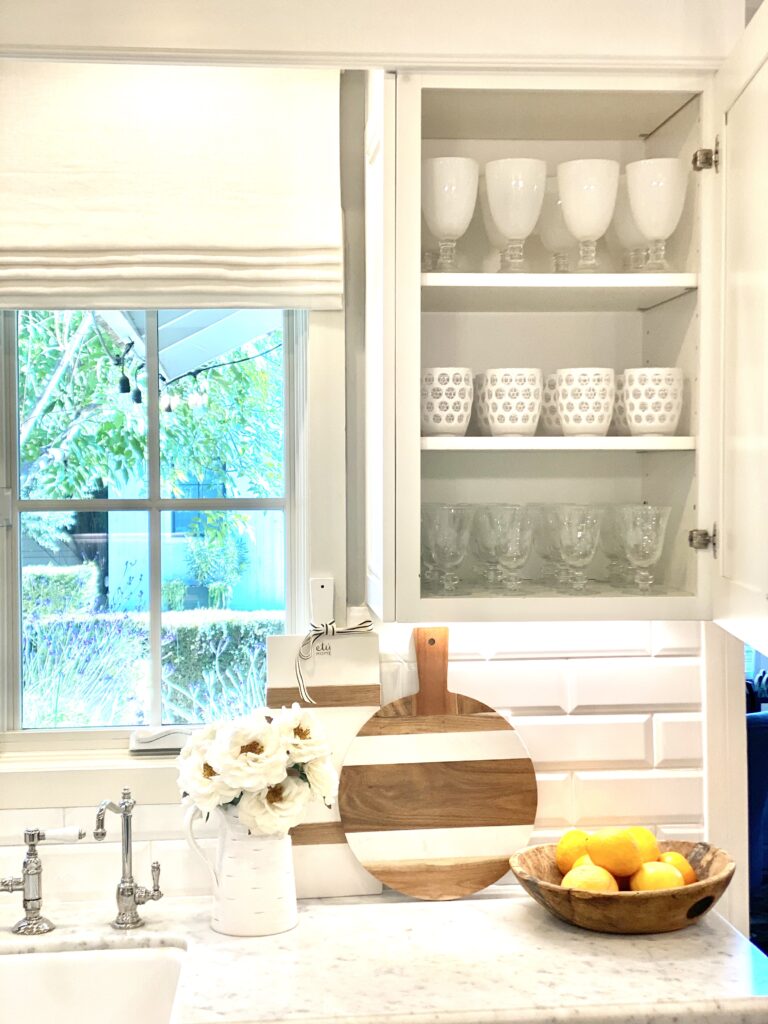 colored glassware
One of the latest trends in table top decor, is the addition of colored glassware. I love how a different hued goblet, glass or tumbler can make such a difference on a table, which is why my little collection is so much fun. Here is how I have organized them.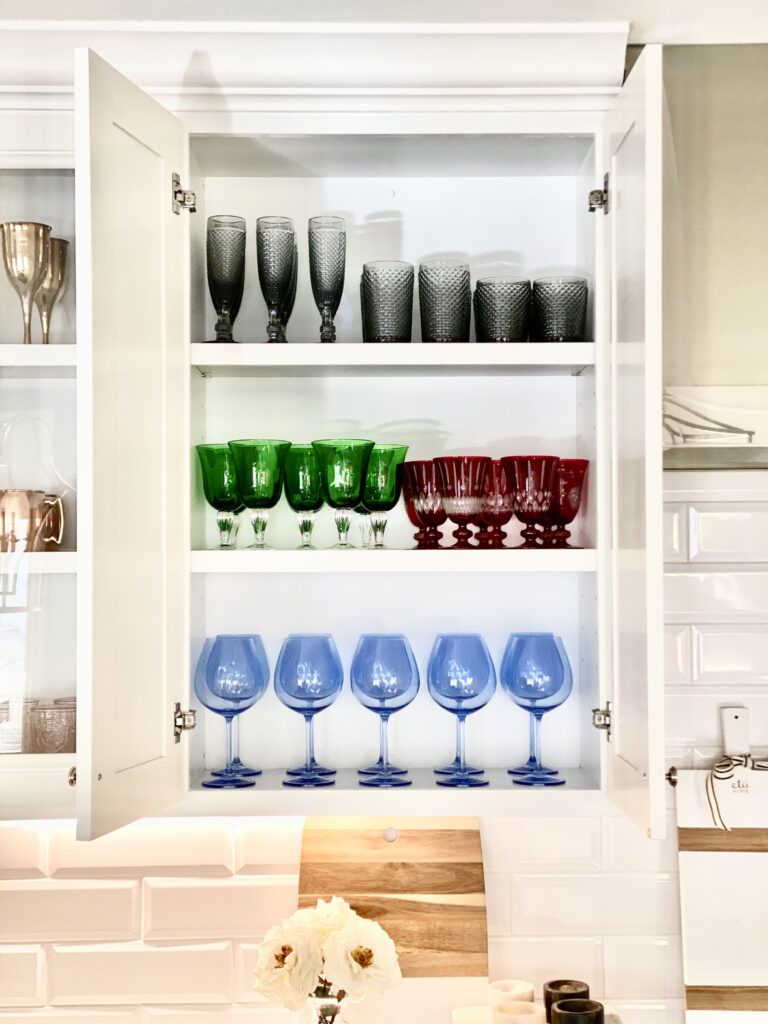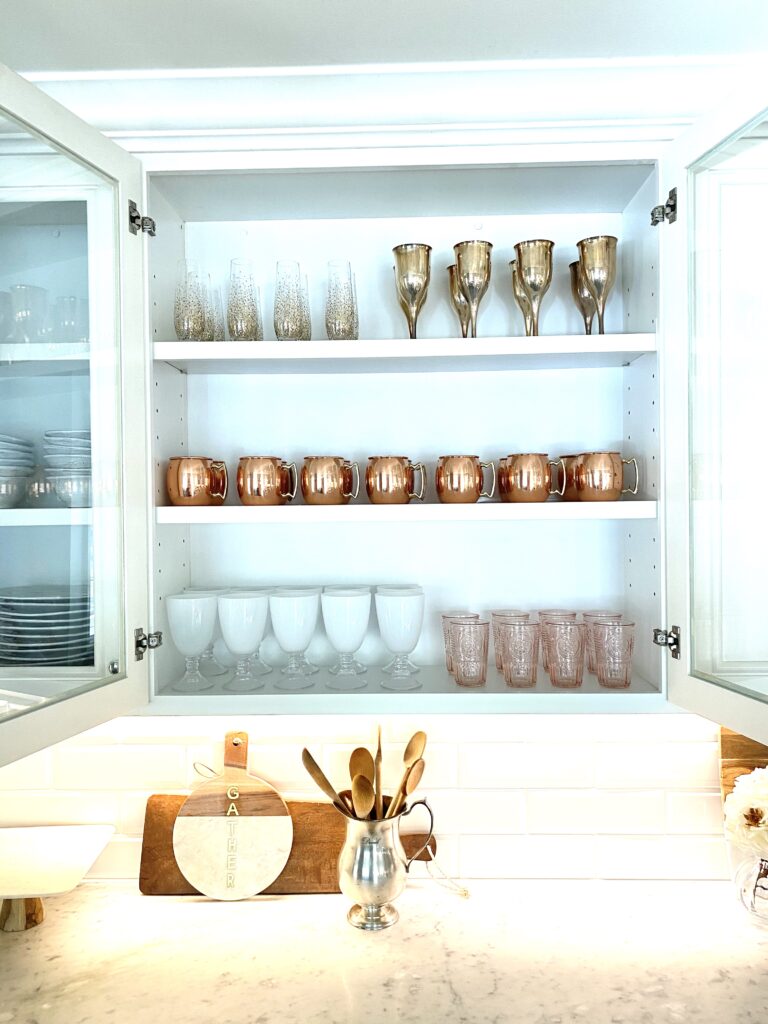 flatware
Admittedly, this is only a portion of the flatware I have, and besides my every day stainless steel flatware this is how I store my more decorative pieces.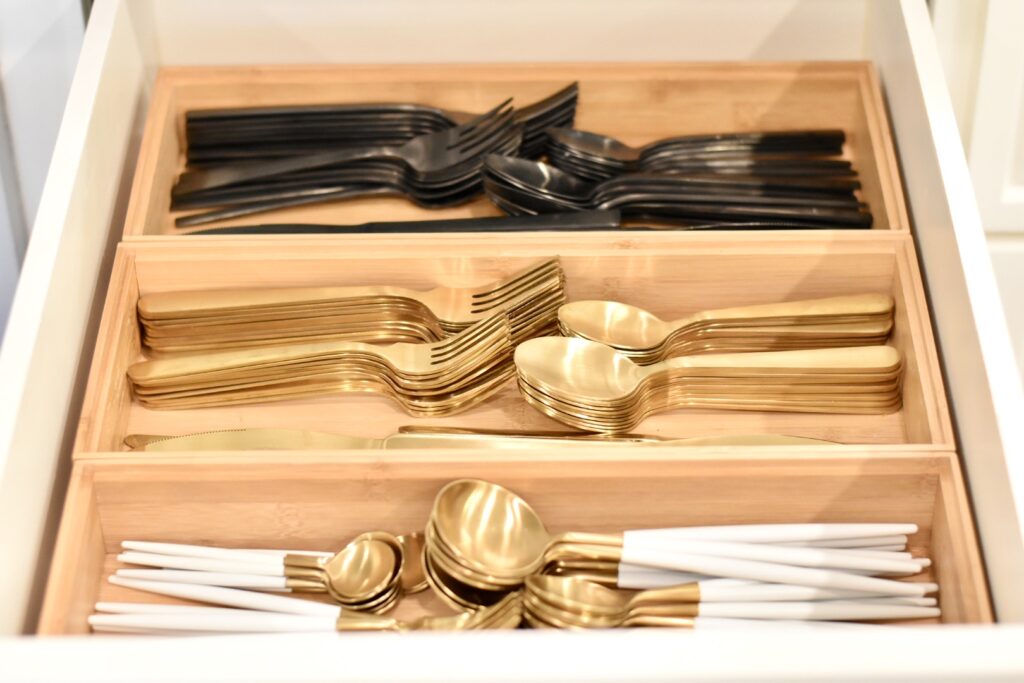 I hope you enjoyed seeing how I have created my table decor organization in my home for table linens, napkins, glassware and flatware. I often get so many questions about where I store everything, so I hope this post answers all of them.
For more organizing ideas, see how I organized my master pantry here! Also, check out my blog post on Party Organizing Tips where I collaborated with one my good friends, Leslie Lehr, who happens to be a professional organizer.
Thanks for visiting!