It's time for my next post on my Holiday Hosting at Home series!  I'm collaborating with two really talented friends who have the same passion for entertaining as me. These ladies love hosting friends and families in our homes as much as I do and we all share the connection of being raised in families that entertained regularly. Here, you'll find inspiration and creative ideas for hosting in your own homes for the holidays, from decor to tablescapes to recipes to centerpieces to get you ready for the season.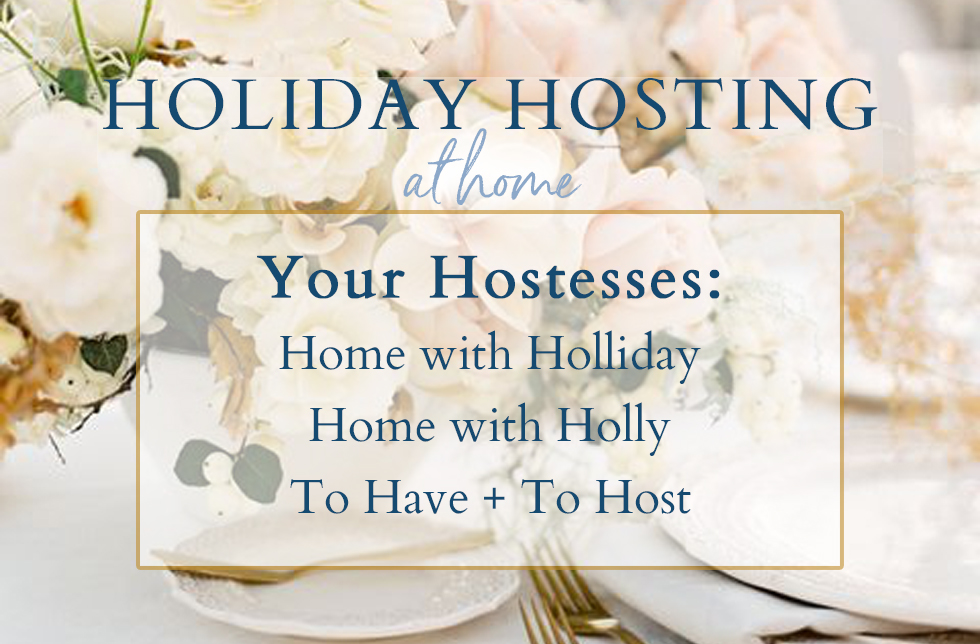 Here is what my friends have been sharing for their fall home decor and tablescapes.  If you would like to pin any of these images, please go to the original post linked below each image.  Check out their entire posts  – there is so much beauty and inspiration in each of these, you'll be amazed.
Home with Holliday
Holliday's gorgeous table setting here shows how you can have an elegant Halloween dinner by skipping ghosts and skeletons, but by using elements more appropriate for an adult evening. Here is the entire post on Elegant Halloween Table Setting with Pumpkins.
For her entry way,  Holliday built this super creative Thanksgiving Tree with pumpkins created from "leftovers" from last years' Thanksgiving tablescape. How's that for re-purposing??!! Click here to see her post on 
Simple Thanksgiving Tree with Pumpkins
.
Home with Holly J
Holly J is an amazing baker and this recipe is one of her all-time favorites. I can just smell that fresh baked bread scent wafting thought my house when I will make these! Click The Best Homemade Rolls for the entire post.
For this decadent treat, Holly's used pumpkin spice and cream cheese for these delicious muffins – perfect for breakfast, dessert or just an after-school snack for the kids! Here's the link for her Pumpkin Cream Cheese Muffins post.
To Have + To Host
I was drawn to a gorgeous $2000 Fall tablescape from a photo saw years ago. I wanted to see if I could duplicate for much, much less and I did! Almost one-tenth the cost. It proves that you don't need to spend a fortune to look like you have a fortune! See the rest of the post How to Duplicate a $2000 Luxury Fall Tablescape for $200 here.
These jack-o-lantern stuffed peppers will be the talk of your Halloween dinner party since they're so simple, yet impressive. Packed with protein and veggies, it really is the perfect entree! Click Jack-O-Lantern Stuffed Peppers to see the entire post.
Thanks for visiting our first blog hop for Holiday Hosting at Home. The holidays are approaching, and we are very excited about sharing more tablescapes, entertaining and decor ideas for you in the coming months. Please let us know if there is anything you are interested in seeing from us as we approach Thanksgiving and Christmas!
We would also love for you to come along to follow us and our individual journeys.