As a blogger, it's really fun to connect with other influencers who share your passion. I'm lucky to have found two amazing women, who, like me, love to entertain and host. That's why were bringing you a fun series called Holiday Hosting at Home! These ladies love decorating, cooking and hosting friends and families in our homes as much as I do and we were all raised in families that entertained regularly. In this post, we've got creative ideas and recipes for Thanksgiving and Christmas to get you ready for the season!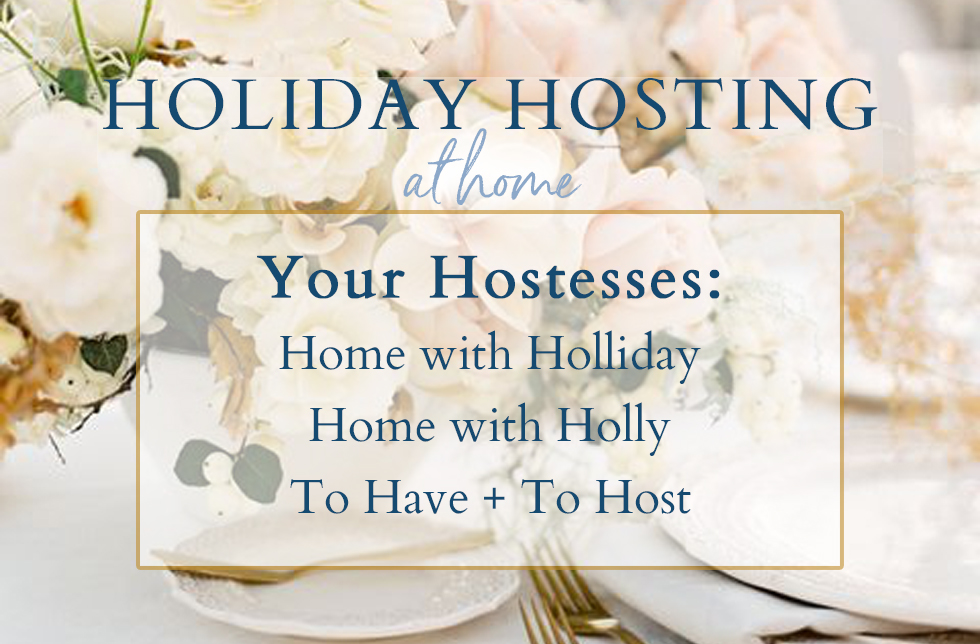 If you would like to pin any of these images, please go to the original post linked below each image. There is so much beauty and inspiration in each of these, I hope you check out their entire post . . .
Home with Holliday
One of Holliday's favorite set of salad plates is Royal Crown Derby China, used here. How beautifully it picks up the colors of her Jewel-toned Thanksgiving table! Copper beaded napkins, purple wine glasses and fantastic feather napkin rings were found at Pier 1. I can't get over this table – how I'd love to be a guest here!
Click here to see the entire post: Jewel-toned Thanksgiving
For this vignette, Holliday went with a rustic Winter theme, using animals straight from the forest! I love how she used pinecones and pine needles to play up the natural setting in a whimsical, yet elegant way! Here's the link to the see the post: Easy Christmas decorating ideas
Home with HollyJ
Sometimes all it takes is one item to inspire the rest of your table and that's what happened with Holly J for this one! She found ceramic white turkey place card holders and created this beautiful setting with layered faux greenery, wood candlestick holders and light, neutral colors for dishes and napkins. Click here to see the post: Rustic Thanksgiving Tablescape
You won't want to miss Holly's Fall tour of her home – it's spectacular! She put a pretty flower arrangement in the center of her kitchen island in a light blue vase that really pops with the orange. My favorite part is how she tied orange wreaths around each of the bar stools. Here is the entire post: Fall Home Tour.
To Have + To Host
Taking the best bounty of the season, I've created this warm Brussel sprout and butternut squash salad with crispy prosciutto that can be served as an entrée or a side dish. It's savory, sweet, salty, creamy, crunchy, tangy and the best part? There is very little prep work so it can be made quickly.
Click Warm Brussel Sprout and Butternut Squash Salad with Crispy Prosciutto for the recipe!
Want a cute fast-food chic dinner and table setting for Friendsgiving? Read on for how to create a super easy dinner because all of the cooking is done for you. This table takes very little time to assemble, so the entire dinner comes together quickly. To see this entire post, click A Chick-fil-A Friendsgiving and Tablescape.
We would also love for you to come along to follow us and our individual journeys.