I just LOVE this skillet roasted lemon chicken recipe. It's fool-proof and a crowd-pleaser, every time! You cannot go wrong with this one, so if you are new to hosting, make this and I'll show you how.
Getting started and putting the Grandmas to work.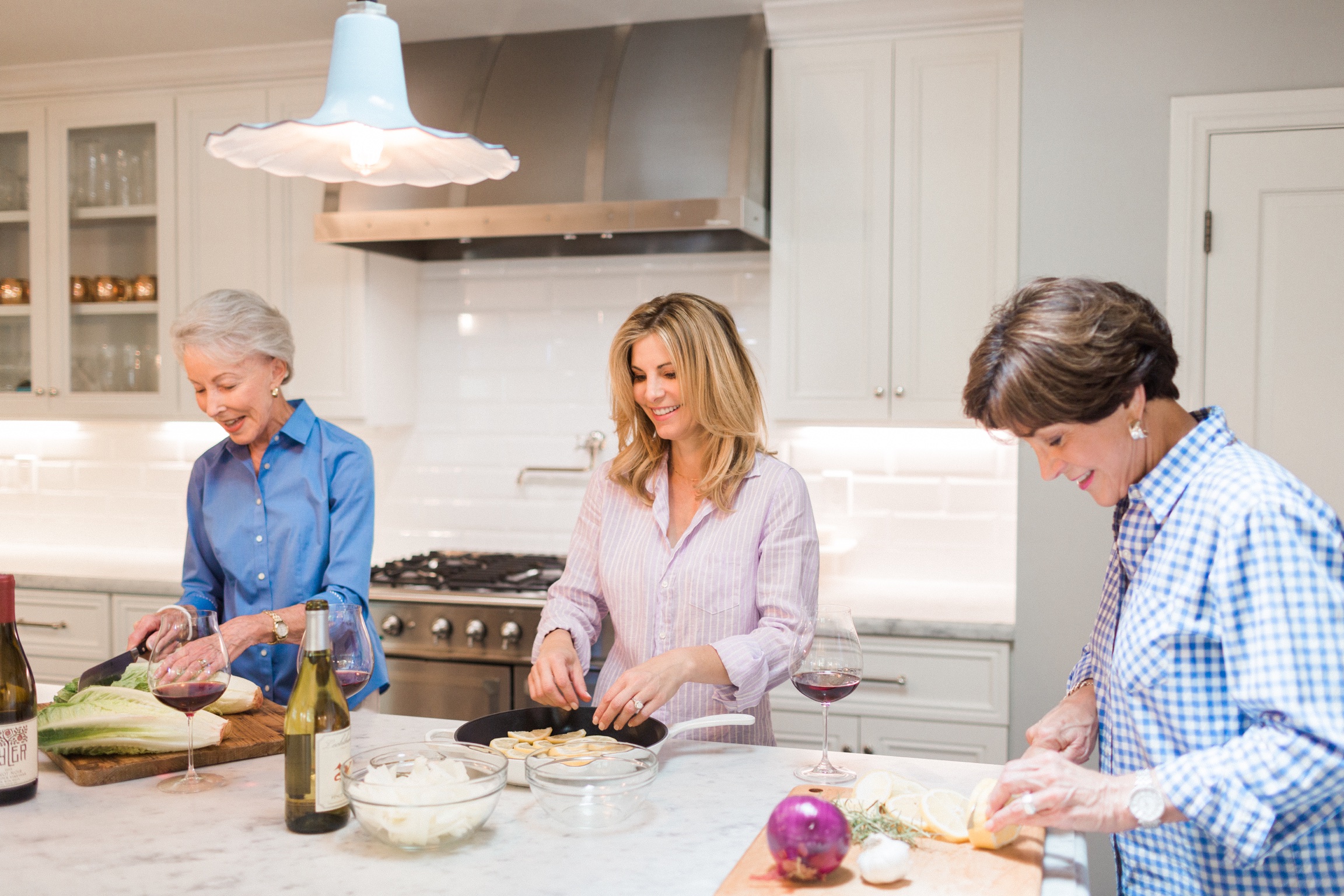 Layering the bottom of the skillet with lemon wedges and sliced onion.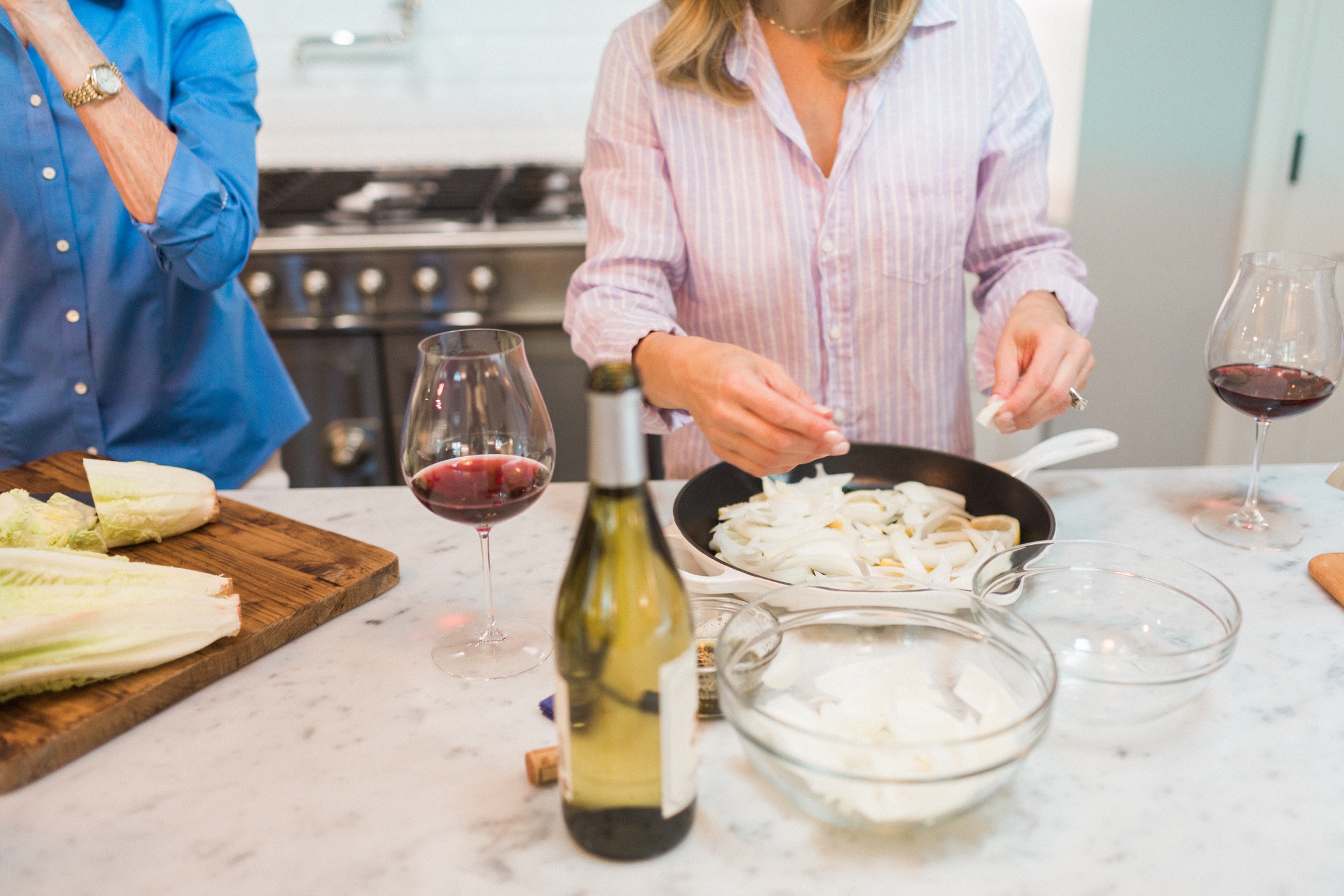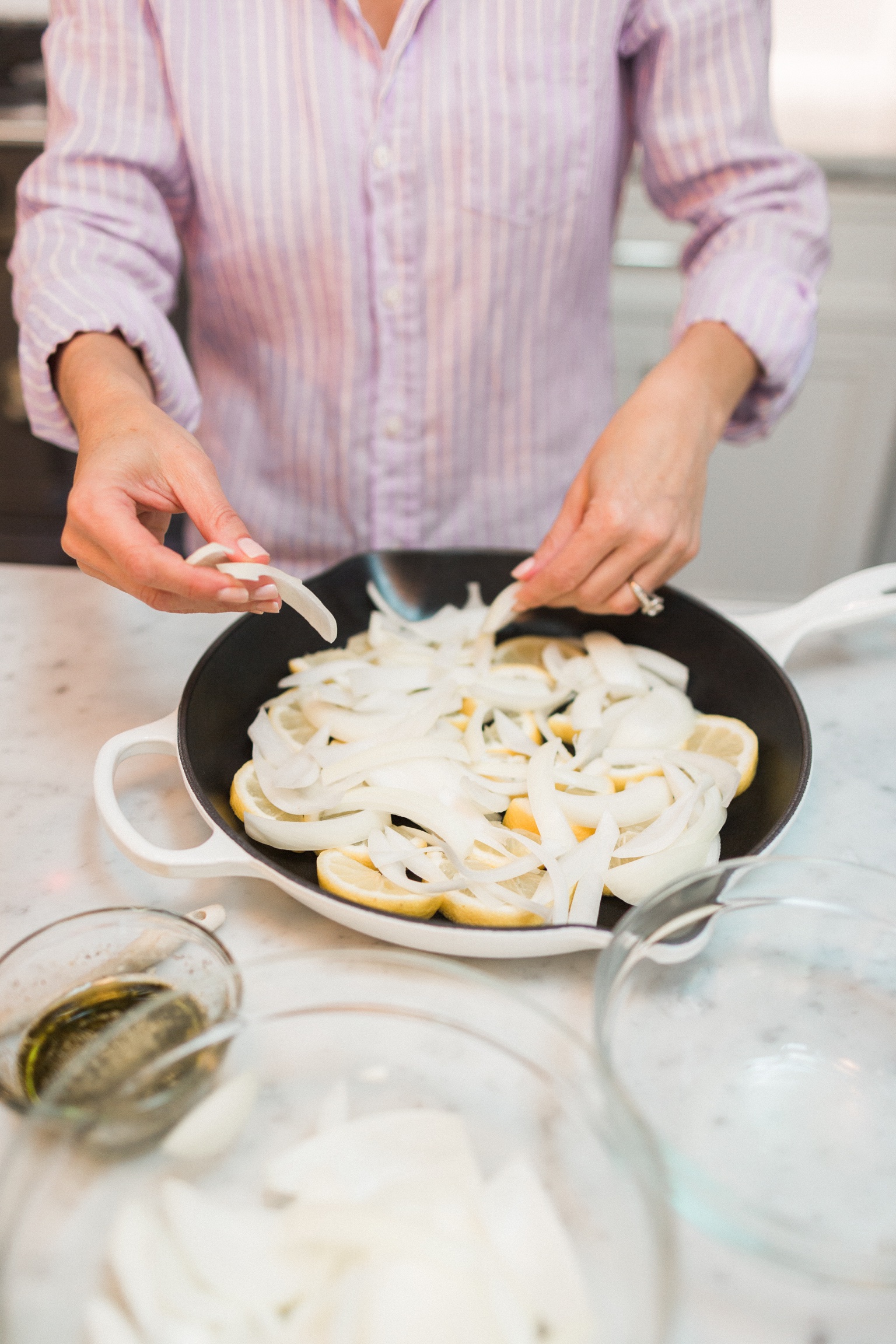 Next, put the chicken on top of the onion and lemon wedges and brush the oil + herb mixture over the chicken. (see recipe notes!)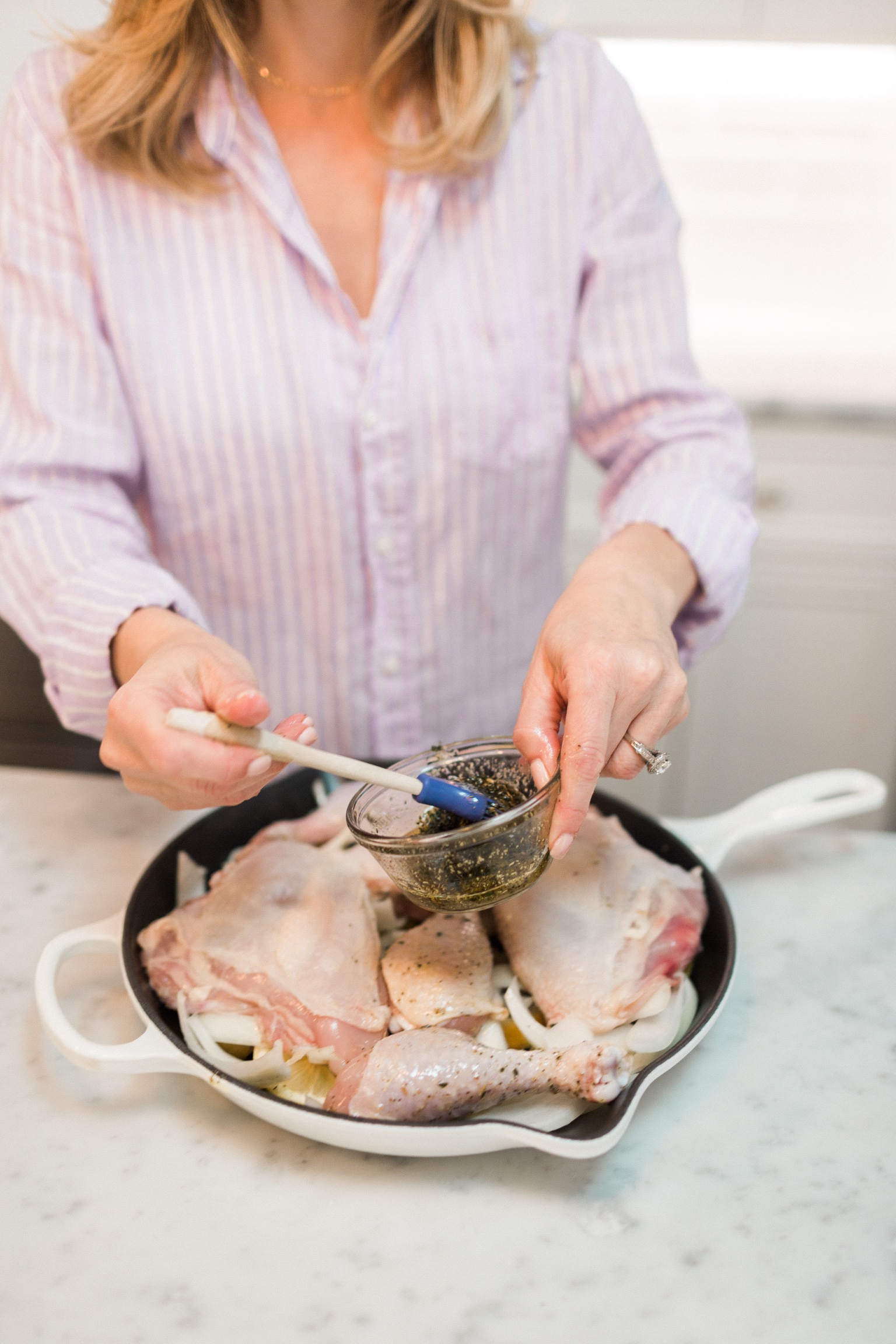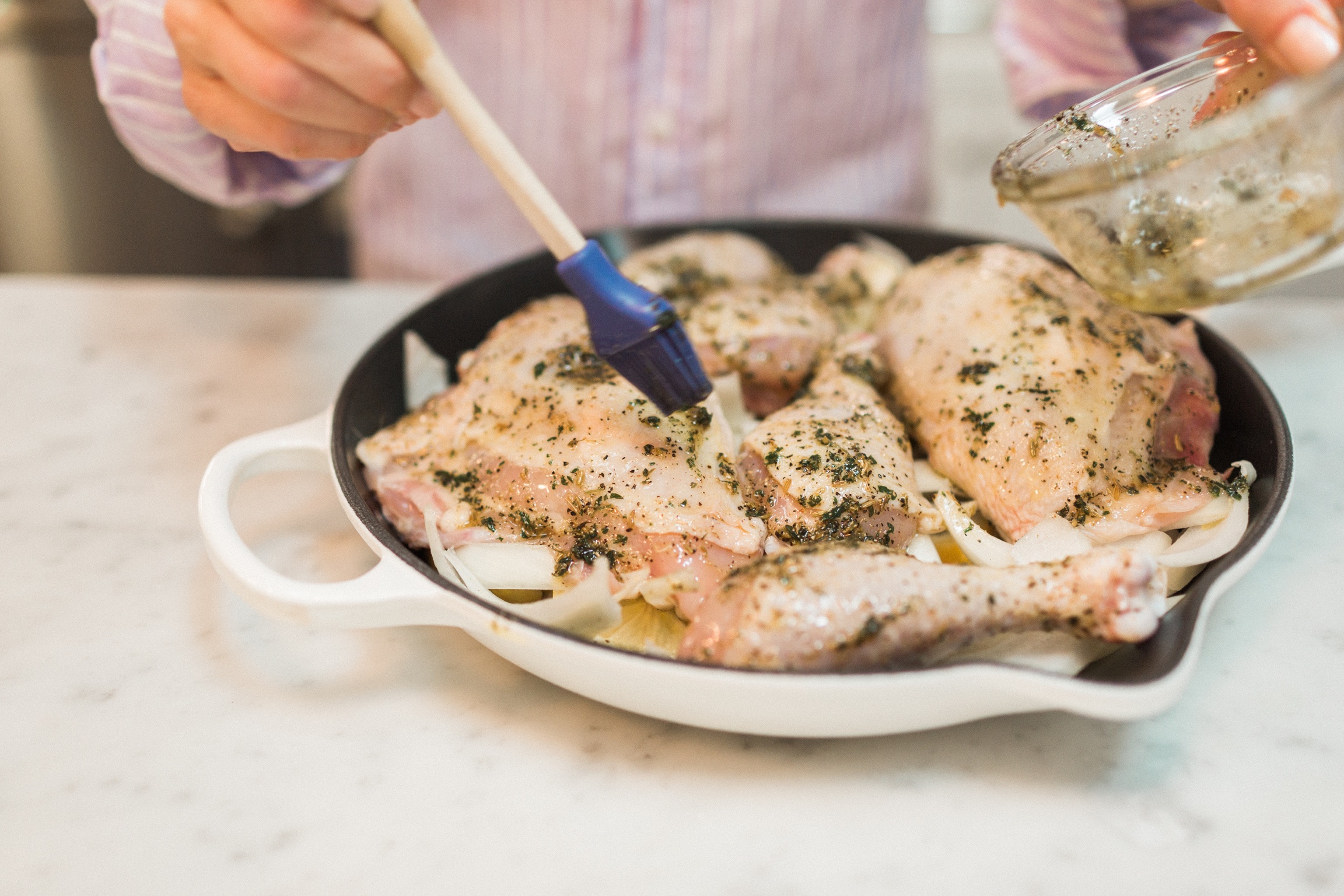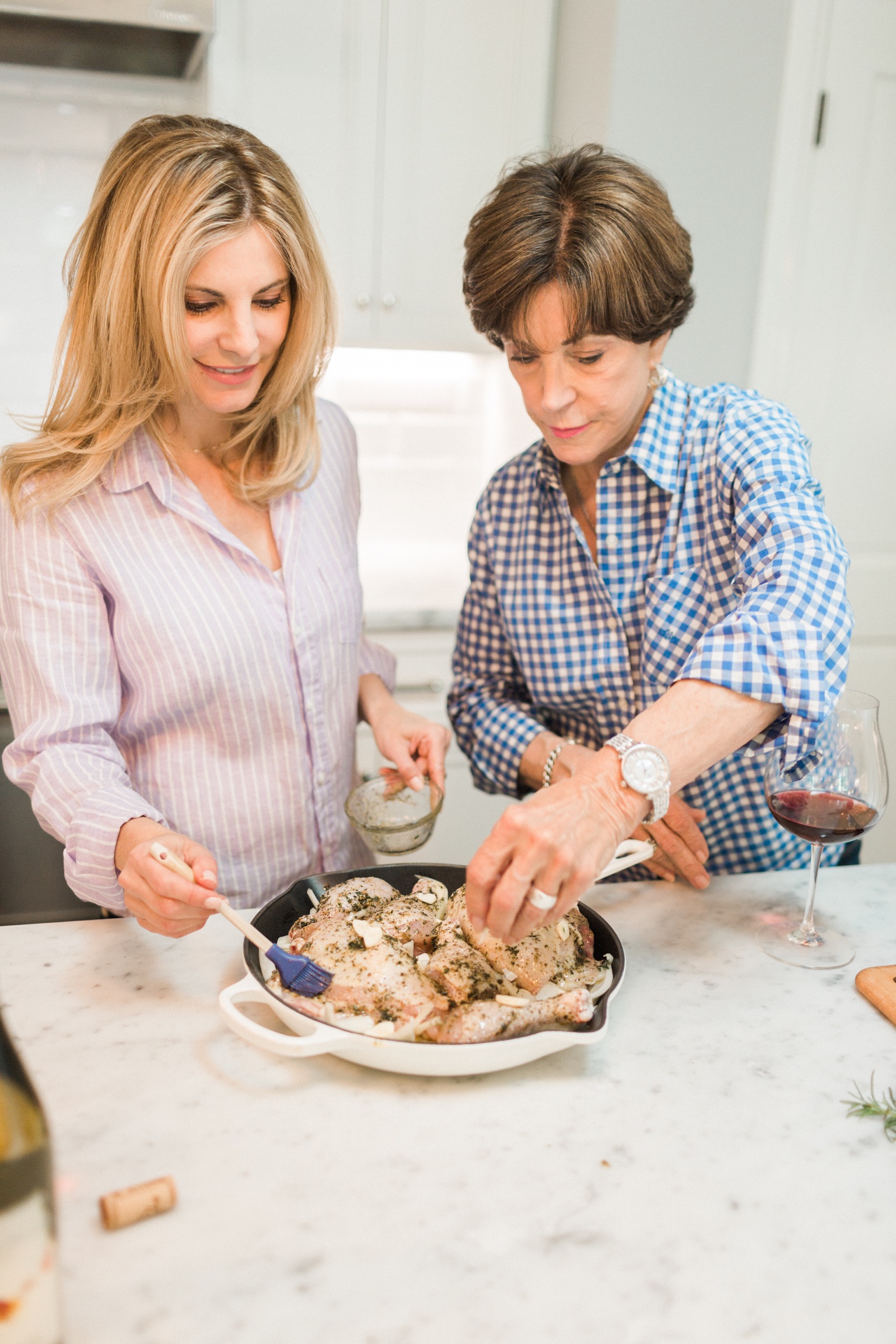 Roast it in the oven at 350 degrees for 30 minutes.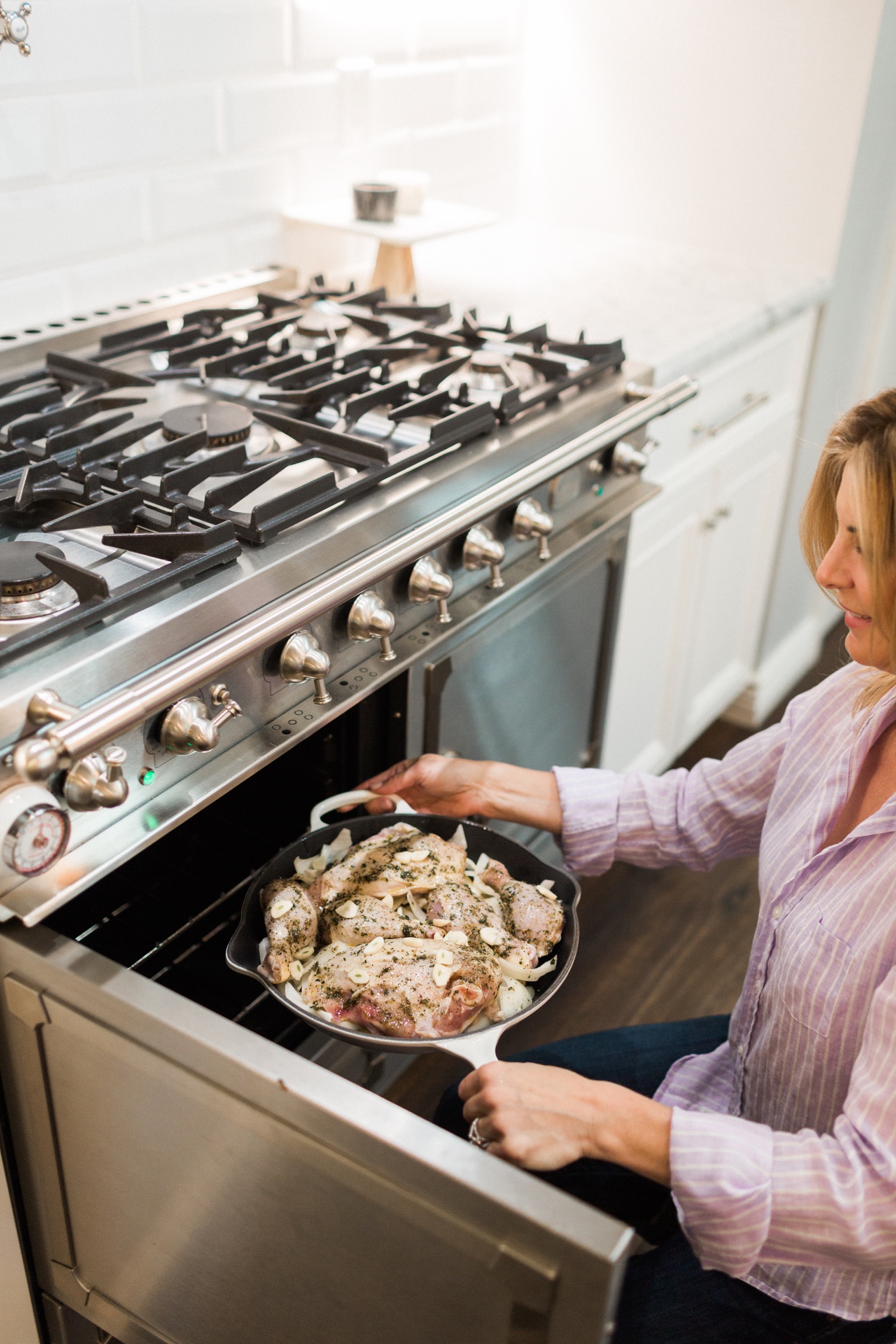 Remove from oven and add the wine to the pan (NOT on the chicken – see notes!).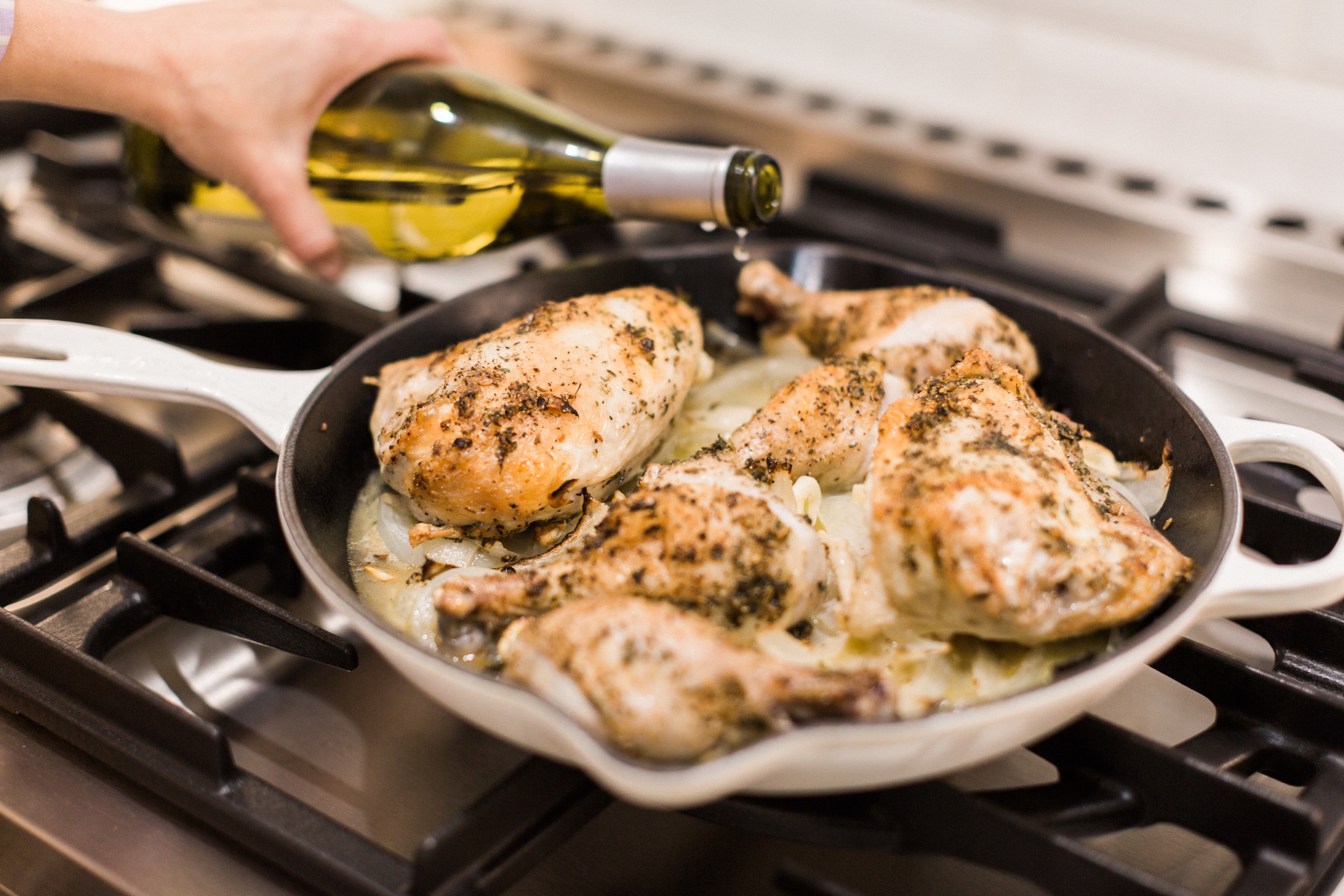 Add more lemon juice and cover the skillet with foil and let set for 10-15 minutes.
Add more lemon wedges for presentation.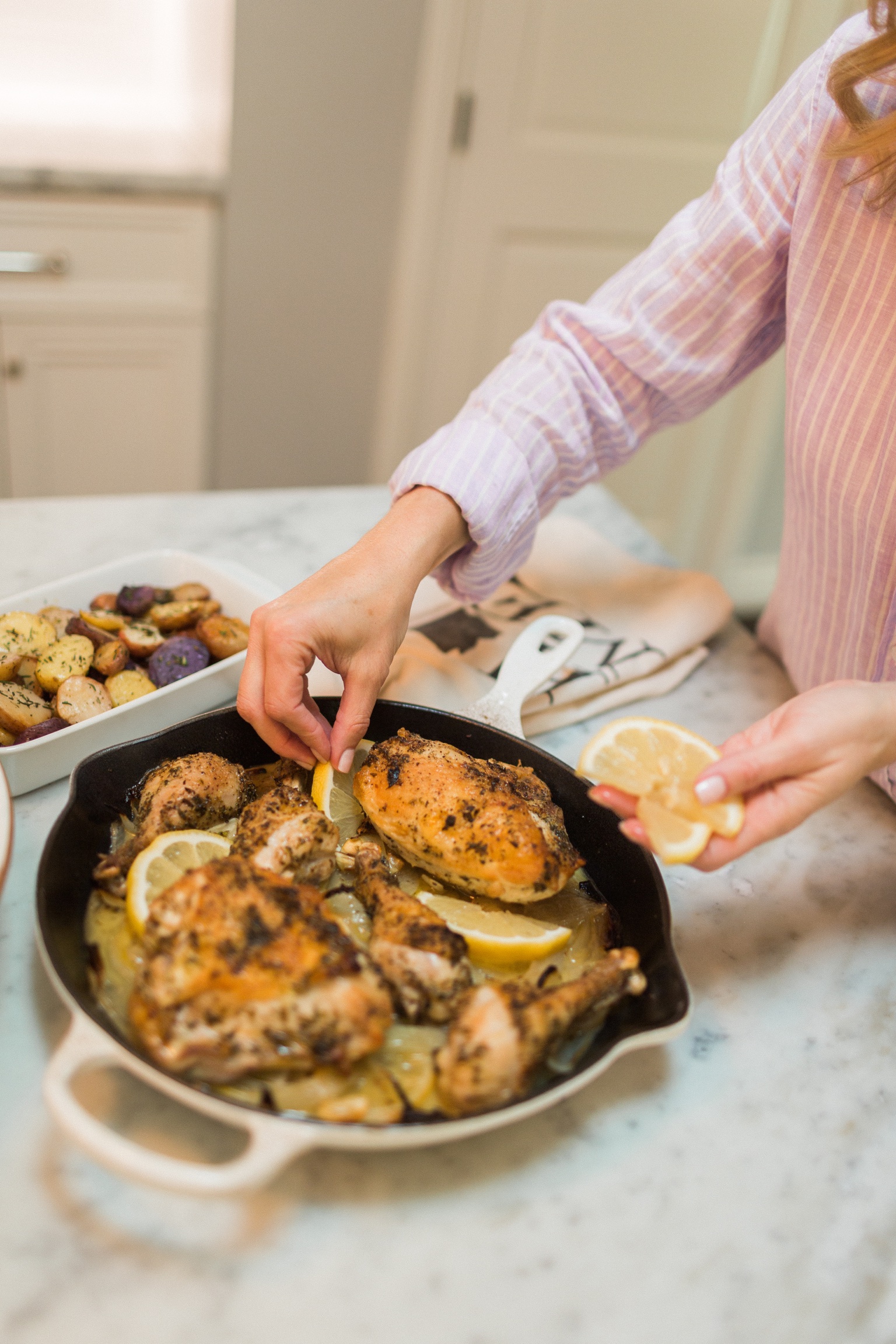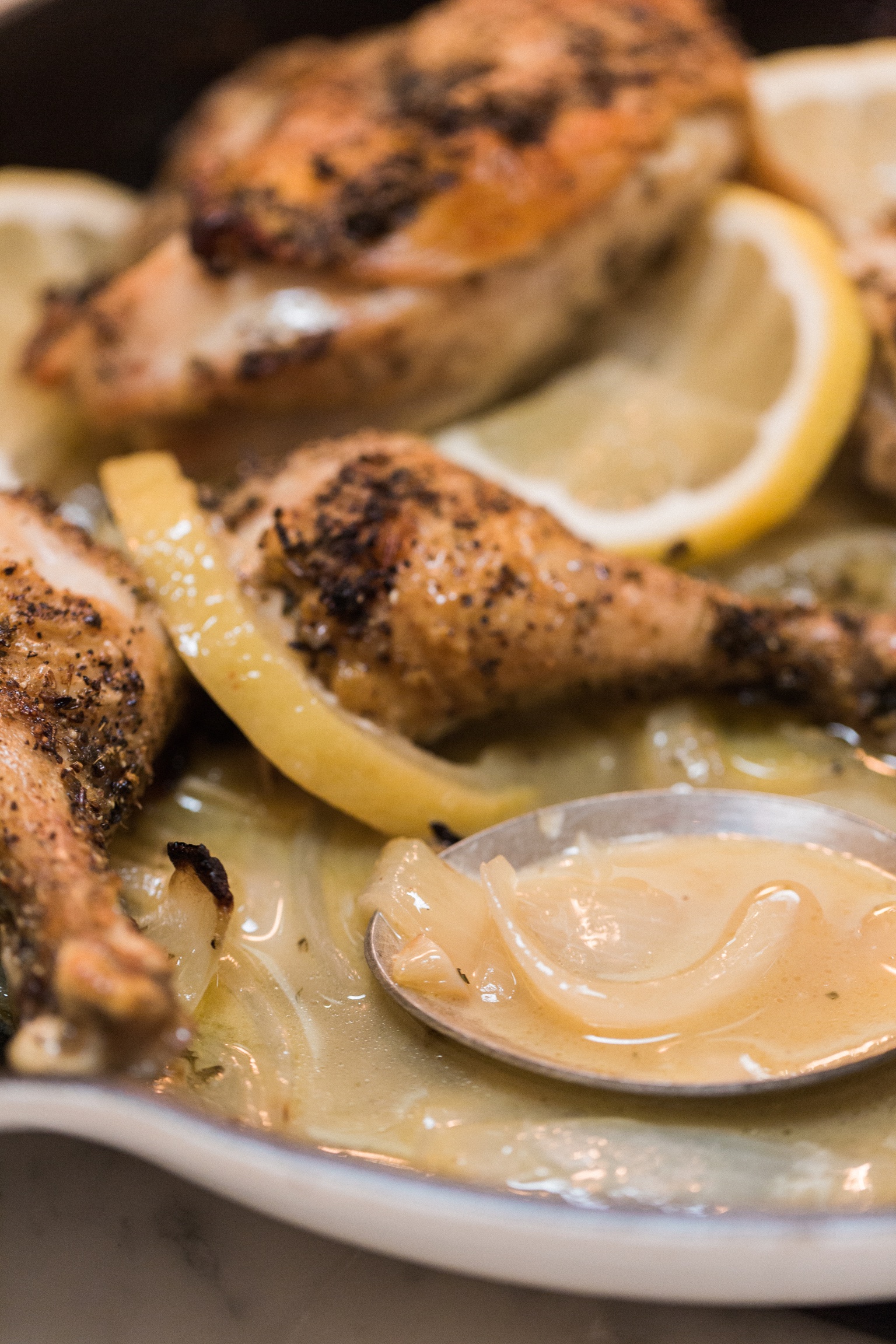 Serve chicken with lemon wedges and juice from the skillet – your guests will love!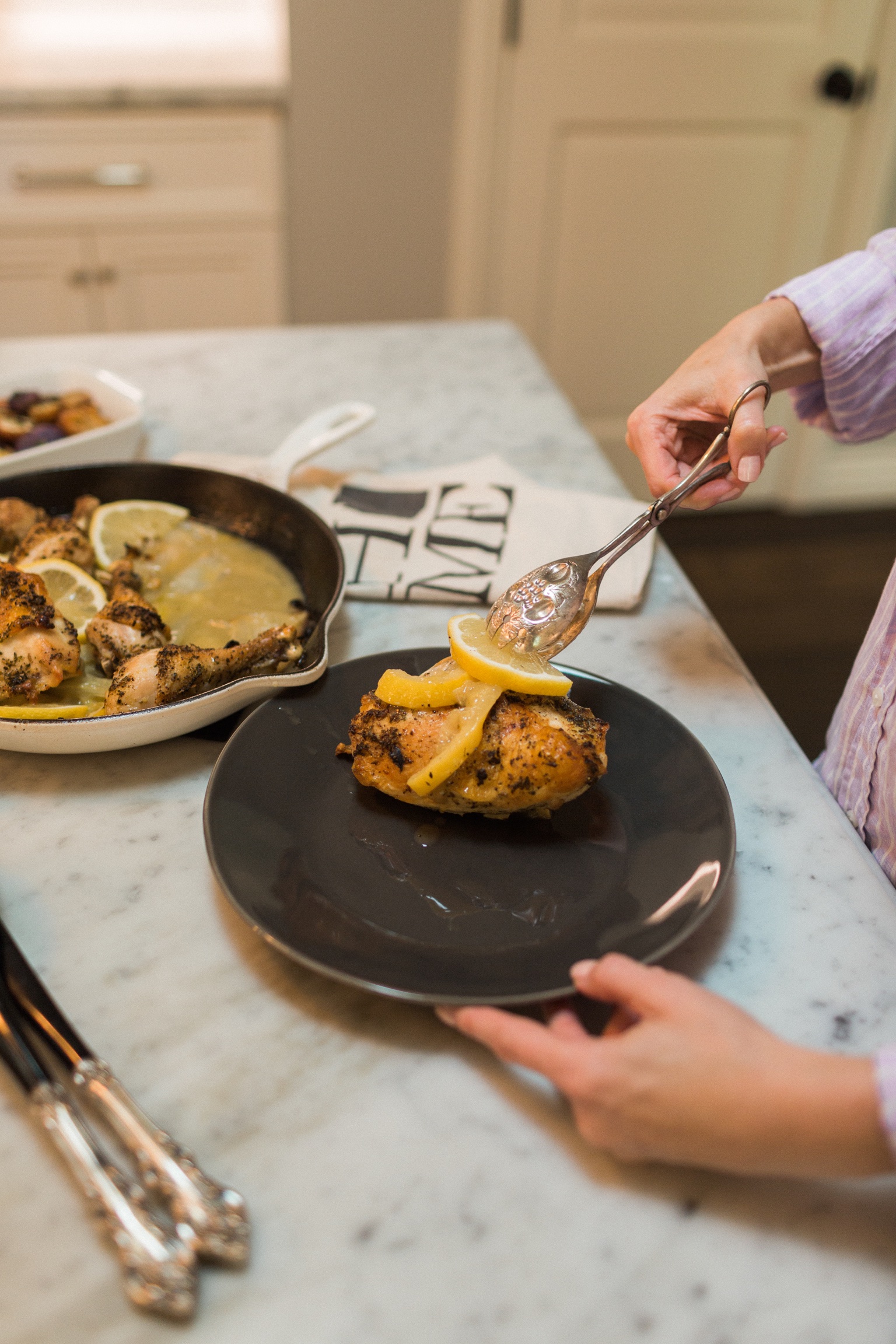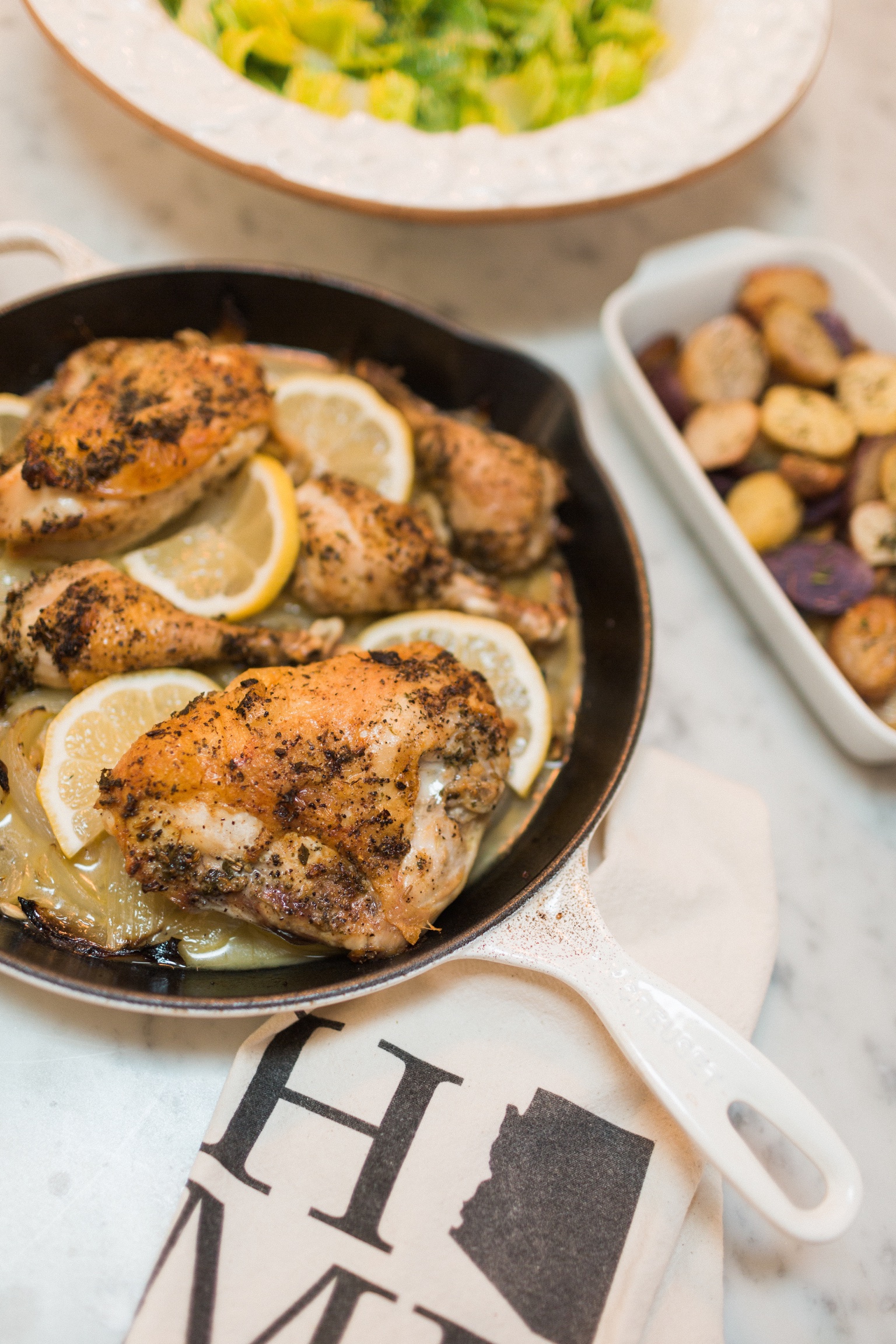 Skillet Roasted Lemon Chicken
Fool-proof dinner that you will come back to again and again! I serve with a crisp romaine salad and rosemary potatoes. I use my beloved 13" Le Creuset cast iron skillet which can fit 6 chicken breasts.
Ingredients
2

t

fresh thyme leaves

1

t

whole fennel seeds

1

T

salt

1

t

freshly ground pepper

1/3

c

olive oil

1

lemon, halved and sliced ¼ inch thick

1

yellow onion, halved and sliced ¼ inch thick

2

large garlic cloves, thinly sliced

4-6

chicken breasts, skin on and bone-in

1/2

c

dry white wine, such as Pinot Grigio

Juice of 1 lemon
Instructions
Preheat the oven to 450 degrees.

Place the thyme, fennel seeds, 1 tablespoon salt, and 1 teaspoon pepper in a mini food processor and process until ground. Pour the olive oil into a small glass measuring cup, stir in the herb mixture, and set aside.

Distribute the lemon slices in a 12-inch cast-iron skillet and distribute the onion and garlic on top. Place the chicken, skin side down, on top of the onion and brush with about half the oil and herb mixture. Turn the chicken skin side up, pat it dry with paper towels (very important!), and brush it all over with the rest of the oil and herb mixture.

Roast the chicken for 30 minutes. Pour the wine into the pan (not on the chicken!) and roast for another 10 to 15 minutes, until a meat thermometer inserted into the thickest part of the breast registers 155 to 160 degrees.

Remove the chicken from the oven, sprinkle it with the lemon juice, cover the skillet tightly with aluminum foil, and allow to rest for 10 to 15 minutes. Cut the chicken into quarters or eighths, sprinkle with salt, and serve hot with the pan juices, cooked lemon, and onion.