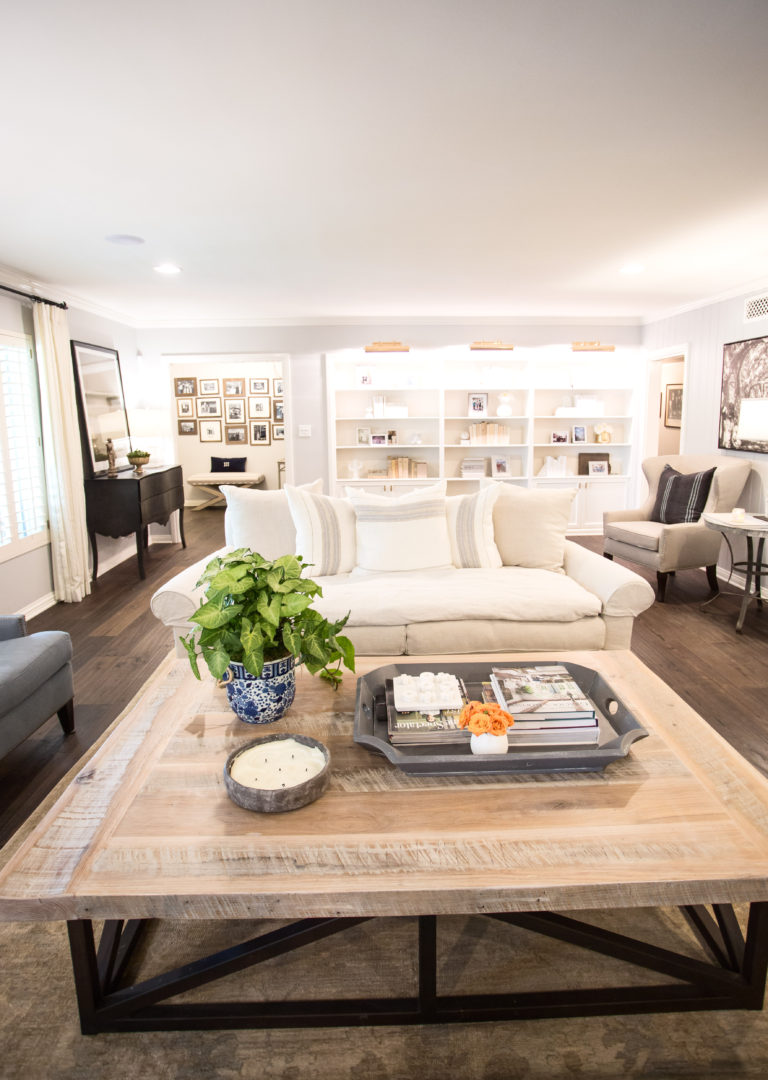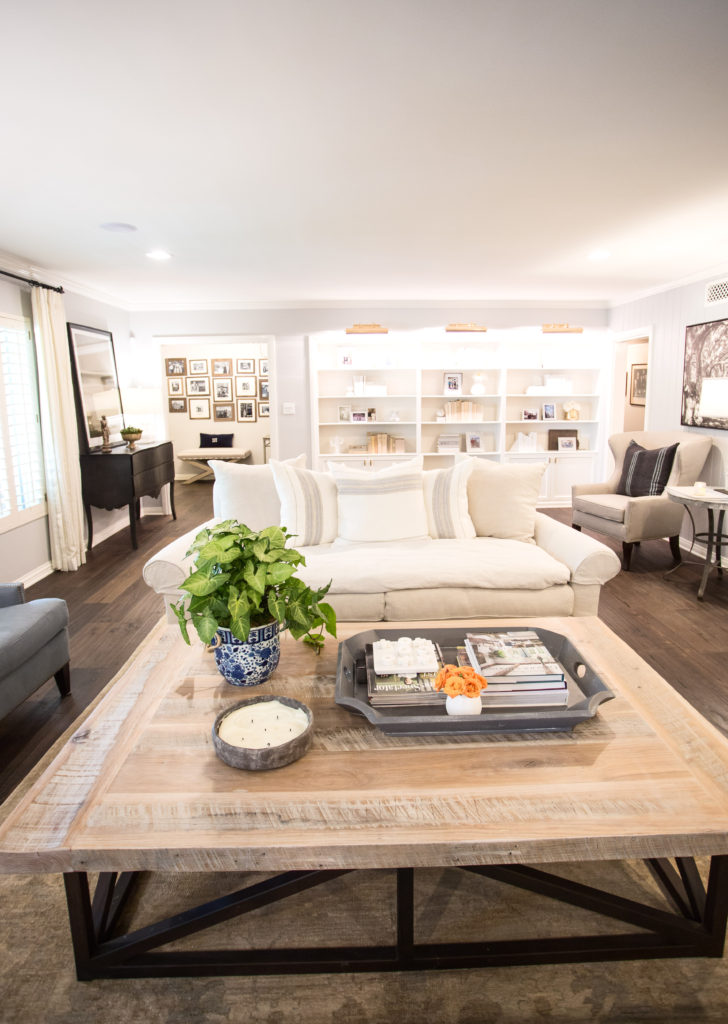 No, I'm not a decorator and I don't pretend to be one. For big changes in my house, I turn to a real interior designer, however, I am pretty good at small DIY projects around the home to update a space. Read on for 5 tips and tricks to bookshelf styling that will help you refresh any space into a stunning wall fit for a home decor magazine cover!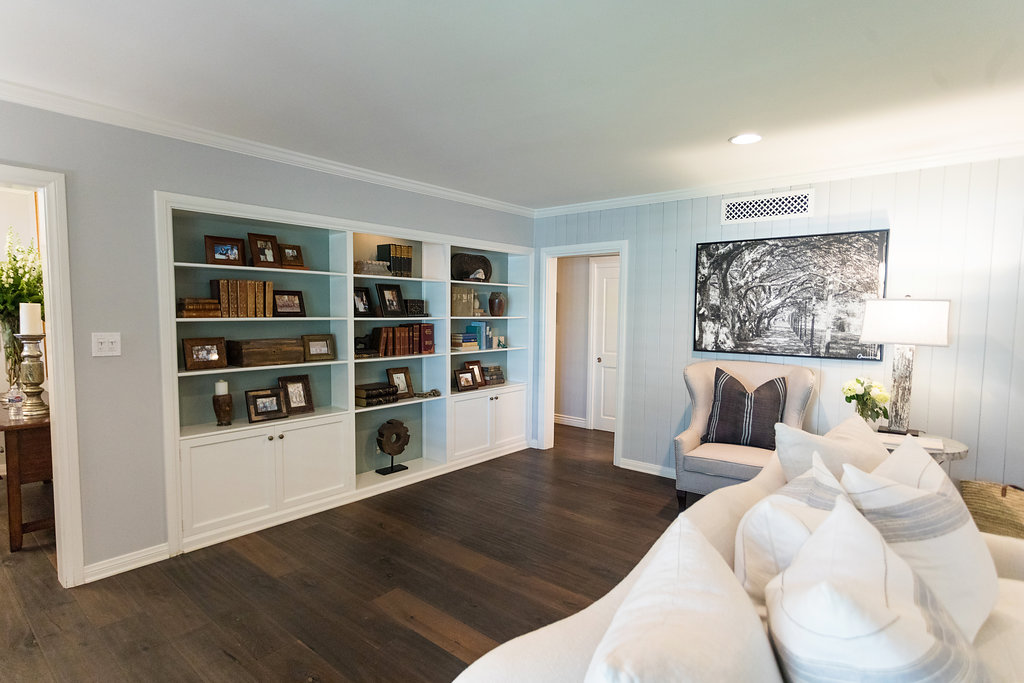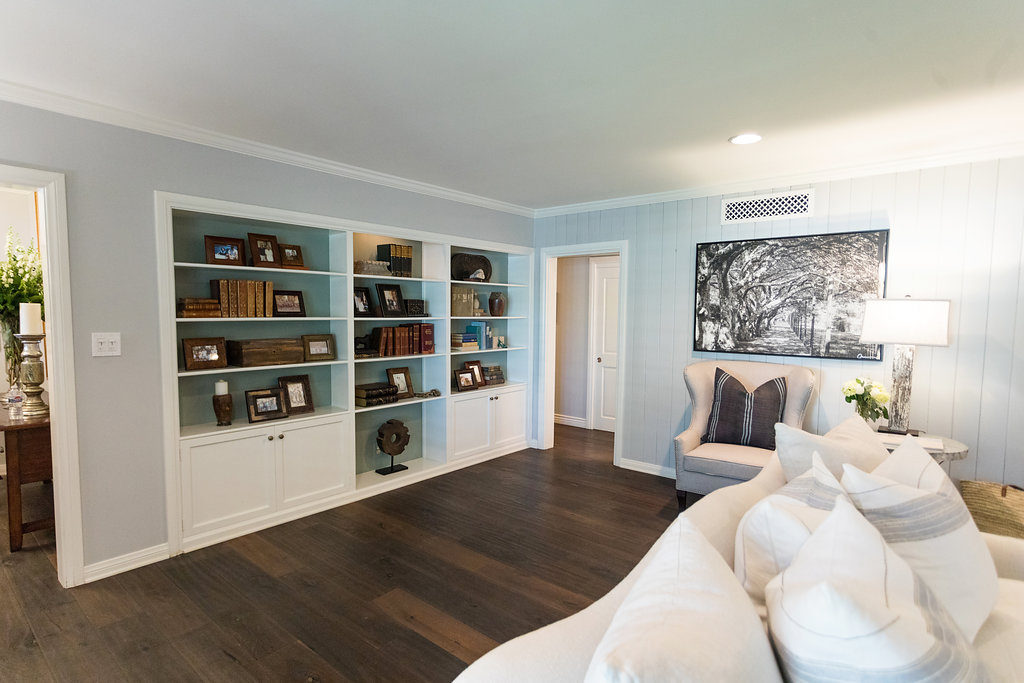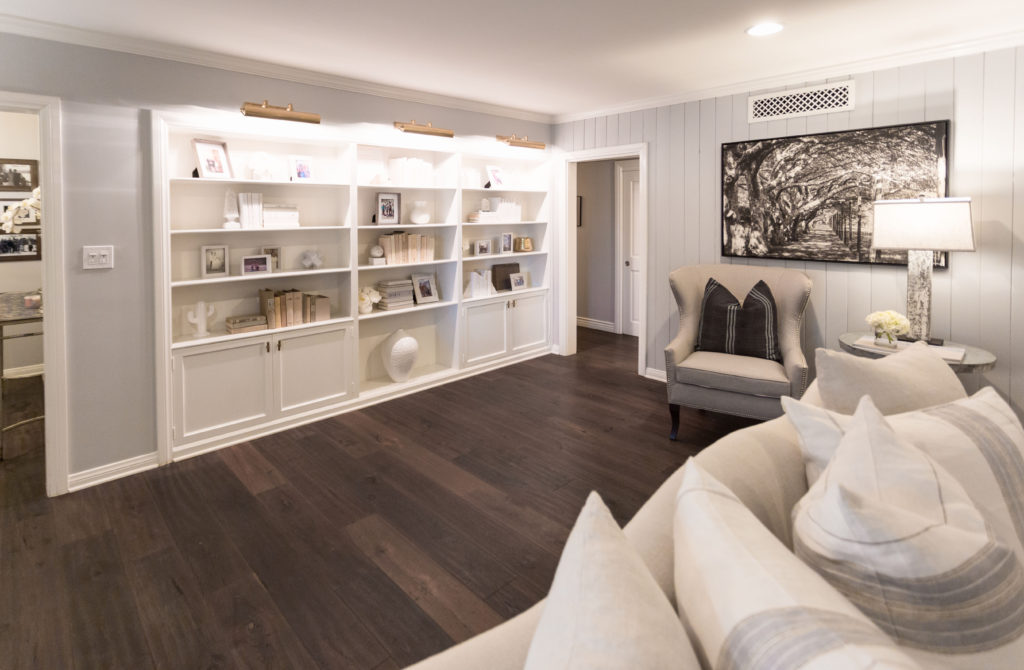 Decorating and filling a bookshelf can be a bit overwhelming, especially if you're not automatically blessed with an interior design gene. Hopefully, it's a bit less daunting with a few tricks to help makeover any wall or space that needs a little facelift – follow these tips to transform a dark, lifeless wall into a beautiful, fresh white bookshelf that now radiates light in my living room.
Paint
This seems obvious, but the darker the paint, the darker the space. Previously, the walls behind my bookshelf were a dark sage green. It was a pretty color, but once we repainted them white, it brought a whole new life to the shelves. Such an easy and inexpensive fix – start with this bookshelf styling change to lighten the wall!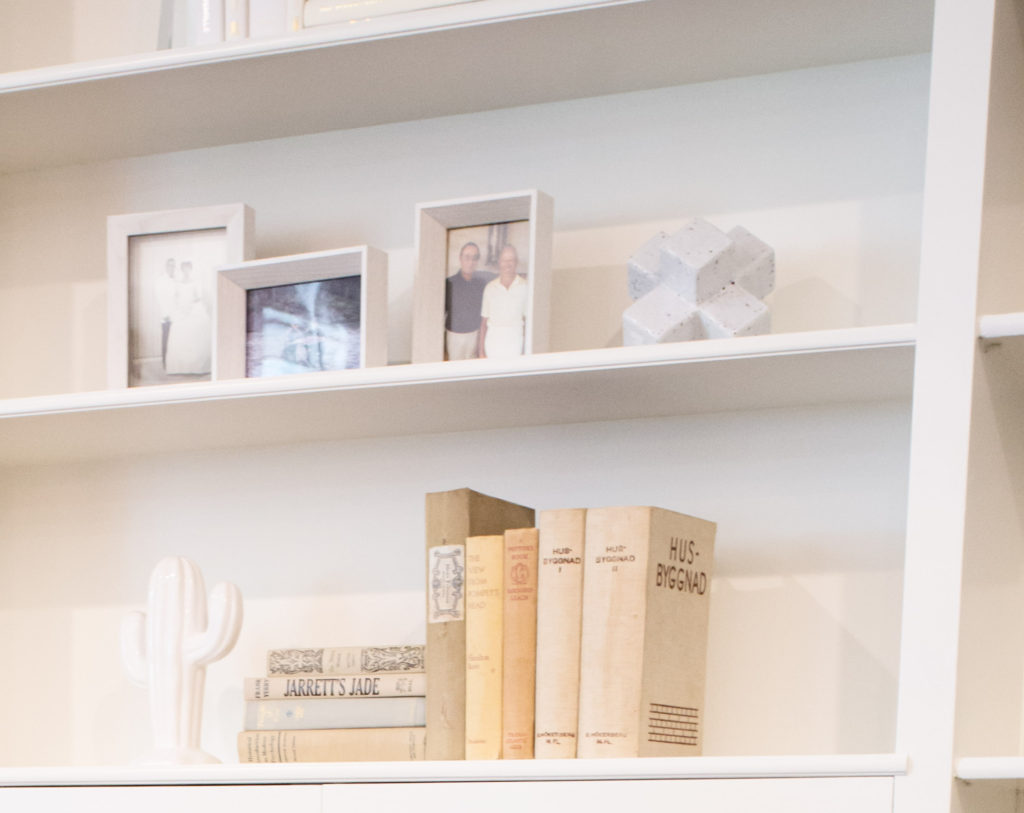 Stacking Books
Try placing books both horizontally and vertically. This not only creates visual interest with texture and layers, but allows you to prop items on top of the books, using them as a stand.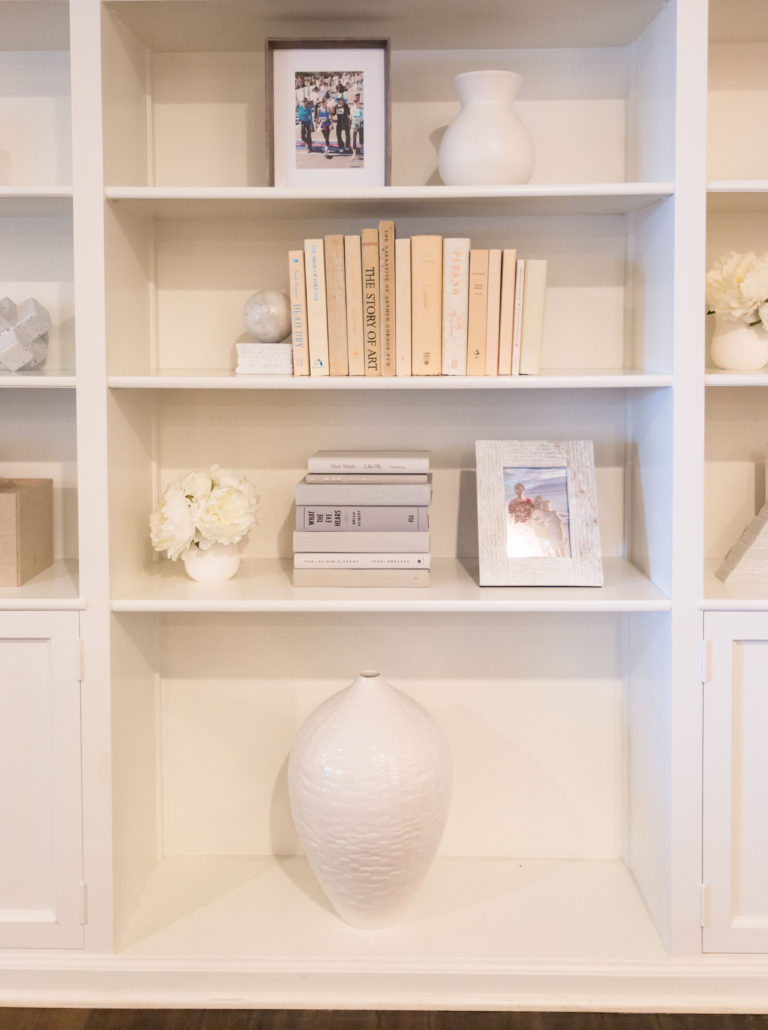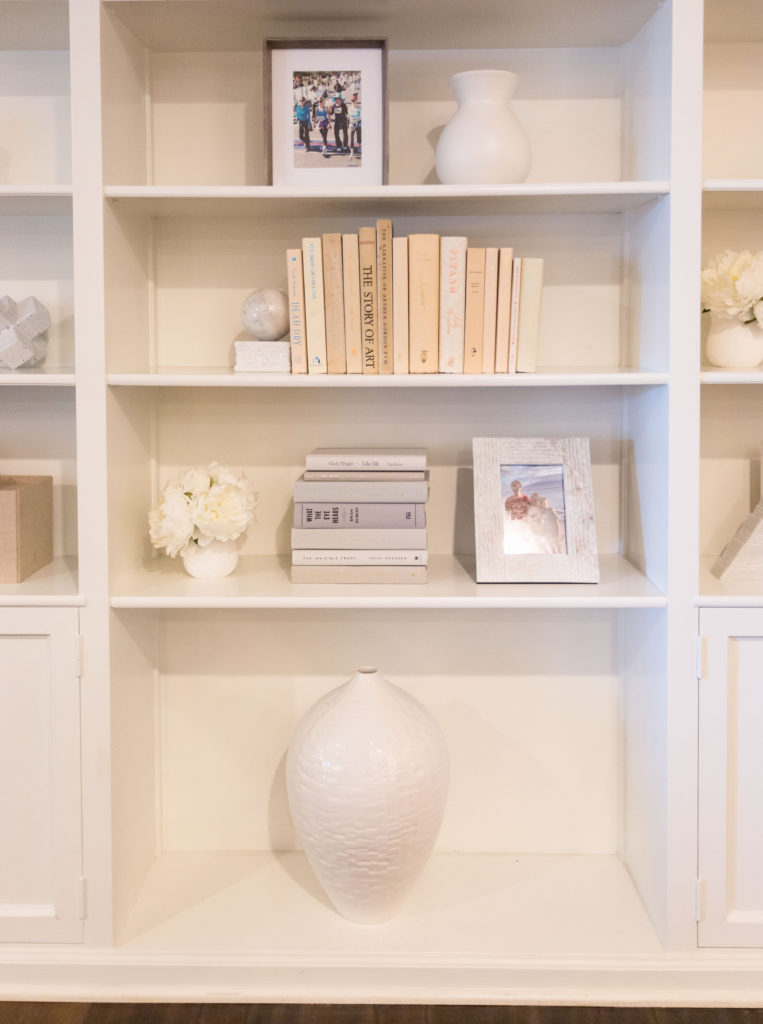 Figuring out the color of the books is something to consider also. Arranging them in a rainbow pattern gives a burst of color, while sticking with neutrals tends to give a more harmonious look. White books were my choice for these shelves.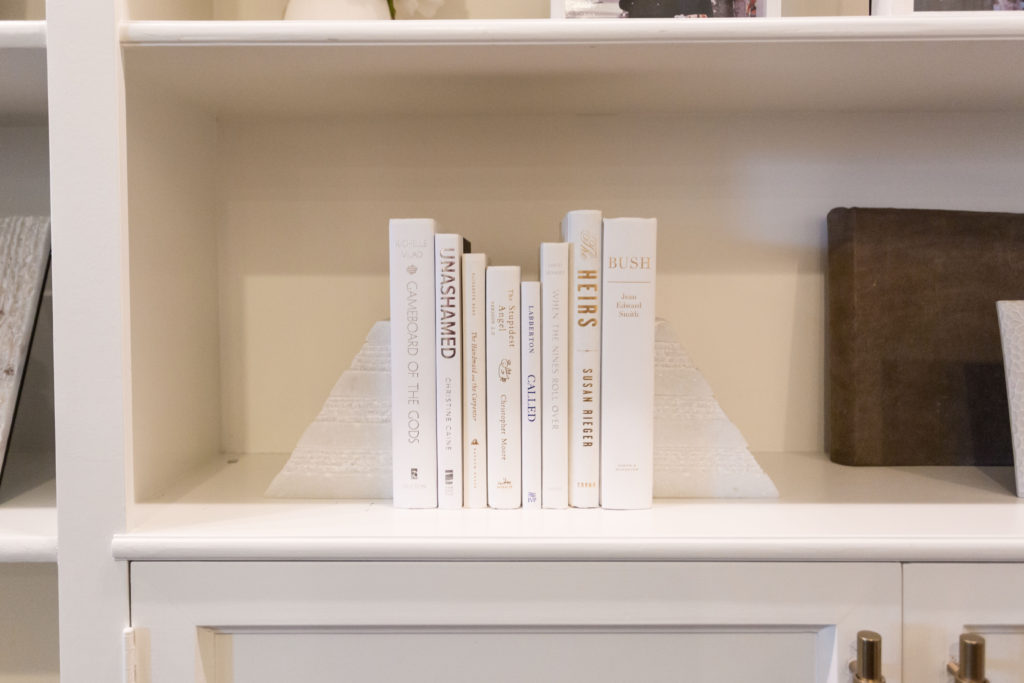 You won't believe where I found my books: a discount book store – this one has locations all over the country. I went straight to the clearance section and grabbed all of the ones with white spines. I had to make several trips a few weeks apart so they could re-stock, but the costliest one was only $3. Keep in mind that these are not vintage books, so if you're going for that vibe, you'll need to spend quite a bit more. Here's a link for a some books if you're short on time and don't mind paying for the convenience.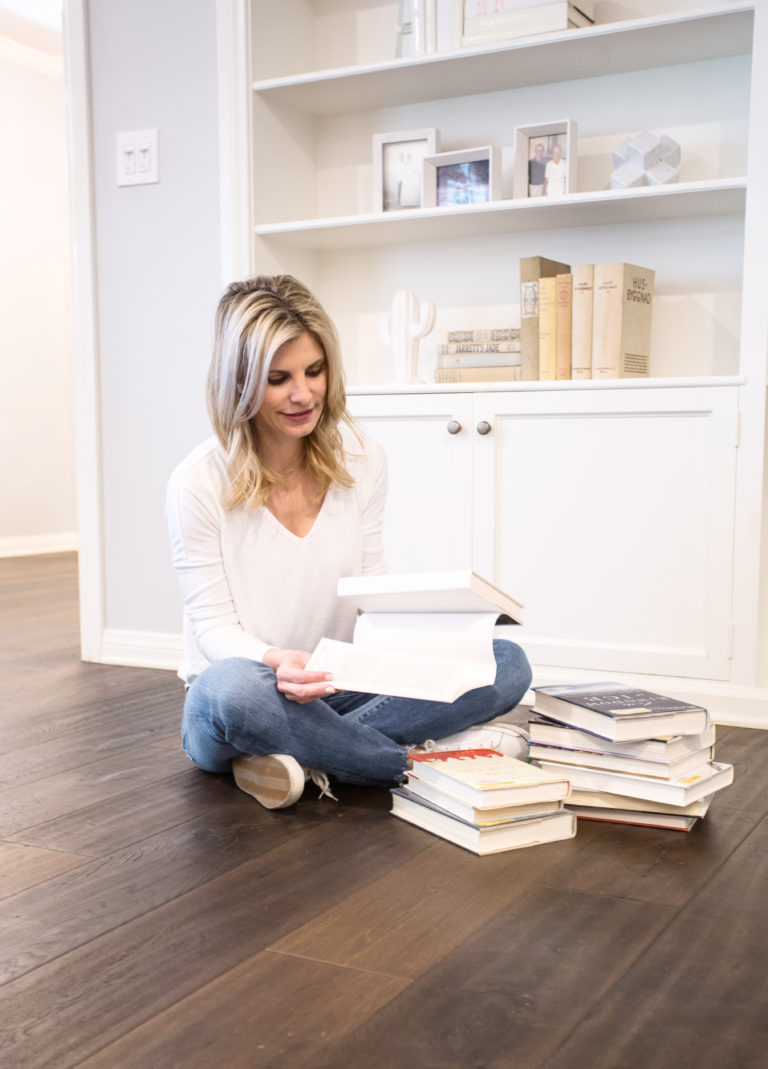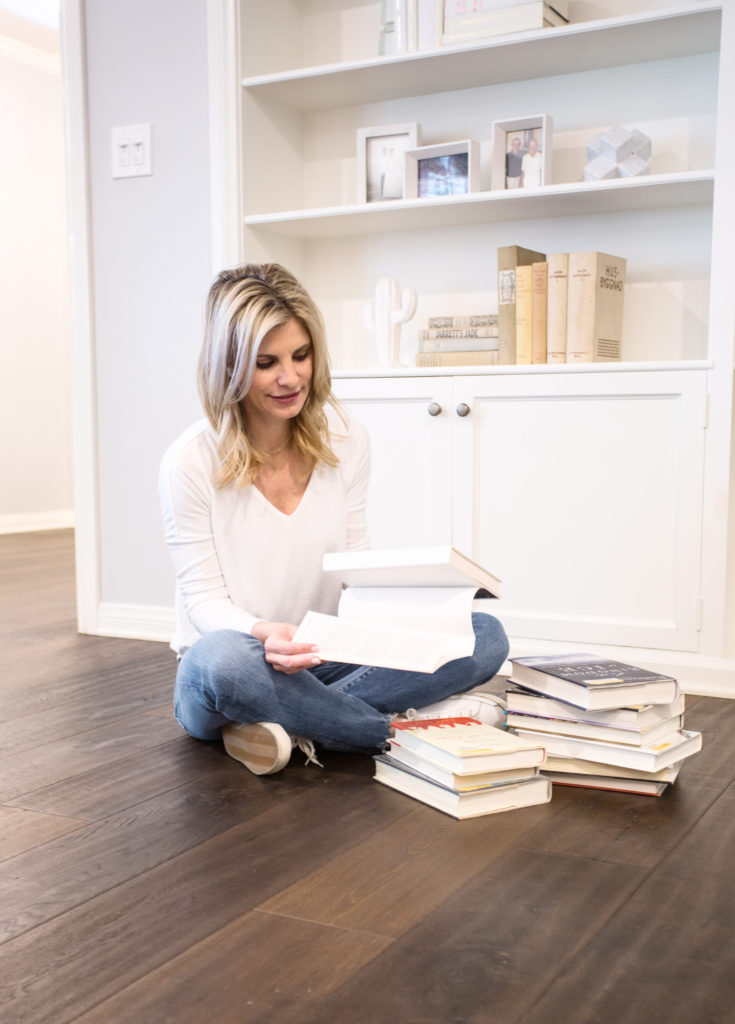 Lighting
Often overlooked, this feature is critical for bookshelf styling. Fortunately, there are lots of options. Sconces can provide light and also play off any existing elements, like wood or colored metals. Small desk lamps are an option for a smaller source of illumination, as long as you can hardwire for them. In-shelf lighting is another way to give light and can be hidden from view. Picture lights will point light downward, but can be great to draw the eye upward and create the illusion of a taller bookshelf.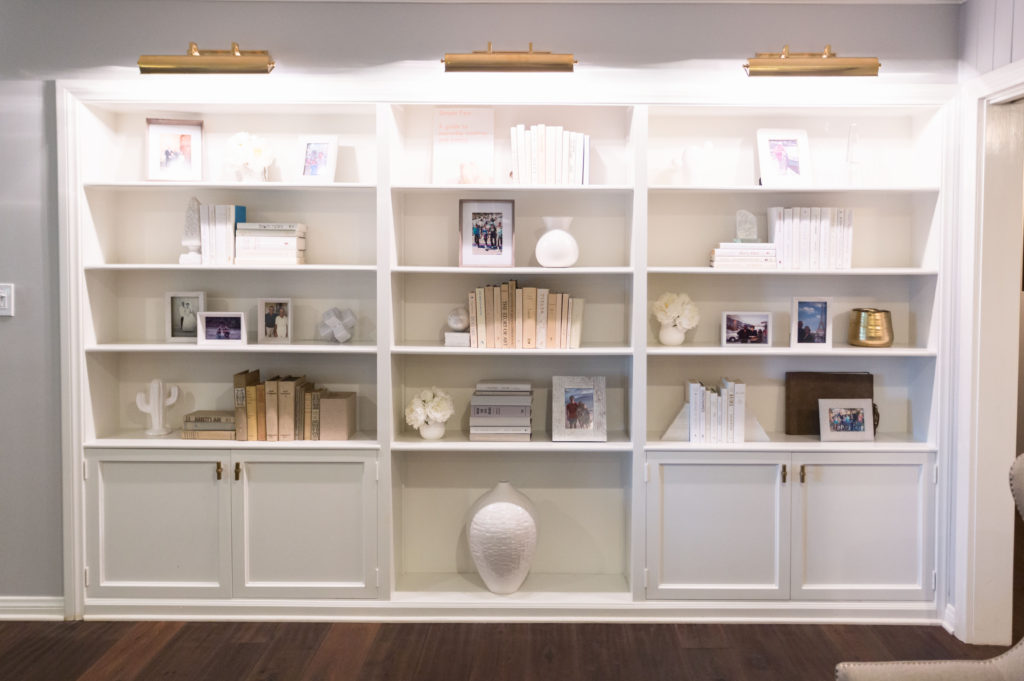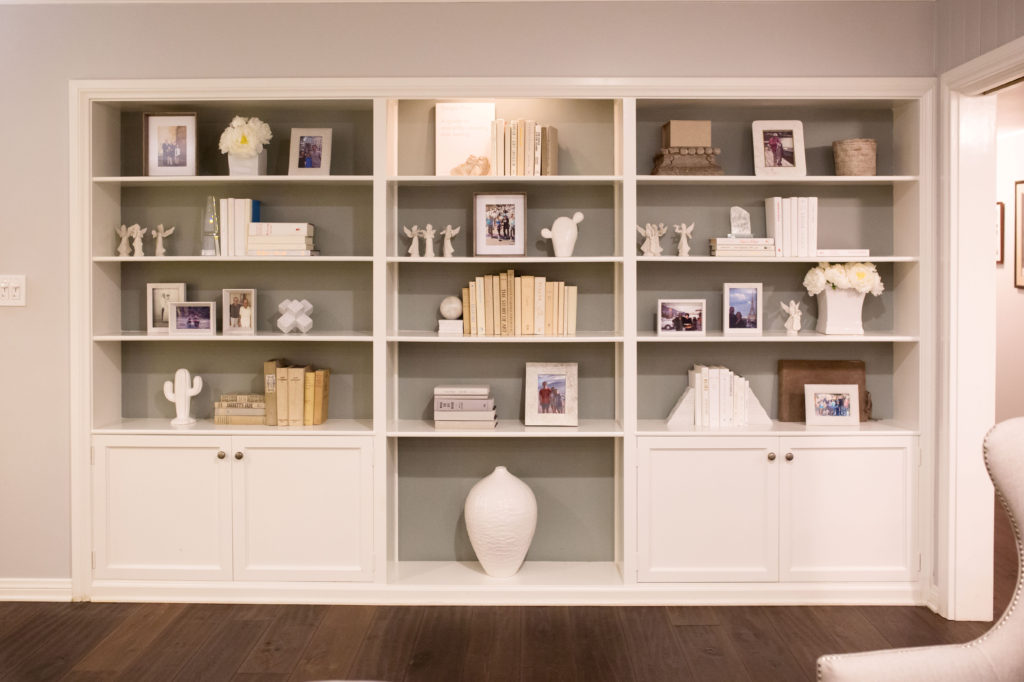 I chose picture lamps for my bookshelf in a brushed, antiqued brass for a fun change.
Shop the picture lights here: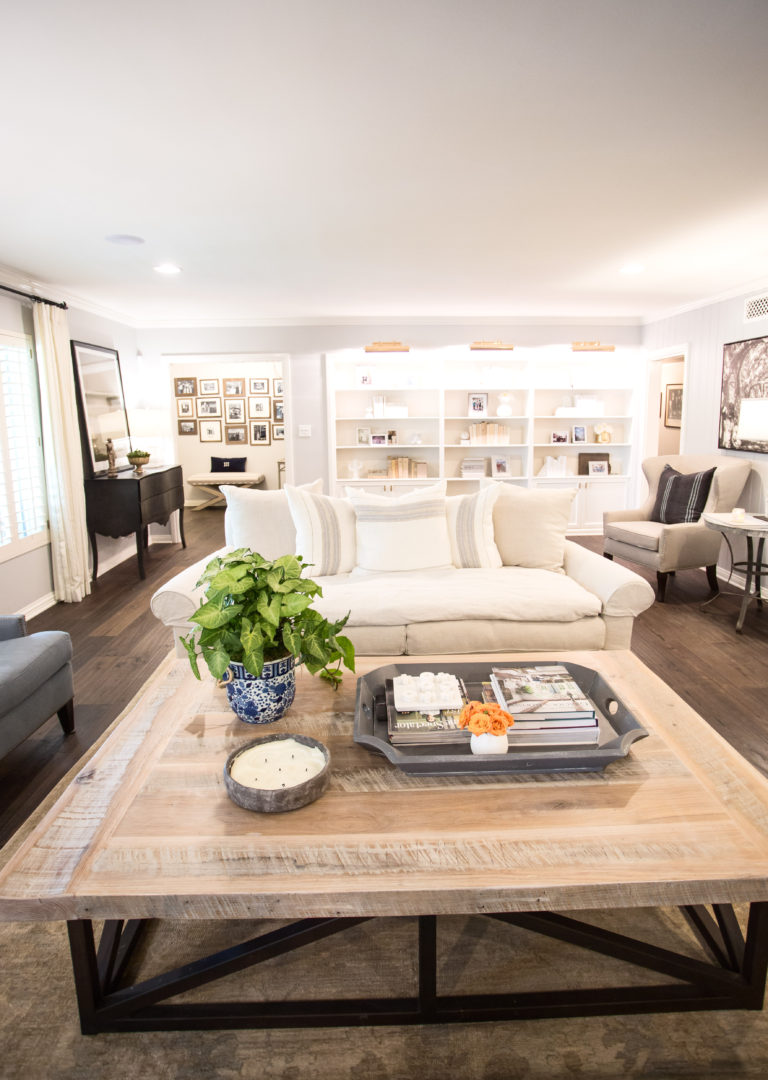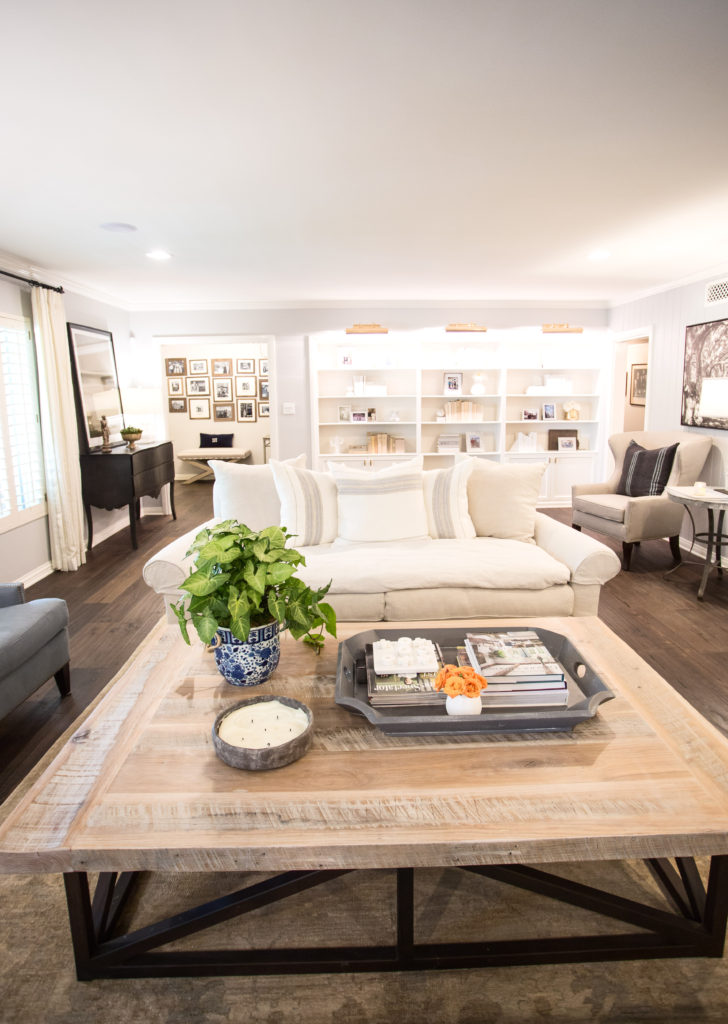 Accents for Bookshelf Styling

For this bookshelf styling project, I wanted to do a mix of modern and traditional decor accent pieces. Bookshelf ends, picture frames, crystal objects, vases and sculptures comprised the items on the shelves. I stuck with mostly white or glass accessories to keep it fresh and light.
Shop decor accents here: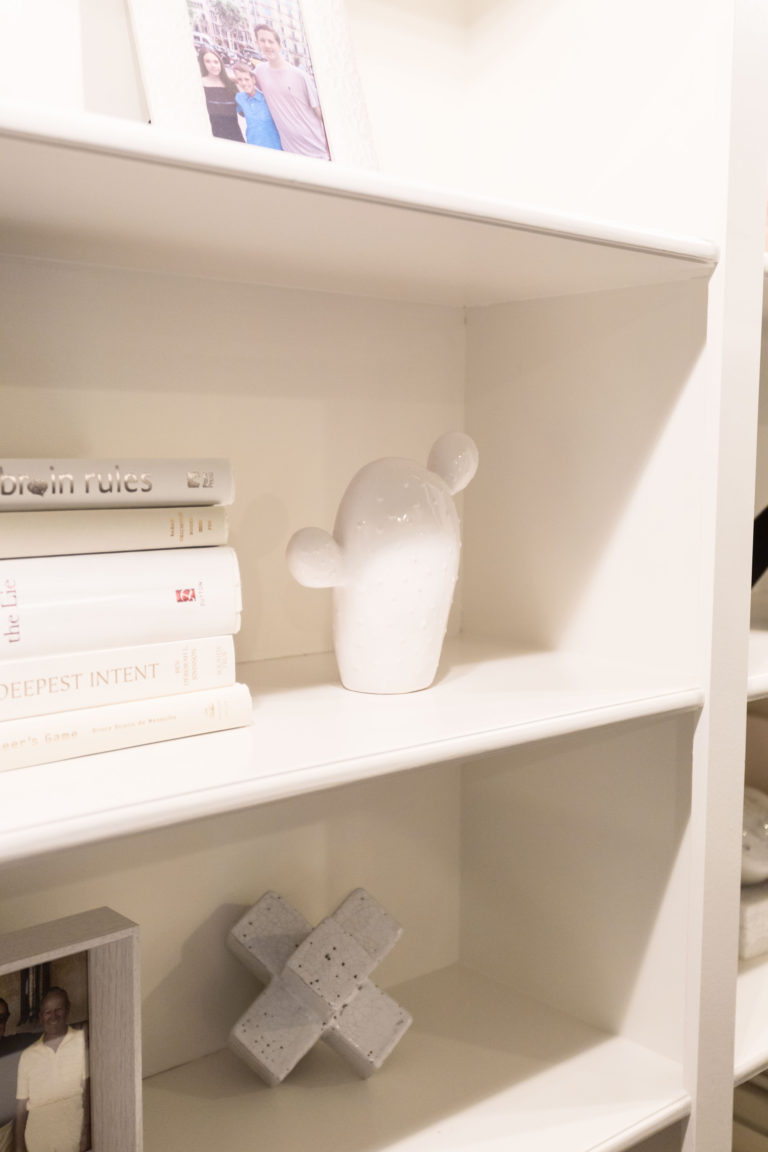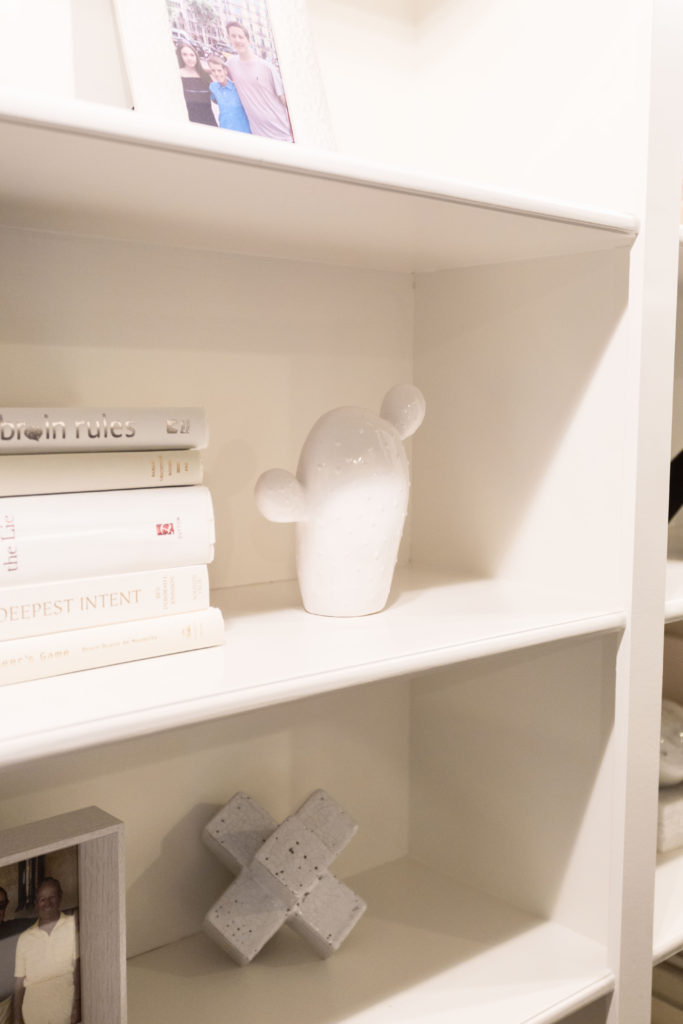 Hardware
If you have any cabinets or drawers in your bookcase, don't forget the hardware! I made a simple change and bought aged brass pulls to replace the brushed nickel ones I had. I love how they coordinate with my new picture lamps.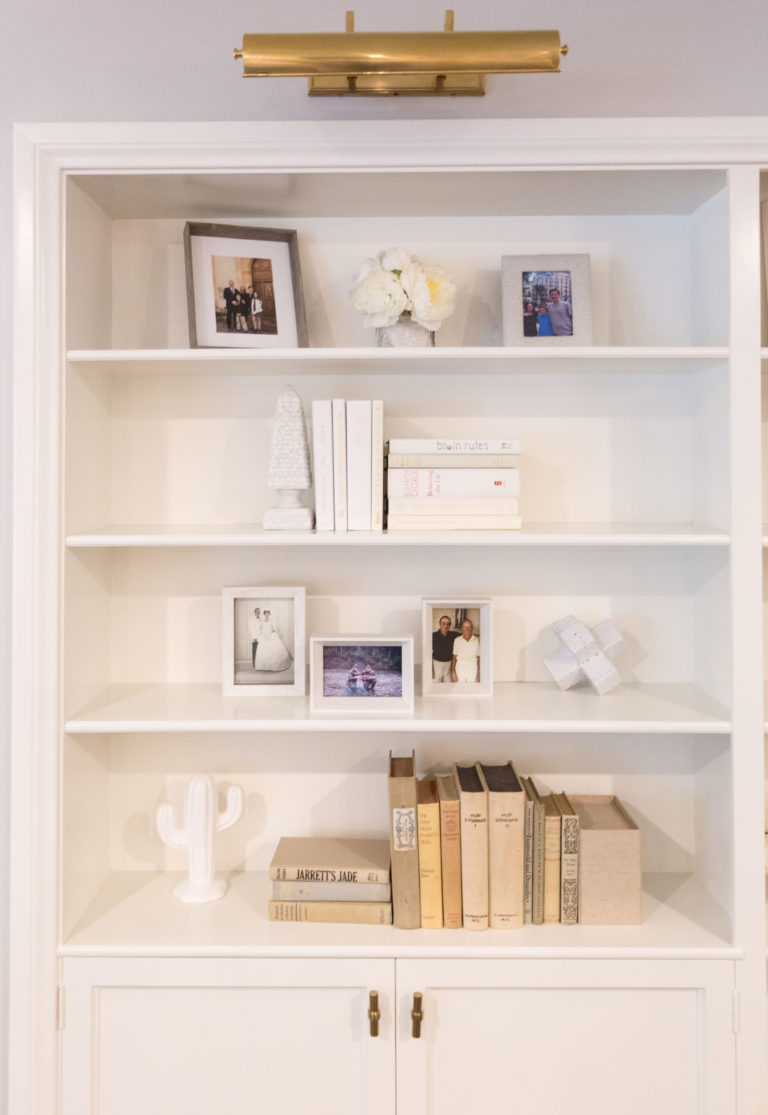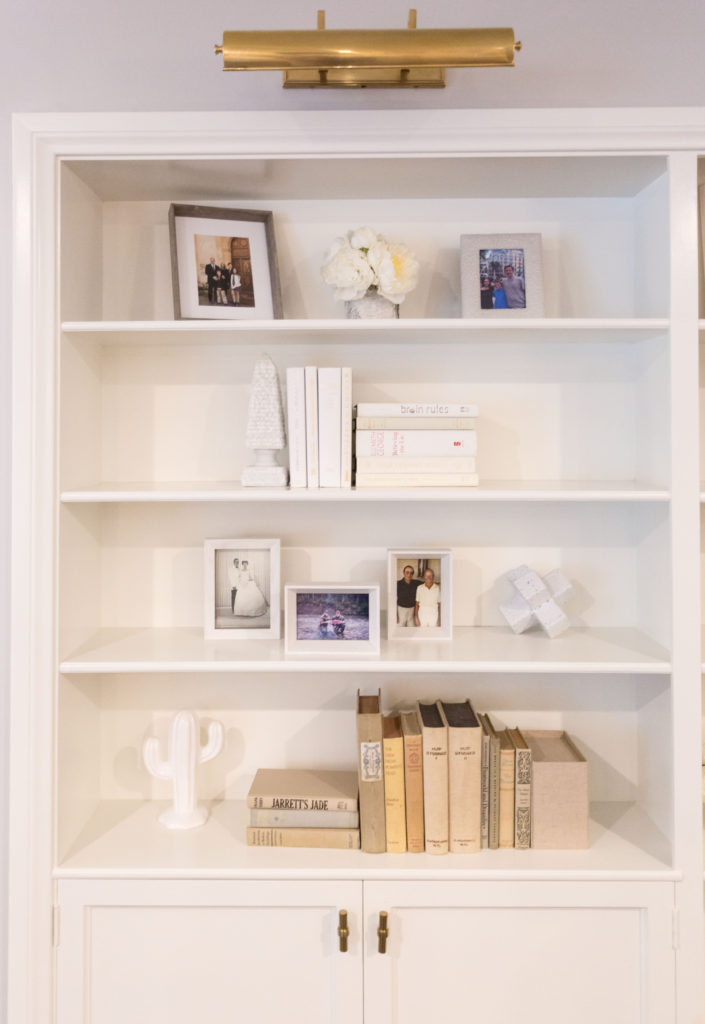 Here a few of my favorite cabinet pulls and knobs:

Hope you can use these tips for styling a bookshelf – please share any photos with me if you have any luck! Click here to see a Spring Home Tour I did recently that shows the rest of my home!