I'm a part of a super fun couples' dinner group that was spontaneously formed one year when all of our kids attended the same grade school. For years, we've taken turns hosting the group, and serving up some of our favorite dishes. Most of our kids are now in high school, but we have kept the tradition alive and still rotate houses every quarter and meet for dinner. It's something I always look forward to, and it's been a great way to stay in touch and experience new foods… like the BBQ dinner we shared this time!
One of my friends from college, who is also a part of this group, invited me to co-host with her this month. Leslie is from Texas and was raised in Atlanta, so she knows a thing or two about BBQ. She wanted to serve this lively cuisine she grew up with, and together, we pulled off a great event.
Here's how we combined my love for tablescapes, her love for BBQ, and our mutual love for hosting!
A colorful tablescape
White flowers are Leslie's usual decor, but we stepped out of her comfort zone and used a lot of color for the centerpiece this time around. Blue and white ginger jars from Leslie's own collection provided the vessels for our centerpieces. We filled them with gorgeous fresh blue hydrangeas from Trader Joe's, and also took advantage of the seasonal produce to add color and interesting textures to our decor.
Texas BBQ dinner
We decided on pork spare ribs and beef brisket for our main courses, and tasty comfort foods on the side like Panko mac and cheese and dinner rolls with honey butter. Stacked caprese salad bites with rosemary skewers added also some nice pops of color and freshness to the buffet.
Here's one of my favorite recipes for BBQ sauce that you can adjust to make more sweet (add more brown sugar) or make it spicier (add more Worchestire).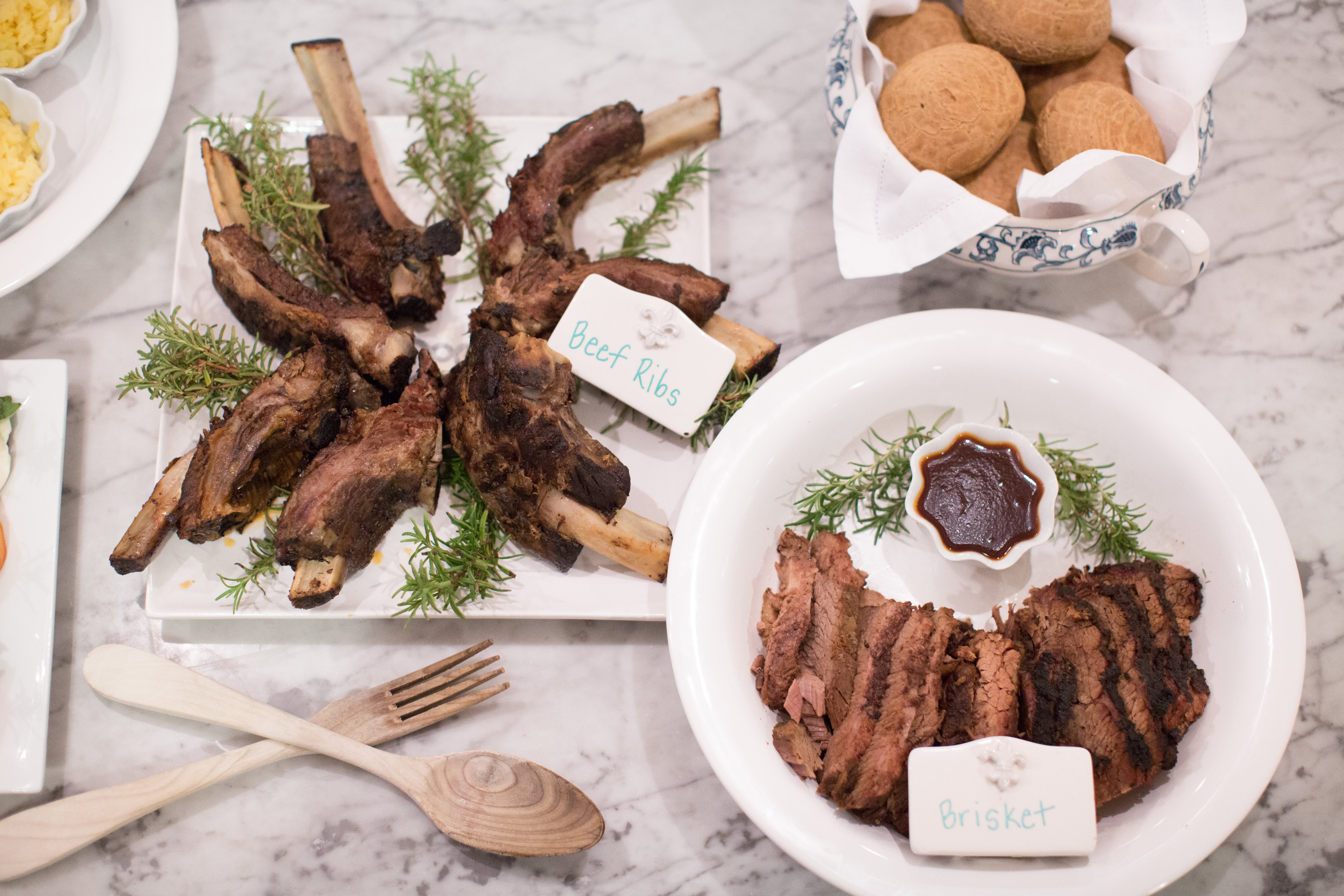 Extra details
Little details can make all the difference, so don't overlook the small stuff. Personalize your party to keep all your guests comfortable, and anticipate their needs. For this dinner, we offered meal options for the vegetarians, made menu cards, and set out Pashmina wraps to keep everyone cozy.
The best part
—

the company!

Once all the prep work was done, we loved spending time enjoying one another's company and catching up on life. After all, this is the part that really matters most, and it's what I relish about entertaining.
SaveSave
SaveSave
SaveSave
SaveSave
SaveSave
SaveSave
SaveSave
SaveSave
SaveSave
SaveSave
SaveSave
SaveSave
SaveSave
SaveSave
SaveSave
SaveSave
SaveSave