Thanksgiving is almost here! Don't know how to cook, but want to celebrate with your friends? Your turn to host this year, but you've run out of time to grocery shop? Fancy dinnerware to you is whatever is on sale in the paper good section? Perfect – I've got you covered for how to host a fast food Friendsgiving with Chick-fil-A and set the table so it looks great too!
I teamed up with the creative minds at Grateful, the geniuses behind Thanksgiving.com, to come up with this cute fast-food chic dinner and table setting. It's super easy for the host, because all of the cooking is done for you! This table takes very little time to assemble, so the only thing you have to worry about it is filling the seats. Read on for how we pulled it off!
The Table
At the center of our table was the amazing black cutting board from Easy Boards USA. I've used it as a table runner, but it can serves as a cutting board, a floral background, a cheese platter, just about anything you can think of.
Since Chick-fil-A's colors are black, white and red, we stuck with this color scheme. I used Hester & Cook's painted check paper table runner and placed them the short way across the table, connecting the place setting across from each other.
My trusty charcoal plates are on display here and they couldn't be more fitting for this tablescape. These might be used more than my white plates!
Shop the tablescape here:


The Food
Have you ever seen a chicken nugget turkey? This was so easy and so much fun, it will be the talk of your table. Here's how to do it:
You need 2 styrofoam balls, one large, one small. Cut off the bottom of the large one, so it has a flat resting surface.
You need several dozen chicken nuggets.
With toothpicks and gloves, gently push through each nugget and secure it to the large Styrofoam ball, until covered. Leave a space to attach the head.
Spray paint the small ball brown.
Use googly eyes and a paper beaker the final touches.
Attach the small head to the body with glue.
Place red, yellow and orange feathers on the body.
Extra Details
No place cards? No problem! We made our own!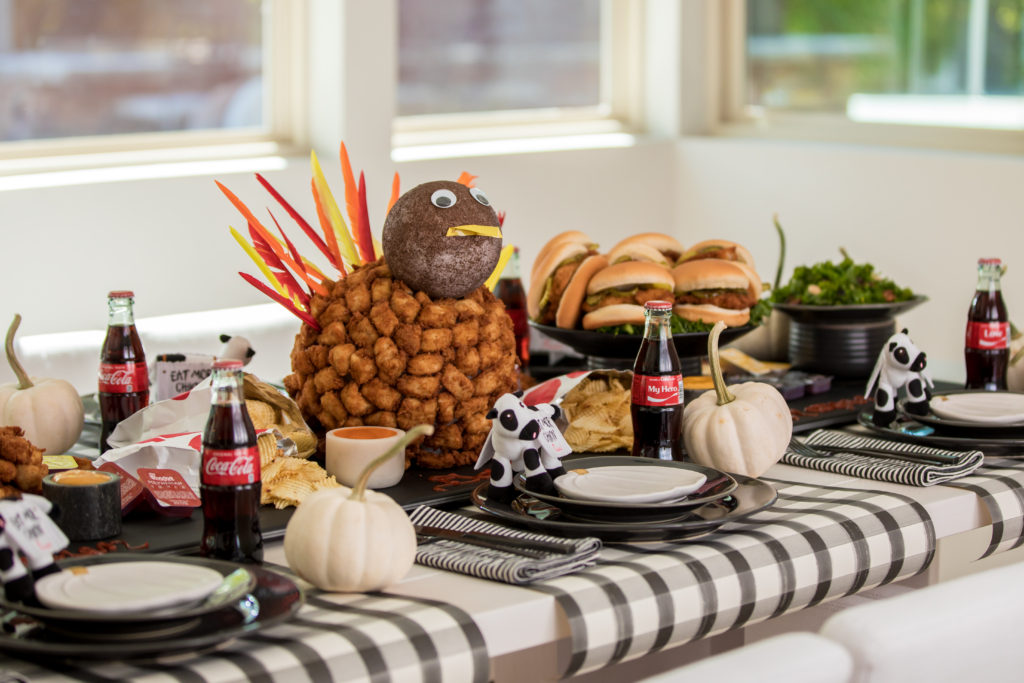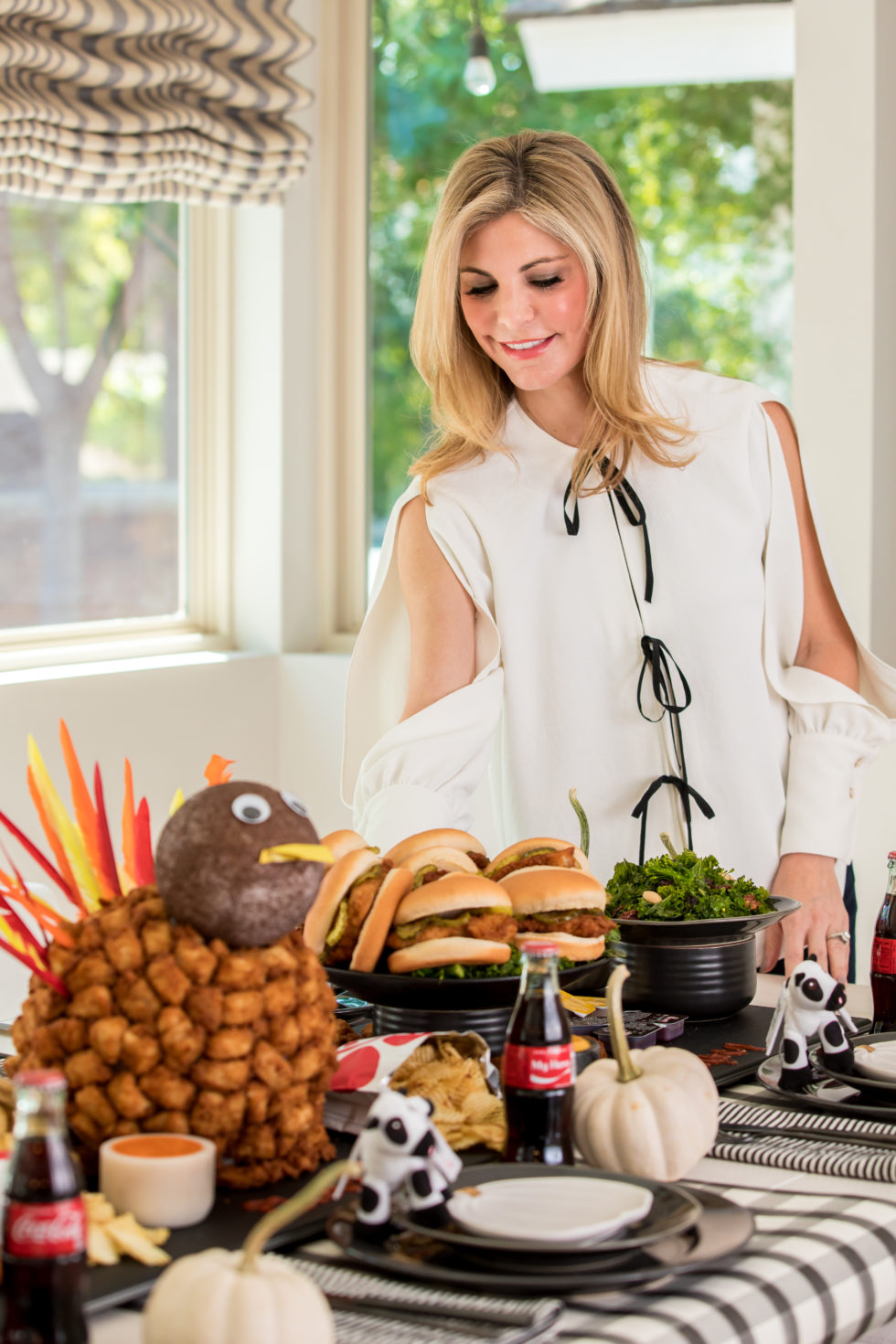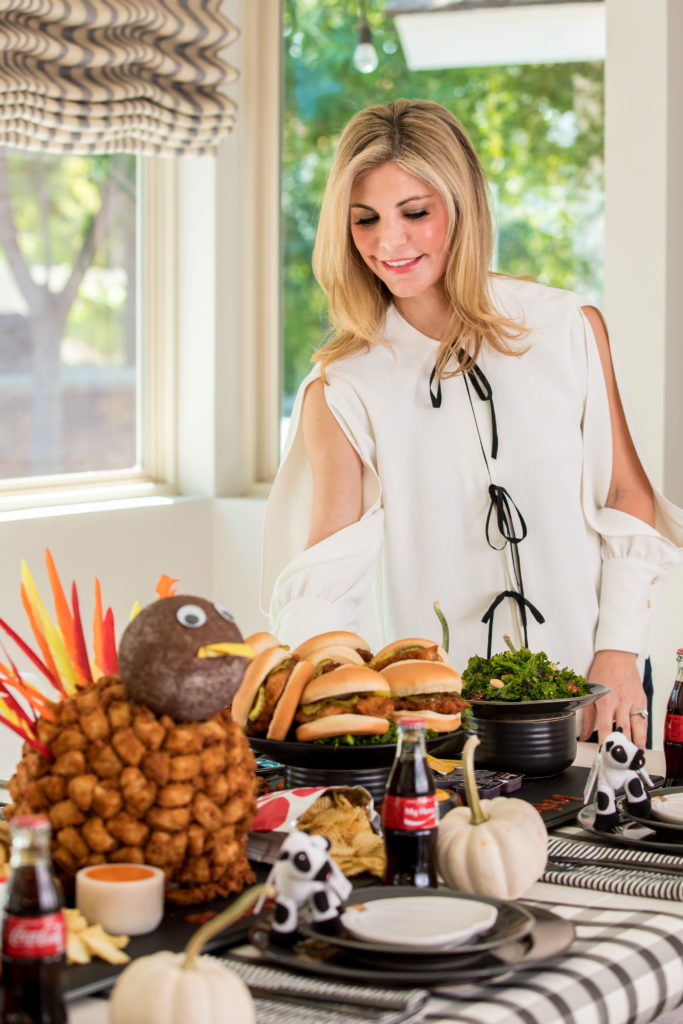 To check out more great ideas for Thanksgiving, click here to take you to thanksgiving.com!