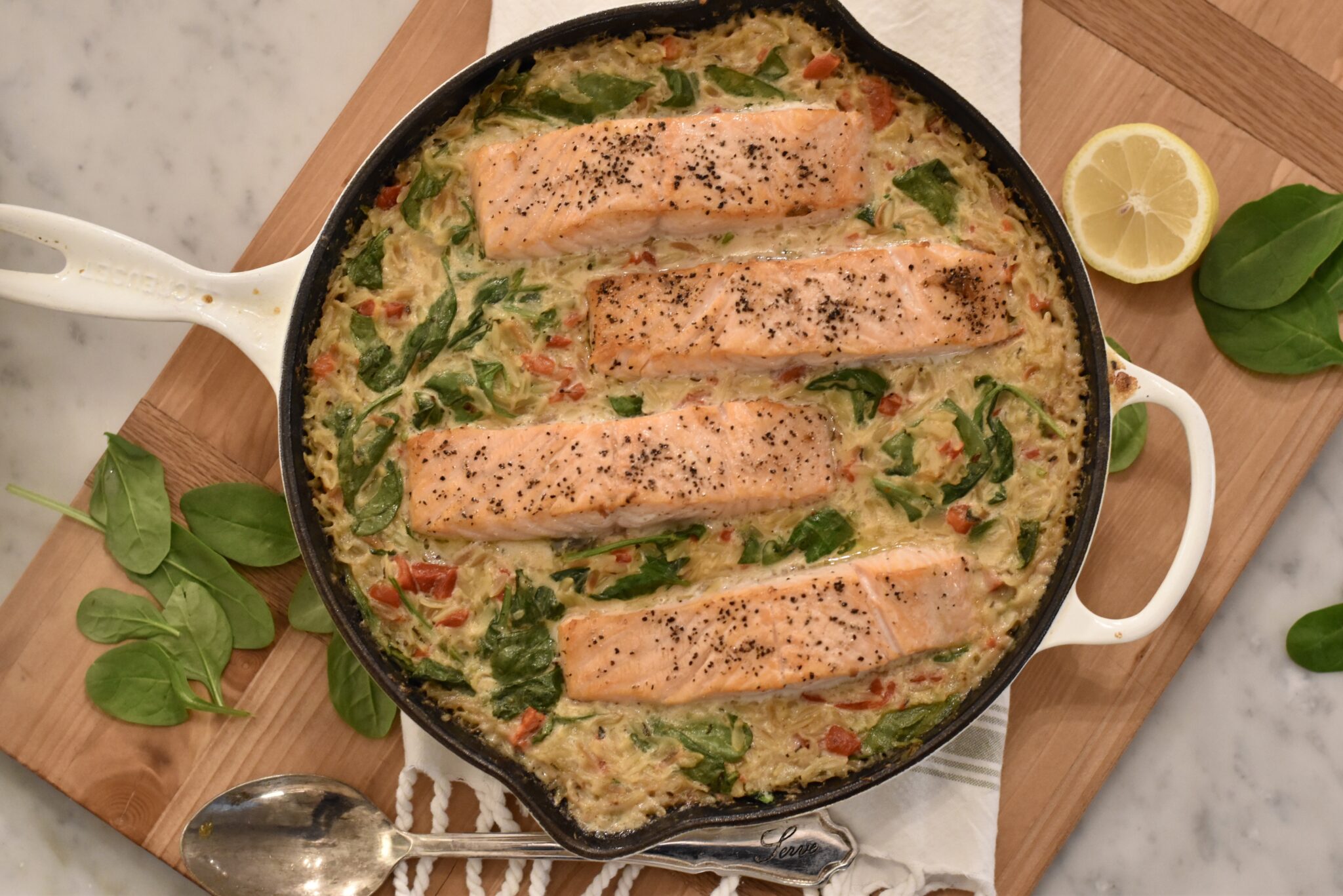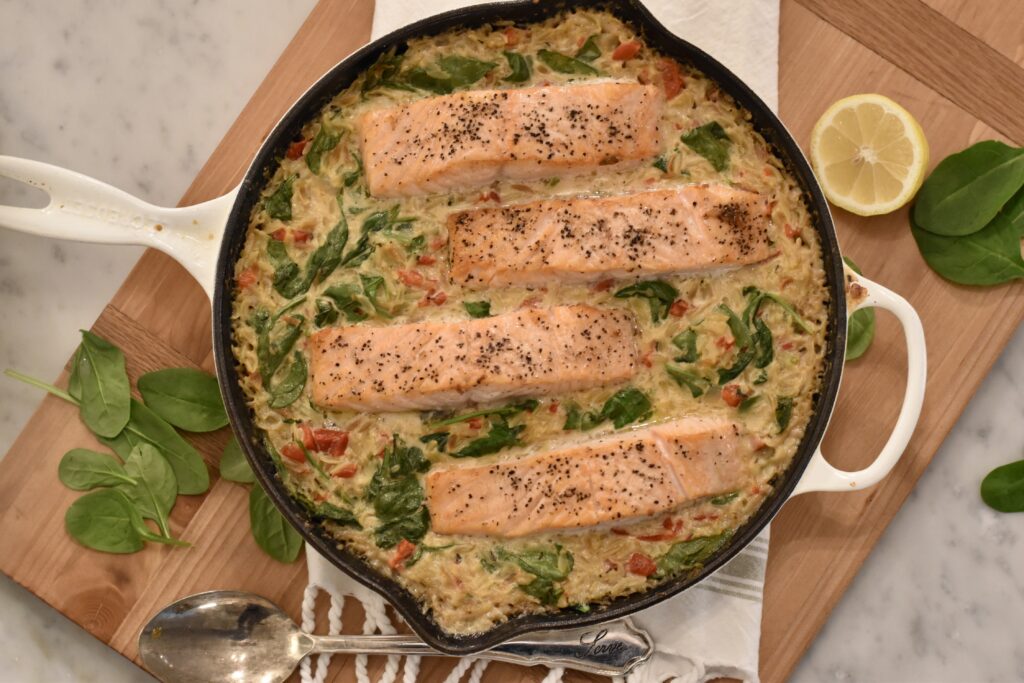 It seems as if I'm always looking for ways to simplify my life during the busy week, and creating yummy, but easy recipes in one dish are one way I have learned to save precious time. By using a single cooking dish for a meal, it not only cuts down on dishes to clean afterwards, it really allows me to gather all of my ingredients beforehand (the French have a fancy term for this called mise en place) because I know they're all going into a single pan, skillet or pot. This skillet salmon recipe does just that – everything goes into one dish for searing, sautéing, boiling on the stove-top, and finally finishes in the oven for a delicious baked meal that is casual enough for a weeknight dinner date, but elegant enough for a special occasion. Oh, and did I mention there's only dish to clean at the end of the night?
Let me espouse the importance of investing in a great cast iron skillet in your cooking arsenal – and this recipe is a great example of that! The skillet I use is actually a bit larger than a traditional ten inch skillet. Mine measures 12 inches in diameter which is the largest it can be (with the handle) in order to fit into my particular oven. However, if you have a big family you may want to consider a 13 or 14 inch skillet. The extra few inches don't seem like a lot, but it really allows you to fit more food into one pan. There are also cast-iron skillets that don't have a long handle on one end, but rather two shorter handles on either side so this may be an option if you have a smaller oven.
Here are some great options for cast iron skillets: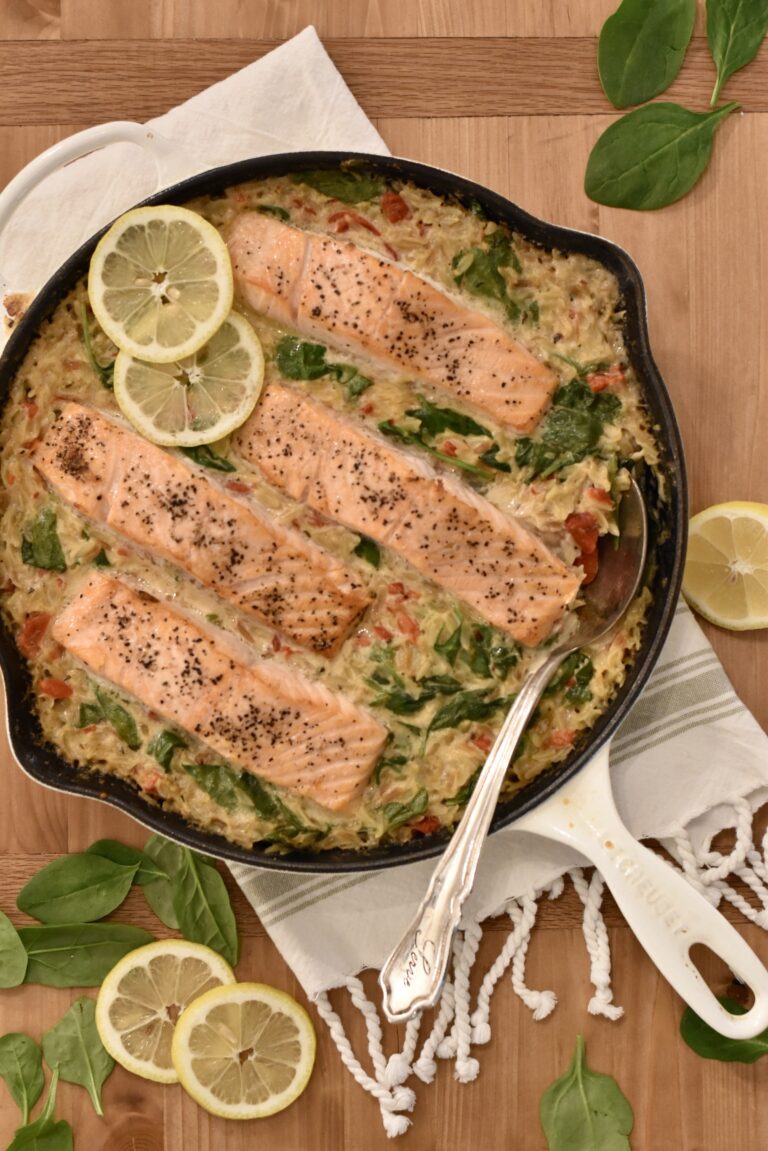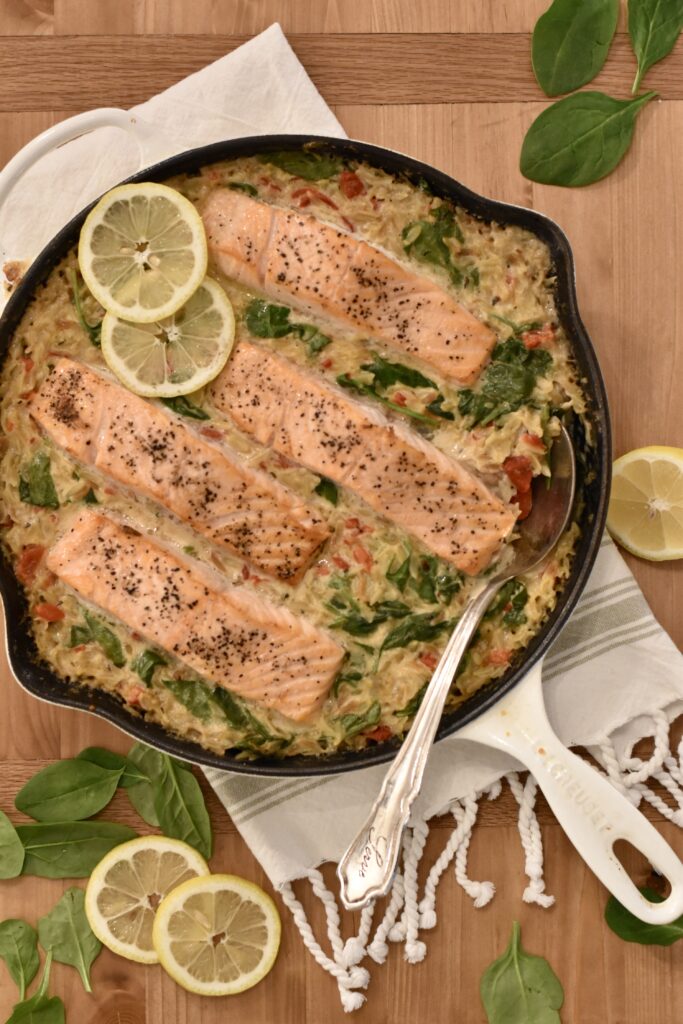 A quick blurb on salmon . . . I have found a local fishmonger, Chula Seafood, (yes, here in land-locked Phoenix!) who sources great fresh salmon. I was always against farmed salmon, but have done a lot of research, thanks to my brother-in-law who happens to be a marine biologist. When sustainably sourced, farmed salmon is a great option during the wild salmon off-season. I purchased their fresh, farmed salmon from Nova Scotia for this skillet salmon recipe.
Skillet Salmon with Creamy Orzo and Roasted Red Peppers
Causal enough for an at-home dinner date and elegant enough for a special occasion, this one-skillet dish has it all – protein, veggies and a little pasta!
Ingredients
3

tbsp

olive oil

4

salmon filets

salt & pepper

2

tbsp

butter

1

large

shallot, chopped

1

cup

dry orzo

1/2

cup

dry white wine

1 1/2

cups

water

1

cup

heavy cream

1

tsp

dried oregano

1

tsp

dried basil

1

cup

roasted red peppers, chopped

2

tbsp

dijon mustard

1/2

cup

grated parmesan cheese

2 1/2

cups

fresh spinach

lemon wedges for serving
Instructions
Preheat oven to 350 degrees.

Pat salmon filets dry with a paper towel, then drizzle with 1 tbsp olive oil and season with salt & pepper.

Heat remaining 2 tbsp olive oil in large skillet over medium heat. Add salmon filets, skin side down first, sear for 2-3 minutes, flip over and cook for another 2-3 minutes. Remove from skillet and place on plate.

Reduce heat to medium, add butter and shallots, cook for 2 minutes until soft. Add the orzo and toast until just golden brown, a few minutes.

Add the wine and deglaze pan with a wooden spoon, scraping up any brown bits.

Add water and bring to a boil. Cook for 5 minutes.

Whisk in cream, oregano, basil, red peppers, dijon, mustard and parmesan.

Fold in spinach and allow to wilt, about 2 minutes.

Place salmon filets back in skillet, then cook, uncovered, in oven for 10 minutes.
Thanks for visiting – if you try this skillet salmon recipe, I'd love to hear your thoughts! Share any feedback in the comments below. Oh, and if you love the idea of a a one-dish dinner, check out my One Skillet Lasagna recipe here!