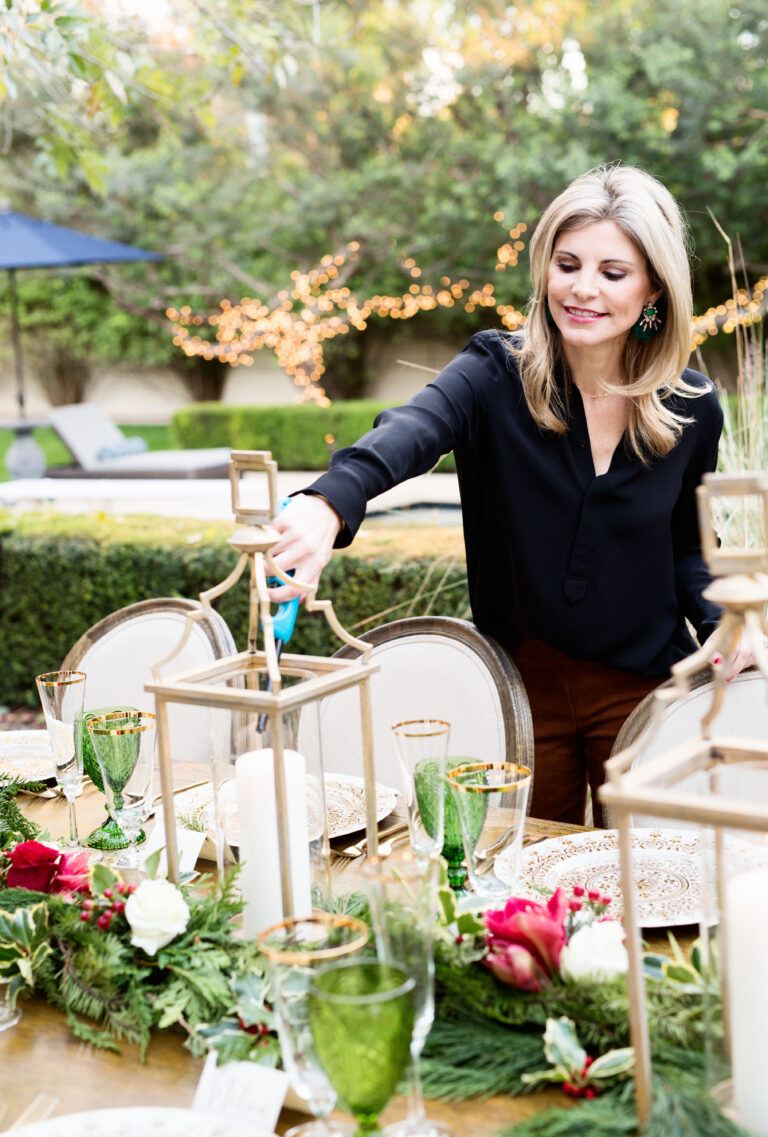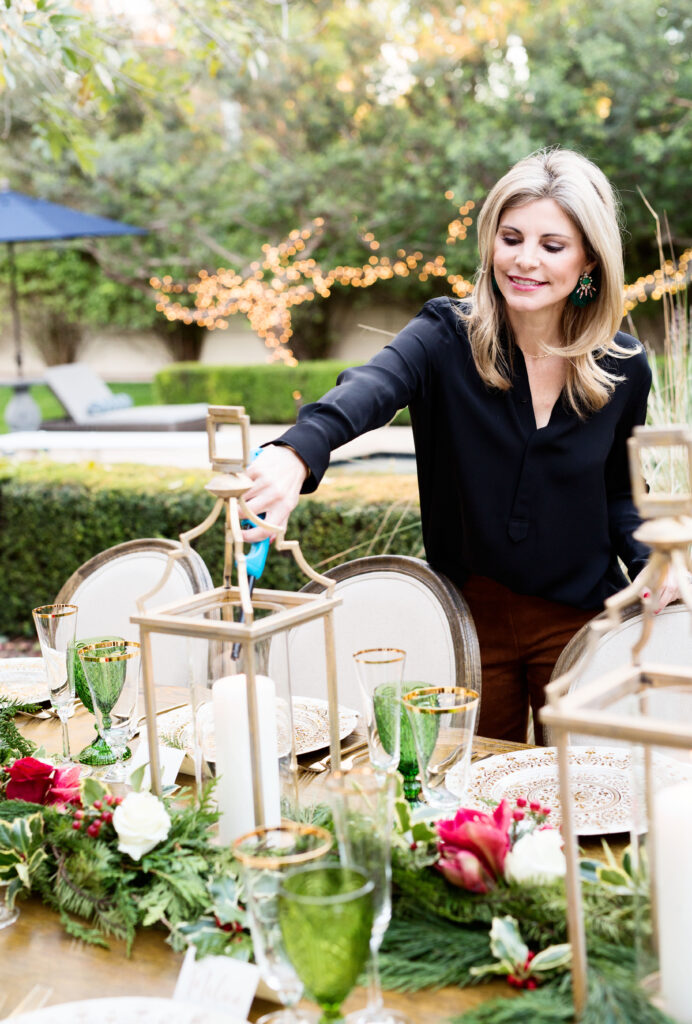 I just love the holidays and entertaining this time of year. While it can be a bit hectic, the spirit of the season fills my cup in so many ways. When I reflect, there are many reasons to be thankful – and entertain! To celebrate the start of the holiday season, I'm bringing together a Holiday Entertaining Guide that is full of products that are ideal and on trend this season. I get asked a lot what I like to use this time of year – so here are some of my favorites.
1. Magnolia leaves garland: Wintery garland can really bring your home together for the holidays. This strand has a blue/silver hue that's classic for entertaining over the holidays. Check out this post to see how I used it on my traditional holiday table!

2. Mini star string lights: String lights are equal parts fun and functional for chic holiday display.

3. Winter wonderland guest towels: Accents in your guest quarters helps carry the theme of the holidays throughout your home. This set combines neutral gray, white and blue that's easy on the eyes the whole season.


4. Goblets: If you've been following me for a while, you know that glassware on the table is just as impactful as the decor around the home. These goblets bring that neutral chic vibe to your table setting, too. Here's a cute farmhouse- themed table I set with these.

5. Vintage votives: Votive candles are a small accent that really makes a big difference to warm up a a space to make it most cozy.

6. Mercury glass trees: Don't be afraid to play around with seasonal table accessories such as decorative glass trees. I love these because they provide that classic winter feel. These should be added to any holiday entertaining guide!

7. Classic serving ware: Serving ware, like these platters could be overlooked, but the white fits right in with a neutral color palate.

8. Cozy throws: There is always an occasion for a cozy throw blanket around the house, but these neutral accessories are great for the holiday season. Hint: they make great gifts, too! When I'm entertaining outdoors during the chilly months, I like to provide throws on the back of dining chairs so my guests can stay warm and comfortable!

9. Dinner plates: For the holidays, I love to add little splashes of glam. The gold accents in this dinnerware set give that added distinction for the holiday season.

10. Table runners: Coordinated table accents like these table runners can help bring a neutral holiday table to life.

11. Wine bag: This faux fur wine bag will be a hit with your guests. An item like this could be a really great hostess gift too! As an added bonus, include a subscription to Food & Wine magazine. I love this one – great recipes and suggestions for wine pairings.

12. Standard white table cloth: For the holidays, standard white is a perfect backdrop for holiday dinner.

13. Festive chargers: These decorative 13″ chargers add some polished perfection for the table during a holiday celebration.

14. Meat thermometer: This could seem unexpected but when you have a home full of meat-lovers, this is a must-have for any family meal. Speaking of meat, here's my go-to recipe for steaks: Ina Garten's Steakhouse Steaks.

15. Cheese markers: Whether it's for brie, manchego, camembert or mascapone, these cheese markers provide an elegant and environmentally-friendly way to label. Want to include a fun gift idea with these? Check out this Cheese of the Month Club! Perfect for holiday entertaining!

16. Elegant napkin rings: These faux pearl beaded napkin rings add some dimension to your holiday place setting. I added these to my holiday entertaining guide, but you can use these year-round. See how I incorporated them here on my Purple and Gold Glam Thanksgiving Table.

17. Tea set: This charming tea for two set is Art Deco and amazing. Such an elegant accent to add to the home for the holidays – or to start a new holiday tradition. If you're so inclined to host a tea party, here's a fun guide on proper tea etiquette!

18. Cocktail Glasses: These speakeasy-inspired glasses add an element of whimsy to a holiday party setup.

19. Cake stand: Dessert becomes part of your display with this timeless cake stand. I like to keep the dessert in the kitchen so the guests can get a peek of what's to come! For party cake inspiration, check out my friend Ashley, who creates the most amazing cakes!

20. Napkins: It wouldn't be a holiday entertaining guide from me without napkins. This 4-piece set is great because it includes a hint of holiday spirit.

21. Wine decanter: A decanter is a classic addition to someone's entertaining arsenal. A hostess can never have too many – essential for a holiday entertaining guide!

]
22. Marble boards: Marble boards provide a dose of functionality and flair, whether you want to use these for food preparation or presentation during your holiday hosting.

23. Bar cart: A fun way to display the adult beverages for your soiree, this gold-finish bar cart is a fun addition to your holiday party at home.

Shop all my Holiday 2019 entertaining items:

I hope you enjoyed my 2019 Holiday Entertaining Guide. Happy Holidays! May your home be filled with love, laughter and a may you always be the Hostess with the Mostess!