What would our most patriotic holiday be without a party? Friends, family, food, and fun are ingrained into our culture and this is why July 4th is such a huge day to celebrate our country. I've created a Fourth of July Fête tablescape just for this occasion, and a tin foil dinner that's easy to prep, delicious, and beautiful.
So, get out your flags and fly them high and proud — this one's for the red, white, and blue!
The Decor
I mixed patterns by combining my existing Restoration Hardware outdoor pillows with some striped Sunbrella pillows, bringing in a nice pop of blues.
Alstroemeria flowers are one of the easiest floral varieties to arrange and they last forever. Costco almost always has them in stock, so I make it a habit to pick up a few bunches of the same color when I'm there.
The Place Setting
Layering plates is one of my favorite ways to create dimension and interest in a table setting — I made sure to do that here too.
The Linens
Red and white pinstripe napkins from Pottery Barn can be used year-round and were perfect for this table. Kim Seybert cobalt napkin rings that mimic fireworks gave just enough spark without taking away from the rest of table.
How great is this Pottery Barn flag table runner? I have used it for Memorial Day, Flag Day, July 4th, and Labor Day — as usual, it gets more than one use at my house.
The Food
Inspired by a friend's suggestion for a camping recipe, I wanted to use tin foil dinner packets for this occasion. Grilling always means great flavor and less mess in the kitchen, and tin foil packets make clean-up a breeze!
Here's the menu for our Fourth of July meal:
Shrimp and Veggie Tin Foil Packets
Watermelon, Feta, and Basil Salad
Apple Cobbler Tin Foil Packets
I chose shrimp for our entree's protein, but turkey or beef sausage could work nicely as well.
Want to give these a try? Here's the recipe for Shrimp and Veggie Tin Foil Packets. An assembly line makes preparation simple and these can be made ahead of time — such a bonus! Each guest gets their own packet to unwrap at their place setting.
Here's an idea for a refreshing salad that could be served all season long. I started with a star-shaped cookie cutter to make the watermelon pieces, cut a circle from a block of feta cheese, and topped it with a fresh basil leaf. Just before serving, I drizzled with aged balsamic for extra sweetness. What a simple side dish!
Since this dish transports well, it would be a good choice for a picnic or pot-luck!
In keeping with our theme, dessert was simple to prep — I created another assembly line for these individual apple cobblers on tin foil, then wrapped them up and grilled!
Here's the recipe for my Apple Cobbler Tin Foil Packet.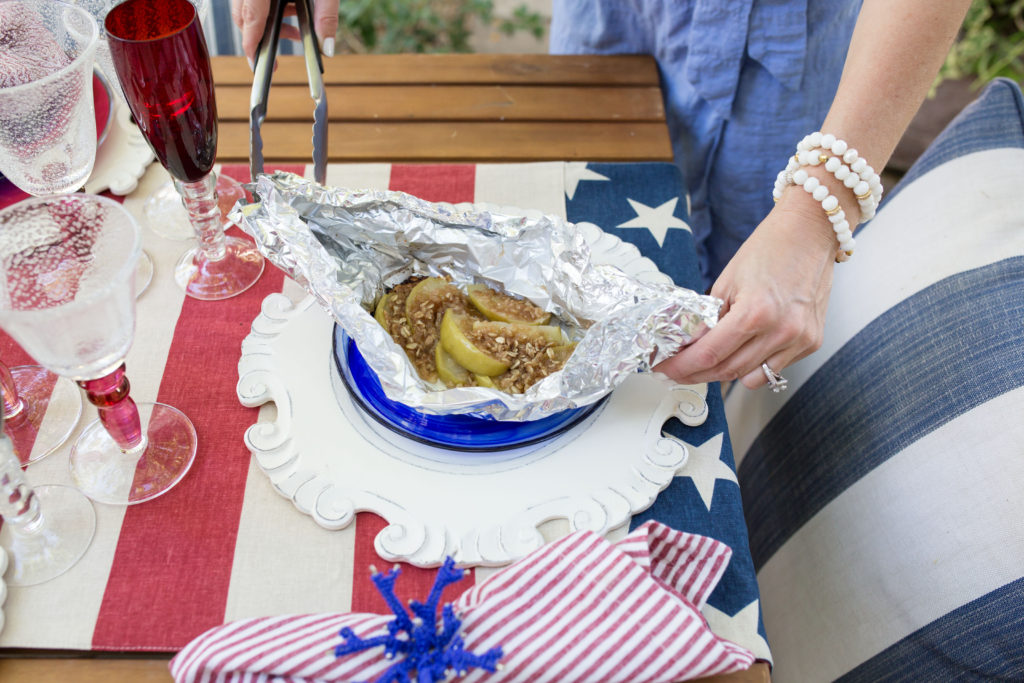 Happy Fourth of July!
SaveSave
SaveSave
SaveSave
SaveSave
SaveSave
SaveSave
SaveSave
SaveSave
SaveSave
SaveSave
SaveSave
SaveSave
SaveSave
SaveSave
SaveSave
SaveSave
SaveSave
SaveSave
SaveSave