Paris, The City of Light. Whether it's your first visit, a quick stopover for a few days, or your 5th time, a birthday in Paris is the perfect setting because there are so many new things to do and see, no matter how many times you've been. My husband and I decided to celebrate my 50th birthday in Paris for exactly this reason, to acquaint with the finer things the city has to offer and experience its allure. It's my birthday in Paris! Go big! We had some great things planned on our trip, which included a few fancy restaurants, rooftop bars, high-end shopping, great hotels, and cruising on the Seine. We enjoyed a few unplanned events, while also meandering through parks, alley-way cafes and locally owned boutiques. A birthday in Paris is always a good idea!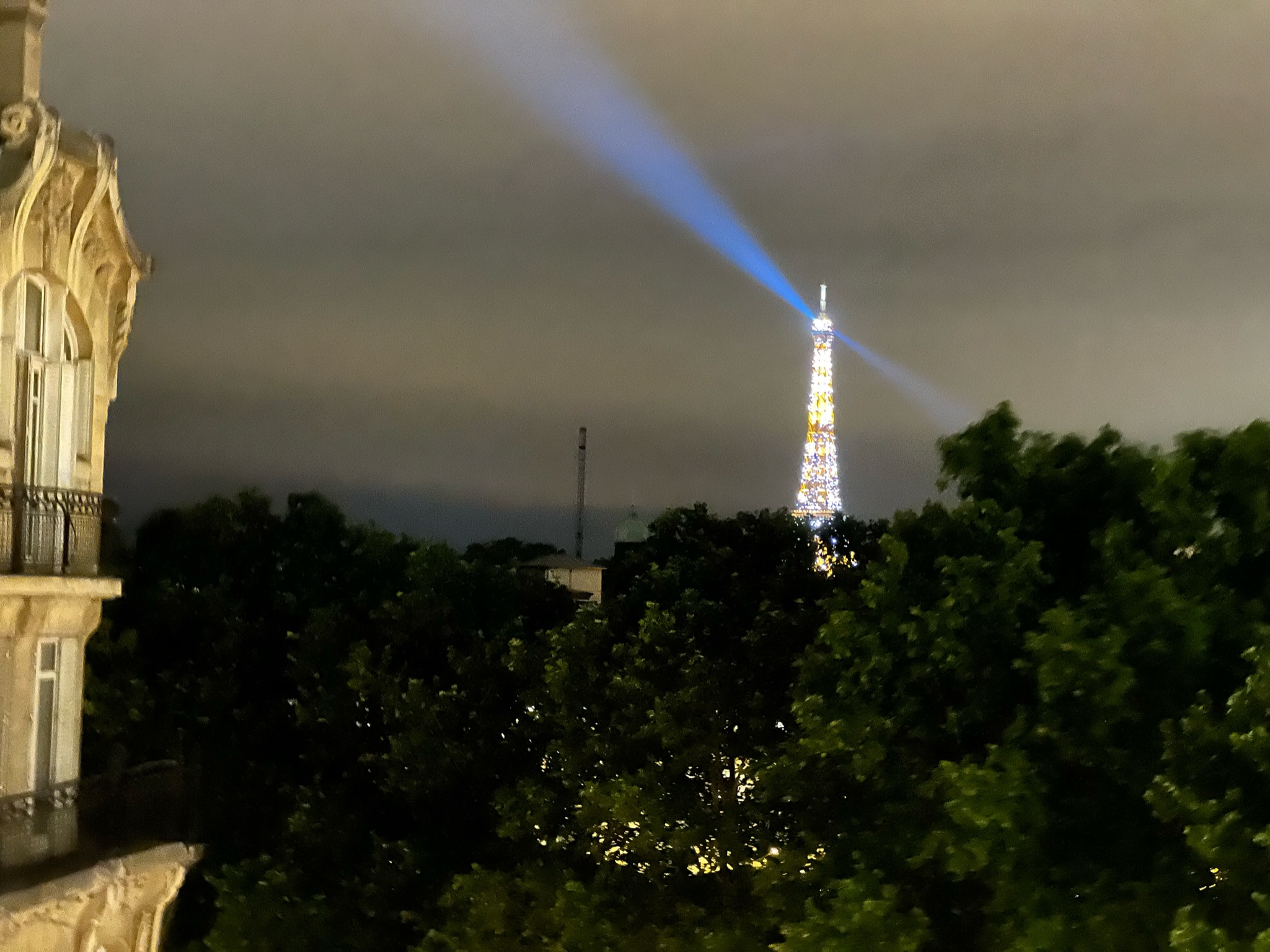 We decided to stay for five days. I had a few must-haves; eat at some of the city's best restaurants as well as lesser known ones loved by locals, view the most beautiful sights, as well as shop at the most iconic stores, and we did all that! Five days goes fast so we packed in a lot in those days.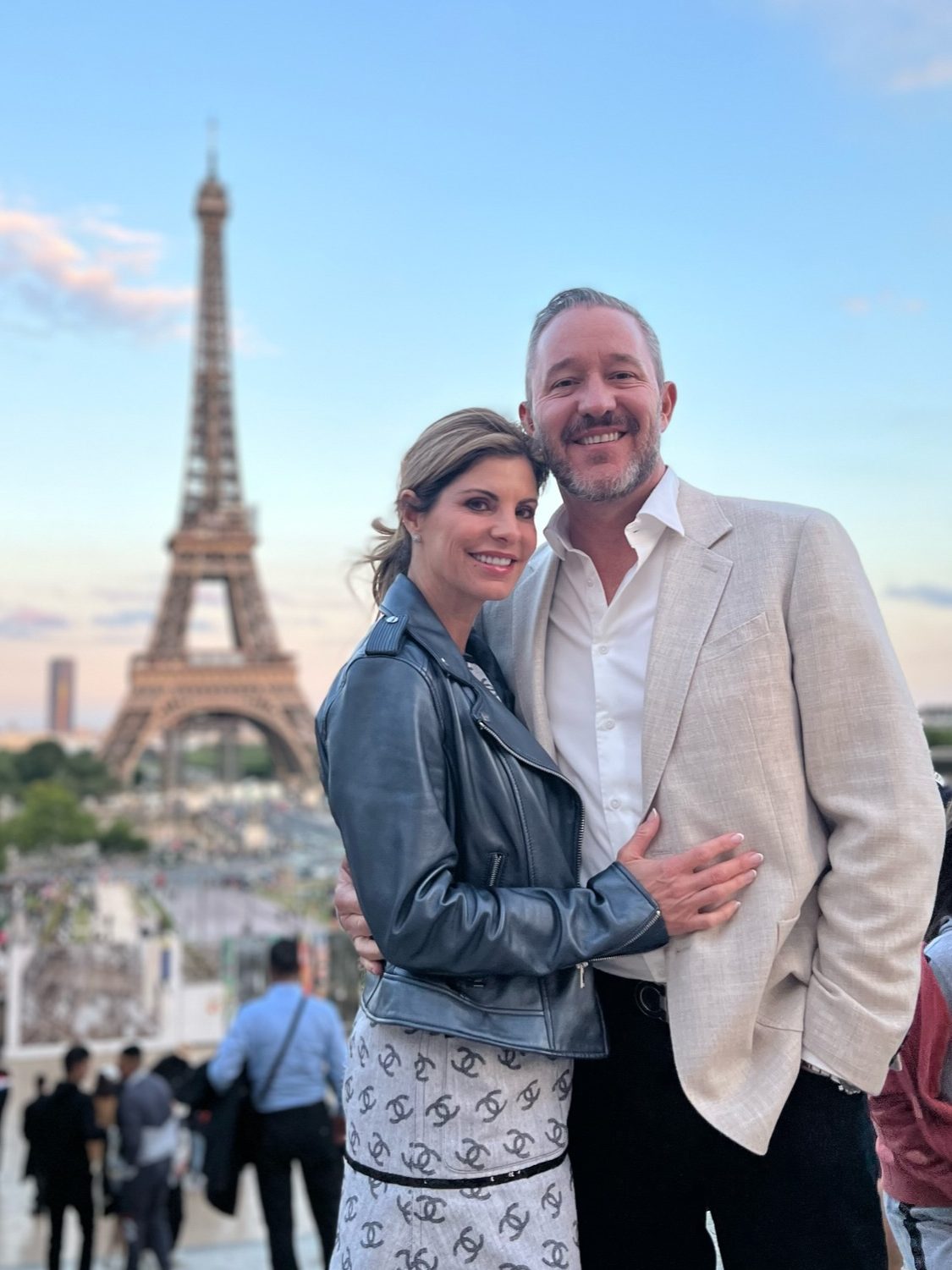 The highlight of our shopping excursions was visiting iconic Parisian fashion houses – this was my favorite day of our trip!
The Dior store recently reopened in March, (the site of the Christian Dior's flagship boutique), so the energy was wonderful and everyone was ecstatic to be in this iconic space. There is a restaurant in the store as well, and although it was closed for a private party the day we were there (the President of Dior was hosting a luncheon – how fun would that have been?), I would highly recommend making a reservation to eat at Monsieur Dior. After being introduced to my shopping consultant, Rodriguo, he took me on an incredible tour of the flagship boutique: 4 levels of stunning beauty; from clothing, jewelry, shoes, bags and home decor. Even the architecture of the building is stunning. It is worth a stroll in the store, just to marvel at the beauty and history of the space.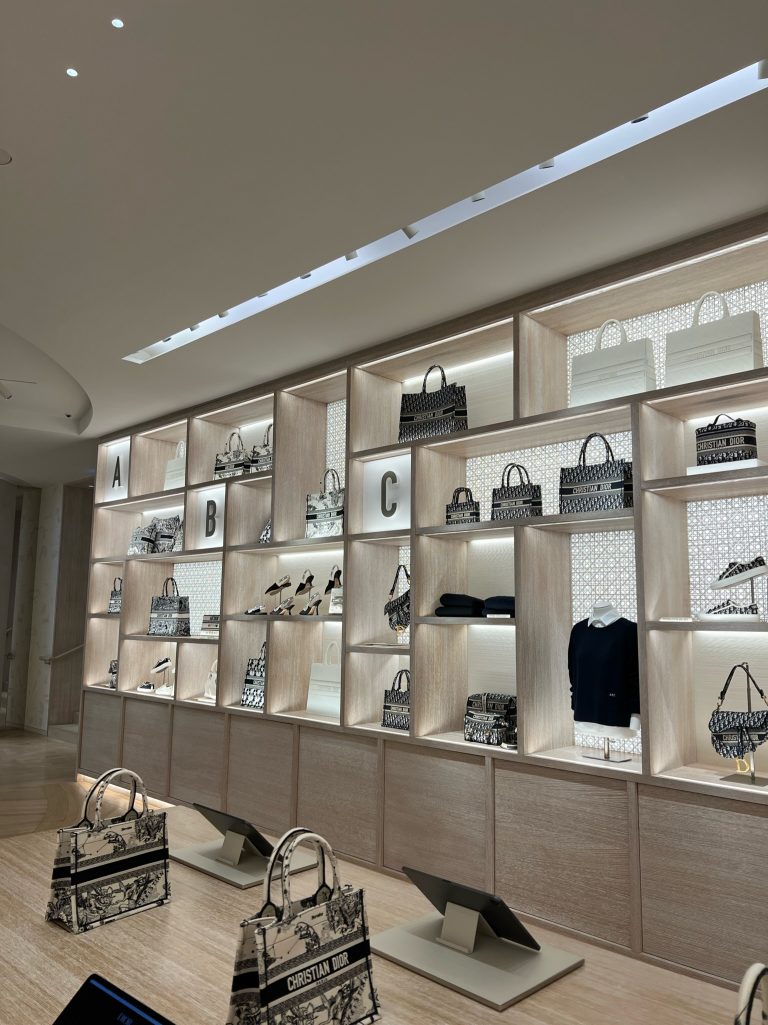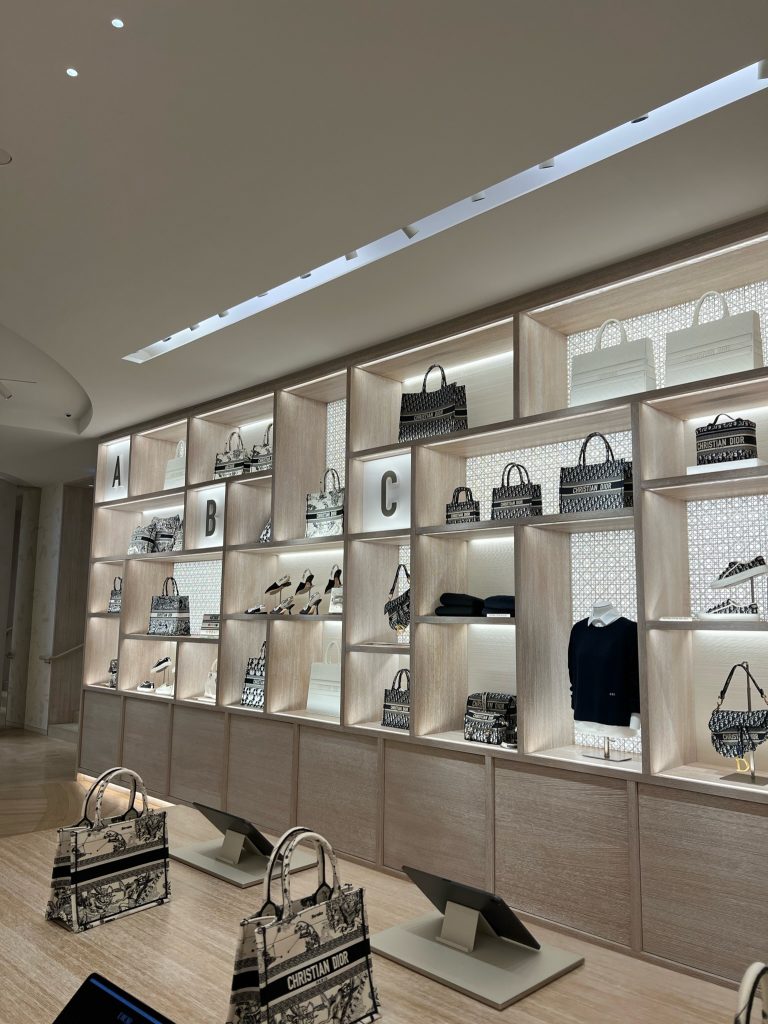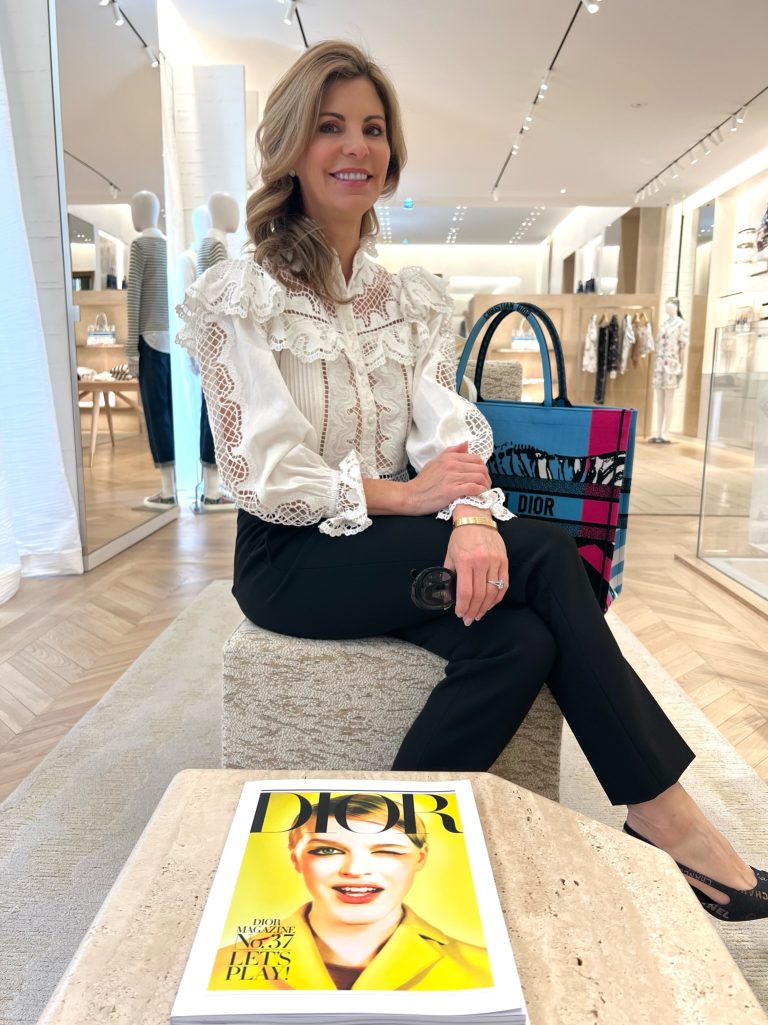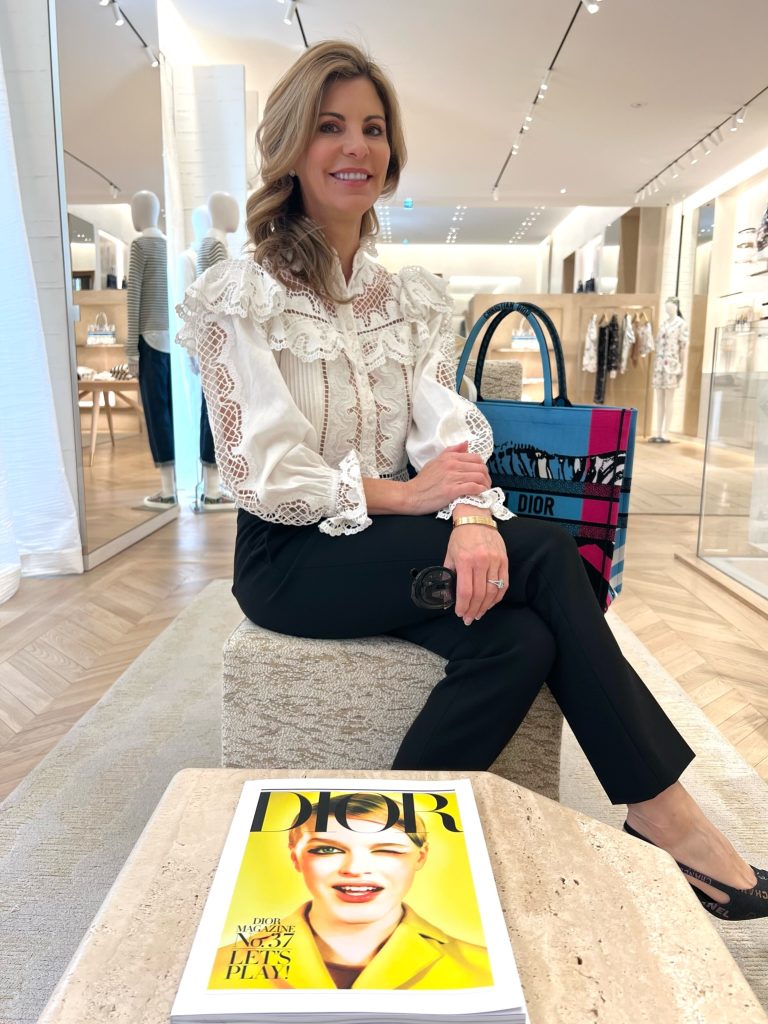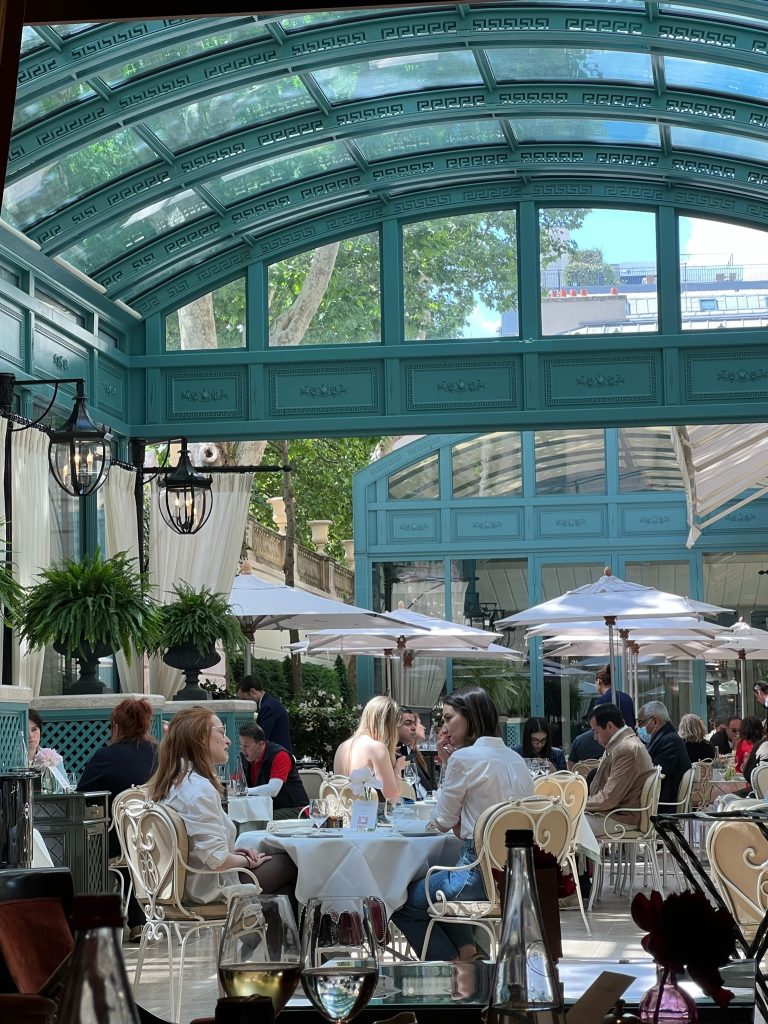 The housewares level at Dior was absolutely amazing, I could have stayed there all day! To receive personalized and personal service it is a good idea to make a shopping appointment so you can experience the best service. We had a blast.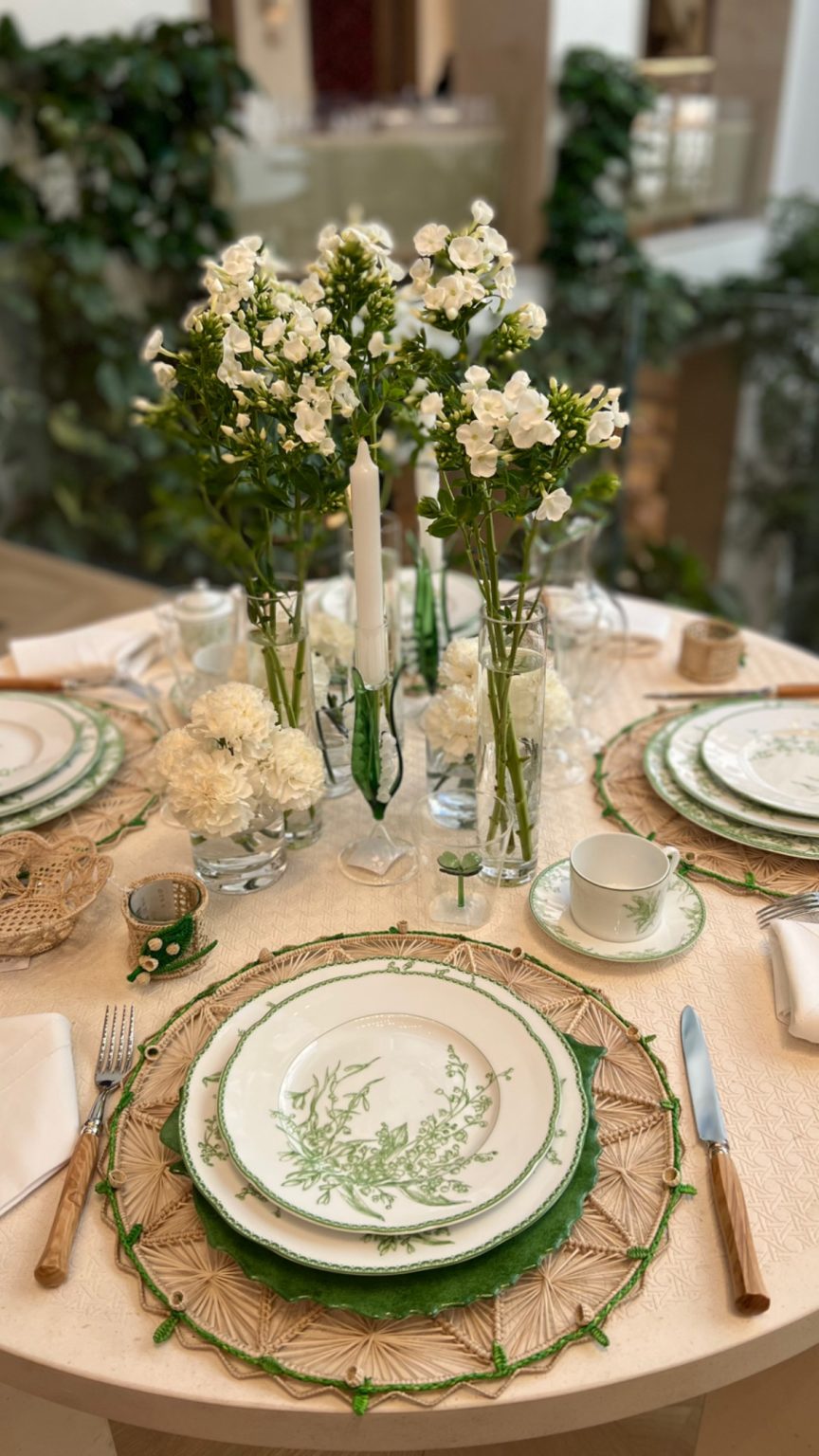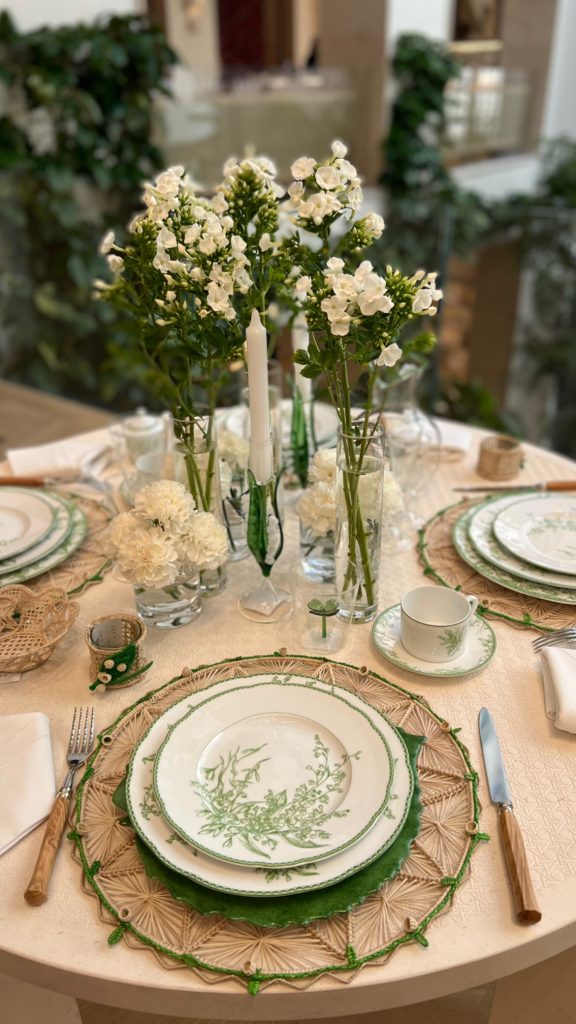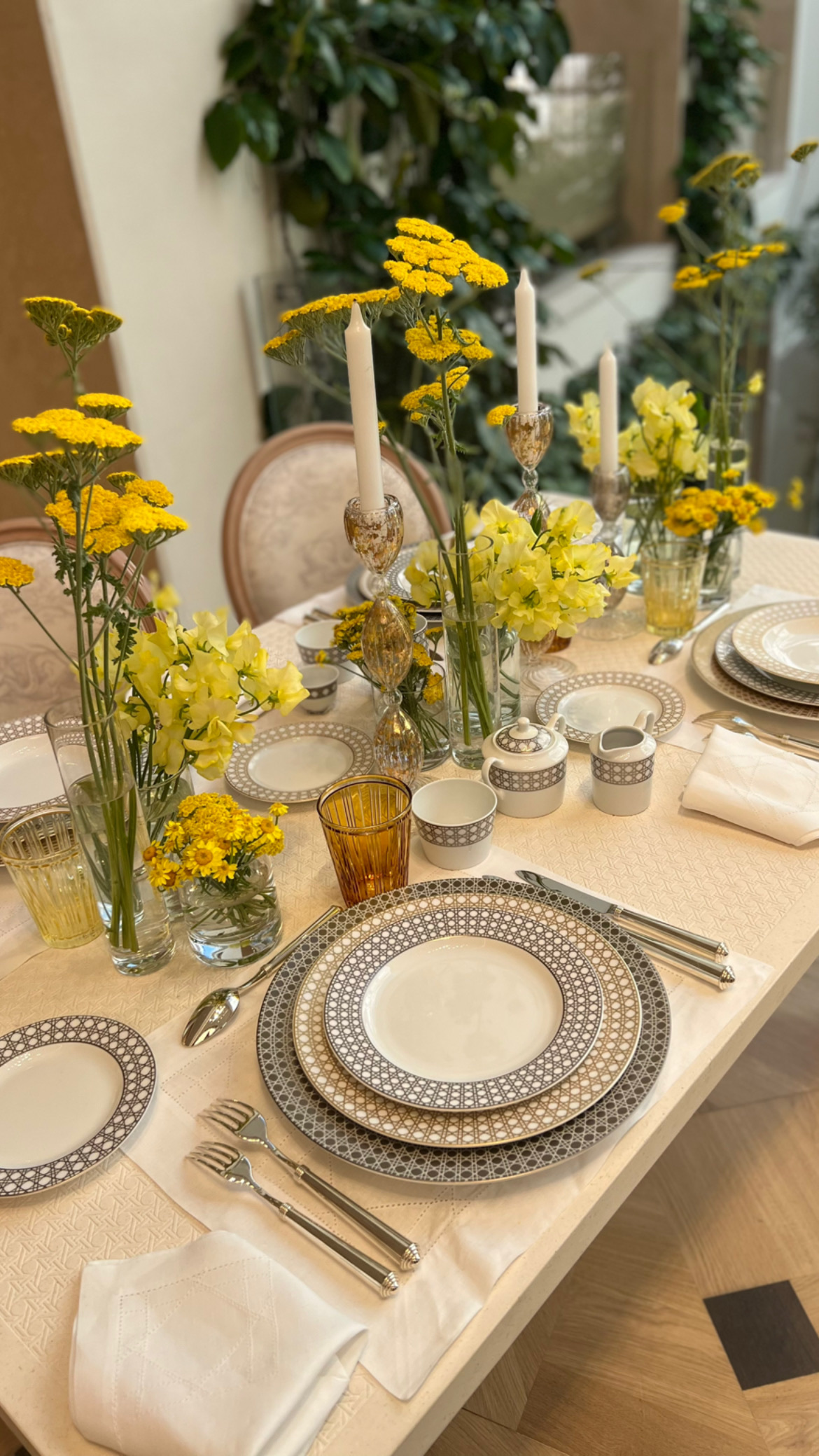 In addition to the sprawling new store, the Dior Museum is not to be missed. The history, the fashion, the details and the pride is felt in every corner.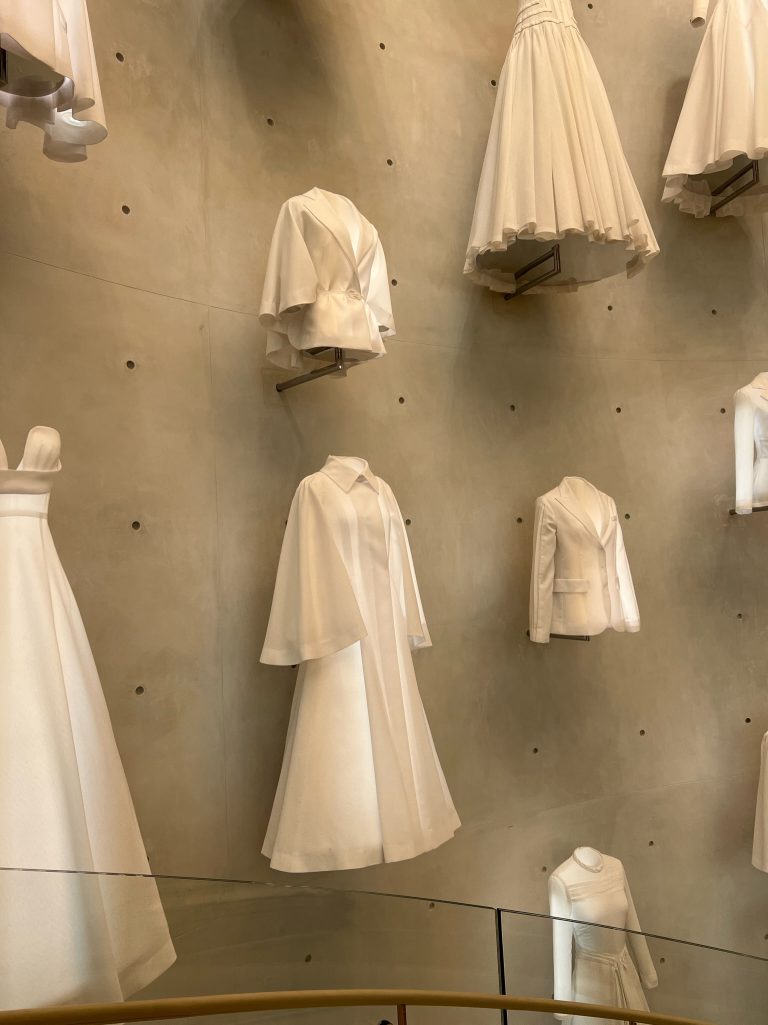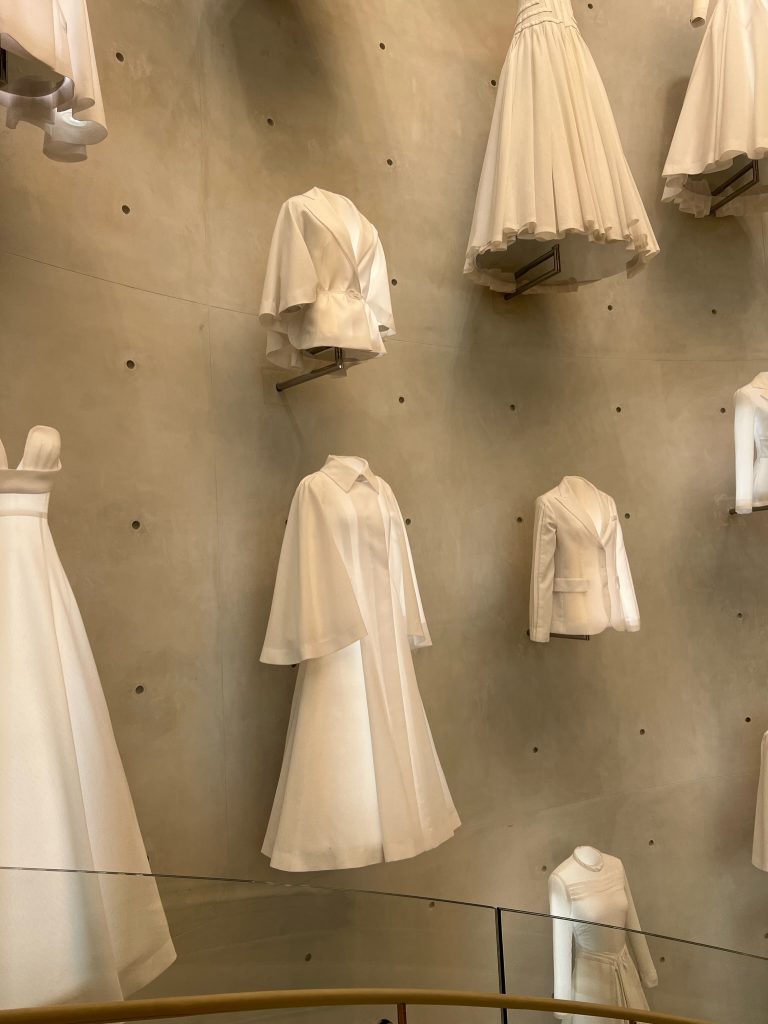 The Chanel shops are incredible and there are many to choose from in Paris, (31 rue Cambon being the first), but each store is decorated with impeccable taste and details; beautiful awnings on the outside beckoning you to come in, with an organized, classy setting on the inside. The sales associates are polite and helpful. There are a lot of tourists who like to stroll the stores because of their history, so if you are a serious buyer it is a good idea to make an appointment here as well.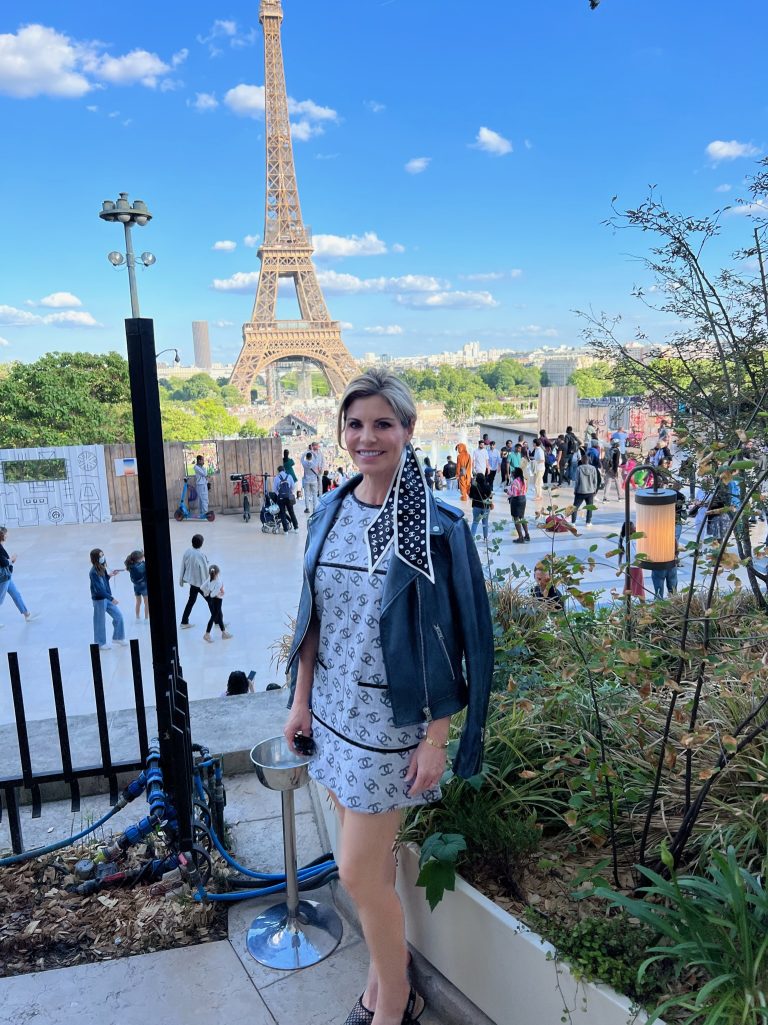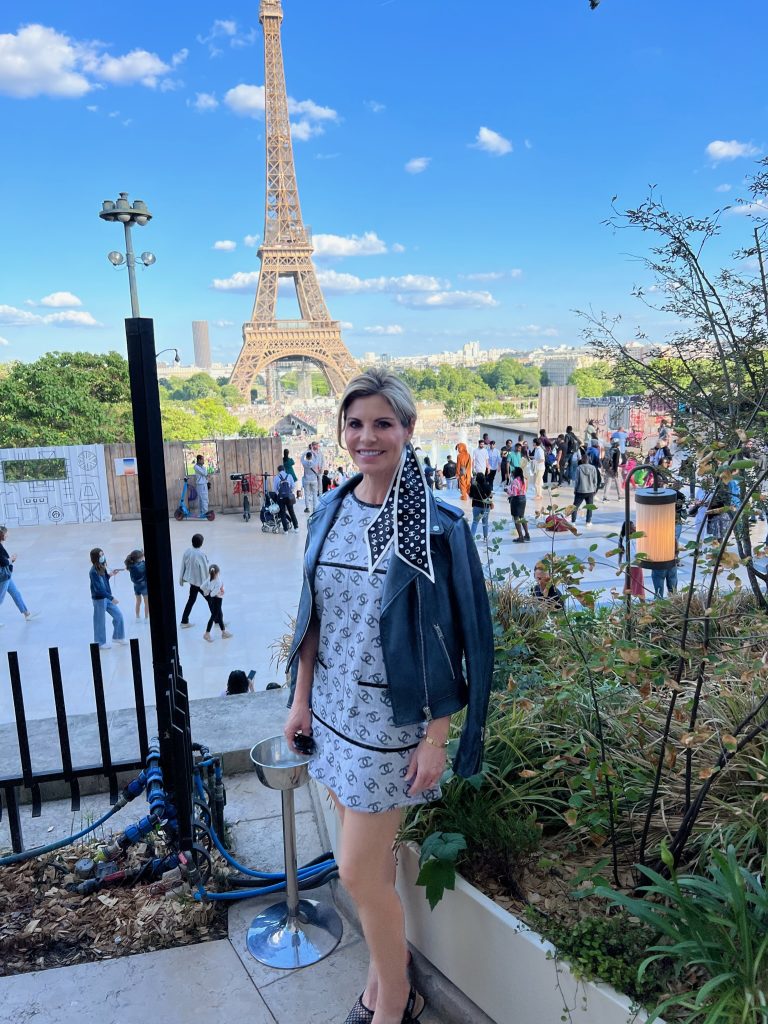 Hermès, another iconic French brand, offers beautiful craftsmanship, timeless designs and unparalleled quality. We enjoyed strolling the store and seeing the number of beautiful pieces available. It is also a very special and beautiful store.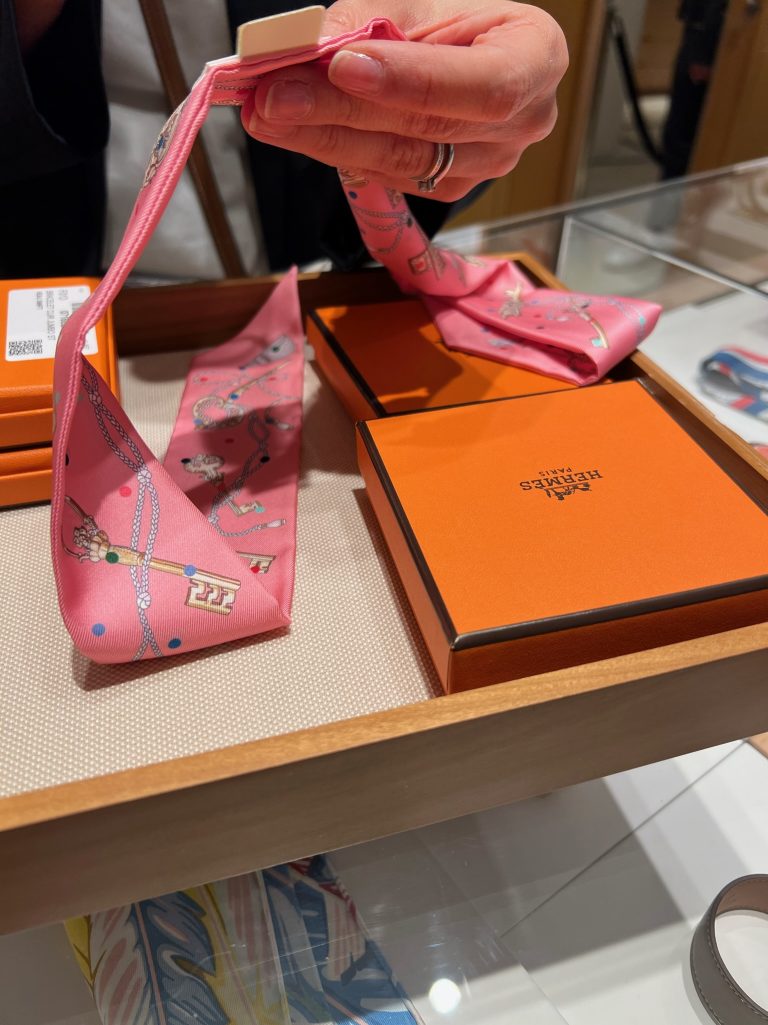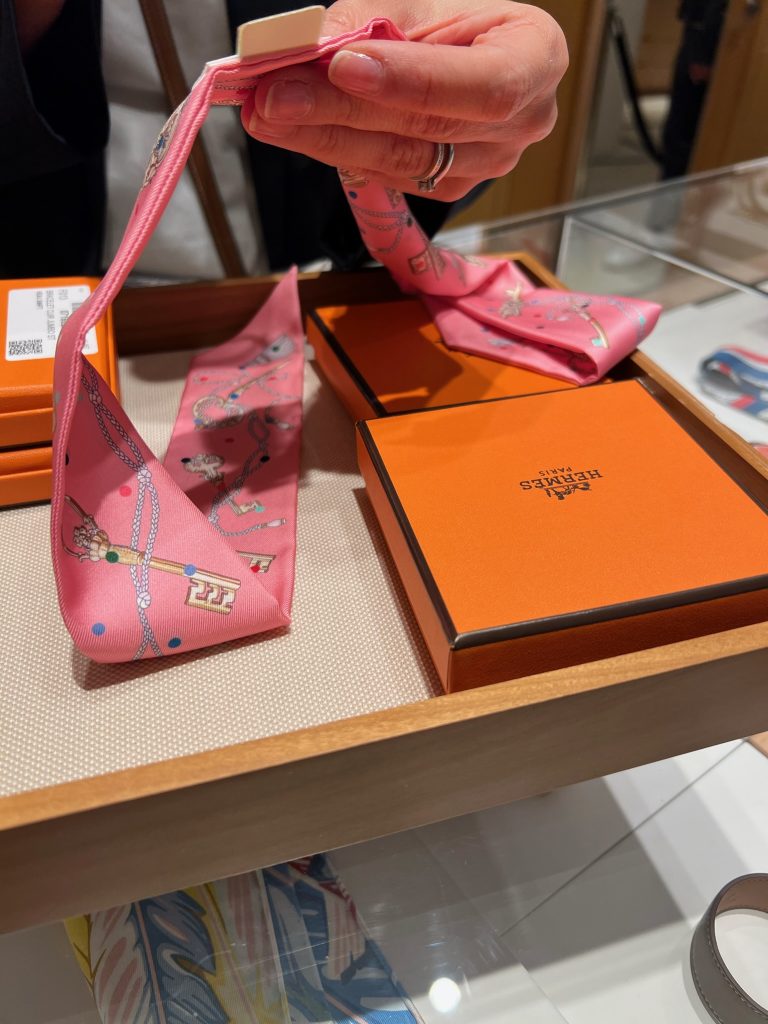 In addition to the haute-couture brands, there are wonderful neighborhoods for shopping excursions (some of which are listed below). If you are lucky to have great weather in Paris, it is a treat to experience the different shops and different neighborhoods at the same time, just strolling around and taking it all in.
Le Marais – The buildings are also incredible in this neighborhood, which spreads across the 3rd and 4tharrondissements. This quaint part of Paris also offers wonderful cafes to grab a drink after strolling the streets and shops.
Saint Germain des Prés – Also offers wonderful streets to stroll, adorable shops to experience and cafés to rest your tired feet. Located directly across the Seine from the Louvre, this darling area is fun to walk around and explore. Saint Germain des Prés also has great farmers markets every Wednesday and Saturday. We were envious of the fresh produce, cheese, flowers, meat and seafood available at this local level.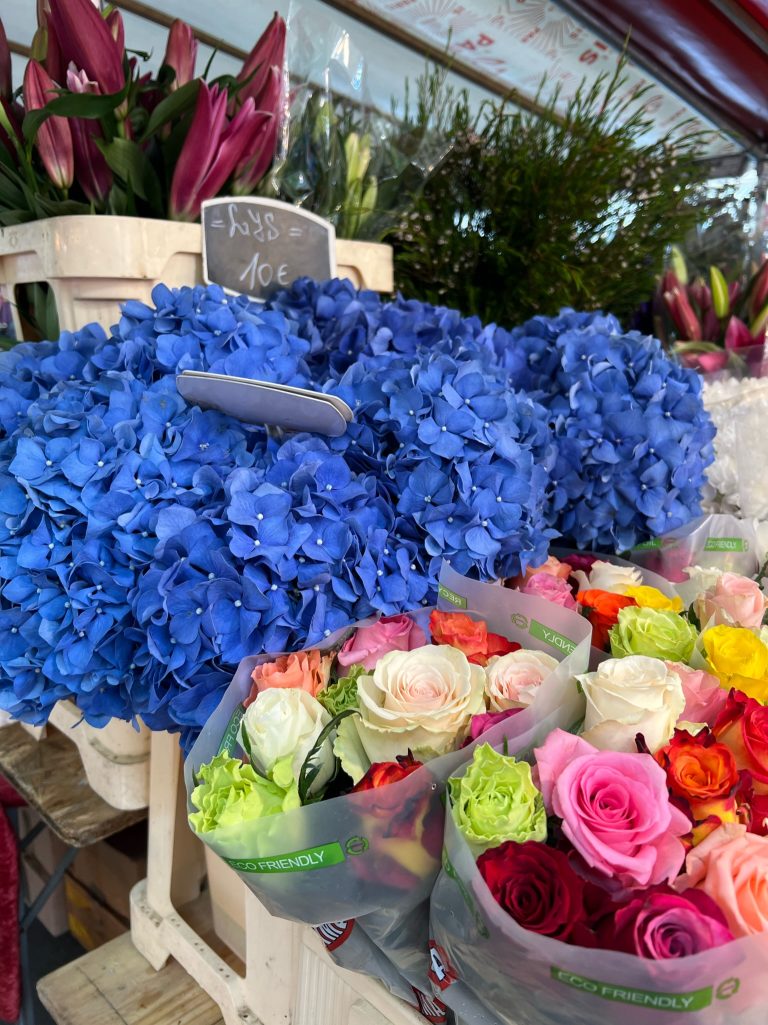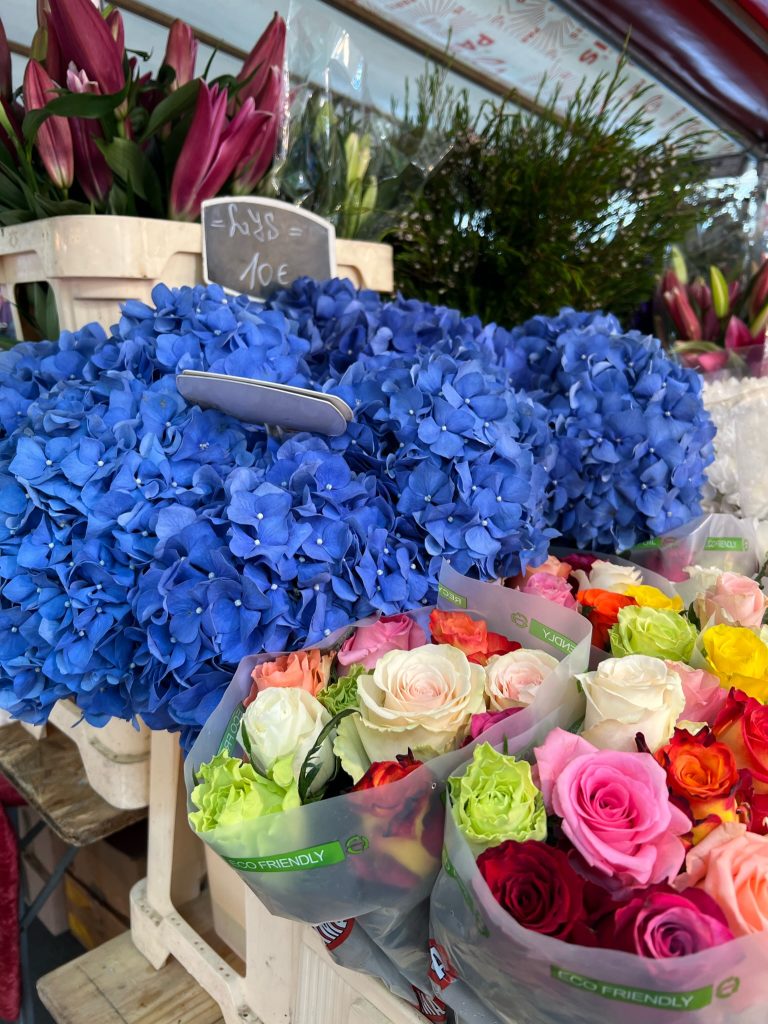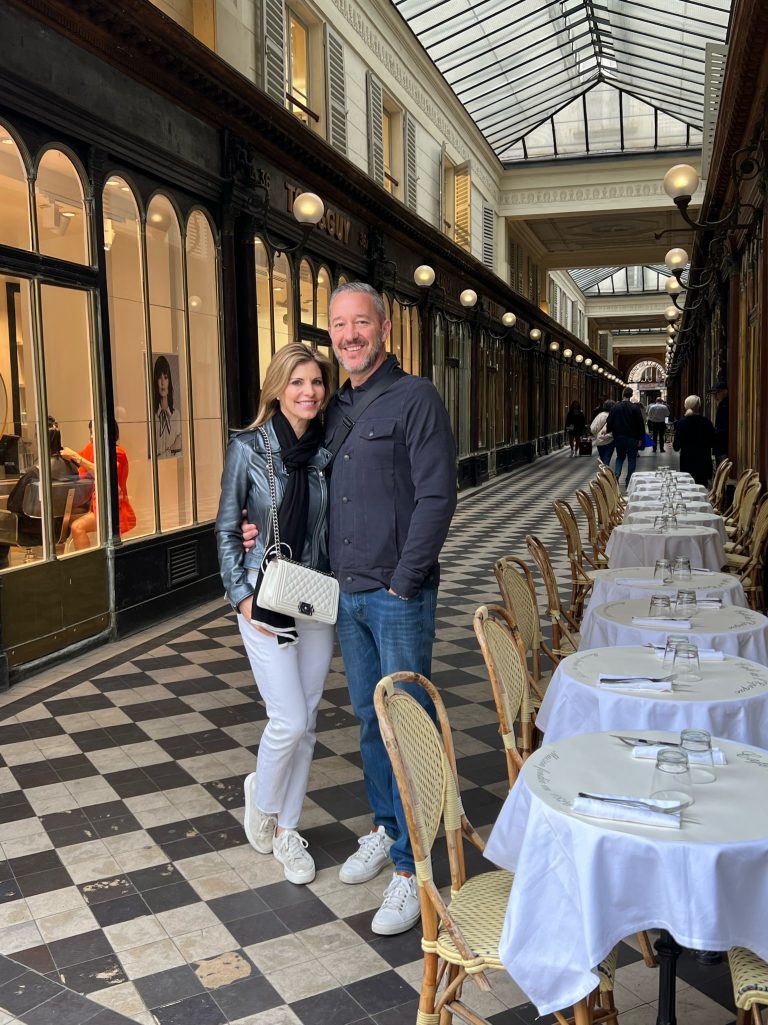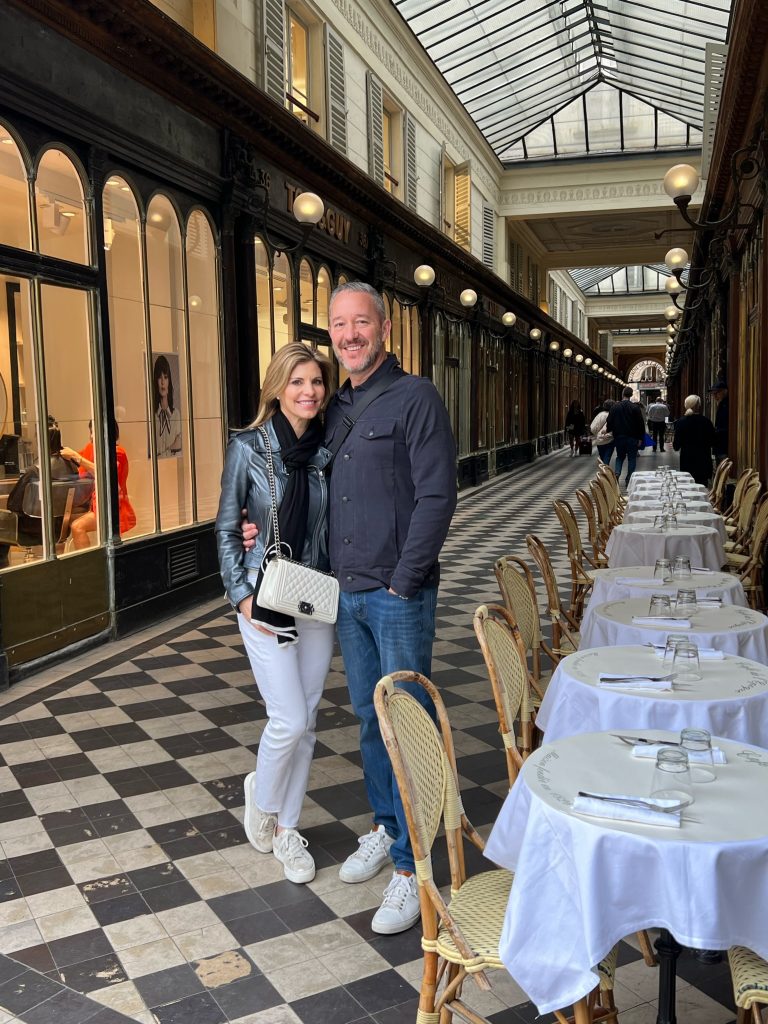 A 'not-to-be-missed' experience is the Paris Flea Market, the largest flea market in the World! Yes. In the World. You can get everything here from antique Chanel bags, jewelry, antique housewares, you name it. It is comprised of 15 different markets and over 2,500 stores. I found an incredible vintage Chanel belt that doubles as a necklace as well as some sterling silver knife rests and serving pieces for my entertaining arsenal. It's amazing. Open Saturday-Monday only. You could spend all day here!
Amazing Gardens – There are so many! Some of my favorites are Jardin des Tuileries, located adjacent from the Louvre, and Jardin du Luxembourg, which is a smaller, quainter garden. Again more strolling…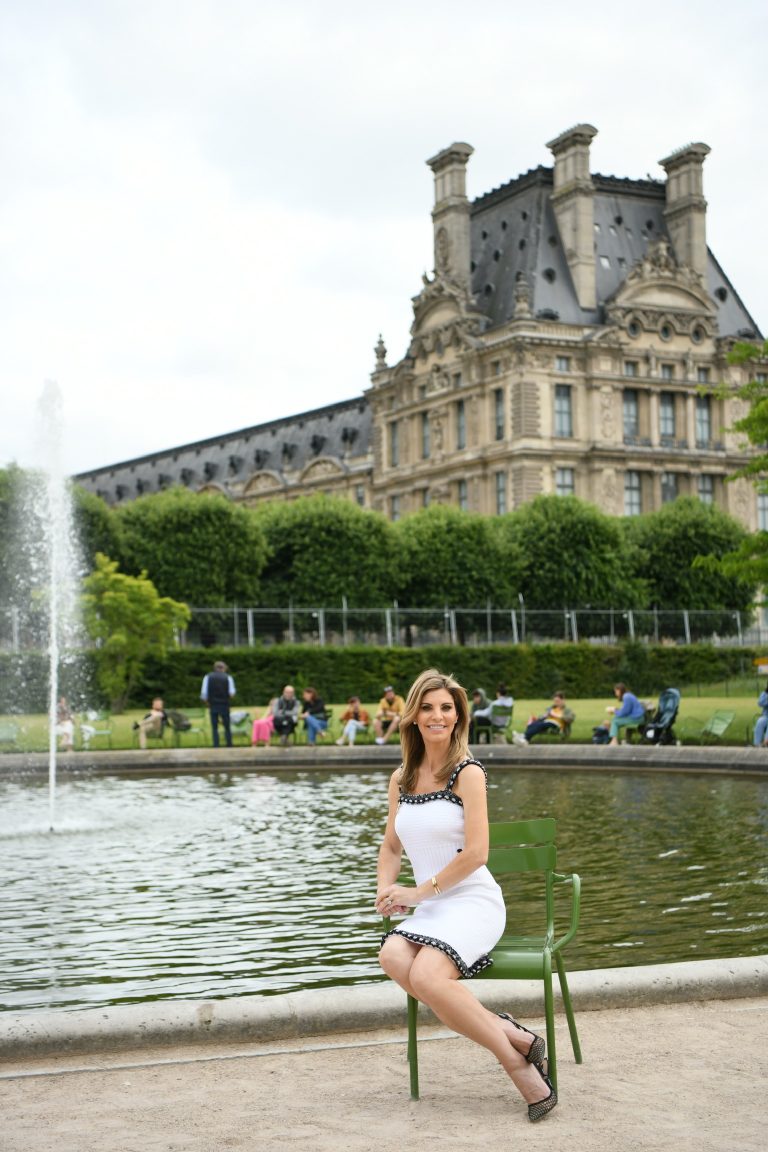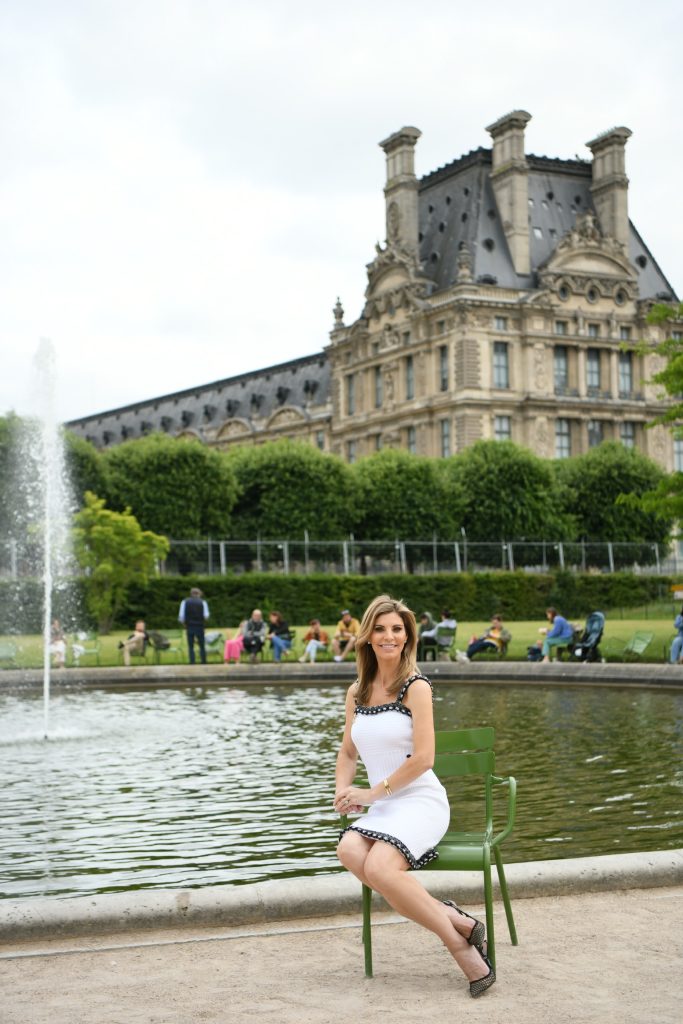 Fun activities to do in Paris:
This is a list of fun stuff we did to enjoy the weather and the amazing energy of Paris.
Ride bikes along the Seine. The green Lime ebikes are everywhere. Simply download the app, scan the QR code, and jump on. Stop off at a cute café for coffee or glass of wine.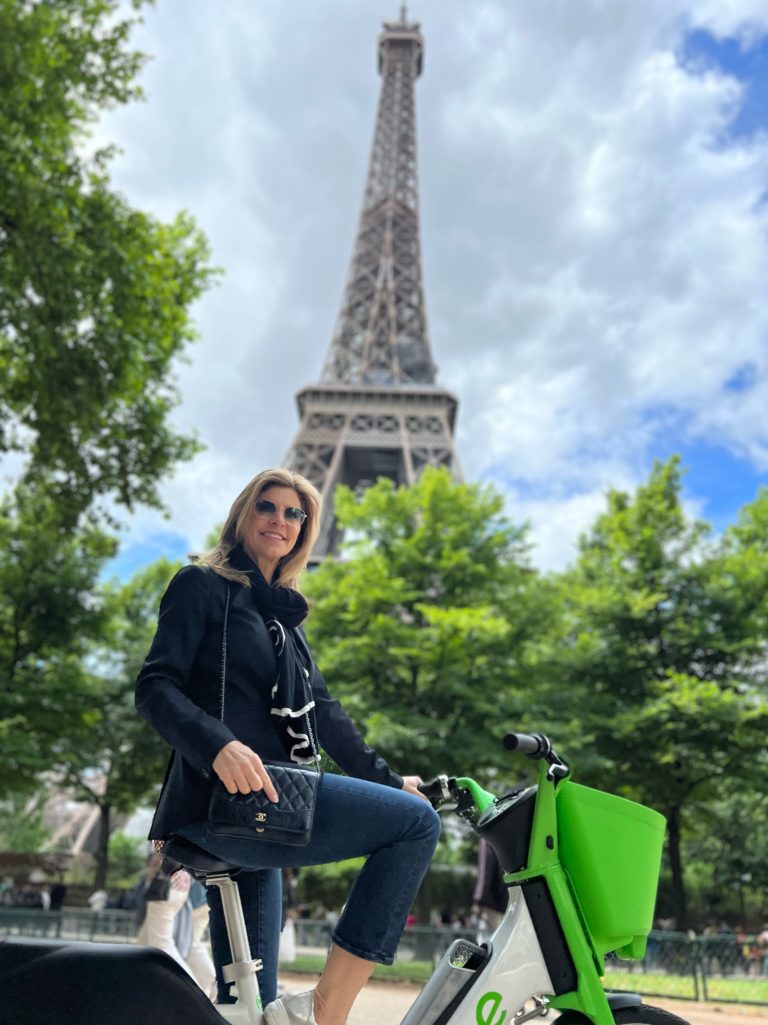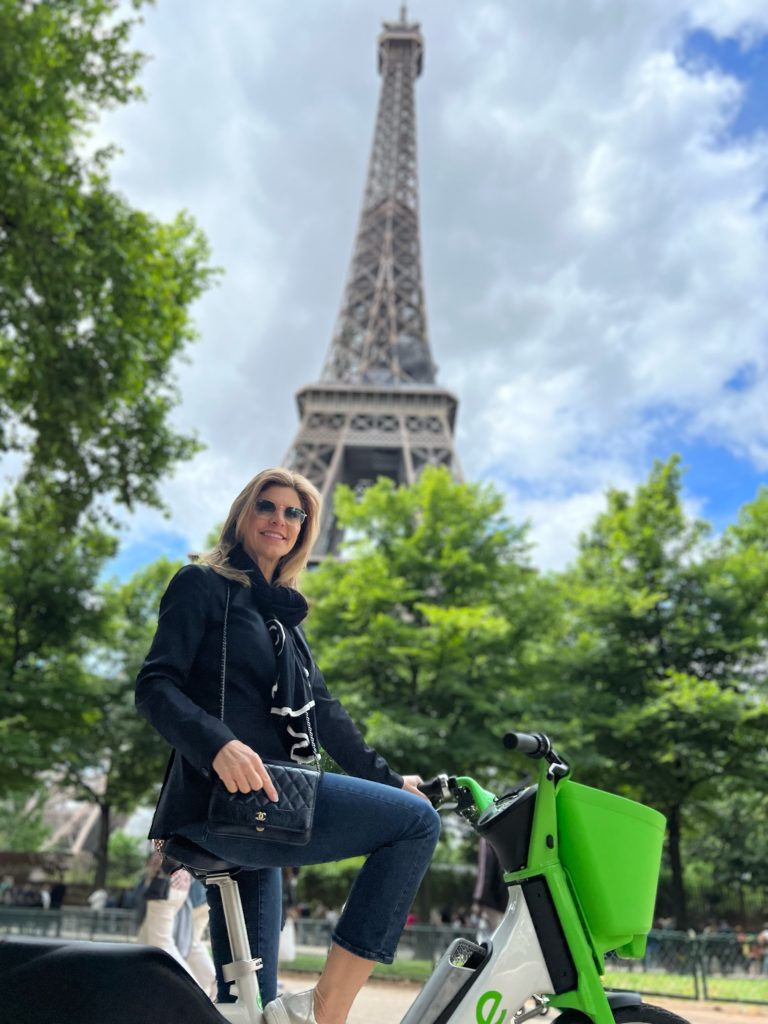 Seine River Cruise. Take it up a notch, skip the lines and crowds of the Bateaux Mouches and reserve a private boat with two skippers, Hermes blankets and a bottle of Dom Perignon. Link to the one we used above – such a special and intimate experience!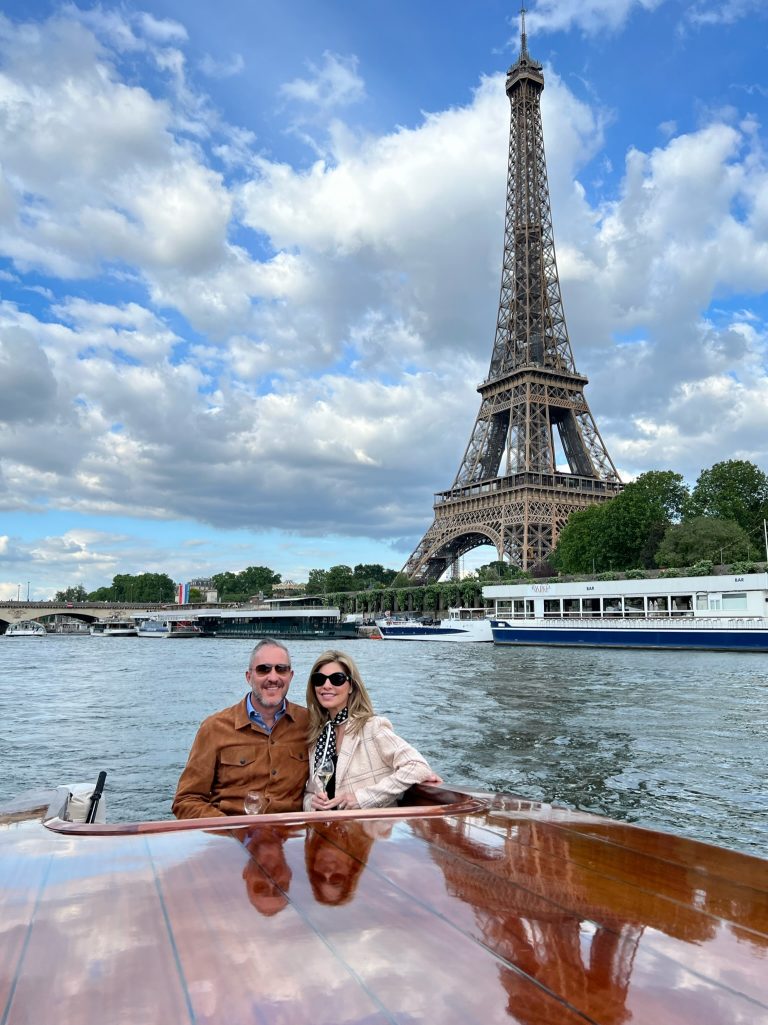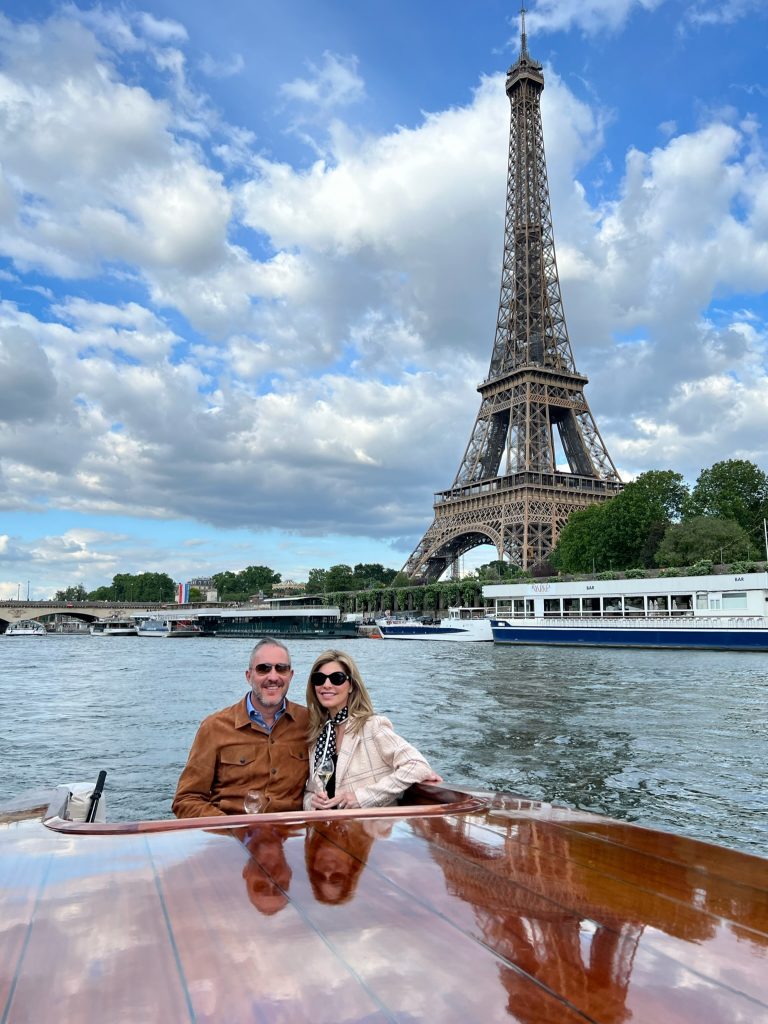 Explore Montmartre – This is a great area of Paris. Wonderful to stroll rue des Martyrs, sit on the steps of the Sacre Coeur. Have a painting done by one of the street artists. Touristy. Fun.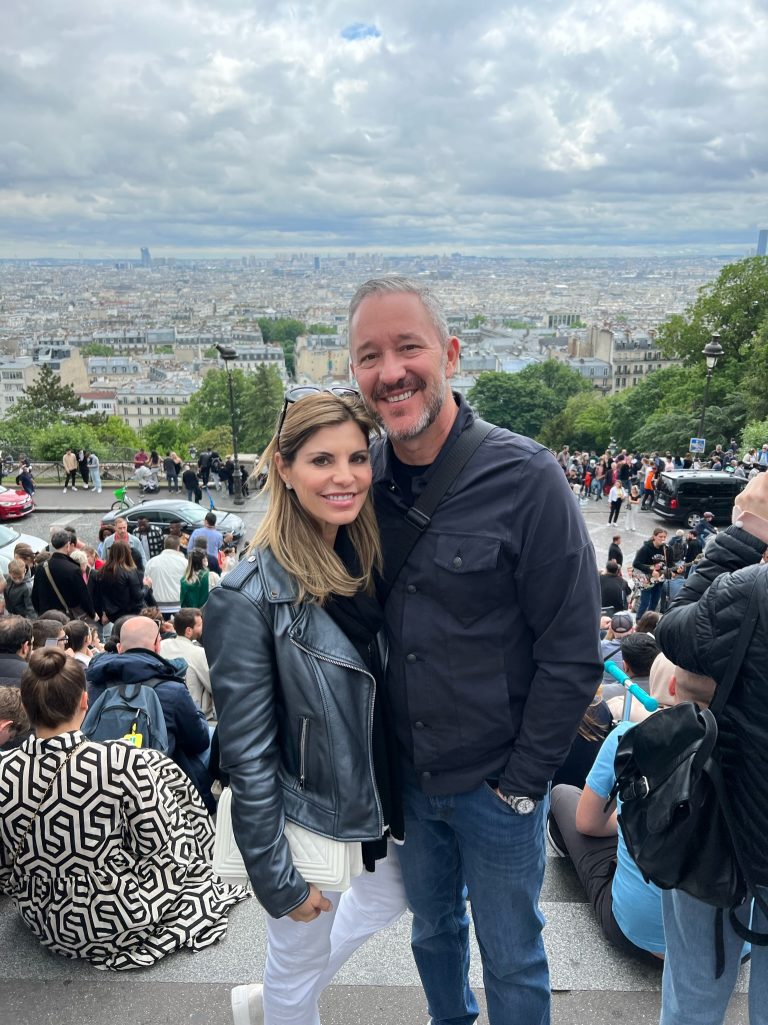 Le Bon Marche – A wonderful, iconic market. Grab some wine, cheese, and bread from the food section and have a picnic on the Quai of the Seine. Very Parisian.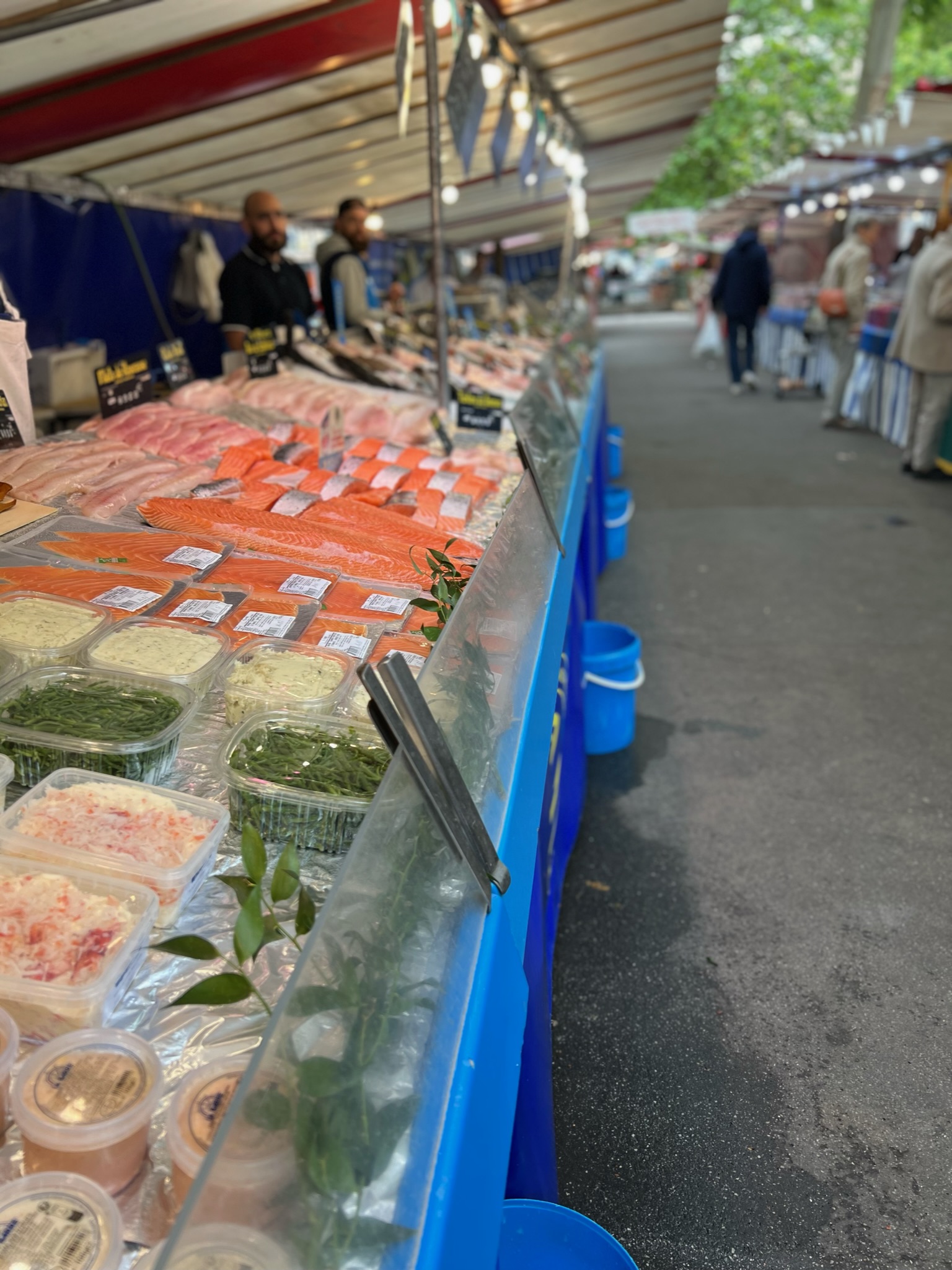 Arrange for a photo session with Flytographer. You can even choose your location. We used Krystal who was great!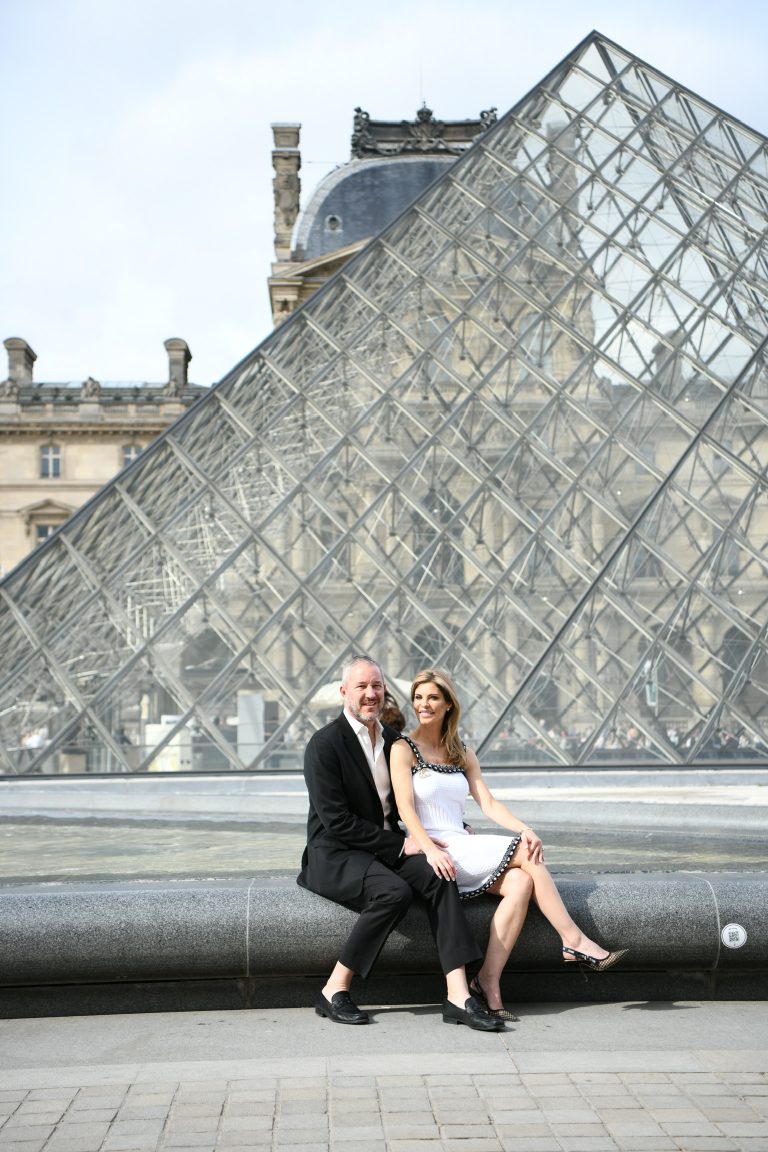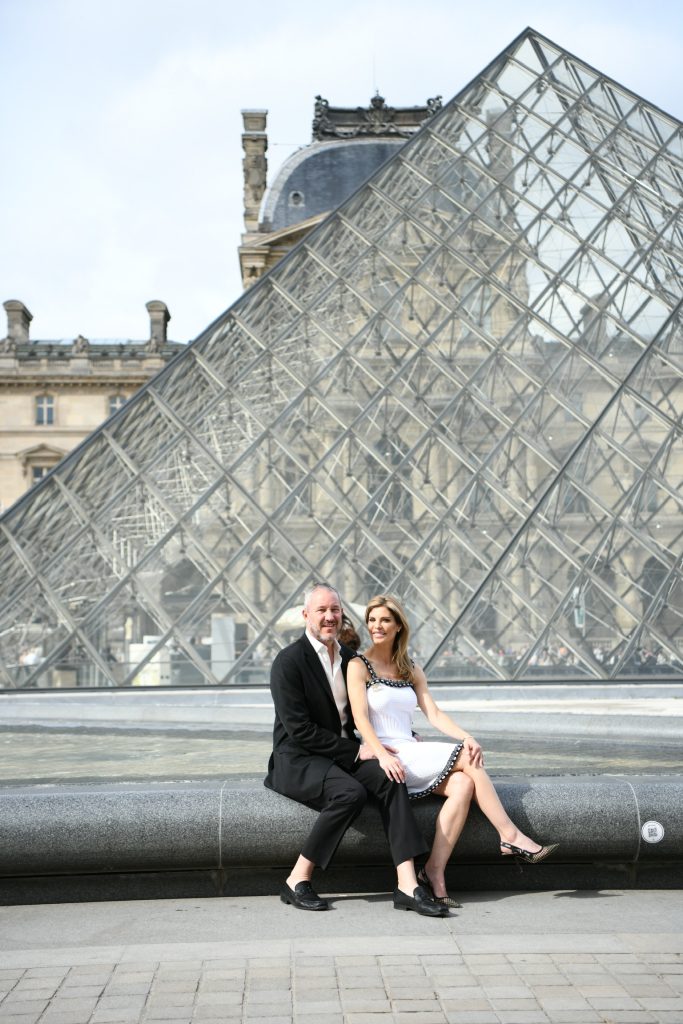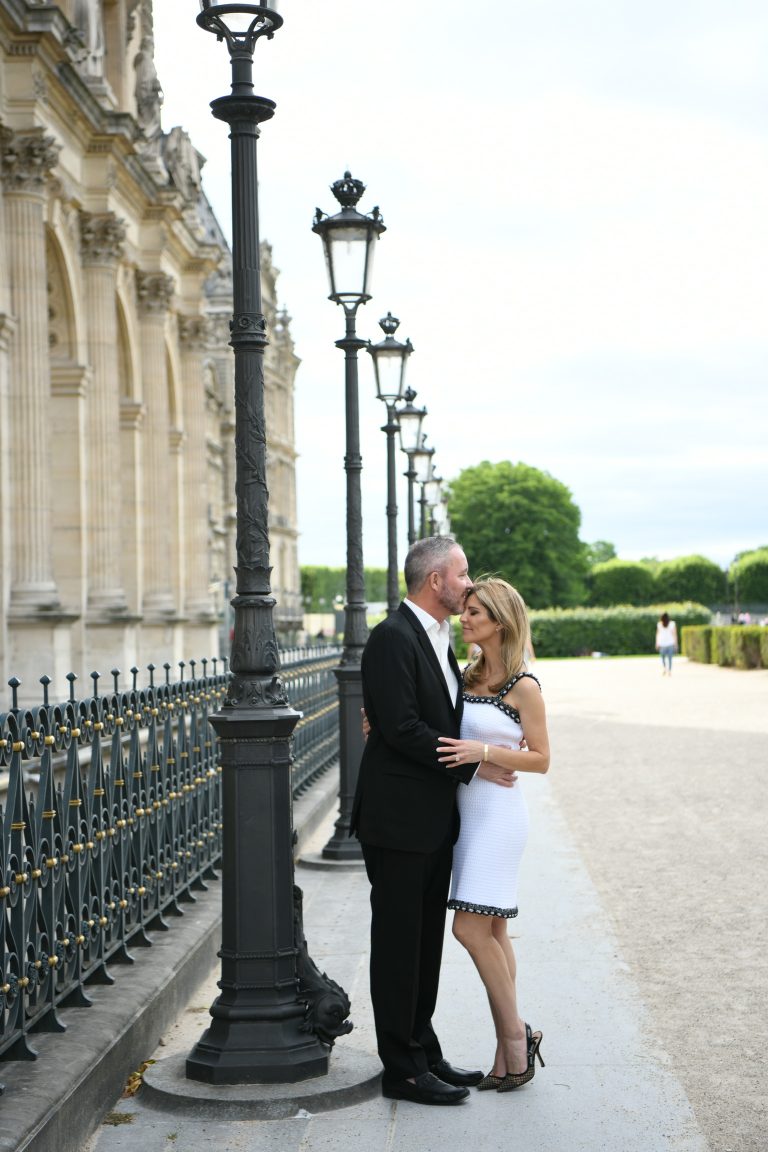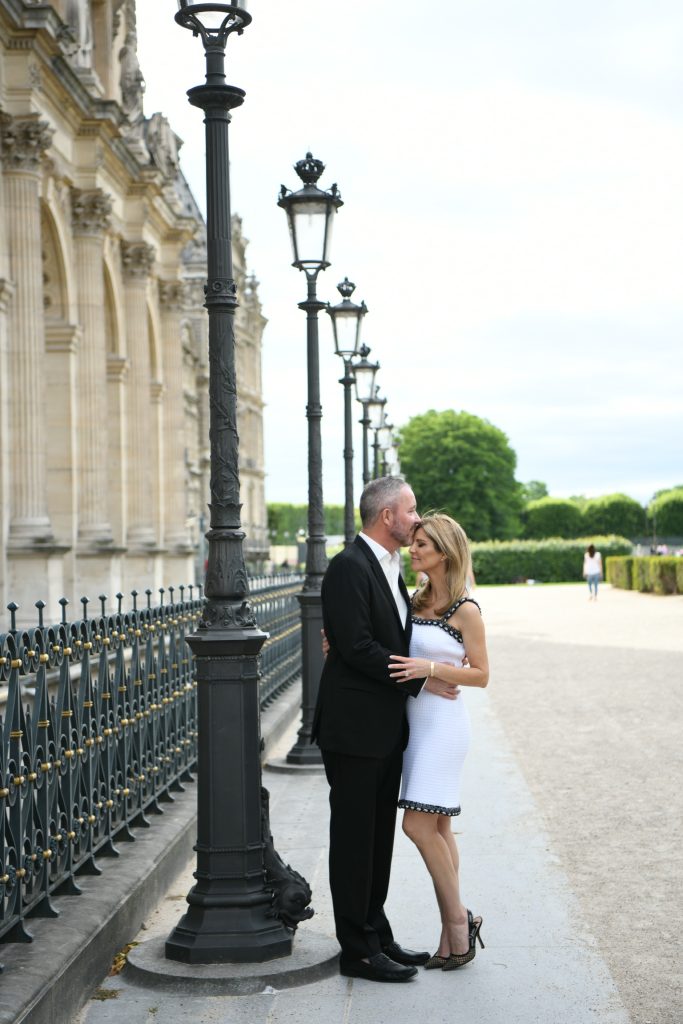 Others stores we enjoyed:
E. Dehillerin – Famous kitchen supply store.
Nose – Perfume boutique using your unique olfactive diagnostic to creative your ideal perfume. 
Cuisine & Cocktails:
The number of places to eat and drink in Paris is so vast, but here is a good list to start with if you have no idea where to start!
Drinks:
Cheval Blanc – Amazing rooftop views.
Ritz Paris – Famous, touristy, Hemingway Bar – If you can get in it is super charming and worth a stop.
Le Bar at Four Seasons Hotel George V – Quaint and cozy.
Caviar Kaspia – Experience the world's best caviar with a glass of champagne of course!
Lunch:
Le Coq & Fils –The chicken & mac & cheese is amazing. Walk it off exploring Montmartre.
Bar Vendôme at Ritz Paris– Beautiful greenhouse, amazing Caesar salad.
Dinner:
Le Bon Georges – Quaint, in the 9th arrondissement. Take their recommendations.
Chez l'Ami Jean – Tiny local place. The chef yells at everything!
La Closerie Des Lilas
Girafe-Next to the Eiffel Tower. Two seatings at 7 & 10pm. Touristy but amazing views.
La Cagouille
Café Voltaire – Fancy. Lots of celebrity sightings.
Pink Mamma – Amazing pizza place with a glass ceiling!
Maison Russe Restaurant – Beautiful garden. We didn't eat there but will be back.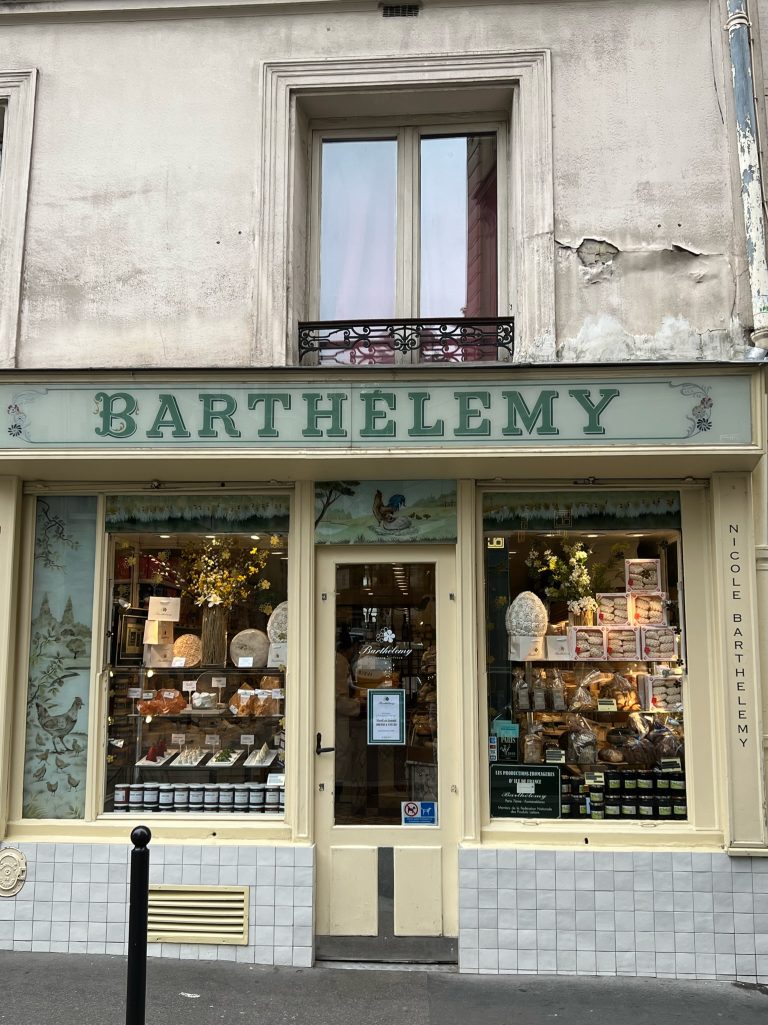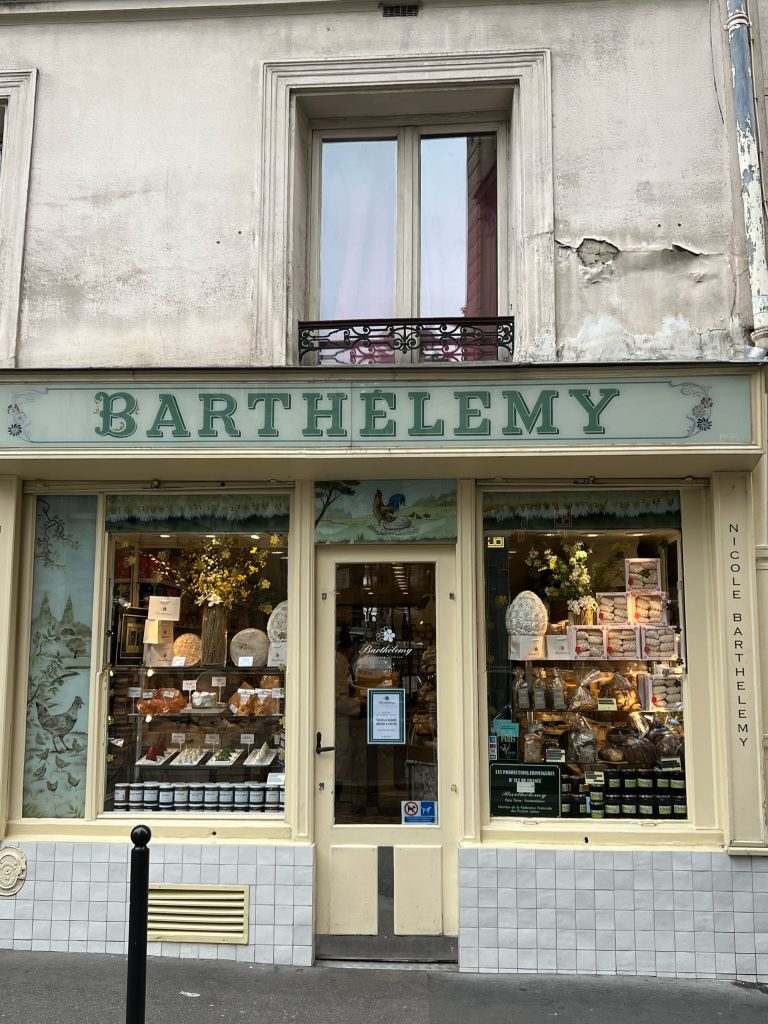 That is an insight into my birthday celebration in Paris! If you are inspired, grab your sensible (fashionable) shoes, book your plane ticket and experience one of the most amazing cities!
A special, special thanks to our good friend, Chad Clark, of Chad Clark Travel Ventures for making this all happen!!