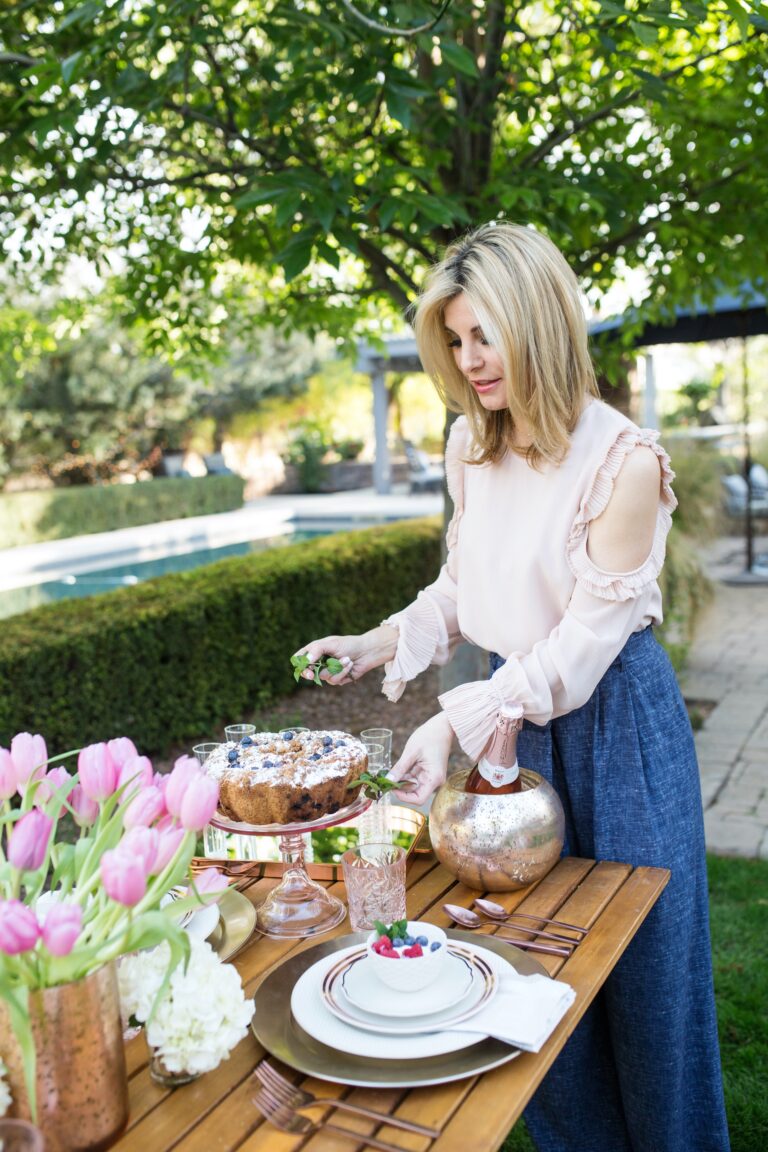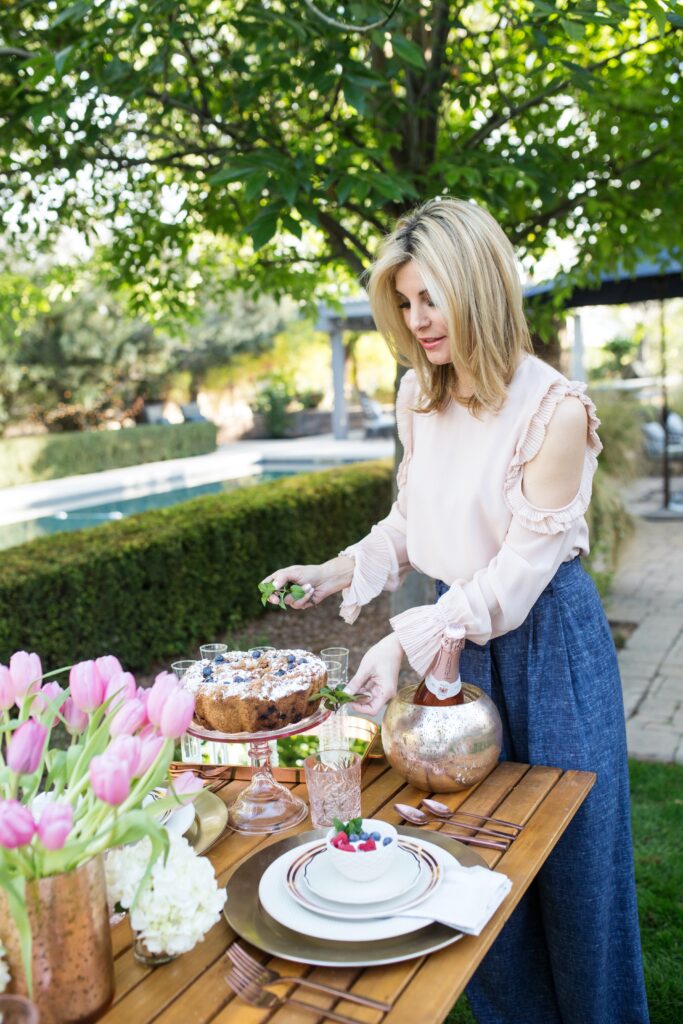 Celebrating Easter during the quarantine period is adding more challenges to an already complicated time. For our at-home Easter Sunday this year, I'm planning on making some of my family's favorite Easter desserts that I've done in the past – some familiarity and comfort is what we could all use right now!
Normally, it's a very joyous occasion at my house, starting with morning mass, followed by a lovely brunch at a table filled with family and friends. That has changed this year, in that it will only be my immediate family of five, but I'm still determined to make it memorable and special for those I love!
I'm sharing four recipes for delicious Easter desserts including a blueberry cinnamon coffee cake, buttery spritz cookies, mini-bundt cakes and tulip-shaped pound cake. I've listed these in order of most amount of effort to least amount of effort to make – just to make sure everyone's baking levels are covered!
Blueberry Cinnamon Coffee Cake
My good friend, Julie, gave me this recipe and it has been in her family for a while – I was so grateful that she shared it with me to add to my Easter desserts collection. It is absolutely delicious – after all, nothing beats homemade cake! It combines fresh blueberries with a crumbly cinnamon topping. There are a quite a few steps, but that's what it makes it so worth it!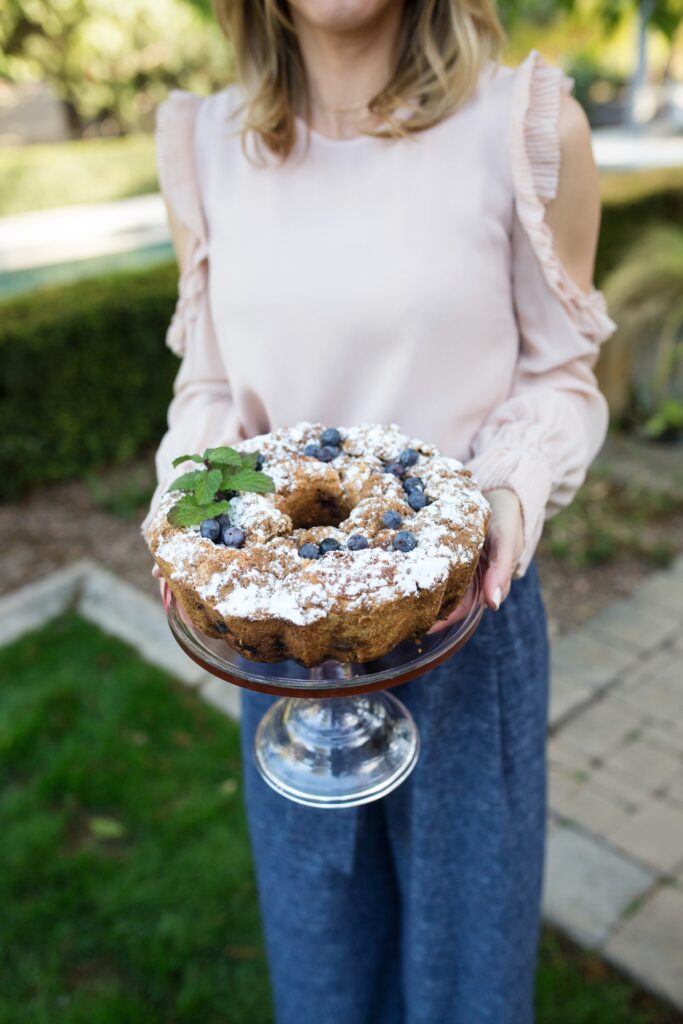 Blueberry Cinnamon Coffee Cake
A beautiful, decadent cake that's perefctly paired with brunch
Ingredients
Blueberry Cake
1 1/2

cups

all purpose-flour

1 1/2

cups

cake flour

2

tsp

baking powder

3/4

tsp

kosher salt

3/4

tsp

ground ginger

1/4

tsp

baking soda

1

cup, plus 2 tbsp

granulated sugar

1/4

cup, plus 2 tbsp

canola oil

1/2

stick

unsalted, softened butter

1

large

egg

1

large

egg yolk

2

tsp

pure vanilla extract

1

tbsp

lemon zet

1/4

cup

heavy cream

1/2

cup

sour cream

4

cups

fresh blueberries
Cinnamon Topping
3/4

cup

firmly packed dark brown sugar

1/3

cup

all purpose flour

1/3

cup

cake flour

3/4

tsp

ground cinnamon

3/4

cup

unsalted butter, melted and cooled slightly
Instructions
Blueberry Cake
Preheat oven to 375 degrees F. Generously spray the inside of a 12-cup Bundt pan with non-stick cooking spray.

In a large bowl, whisk together both flours, baking powder, salt, ginger, and baking soda. Set aside.

In the bowl of a standing mixer fitted with a paddle attachment, beat the sugar, oil and butter on medium speed until light and fluffy, 3-4 mins. Add the egg and egg yolk and beat until incorporated. Scrape down sides and bottom of bowl, add the vanilla and lemon zest and beat for 10 secs.

Measure out the cream into a glass measuring cup. Add the sour cream and whisk until combined. Add the flour mixture to the sugar mixture in the standing mixer in 3 parts, alternating with the cream mixture, beginning and ending with the flour mixture; beat at medium speed after each addition until incorporated, 10 to 15 seconds.

Using a rubber spatula, fold the blueberries into the batter, which will be very thick, and transfer batter to the prepared pan. Smooth the top with an offset spatula and prepare the topping.
Cinnamon Topping
In a large bowl, whisk together the brown sugar, both flours, and cinnamon (do not worry if large pieces of the sugar remain). Drizzle the butter over the mixture and use your very clean hands to pick up the mixture, squeeze in your fist, and let the mixture fall back into the bowl, repeating until the topping comes together.

Pinch off chunks of the topping and drop them over the top of the batter. Use all of the topping and over the topping completely.

Bake the cake until a toothpick inserted in the center of the cake comes out with a few moist crumbles, about 50-60 mins. Set the pan on a wire rack to cool for at least 20 mins. Loosen the cake from sides of the pan with a pairing knife, then push the bottom of the pan up to release the cake. Use the knife to loosen and remove the cake from the bottom of the pan, then cool completely, topping side up, on a cooling rack.
Notes
The cake can be stored, tightly covered, at room temperature for up to 3 days.
Buttery Spritz Cookies
These little treats are the most perfectly versatile cookies ever! They can be used during the holidays with a green M & M topping, at Valentine's Day with a red-hot or at Easter with a mini-jelly bean!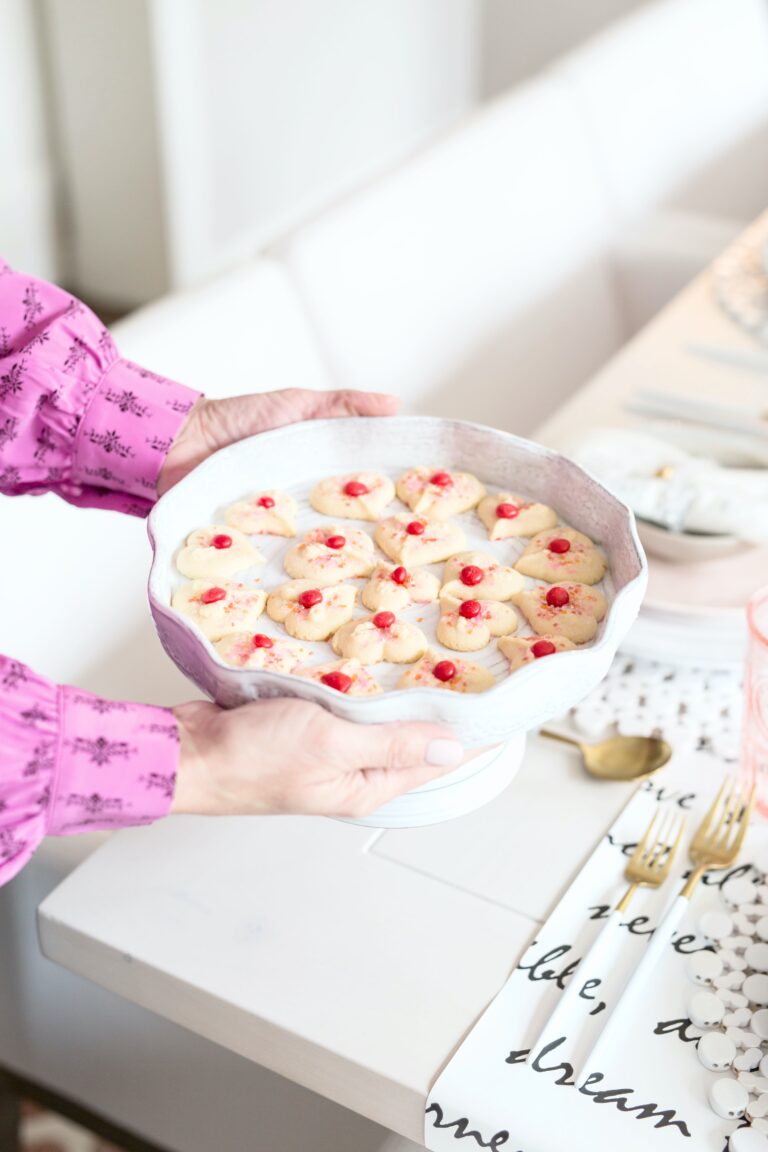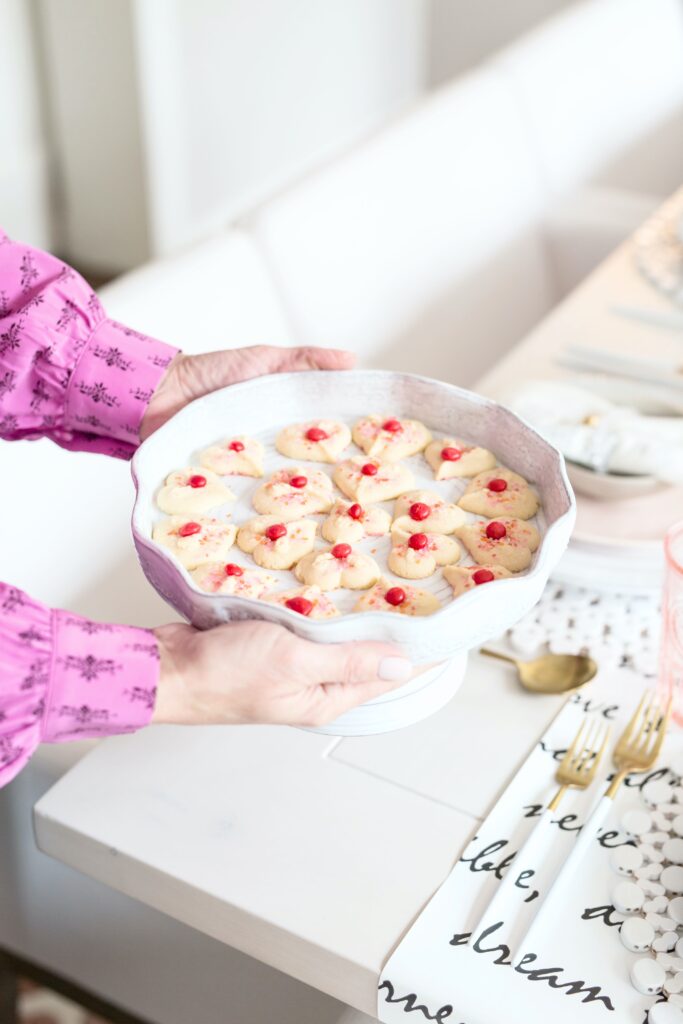 Buttery Spritz Cookies
With the help of a decadent cookie press and little practice, you can whip a large quantity of these delicate buttery treats for gifts or entertaining with minimal effort.
Ingredients
1

cup

butter, softened

1

cup

sugar

1/2

tsp

salt

1

large

egg

1

tbsp

vanilla extract

2-1/2

cups

all-purpose flour, sifted

Colored decorating sugar

Red hot candies
Instructions
Preheat oven to 375 degrees.

Combine the butter and sugar in a large mixing bowl. Using an electric mixer, beat on high speed until the mixture is pale and fluffy. Add the salt, egg and vanilla and beat until well combined. Using a wooden spoon or spatula, mix in the flour until thoroughly blended.

Gently form the dough into a log shape. Following the manufacturer's instructions, fill a cookie press with the dough (working in several batches) and dispense the cookies at least 1 inch apart onto ungreased baking sheets.

Bake for 10 minutes, or until the cookies are lightly golden. Sprinkle with colored sugar, add red hot candy and cool on a wire rack. Can be stored at room temperature for 3 days or 1 month frozen.
Mini-bundt Cakes
For those of you who don't bake often and like to take short cuts (me!), add this to your Easter desserts list! You don't need a lot for this one, except for boxed cake mix, some powdered sugar and a cute bundt cake pan. Follow the directions on the cake box for cupcakes, making sure to generously use non-stick cooking spray, remove from mold when cooled, and sprinkle with some powdered sugar from a mesh strainer.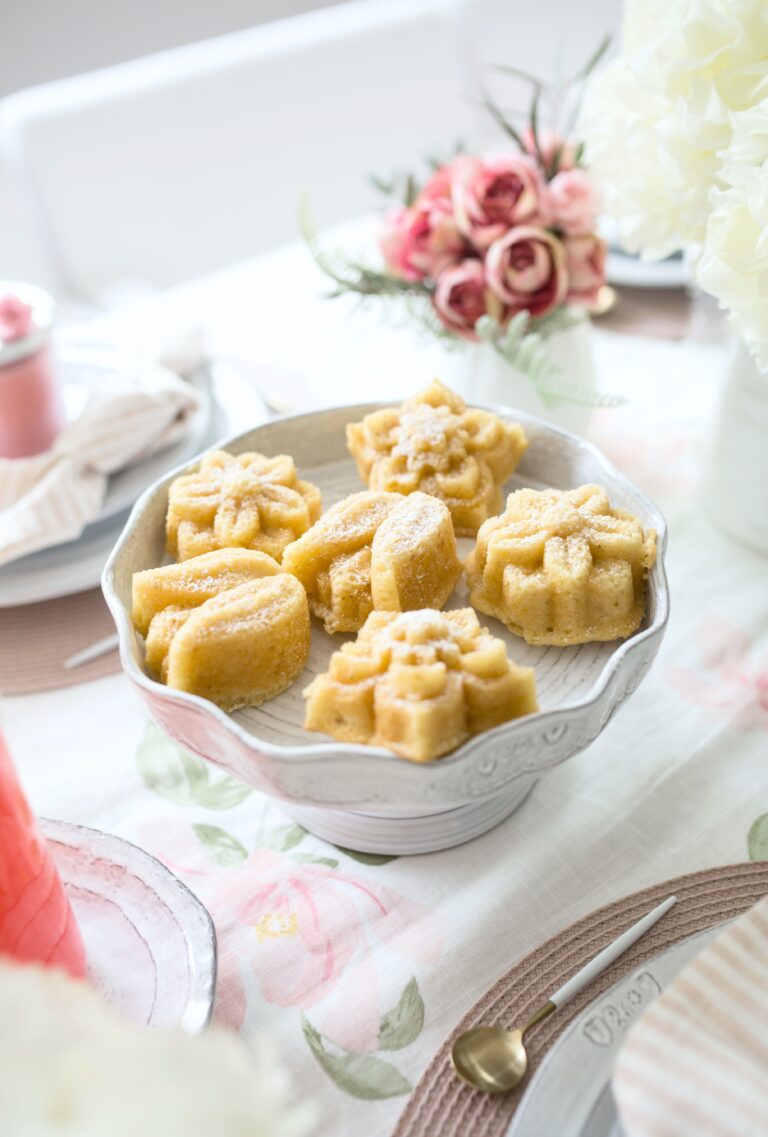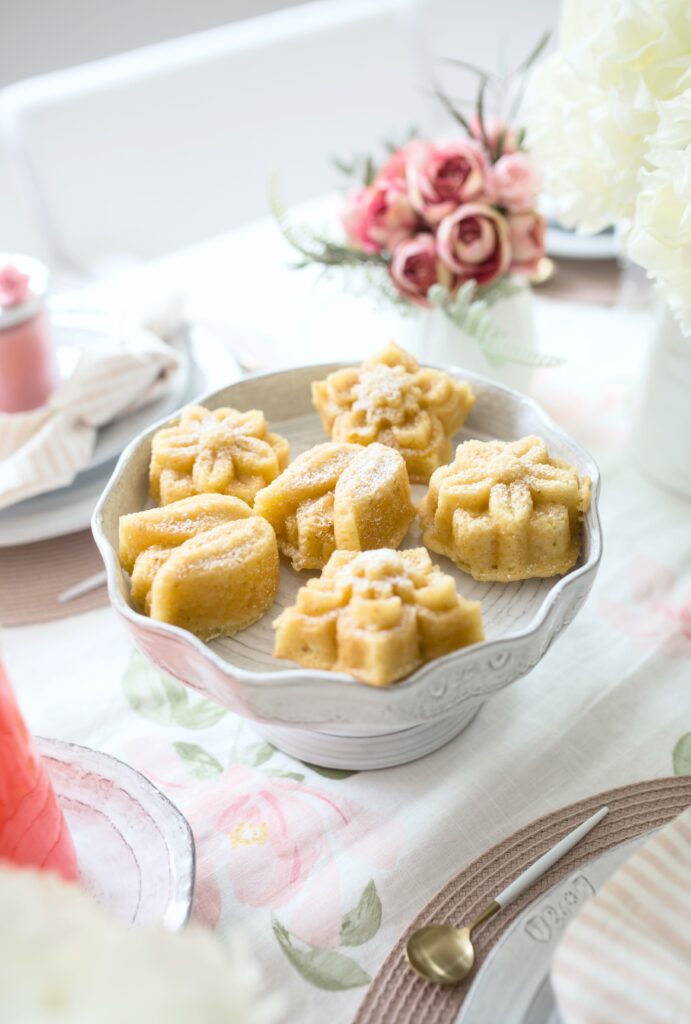 Here are some of my favorite mini bundt cake molds:


Tulip-Shaped Pound Cake
If you want the easiest, fastest dessert that looks like you put a lot of time into it, try my hack for taking store-bought pound cake. Turn it into a decadent treat with your favorite cookie cutters – a fun presentation that your kids can help with too! Here's how to do it: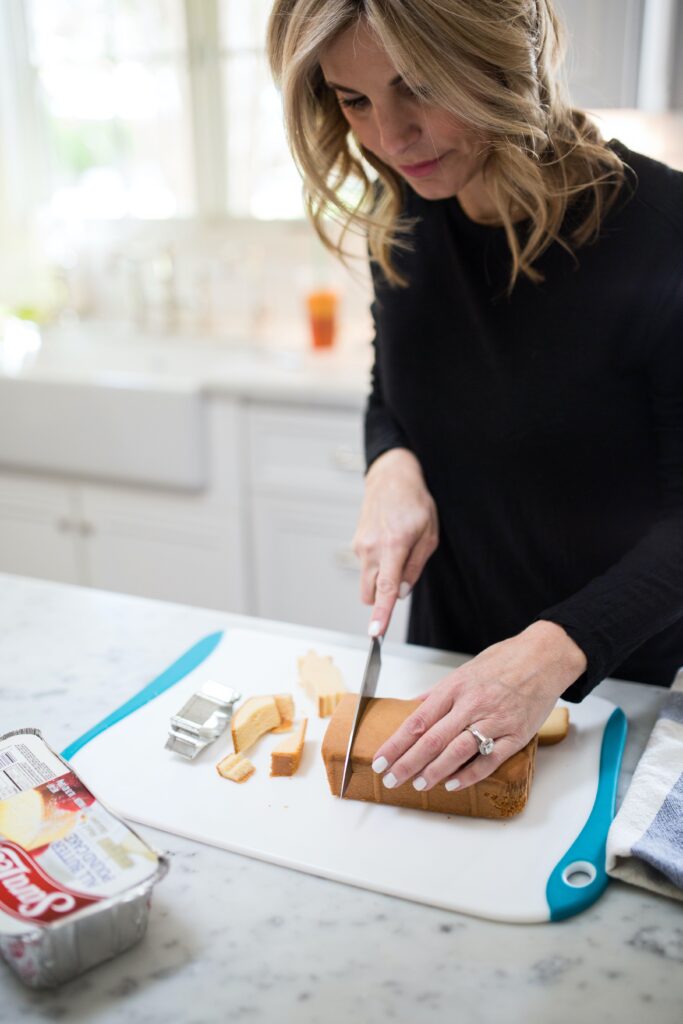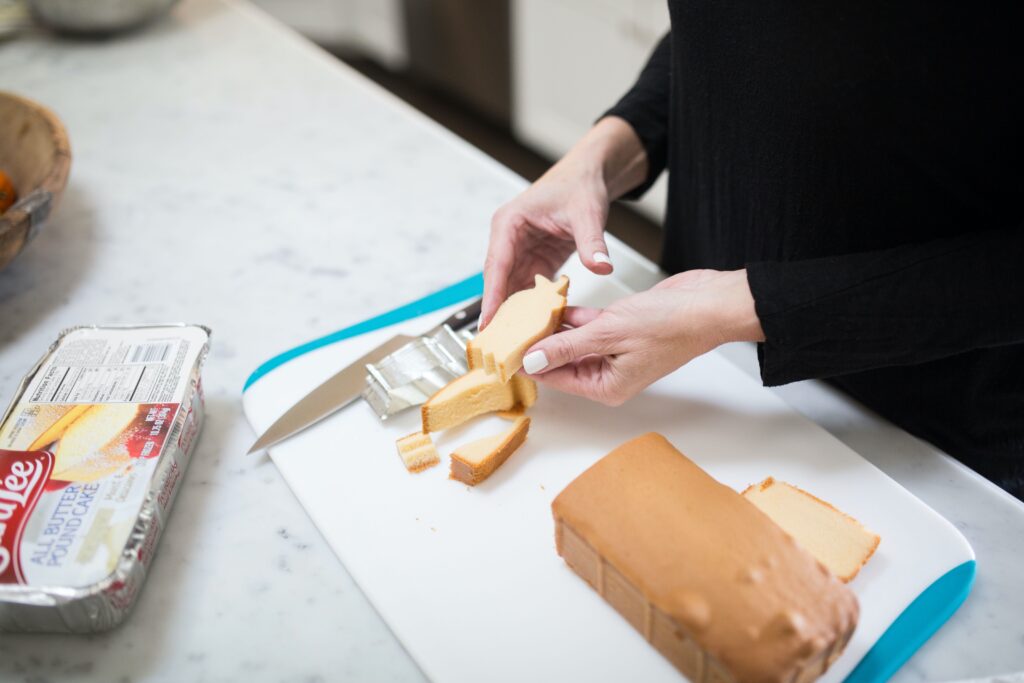 Here are some fun Spring-themed cookie cutter sets: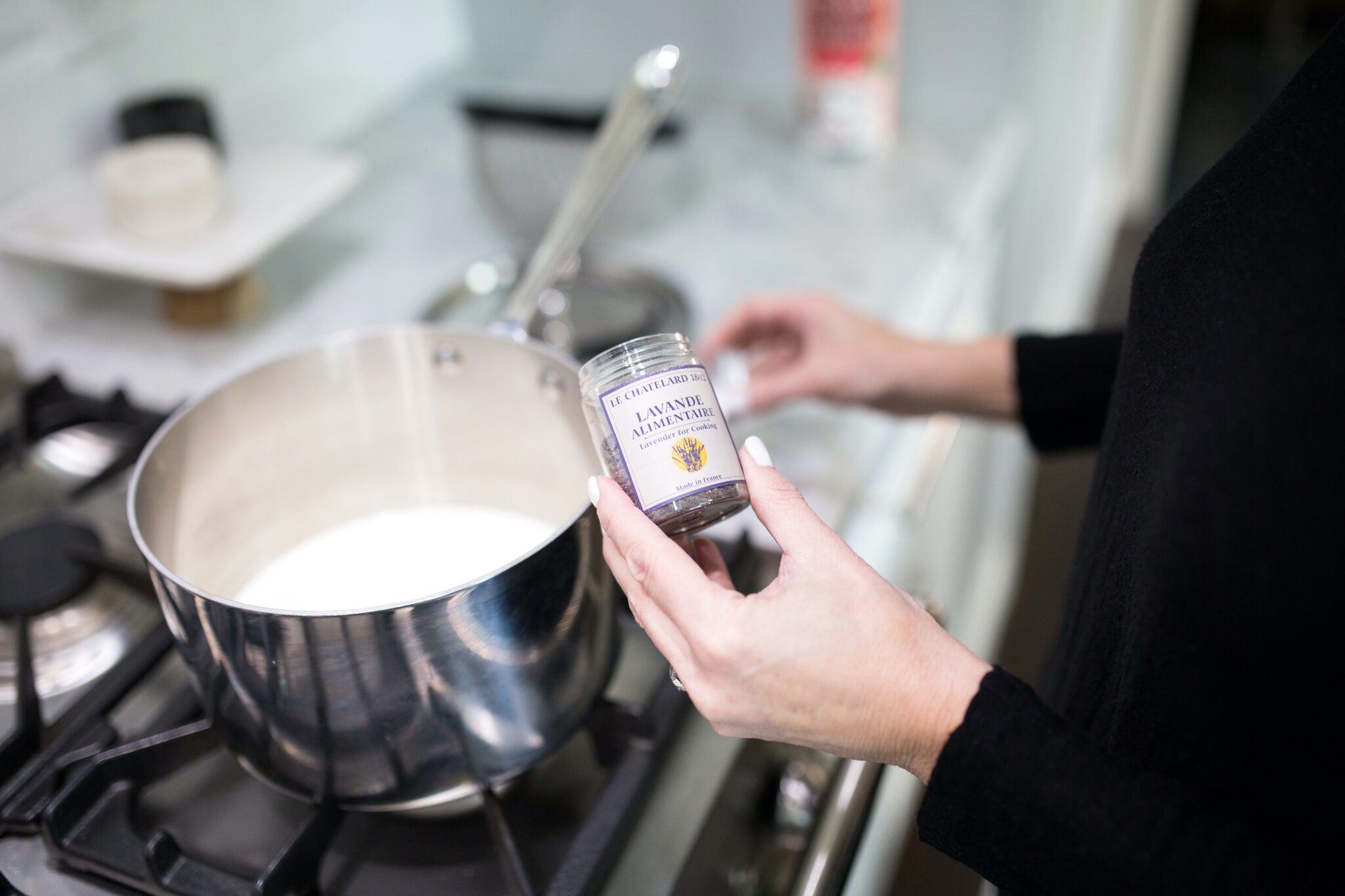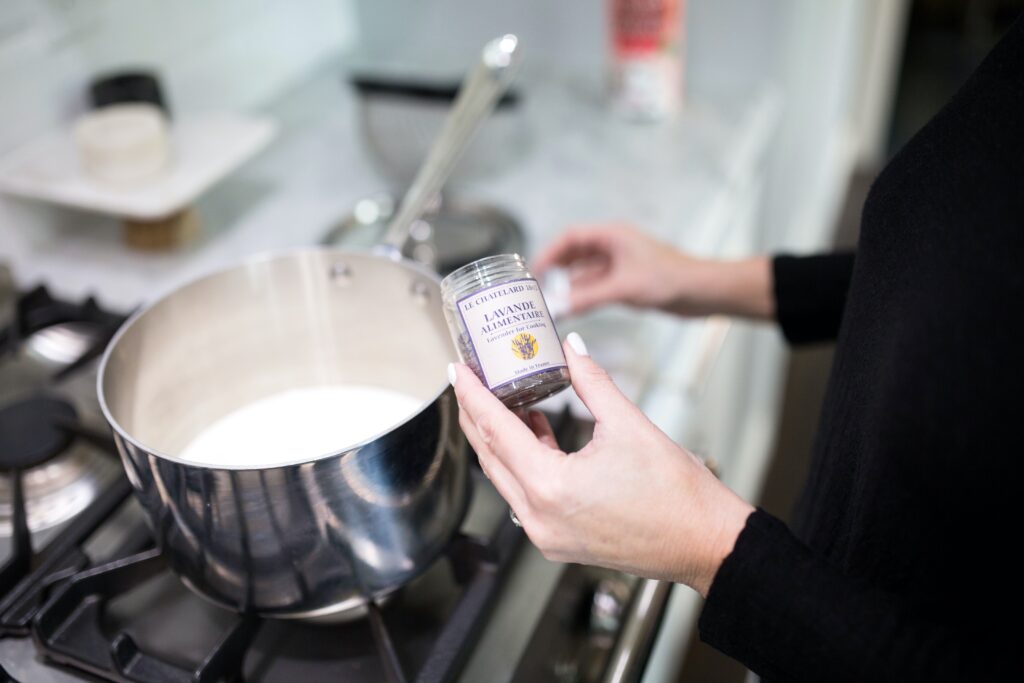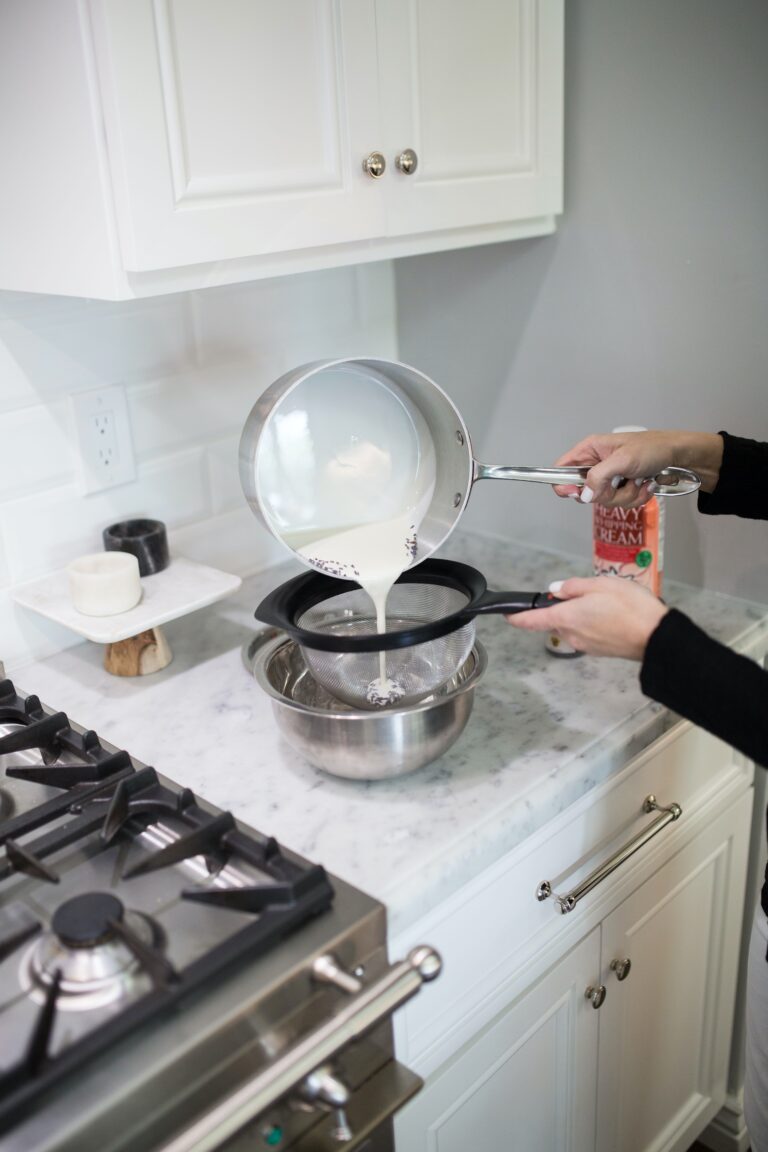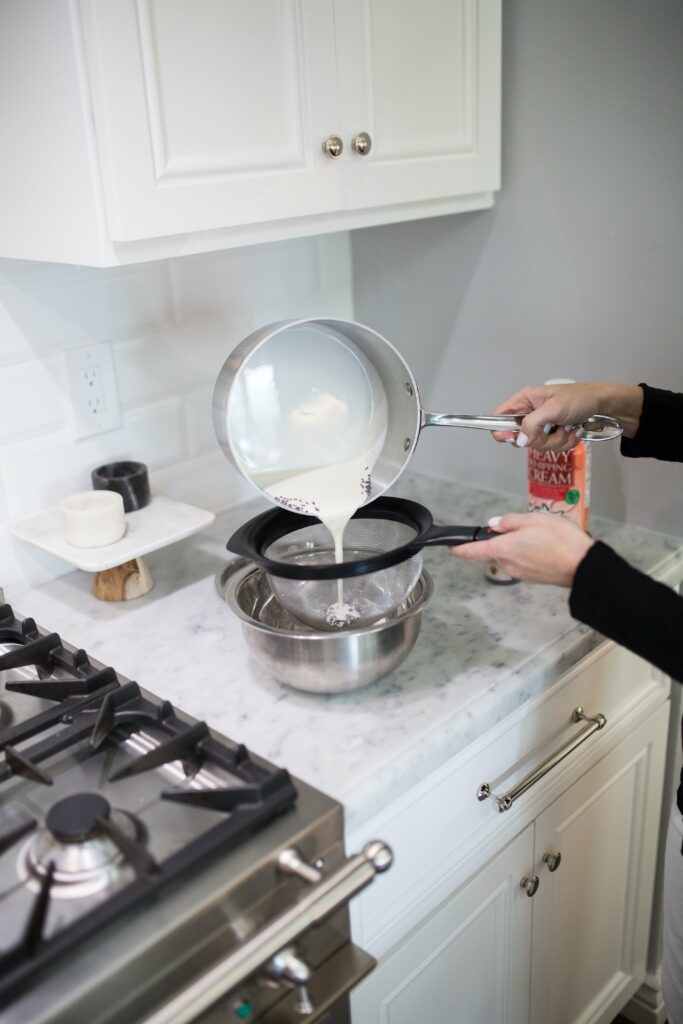 Thanks for visiting my page on ideas for Easter desserts – hope your holiday is as special as it can be!
For inspiration on styling an Easter table, check out these posts here:
Pastels, Prints, Flowers and Cabbage
Easter Table Ideas Using Backyard Flowers and Plants