Who says parties are over now that the official holiday season is coming to an end? By this time, most of us are kind of tired of overindulging and the extra pounds that come with it. That's why I'm going to show you how to throw a fun brunch, that's also healthy and a great way to jump start a clean new year!
What exactly is Acai??
Similar to a cross between a grape and a blueberry, the acai (pronounced ah-sigh-ee) berry is found around the Amazon River basin of South America. The taste is often described as wild berries and chocolate. Acai berries contain high levels of antioxidants, have low sugar and may have weight loss and anti-aging benefits.
How to Set it Up
For this party, I wanted to take advantage of the beautiful, mild Arizona winters and host this outside in my backyard ramada. One of the design features of our BBQ island was a long concrete countertop, which houses four barstools on one side, but also doubles as a buffet space on the other side. This is where I served the brunch.
A staple in my entertaining arsenal are my wood boards. Consider adding a wood board to your collection – they serve as food carriers, decor holders, cheese boards, and side dish displays. I used my long, narrow board for display of the bowls of extras. These were mismatched and very colorful, which fit perfectly with my eclectic, vintage decor theme. Pedestal bowls gave the buffet some interesting height while the dusty rose napkins and rose gold flatware softened the concrete countertop.
Where to Buy
Wood boards: Europe 2 you
Small printed bowls with base: Anthropologie
Medium, large and pedestal printed bowls: West Elm
Pink napkins: Macy's
Rosegold flatware: West Elm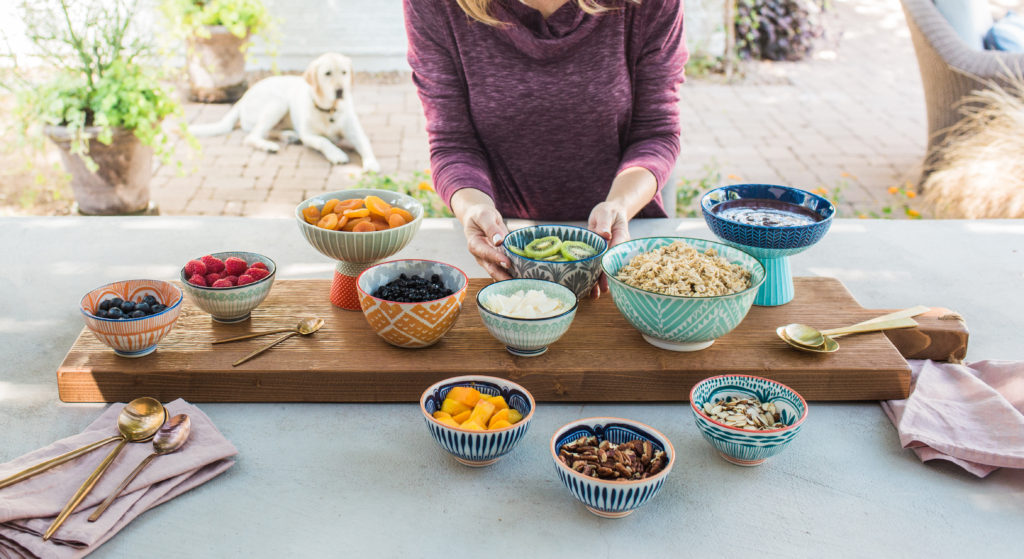 What to serve . . .
To make the acai, you can either use acai powder or frozen puree packets, easily found at Trader Joe's, Sprouts, Whole Foods or speciality health stores. Follow the directions on the package for what you decide to use.
Because not everyone may like the taste of acai, I also made overnight oats with gluten-free oats. Here's the recipe from the brand I like. For a more decadent (and less healthy) version of muesli, here's a keeper recipe from the Ritz Carlton.
For the sides, get creative and add whatever you'd like
My list includes:
Toasted coconut shards
Pecans
Dried currants
Blueberries
Kiwi
Dried Apricots
Fresh mango
Raspberries
Here's to a happy, healthy new year!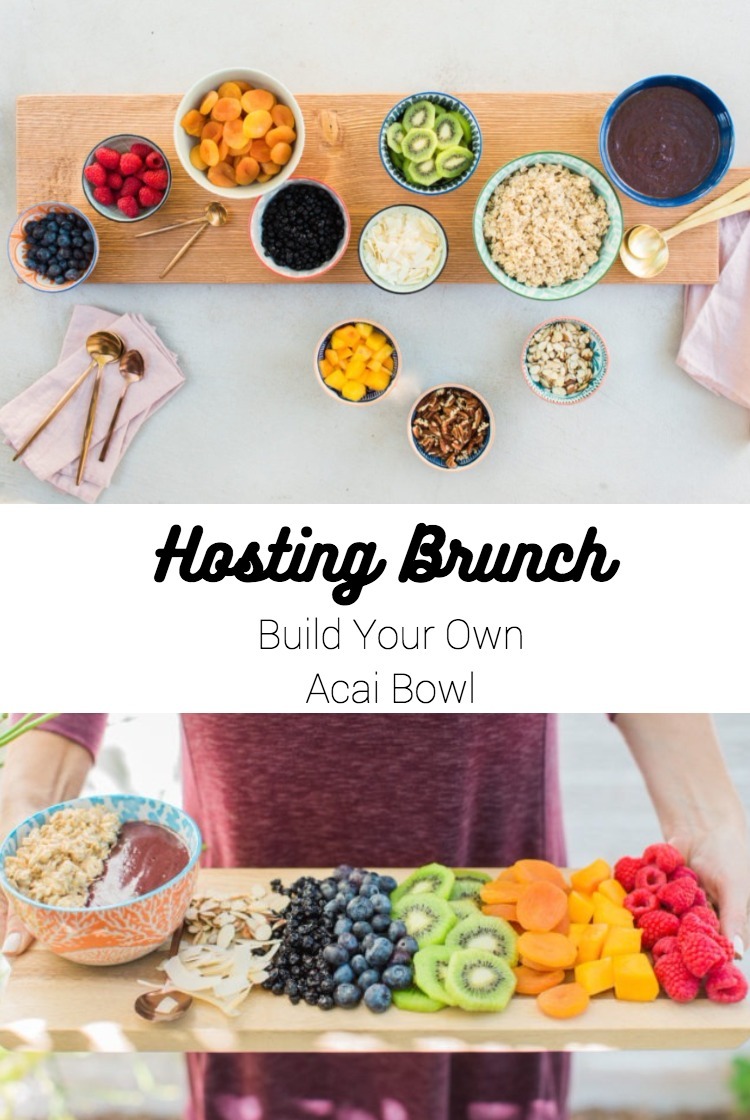 SaveSave
SaveSave
SaveSave
SaveSave
SaveSave
SaveSave
SaveSave
SaveSave
SaveSave
SaveSave
SaveSave
SaveSave
SaveSave
SaveSave
SaveSave
SaveSave
SaveSave
SaveSave