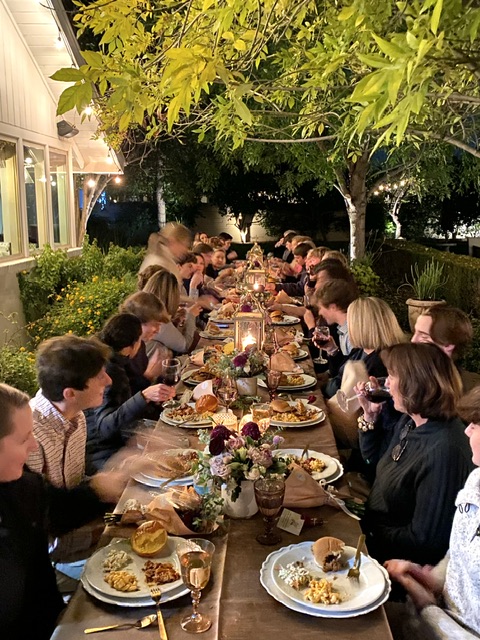 How to commemorate the senior year of one of your children with a special event that involves both their friends and their parents? I can't think of anything more memorable than a Mother/Son Friendsgiving! Of course, it could be a Mother/Daughter or Father/Son gathering, or whatever combination works for you, but any way you organize it, I guarantee you (or your child) won't soon forget it. I had so many of you ask for my details after I made this Instagram post, so here it is, all laid out for you – hopefully this will inspire a gathering of your own!
First of all, my son had a pretty large extended friend group of 17 boys, so we decided to include everyone, rather than scale it down to a more intimate affair. Overall, 34 guests (17 boys, 17 moms) were invited and 32 attended. Honestly, the planning and organizational part of the party is the same, regardless of the number of guests, so that didn't change much. However, more guests means more chairs, tables, plates, etc.., so arrangements needed to made to accommodate this. In other words, I had to rent some items! Even this seasoned entertainer doesn't have 32 chairs on hand! More on that later . . .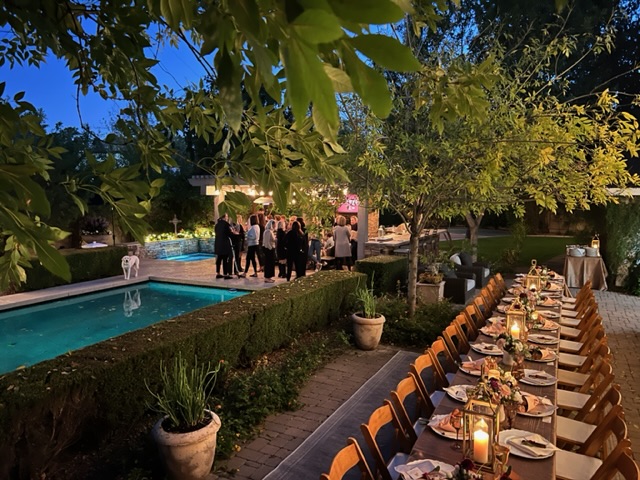 Invitations
It's just too easy to do a digital invitation these days, and keeping with the thought that time-efficiency was important, we opted for a Friendsgiving-themed Evite. To give it special meaning, I found a quote that focused on friendships by Walt Whitman and included that on the invitation. Short, but sweet – and it was noticed by a lot of the boys and moms!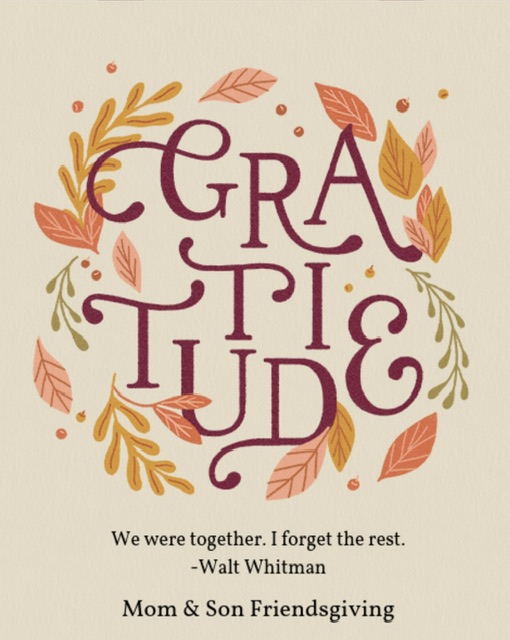 In addition, we didn't want this to be cost-prohibitive for those families who wanted to host another event later in the year, so we had each family contribute towards the event – $50 per mom/son.
Food
We decided that it would be a lot for one host to cook a Friendsgiving and that a potluck might be too complicated with everyone's busy schedules. Senior year is crazy enough with college applications in the Fall (not to mention most moms have other kids in school, sports, activities, etc.), so a take-out option seemed liked the best choice for our crew. I ended up ordering BBQ from a local favorite spot and had it delivered in throw-away aluminum containers. It wasn't fancy, but again, this made it manageable for the group and I wasn't overwhelmed with a messy clean-up to deal with afterwards.
I splurged on hiring two servers to help with set-up, drinks, and dishes. This allowed me to enjoy the event and focus on spending time with my son, his friends and their moms!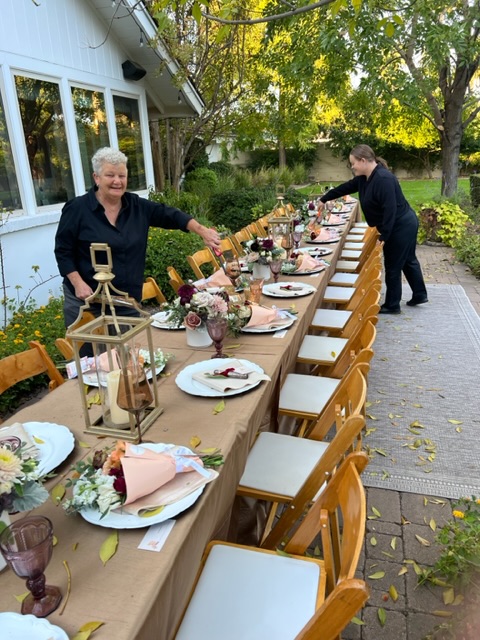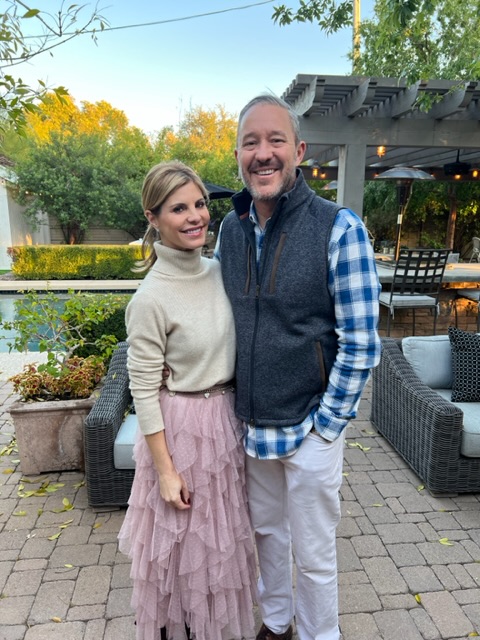 Tables & chairs
Even though I host at my home a ton, I don't have a huge inventory of chairs or tables – much less enough to seat 32 people. Aaaand, I like everything to match, so I ended up contacting a local party rental company, Event Rents, for the banquet tables, folding wood chairs and muted gold tablecloths and napkins. I rented four 8' banquet tables that seated 4 people per side, for a total of 8 people per table. I pushed them together for one long Friendsgiving table – I love how this looks!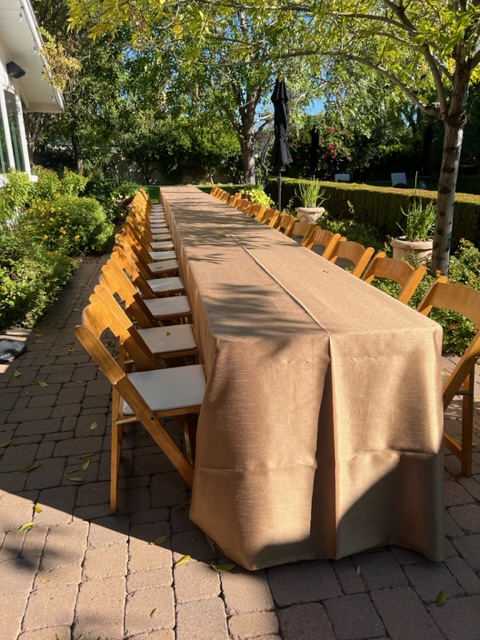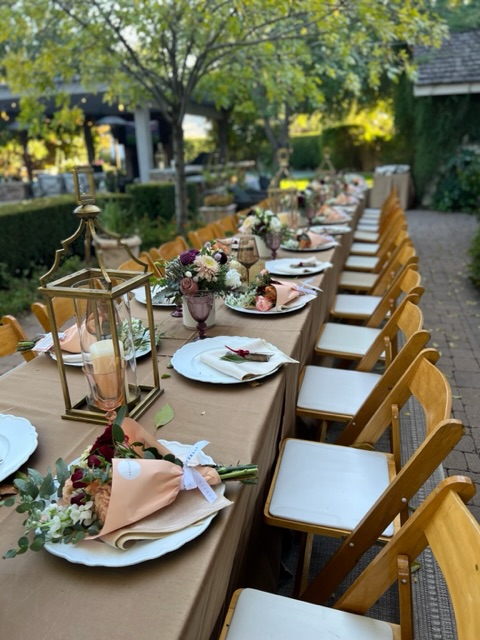 Decor
For decor, I used a lot of what I already had: gold lanterns purchased at a school fundraiser (a good friend of mine purchased 4 of the same and we borrow from each other for events we host at our homes!). White pillar candles from Amazon filled the table with a soft, warm glow.
Glassware was a mix of 3 different kinds of colored goblets – most from Estelle Colored Glassware, one of my go-tos for creating an extra special tabletop.
I'm a huge fan of charger plates – I just think they provide an instant "place" for your guests and define their space, for welcoming touch. These white scalloped chargers are in my arsenal ( I have 64 of them!) from a past event and I don't regret the purchase at all!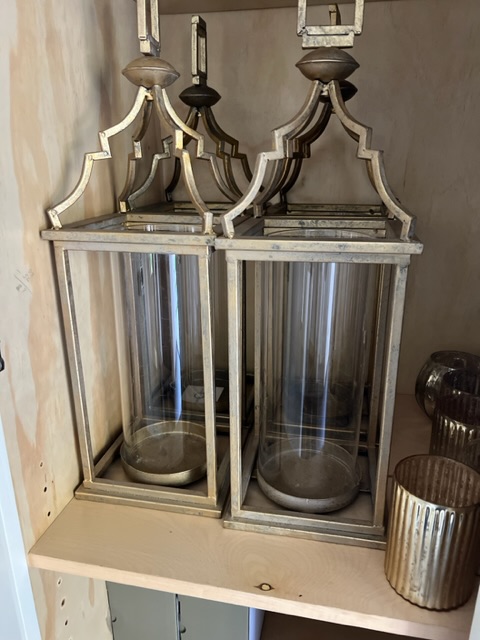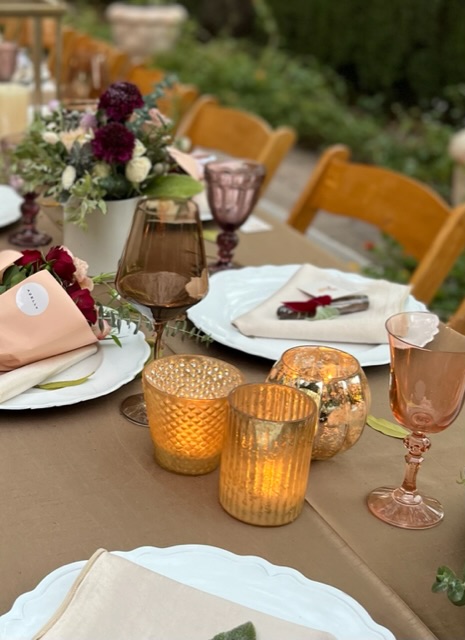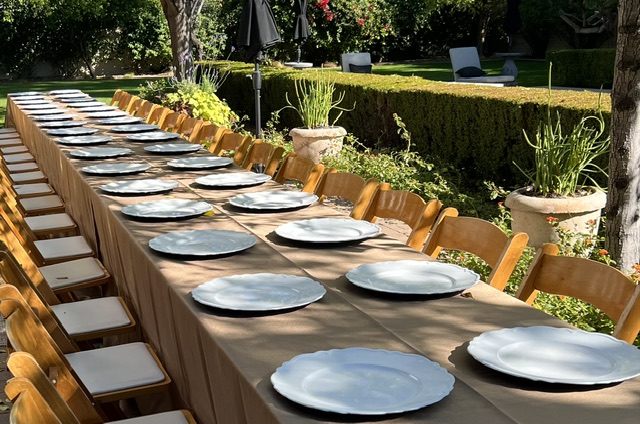 Florals
When I need a lot of centerpieces, and with a table this long, I turn to the pros for flowers. I called on my florist friend Dani of The Flower Garage for help. We discussed the color palette of the table and she selected seasonal florals to coordinate with the rest of the decor.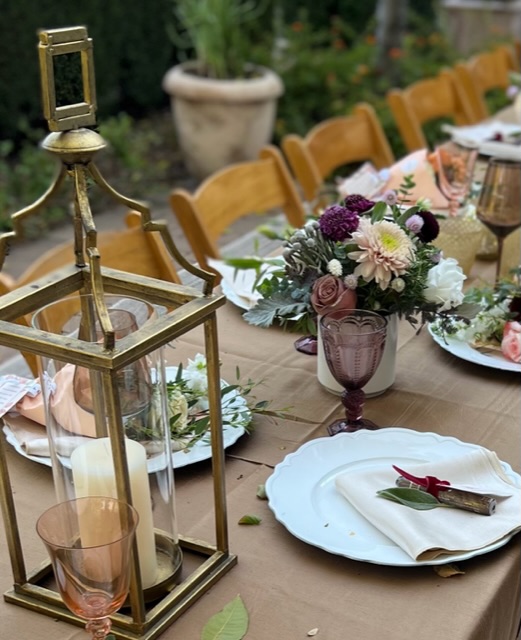 Party favors
A few months before the party, I had been contacted by a darling young mom and business owner who wanted to collaborate with me and this seemed like the perfect opportunity. Nadeera of Azelly provides gorgeous custom gifts with her arranged flowers, champagne, wine and other goodies. We decided that a beautiful bespoke floral wrap in the chosen fall palette would be a lovely favor for each mom to take home at the end of the night. She made 17 of them for me! I was so incredibly grateful for her generosity and talent. The moms loved their gifts.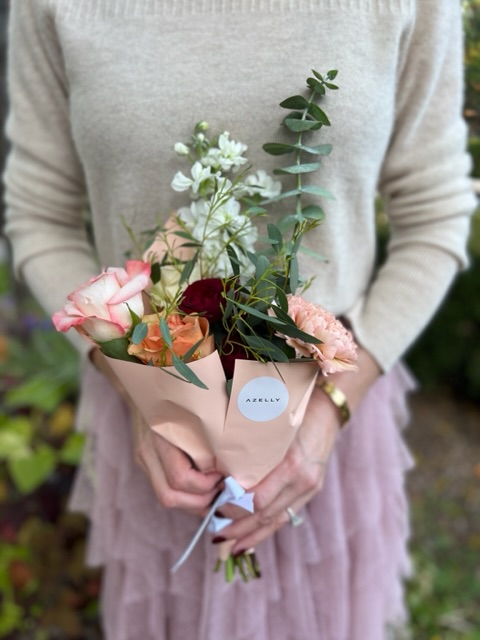 The boys weren't as easy! I remembered seeing chocolate cigars at See's Candies and knew that would be a fun gift for the boys.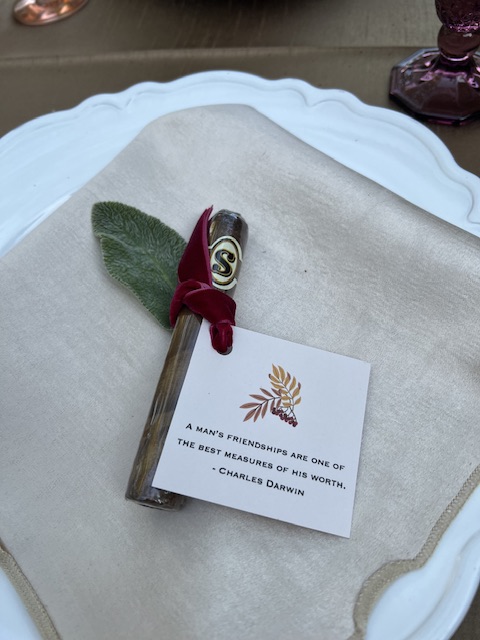 Both favors were personalized with a gift tag displaying an sentimental quote and velvet ribbon – more below on the gift tags!
Extra details
I enlisted the help of yet another friend, Lisa of Local Nest, who made these custom tags for me with appropriate quotes for the moms' wrapped floral favors, the boys' chocolate cigar favors and the "Nickname" card.
One of the funnier moments of the night was a guessing game we played. Each mom had a "Nickname" card at their place setting. They filled out the nickname of their son and we scrambled them, then read them aloud, trying to guess which nickname belong to which boy. It was surprising and very revealing – highly recommended for a parent/child game!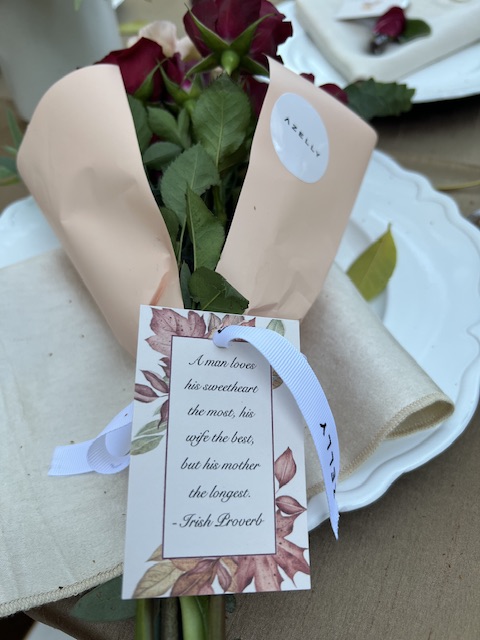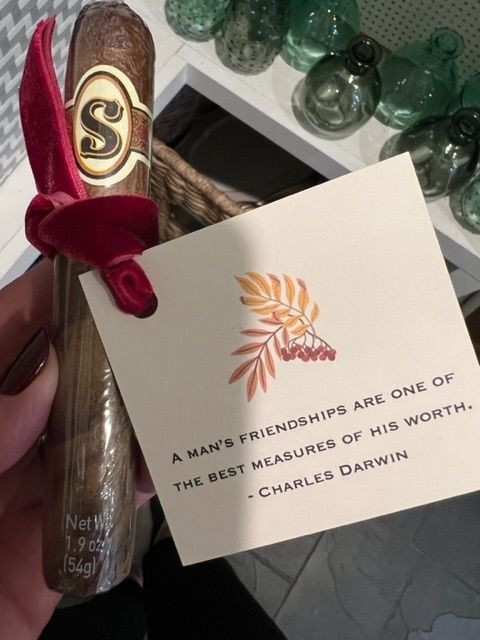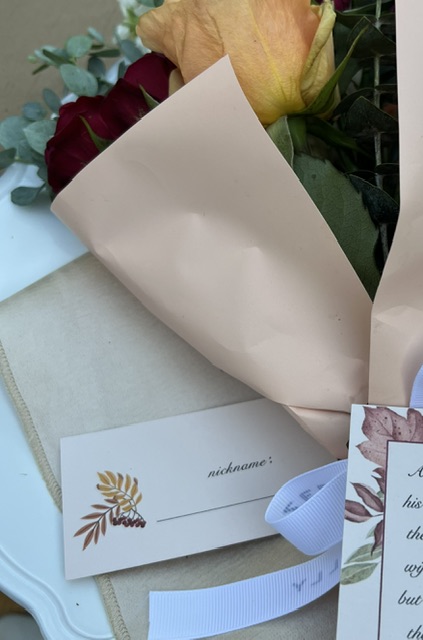 Thanks so much for visiting my site – I hope you enjoyed seeing all of the details on how I was able to host a Friendsgiving dinner for 32 guests. If you're looking for a smaller scale party, check out this Fall-themed Botanical Dinner I hosted for my daughter and 7 of her friends!